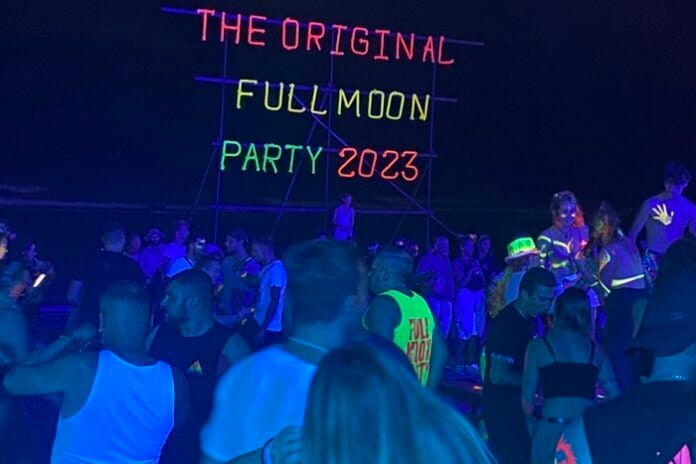 Thailand's island of Koh Pha Ngan welcomed its first Full Moon Party of the year on Friday night, drawing 20,000 tourists, according to Surat Thani's vice governor.
The party experienced a bit of rain, but after the rain cleared, tourists were able to have a blast dancing on the beach.
Vice Governor Choosak Rooying told The Phuket Express that so many tourists are visiting Koh Pha Ngan and nearby islands that there are not even enough flights to these areas. The tourists are visiting islands including Ko Pha Ngan, Koh Samui, and Koh Tao, he said.
Choosak said that local businesses have earned more income when compared with the last few years during the Covid-19 pandemic. He said…
"This first Full Moon Party of this year welcomed more than 20,000 tourists which have generated at least 100 million baht."
Historically, the Full Moon Party was held on the night of, before, or after every full moon. Legend says the Full Moon Party started as an impromptu beach bonfire for a few dozen people at Paradise Bungalows on Haad Rin Beach in 1983. It grew steadily, helped by appearances in movies like The Beach.
The party was cancelled during the Covid-19 pandemic. But last year, tourists slowly started returning to the party. After Covid restrictions were lifted on October 1, the party was operating at the same level as before the pandemic struck.
The travel website umetravel.com says of the iconic party…
"More than 12 powerful sound systems turn the 800-metre beach into possibly the most popular open-air nightclub in the world once a month, with a lively festival-like atmosphere, great music and huge quantities of alcohol. This one-of-a-kind event is routinely listed on bucket lists as one of the essential experiences in Thailand which absolutely must be seen to be believed."
Full Moon parties help to bring income to Koh Pha Ngan. The world-famous party supported various local entrepreneurs such as neon face paint sellers, alcohol bucket sellers, passenger boat operators, bus operators, restaurants, hotels, hostels, bars, and convenience stores.