Thai doctor pours cold water on suggestion 'bitter cucumber' cures cancer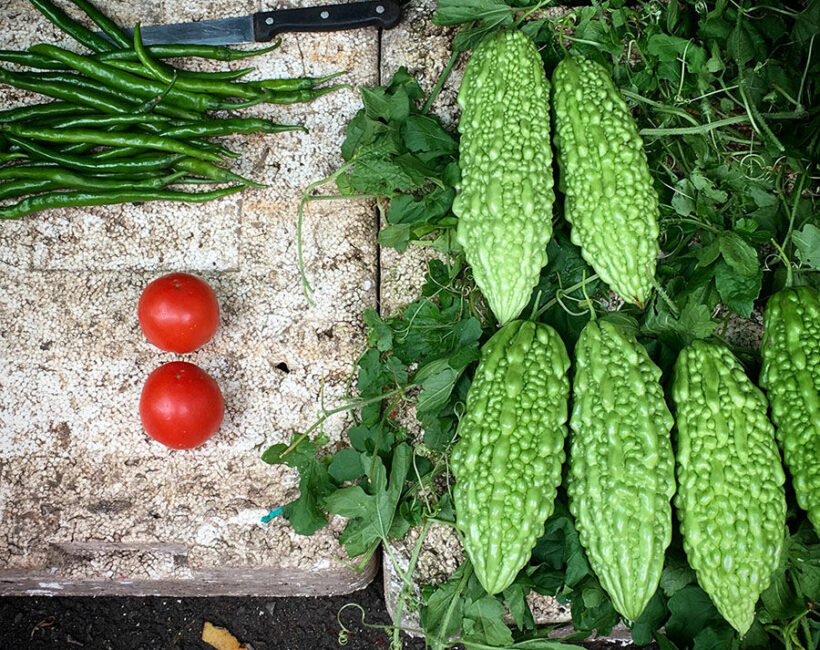 No, the popular bitter cucumber is not a cure for cancer, nor is any other vegetable, according to Thailand's Department of Medical Services. Dr. Somsak Akksilp has dismissed the suggestion that bitter cucumber can cure cancerous tumours and cysts, pointing out that currently, only 3 therapies have proven effectiveness in treating cancer: surgery, chemotherapy, and radiotherapy.
A report in Nation Thailand says the doctor agrees that bitter cucumber does contain a high level of antioxidants, which are thought to be beneficial in preventing cancer developing. It's understood they do this by protecting cells from dangerous free radicals, the damaging molecules that cause cancer.
"However, this does not mean foods high in antioxidants are a cure for cancer in themselves."
"Bitter cucumber, while being high in antioxidants that could prevent cancer, has no effect on cancer itself and therefore cannot be used to treat cancer patients. There is also no conclusive proof that the vegetable is effective in treating tumours or cysts."
"Also, do not believe the rumour that drinking boiled water from bitter cucumber can cure cancer, as using unconfirmed treatments may adversely affect the success chance of modern treatment."
Dr. Jinda Rojanamethin from the National Cancer Institute adds that while vegetables are known to be very beneficial for health, cancer patients should avoid consuming any one particular food group to excess, particularly while undergoing treatment.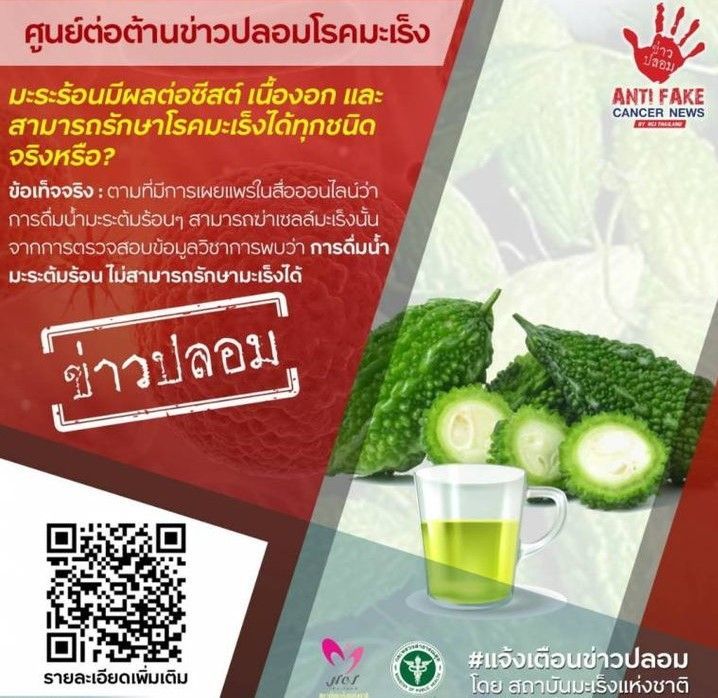 SOURCE: Nation Thailand
Keep in contact with The Thaiger by following our
Facebook page
.
US delegation arrives, submits to Covid-19 screening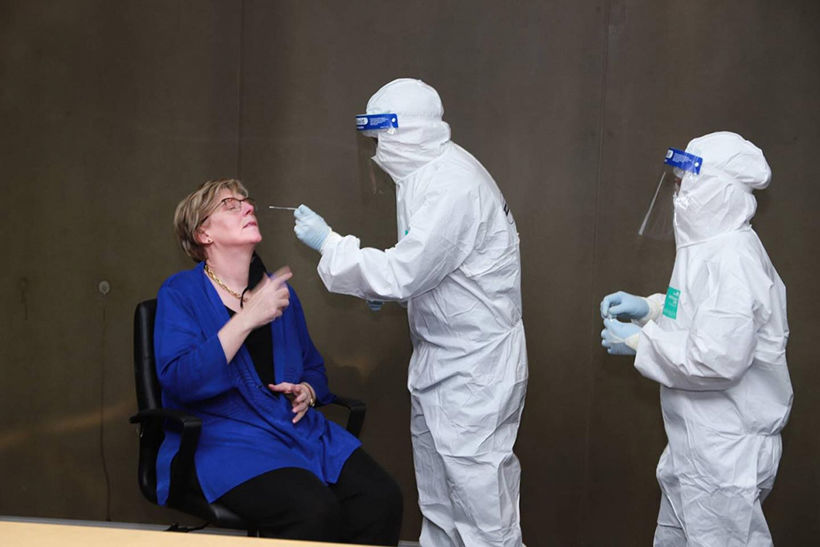 The chief of staff of the US army, General James C. McConville, arrived in Thailand today with an entourage for a 2 day trip, at the invitation of the Royal Thai Army. He has also granted permission for the publication of the results of his Covid-19 swab test. McConville and his entourage landed at Bangkok's Don Mueang Airport at 10:15am after completing an official visit to Singapore. The entire delegation had to undergo Covid-19 tests immediately upon arrival.
Army chief Apirat Kongsompong was on hand to welcome his guests as well as provide information on the preventive measures Thailand has taken, leading to its success in containing the spread of the virus, an extremely low mortality rate and a recovery rate of over 95%. The US delegation is the first group of government guests to arrive since the fifth phase of the easing of lockdown measures was announced.
The guests, as well as Thai Army officials, are required to strictly follow measures set out by the Centre for Covid-19 Situation Administration, including ensuring seats in all vehicles are partitioned, cleaned and sanitised as per guidelines.
The vehicles must also carry alcohol based sanitising gel and pads, waste bins for disposal, radio for communication with drivers and disinfectant spray for the driver to use to sanitise the vehicle.
The Thai Army chief says that if this system proves successfully, the government will use it for future official visits.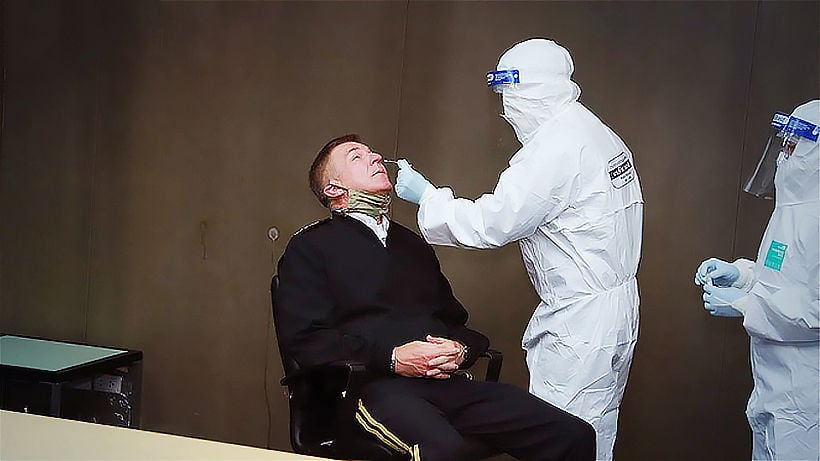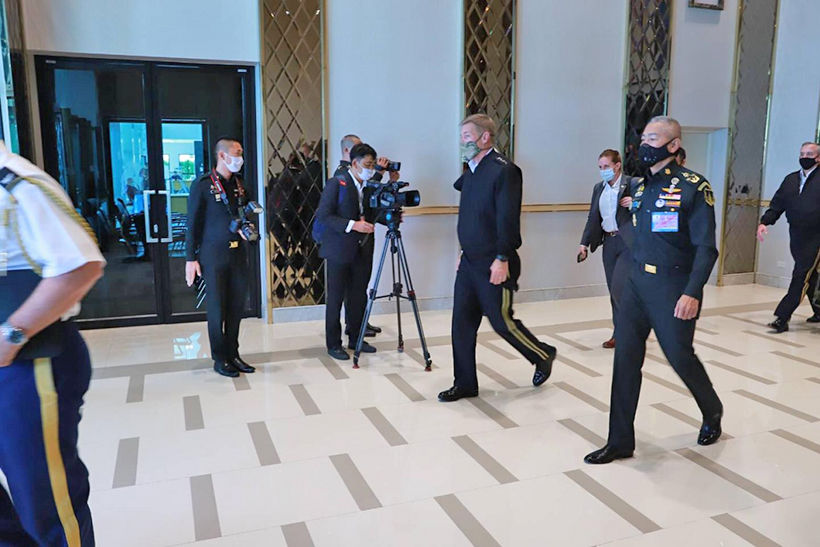 SOURCE: Nation Thailand
Keep in contact with The Thaiger by following our
Facebook page
.
Facebook group names and shames "farang prices"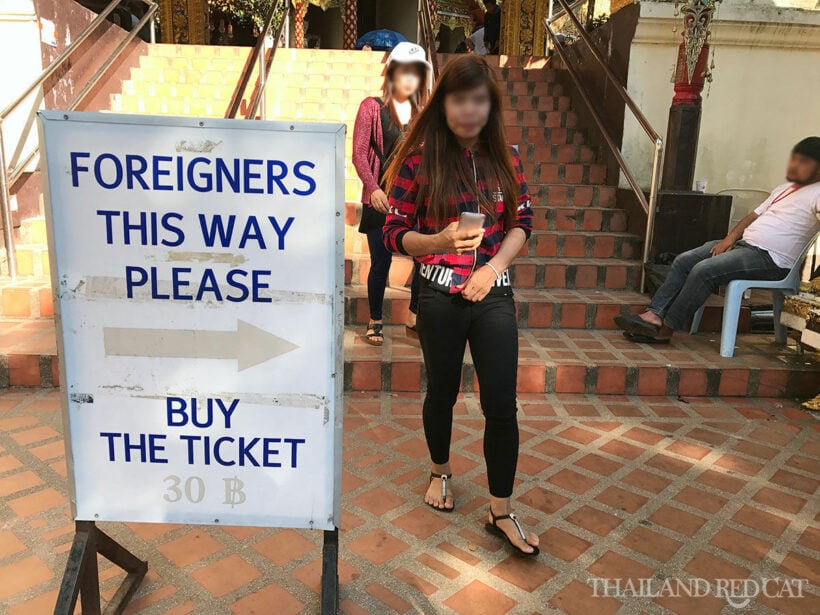 In days gone by, a foreigner visiting a national park or tourist site could often expect to be charged several times the price charged to a local. Now, thanks to a Facebook community naming and shaming venues that apply "farang prices" to foreign visitors, those days are, well, numbered. Members of the 2PriceThailand Facebook group are warning each other about price gouging for foreigners regardless of their residence status, a practice openly endorsed by state and private businesses alike, despite calls of outright discrimination.
The double pricing or dual pricing debate has been around ever since foreigners stepped onto Thai shores. It's a hotly debated topic with strong opinions on both sides.
"The intention of this group is to give foreigners the right to choose. We don't think it is fair that some tourist attractions disguise the fact that they have a dual price system. Our opinion is that if they want to overcharge foreign tourists by as much as 200% then that is their decision. But, don't do it in a way that is both sneaky and insulting."
The group also says they hope to see the abolition of the dual pricing system in Thailand.
"Thai people are internationally known for their kind and generous hospitality. The actions of a few tourist attractions are damaging that reputation."
Popular British blogger Richard Barrow, who regularly writes about Thailand's tourist attractions and scams on his websites, is the group's admin. In 1 post, user Aisha Moller Pedersen warns that the "foreigner" admission fee for Phra Nakhon Khiri Historical Park is 150 baht; it's 20 baht for Thais.
Just to step on the beach at Nangyuan Island Dive Resort, foreigners pay 200 baht (doubled from 100 baht due to Covid-19), while Thais pay 30, a member posted Monday.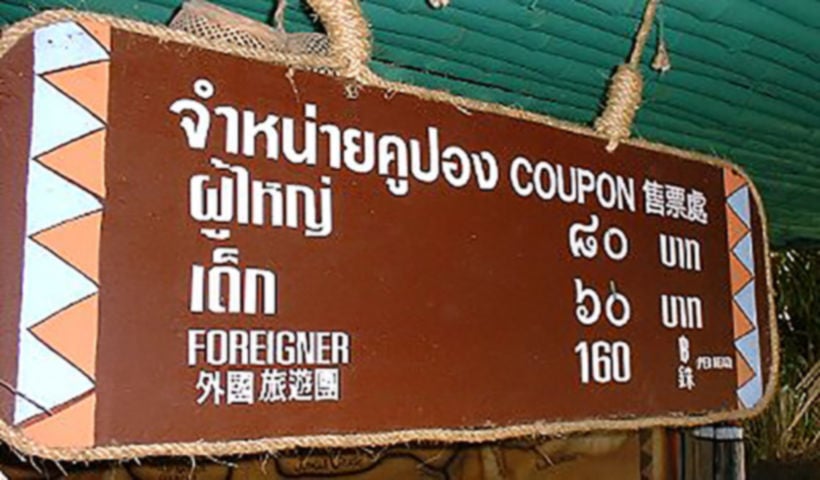 Another user wrote that at Koh Chang Waterfall, the entrance fee is 200 baht for foreigners, while (adult) Thais only pay 20. A tourist attraction in Bangkok features its ticket prices in Thai and Arabic numbers. The "farang price" is nearly twice as high.
"I was there during the weekend and brought my work permit as well but no luck, and worst of all the ticket seller was very rude,so, we decided to leave. This is a widespread and systematic racism which should be stopped immediately."
Another member wrote yesterday that adult foreigners pay 100 baht to enter the Queen Sirikit Botanical Garden in Chiang Mai, while Thai adults pay 40. But it's not all negativity – members also post places that offer the same prices for Thais and foreigners. "Sukhothai Historical Park offering same prices for Thai and farang," wrote one user in a Sunday post.
"Doi Tung Tourist Attraction – no dual pricing, and the nicest gardens I've seen in Thailand," wrote another, referring to the Mae Fah Luang Botanical Garden in Chiang Rai.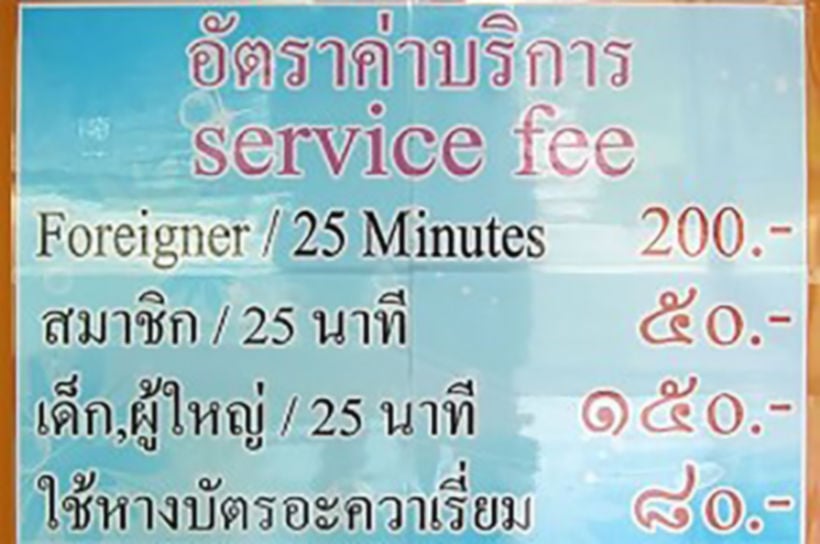 SOURCE: Khaosod English
Keep in contact with The Thaiger by following our
Facebook page
.
Separate tragedies across the nation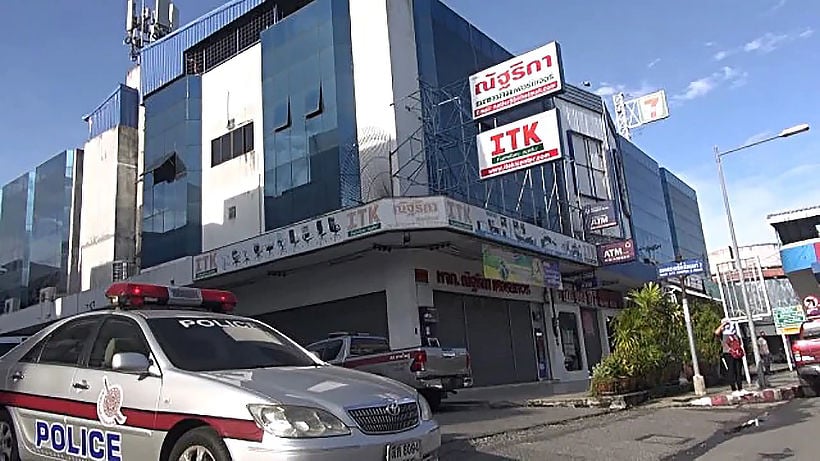 Tragedy has struck around the nation in separate incidents. In the Hat Yai district of the southern Songkhla province, the bodies of the owners of the locally well known Nattharika Furniture were discovered this morning by a relative who had been instructed to show up at the shop at 6am. In an apparent suicide pact, 55 year old Somsak, and his 60 year old wife Nattharika Suwankijwat, were found lying dead in a blood soaked bed.
Police say Nattharika was embracing her husband and both bodies had a single gunshot wound to the head. The gun was found on the floor and officials found gunpowder residue on Somsak's left hand. There was no sign of ransacking or struggle in the room. Somsak's brother, who found the bodies, told officers his brother messaged him at 3am, asking him to visit the shop at 6. As the shop was silent when he arrived, the brother said he went upstairs to their bedroom and found the bodies.
He says his brother and sister-in-law may have committed suicide as they had been struggling with huge debts, and the situation became worse with the Covid-19 crisis.
Somsak's mother also lives above the shop, while the couple's 2 daughters live in Bangkok.
In the western province of Sa Keao, 200 kilometres east of Bangkok on the Cambodian border, 2 couples were devastated when they found that the children they had come to pick up from kindergarten had drowned because the school did not have enough teachers to supervise all the children. The incident took place yesterday and police were notified of the tragedy at 10am.
Officers arrived at the Ban Tha Tasi School to inspect the bodies of 2 young students, which had been fished out of the pond by local villagers. The children, identified as 3 year old Thanakorn and 4 year old Peerawat, were believed to have been dead for more than an hour. They were first and second grade students and their classes didn't have a supervisor.
Ban Tha Tasi School's management said that since the school has just reopened, they don't have enough staff to watch over all the children. The bodies were found by an older child who had gone hunting for the pair and found them floating in the pond.
The parents say they are not angry and understand that their children must have been mischievous. The school has promised to be more cautious to prevent a similar tragedy.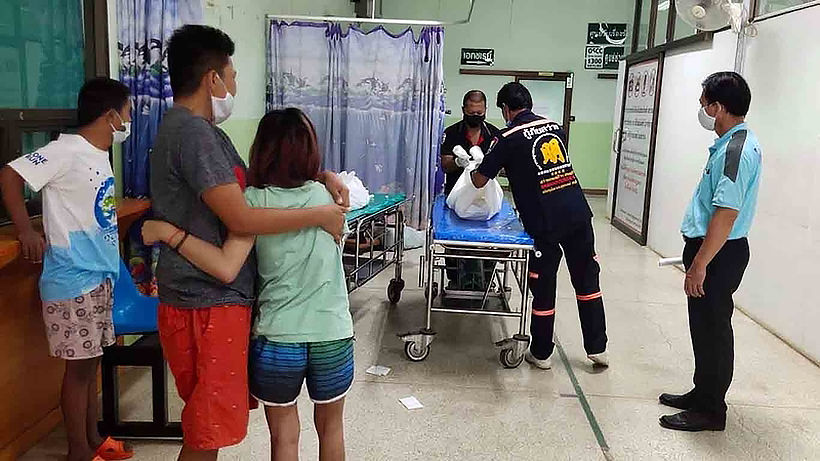 Also yesterday, animal rights group Watchdog Thailand's Facebook page gave details of the gruesome killing of 2 Siberian huskies in Udon Thani's Nong Sang district. According to the post, the owners came home from the temple on Tuesday to a grisly sight… the bodies of their 2 dogs with their heads smashed in, eyes gouged out and bodies slashed.
WDT say the owners believe the attacker's goal was to only kill the dogs, as nothing in the house had been stolen or damaged. They also said the dogs were always kept in their kennel to ensure they didn't go out and kill chickens owned by nearby locals.
WDT say they are monitoring the case and have urged the owners to report the case to police. It's believed that one of the locals may believe the dogs hunted their chickens, so decided to kill them in revenge.
Earlier this month, WDT rescued more than 50 Thai Ridgeback dogs being held in wretched conditions, from an alleged puppy farm run by an elderly American man in Chiang Mai.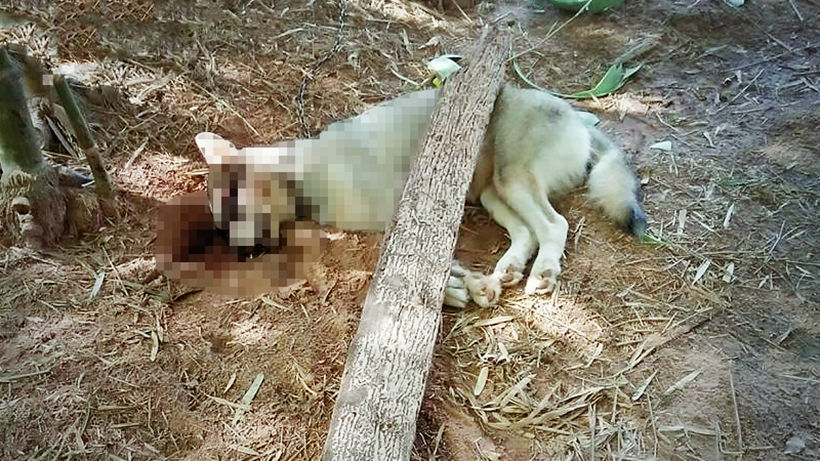 Elsewhere, a 23 year old woman was arrested yesterday for allegedly leaving her newborn baby in the woods in Isaan's Sakon Nakhon province. The woods were only 100 metres from her house in Khok Ang village in Na Phiang subdistrict.
On Monday local villagers found a newborn girl, still covered in blood and with the umbilical cord freshly cut, wrapped in an old rice sack. They rescued the baby and named her "Phansa", as they found her on Buddhist Lent Day or "Khao Phansa Day".
Police traced the abandoned baby to the house of the suspect and arrested the woman after seeing bloodstains on her clothes. Officials say the suspect had a high fever from infections caused by cutting herself with the scissors used to cut the umbilical cord, and not treating the wound properly. Police sent the suspect to a hospital for treatment and haven't charged her at this stage.
The suspect's neighbours told authorities the suspect was married and had 2 sons before divorcing her husband and leaving to work in Bangkok, while her children stayed with their grandmother. They say she came home during the Covid-19 crisis and looked pregnant, but told others she was just gaining weight.
SOURCES: Nation Thailand | Nation Thailand | Nation Thailand | Nation Thailand |
Keep in contact with The Thaiger by following our
Facebook page
.