Is it a motorcycle? Is it a delivery? Is it a taxi? No, it's Line Man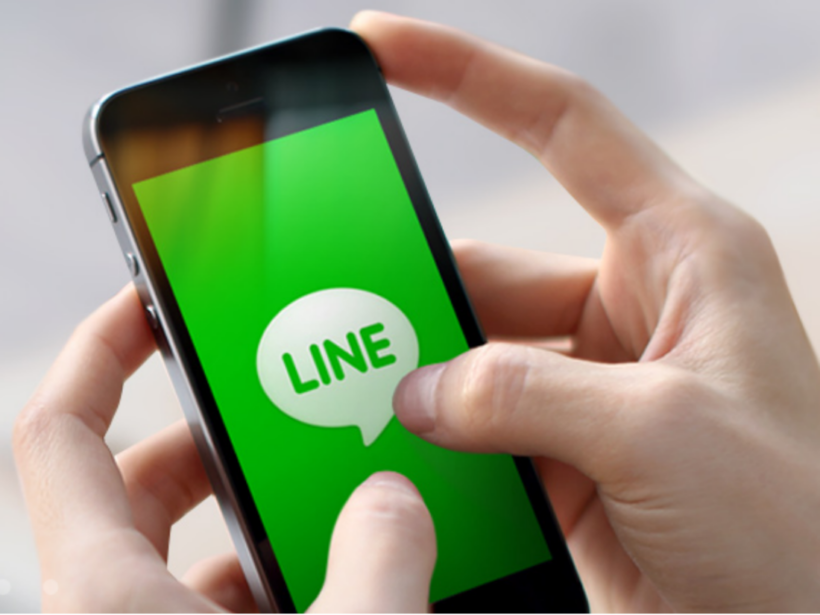 Line Man, part of the Line message App universe of services, is cutting  into other well-known brands in the Thai market by providing a variety of services, including food delivery, taxi-hailing, parcel and convenience goods. But Line is able to expand its businesses based on its already huge subscriber base in Thailand.
Lin is the most popular messaging App used in Thailand and is a subsidiary of Korean internet search giant Naver. The Line messenger app was launched in 2012 in Thailand and has grown into the leading social media platform with 44 million users, nearly two thirds of the country's population.
Now the local unit of the company has created a unique service called Line Man. It was first launched in 2016 as a food delivery service but has now grown into a broader service delivering groceries, food, documents and packages to customers by motorcycle riders.
Line Thailand CEO Phichet Rerkpreecha says they used Bangkok's notorious road congestion to find a business model different from their competitors.
"We were not the first to look into food delivery services but are the first to solve the problem of getting street food to customers. Traditional food delivery was back then only for restaurants, but we focused on street food," he said.
Line Man is also used by many small companies especially in the e-commerce sector to save delivery time around the city and plans to expand to grocery services later this year.
"Beyond food delivery and parcels, Thai users have been very creative in using Line Man. We found Line Man is used to hold a table at a restaurant until customers come. At some very popular restaurants, reservations can be canceled if a client is late."
Line Man's food delivery business is operated in partnership with local food tech firm Wongnai, which has the largest food database in Thailand.
"The services are currently available in Bangkok and three adjunct cities. We will start operations in Pattaya City soon and plan to expand into other cities."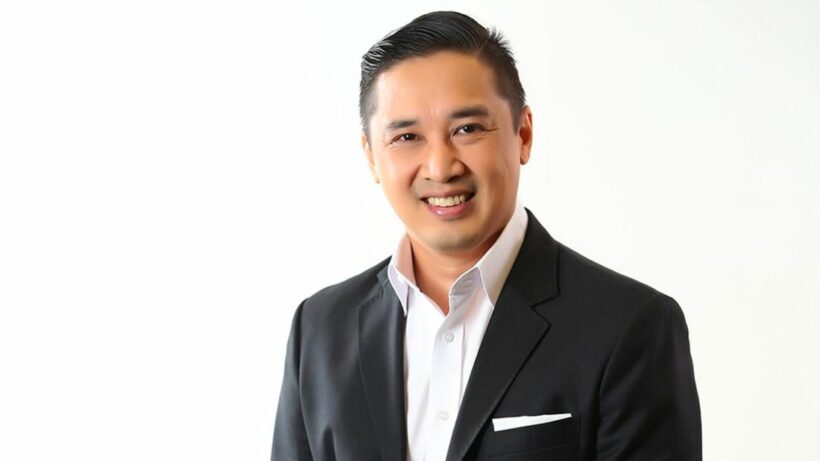 PHOTO: Line Thailand CEO Phichet Rerkpreecha
Keep in contact with The Thaiger by following our
Facebook page
.
More arrest warrants issued over Bangkok's August bomb attacks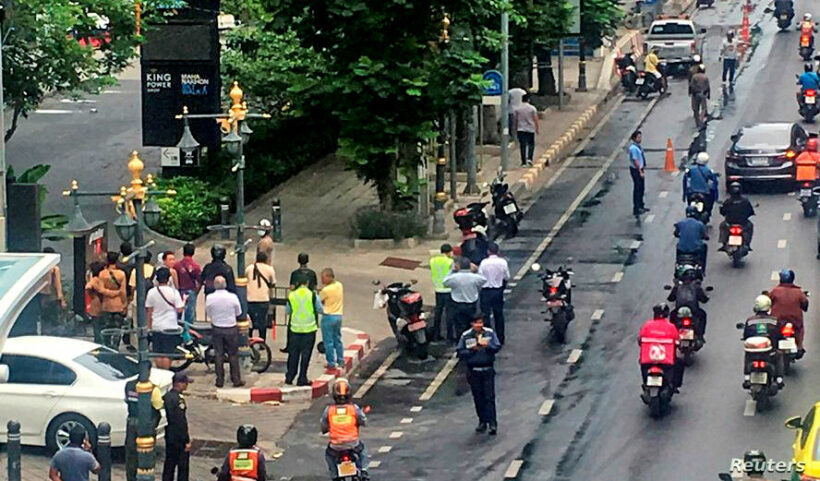 PHOTO: Voice of America
The Criminal Court issued arrest warrants for five more suspects yesterday over their alleged involvement in the simultaneous bomb and arson attacks in Bangkok back on August 2.
Police presented evidence against them to the court yesterday to obtain warrants for their arrest. They are accused of being members of an unlawful syndicate and collaborating to carry out, or tell others to carry out, terror attacks, attempting to and having launched bomb attacks to harm others and damage others' properties.
Earlier, police investigators have obtained arrest warrants against 13 other suspects. The Nation lists the current list of suspects awaiting arrest…
1 ) Ammari Maming
2 ) Assamee Abuwae
3 ) Ussaman Pohlor
4 ) Mayaki Malasing
5 ) Sattha Ahwae
6 ) Ussaman Jehteh
7 ) Sukree Duraman
8 ) Hakeem Punyung
9 ) Hasae Baeloh
10 ) Nassaru Maprasit
11 ) Ussaman Lateh
12 ) Hasan Ahwae
13 ) Mayusoh Hayisamah.
Police investigators have arrested three suspects, namely Lu-ai Saengae, Wildun Maha, and Muhammadilhum Sa-i. Lu-ai and Wildun were arrested on board a bus in Chumphon early on August 2 after the bombs they allegedly planted in front of the Royal Thai Police headquarters were detected on August 1 and were safely disabled.
SOURCE: The Nation
Keep in contact with The Thaiger by following our
Facebook page
.
14% of condos around Bangkok are empty – good time to buy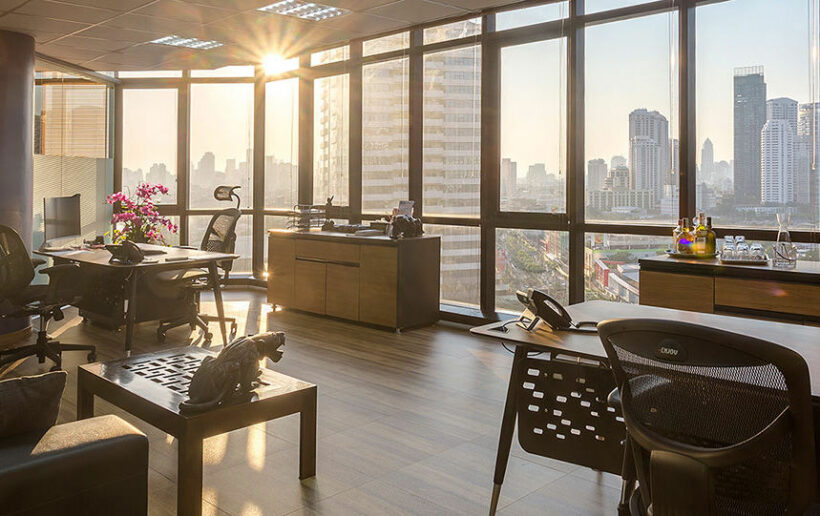 Looking for a condo around Bangkok? Now might the right time to take the plunge with the head of the Appraisal and Estate Agents Foundation saying some areas have between 8-14% vacancy rates, some areas of Bangkok up to 17.5%.
Dr Sophon Pornchokchai made the remarks at a news conference yesterday.
"Adding developer price wars, plus inducements to purchase, this represents a buyers' market."
He says the figures relate to condos, single houses, townhouses and other dwellings where less than 15 units of electricity were being used, deeming them to be classified as 'unoccupied'.
Around Bangkok there are 525,889 such vacant properties.
The top three areas for vacancies were Nonthaburi (north west of the central area) with 335,421 available properties with 45,848 unoccupied or 14%. This percentage was also true of Bang Na (south east of Bangkok) with 231,192 properties, 31,289 unoccupied. Bang Yai – to the far north west of the capital – has 221,492 with 28,016 unoccupied or 13%.
Locations with the lowest unoccupied dwellings are Bang Plee (south east) with 8% unoccupied, Min Buri (north) 9% and Lat Krabang (south east) 9%.
Dr Sophon says that when it comes to condos in Bangkok and the surrounding areas, between 13.5% and 17.5% are unoccupied.
"This glut has prompted a selling war with discounts and deals."
FazWaz's CEO Brennan Campbell says that we're in part of the buying cycle right now that is definitely in the buyer's favour.
"Long-term, the Bangkok market continues to show its strength, but there is definitely an enormous range of property to choose from, in almost every location, right now. The current dip in demand is just part of the cycle."
SOURCE: Daily News
Keep in contact with The Thaiger by following our
Facebook page
.
Robber steals Thailand Post van, then robs gold shop in Bangkok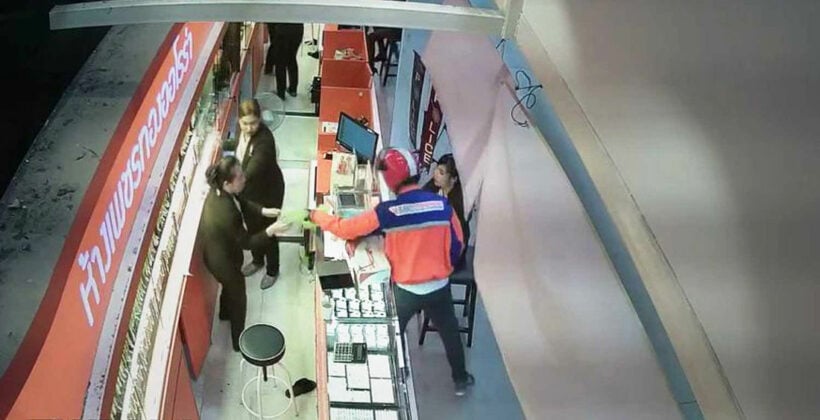 A man dressed up in a Thailand Post uniform has got away with gold necklaces valued around 70,000 baht. He robbed the gold shop in Bang Phli, Samut Prakan and then fled in a Thailand Post van. Samut Prakan includes the southern and south-eastern suburbs of greater Bangkok.
It was revealed later that Thailand Post had reported the van stolen the night before and that the robber wasn't an employee, despite using the uniform as a costume.
The incident happened this morning at the Aurora Gold and Jewellery shop about 10am. The shop is part of the Thai Watsadu store on Theparat Road.
09.41 น.คนร้ายจี้ชิงทรัพย์สร้อยคอทองคำ ร้านทองออโรร่า ภายในร้านไทยวัสดุ ถ.บางนา-ตราด จ.สมุทรปราการ คนร้ายชาย 1 ราย ใช้รถยนต์ทะเบียน 1 ฒน 150 กทม. ก่อเหตุ เส้นทางหลบหนีเข้าเขตนครบาล พื้นที่ สภ.บางแก้ว Cr.ผู้สื่อข่าวอาชญากรรม #ร่วมด้วยช่วยกัน pic.twitter.com/gMu1tmlLYb

— ร่วมด้วยช่วยกัน (@Ruamduay) September 19, 2019
A gold shop employee told police that the man placed what looked like a Thailand Post parcel on the shop's front counter shouting that it contained a bomb. He was carrying a gun and threatened staff telling them to put gold necklaces in his bag. Police report that the white Toyota escape van with Thailand Post logos belonged to a nearby Post branch in Bang Phli. The van was stolen from the post office last night.
Police are searching for the man.
SOURCE: Bangkok Post
Keep in contact with The Thaiger by following our
Facebook page
.