Grab adds another layer of riding security in Malaysia. Selfies.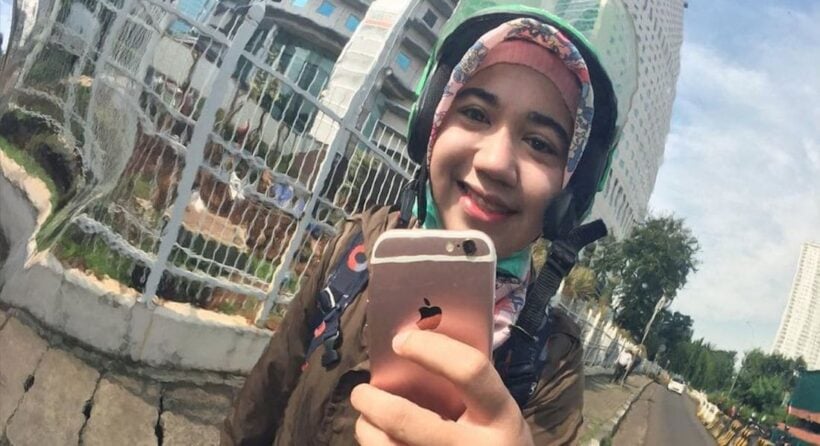 If you've used the e-hailing alternative 'Grab' you'll know how easy it is to use as it continues to disrupt traditional taxi and tuk tuk services around the region. In Malaysia they've just added another level of security for users and it will be applicable for Thais or other foreigners using Grab when in Malaysia.
In Malaysia it will now be mandatory for passengers to submit a selfie to use its services in an effort to make the platform safer for drivers and riders. Selfie verification, part of Grab's facial recognition technology, was instrumental in helping police investigate the murder of one of its riders in May this year.
Grab has informed users via its App that all passengers will be required to submit a selfie by July 12.
The announcement says that the selfie will be mandatory, a one-time identity verification and will be used to verify a passenger's identity for future rides.
To avoid fake identities, Grab may ask passengers to submit another selfie to verify their identity when needed. Grab also assured passengers that their identity and personal information are secure and will not be shared with its drivers or merchants.
The selfie feature is part of Grab's facial recognition technology that was first announced together with Malaysian Transport Minister Anthony Loke in April. According to Grab, this technology has already helped the authorities arrest two suspects in the recent robbery and murder of Grab driver Mohd Hanafiee Jaafar in Tuaran, Sabah. Grab said during the investigation, it provided information to the police, including a photo of the suspect, and the necessary information from its passenger selfie verification feature built into its app.
There has been no announcement if Grab would introduce this technology in their Thai services at this stage.
Keep in contact with The Thaiger by following our
Facebook page
.
Southern Thailand smog well above safe levels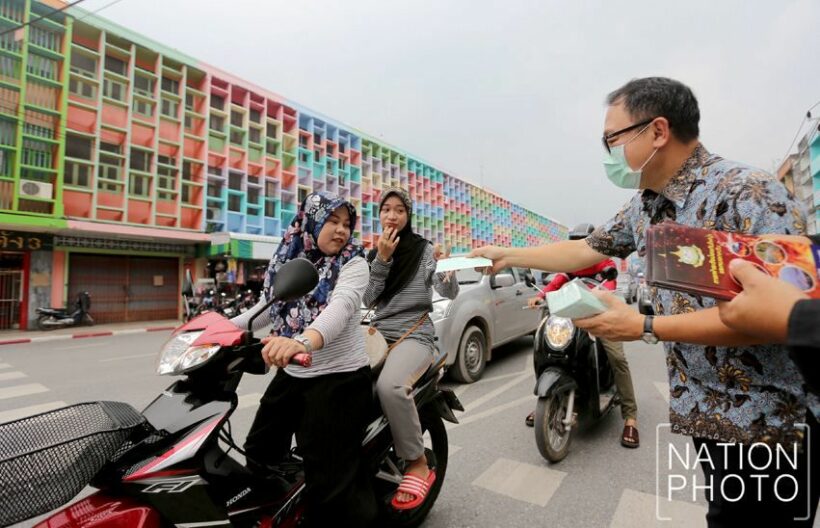 PHOTOS: Charoon Thongnual – The Nation
Hat Yai, the main city in Songkhla, has been among the worst hit by the smog engulfing parts of southern Thailand, Malaysia, Singapore and the Indonesian islands of Sumatra and Borneo.
The business district of Hat Yai has been hard hit with PM2.5 particles exceeding the safety standards of 50 (set by the World Health Organisation). But some rain yesterday afternoon provided a short respite. This morning it is up to 158 again.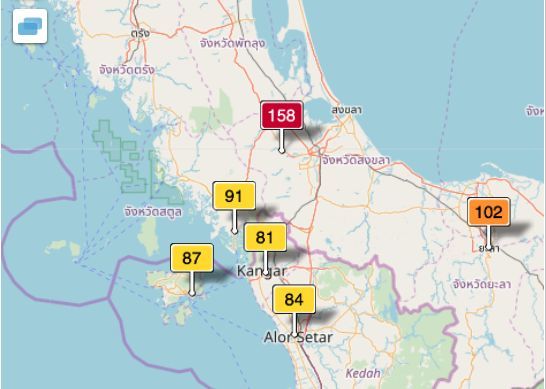 Two other areas facing similarly poor air quality are Yala and Satun provinces, according to Tananchai Wansuk, the chief of the area's environment office.
"The smog from the Indonesian island of Sumatra is expected to cloud southern Thailand for at least the next three days."
Meanwhile, measures have been put in place to protect public health in southern Krabi province amid a seasonal recurrence of haze drifting from Indonesia, the chief of the provincial health office said yesterday.
Dr Aphichai Limanont said hospitals of all sizes had been instructed to communicate information about coping with the smog, with those at most risk, such as children, the elderly, and people with chronic respiratory problems are being warned to be especially vigilant.
Aphichai acknowledged that Krabi had witnessed dense smog every year recently, but said the authorities had been able to cope.
The southern Thai provinces struggle perennially with the smoke from forest fires burning on Indonesia's Sumatra Island and Kalimantan and it reappeared this week in Yala and Songkhla. Malaysia and Singapore have been suffering for several weeks with government environmental officials pointing fingers and trading insults.
Meanwhile, Indonesia's President Jokowi has acknowledged the problem while 30,000 Indonesian army, firefighters and emergency responders are in the fire zones battling the intentionally-lit plantation fires.
SOURCE: The Nation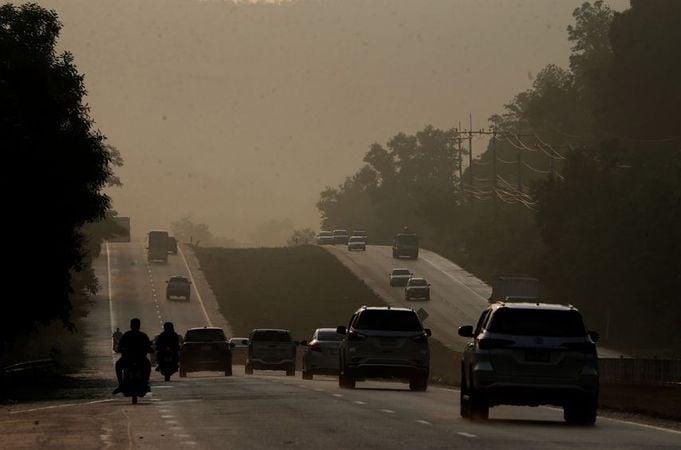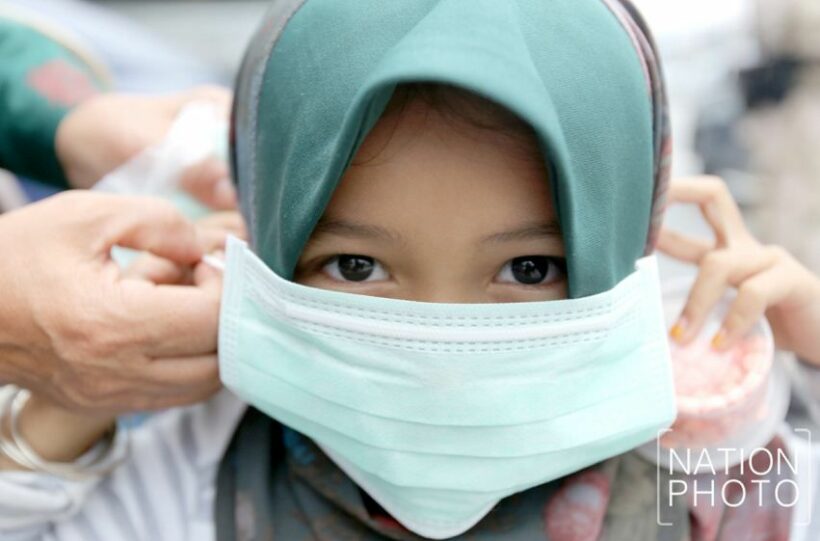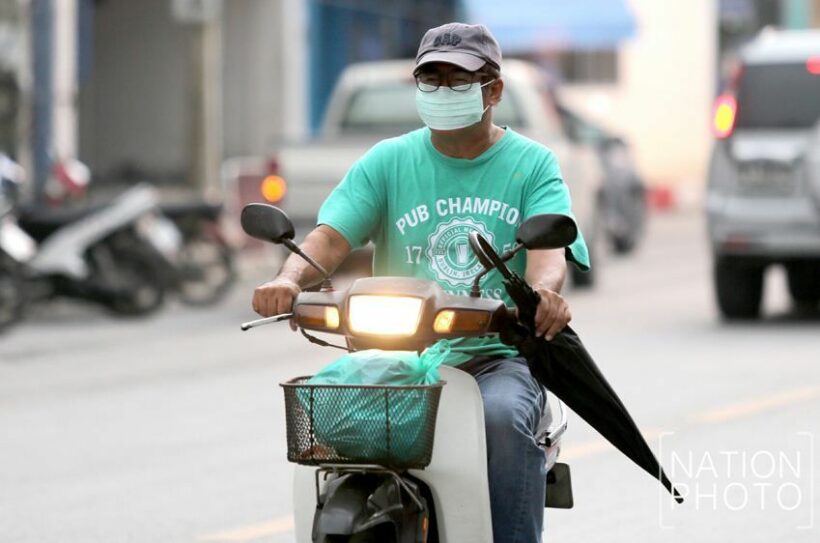 Keep in contact with The Thaiger by following our
Facebook page
.
Smoke from Indonesian illegal plantation burn-offs causing acute problems for south east Asian neighbours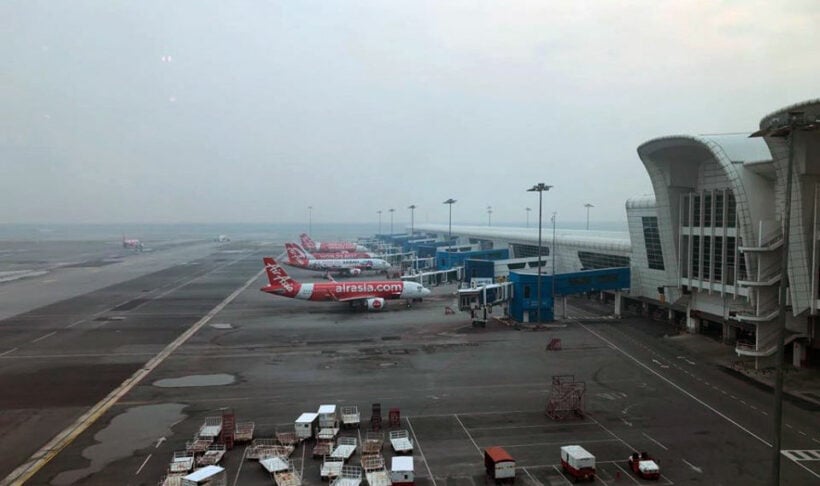 PHOTO: Visibility down to less than a kilometre at KL airport yesterday
Flights cancelled, schools closed and regional environmental ministers trading insults. The minister's fiddle whilst Indonesian islands burn.
Parts of Indonesia are now opening temporary clinics to treat thousands of people suffering from acute respiratory illnesses in the smoke haze stricken regions around Sumatra island as authorities stepped up efforts to douse forest and peatland fires.
Dangerous smoke from illegal burning to clear land for palm oil and paper plantations is prompting school closures and disrupting travel in the region. But the air quality in Singapore, which slipped to unhealthy levels over the weekend, is now forecast to improve in the next few days.
The fires, an annual burn-off of plantations to prepare for the new year crops, is causing major disruptions and a health hazard for other south east asian countries in the wake of the smoke, including Malaysia, Singapore and southern Thailand.
More than 300 schools in Malaysia's southern state of Johor were closed on the weekend after the Air Pollutant Index hit very unhealthy levels. (Johor's weekend is Friday and Saturday with Sunday being a normal work day.)
Authorities have distributed perfunctory face masks to people in Riau, Jambi, South Sumatra and Kalimantan as the ash and smoke from more than 2,500 hotspots blanket the region. Authorities now say they have deployed more than 9,000 personnel, with the help of 42 helicopters, to fight the fires.
The total number of hotspots in Indonesia fell to 2,583 on Monday from 2,862 on Sunday, with the Indonesian part of the Borneo island alone accounting for almost 1,200 forest fires. The hotspots have affected 328,724 hectares of forest and farm land this year, data from the National Disaster Mitigation Agency show. The agency stands ready to undertake cloud-seeding to douse the fire, it said.
Kuching and Kuala Lumpur in Malaysia, Hanoi and Jakarta were among the world's top 10 cities with the poorest air quality, according to IQAir AirVisual pollution data yesterday. The air quality index in Kuching in haze-hit Sarawak state was 241 yesterday, a level well in excess of the WHO upper level of 50.
In KL yesterday the levels reached 130.
Meanwhile PT Garuda Indonesia airlines, the national carrier, was forced to cancell 12 flights on Sunday and several of its jets were either diverted or delayed as the haze lowered the visibility.
Keep in contact with The Thaiger by following our
Facebook page
.
Malaysia demands Indonesia acts on smog-belching fires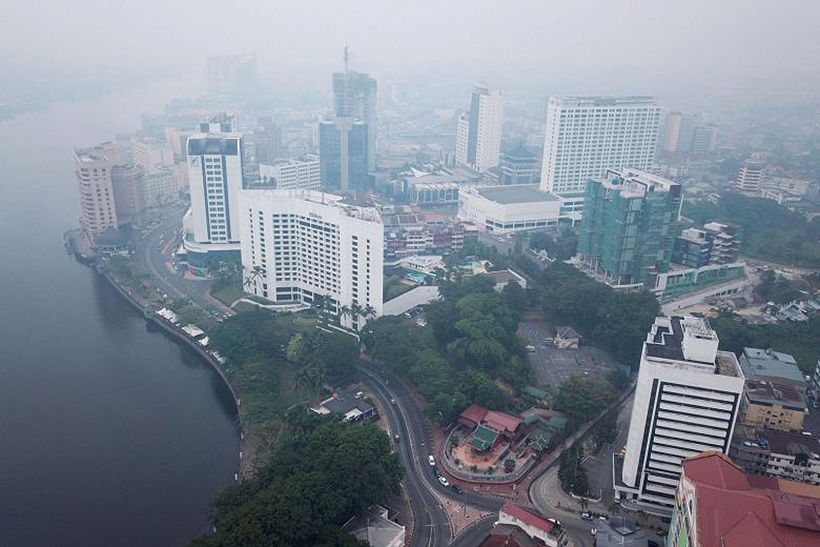 "An official in Sarawak state on Borneo is demanding Indonesia send face masks and medical supplies to Malaysia for those affected by the pollution."
Malaysia is stepping up pressure on neighbouring Indonesia to tackle huge blazes tearing through its rainforests and smothering Southeast Asia in smog, as fires typically started to clear land for crops send diplomatic tensions soaring.
Burning forests to make way for farming is also thought to be behind the enormous fires currently ripping through the Amazon in South America, and experts believe they could have a serious impact on the global climate.
Malaysian Environment Minister Yeo Bee Yin expressed concerns about the impact of the smog and offered assistance to Jakarta to fight the fires during a meeting with Indonesian officials Tuesday, according to a statement.
An official in Sarawak state on Borneo – where air quality dropped to very unhealthy levels this week – was less diplomatic, demanding Indonesia send face masks and medical supplies to Malaysia for those affected by the pollution.
"Until they suffer economically, they will not take our complaints seriously," Sarawak Deputy Chief Minister James Masing was cited as saying by the Malay Mail news portal on Wednesday.
"The Indonesian government must bear the full brunt of responsibility of the haze in Sarawak."
Air quality also plummeted to unhealthy levels in Kuala Lumpur this week as toxic smog drifted in and shrouded the skyline, while over 400 schools were closed in the Malaysian part of Borneo due to the smoke.
Borneo is shared between Indonesia, Malaysia and Brunei.
Despite the pressure from its neighbour, Indonesia insists the smog in Malaysia was caused by fires there.
A statement from the environment ministry and weather agency said the number of "hotspots" – areas of intense heat detected by satellite which typically indicate fires – on the Malaysia peninsula had risen significantly. But the facts suggested otherwise.
The Malaysian environment ministry referred journalists to information on hotspots published by the Singapore-based ASEAN Specialised Meteorological Centre. According to the centre, there were 861 hotspots on Indonesian Borneo and the Indonesian island of Sumatra as of September 10, and just seven in the whole of Malaysia.
Indonesia has deployed thousands of security forces who are fighting a desperate battle against the blazes, which have reduced once-verdant areas of forest to charred wastelands and darkened the skies with acrid smoke.
Indonesian forest fires are an annual problem during the dry season but this year's are the worst since 2015, when the region was choked by toxic smoke for weeks.
SOURCE: Agence France-Presse
Keep in contact with The Thaiger by following our
Facebook page
.