Patong cancels all official Songkran events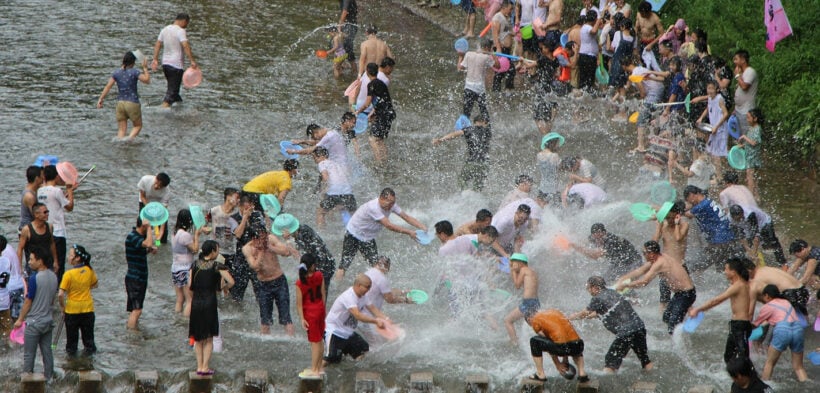 "This year, Patong will not hold any official Songkran festival celebration events at all."
All official Songkran events in Phuket's Patong municipality, including the "Songkran on the Beach" play zone and the DJ dance party have been cancelled. Patong Mayor Chalermluck Kebsup made the announcement on her social media channels yesterday.
Patong is the traditional epicentre for Songkran festivities in Phuket, with the beach resort town hosting a variety of celebrations events and entertainment performances on the beach for locals and tourists alike. Festivities were to be held each day and night, from April 11 through 15.
But Chalermluck says the festivities are off.
"This year, Patong will not hold any official Songkran festival celebration events at all. We held a discussion and concluded that we will not hold any official events at all because we want to avoid all risk of COVID-19 spreading, which becomes more likely with large crowds. We will make an official announcement soon."
Among the official events were the popular sand sculpting competition, the Miss Songkran beauty pageant, traditional Thai dance shows, live music performances and an electronic dance music party on the beach. The large public merit-making events traditionally held at Loma Park in the morning during the Songkran holidays have also been cancelled.
Chalermluck stressed that cancelling official public events did not mean there was a ban on celebrating Songkran in Patong.
"People still can enjoy their water play on Bangla Road. We don't have any authority to ban people playing with water during the festival. They can if they want to. But please be careful when playing, be polite and safe."
Thailand has not seen a community spread of the virus, and only confirmed 47 cases, the majority of whom have recovered, but as cases grow across the globe, there is concern that a massive event like the water festival, which could easily draw over a hundred thousand people, would risk spreading the disease further.
Songkran is the Thai New Year Holiday and the single biggest holiday event on the Thai calendar. The events cancelled were the public events, people are of course free to celebrate privately.
SOURCES: The Phuket News | The Pattaya News
Keep in contact with The Thaiger by following our
Facebook page
.
Jungceylon Phuket commences food ordering and deliveries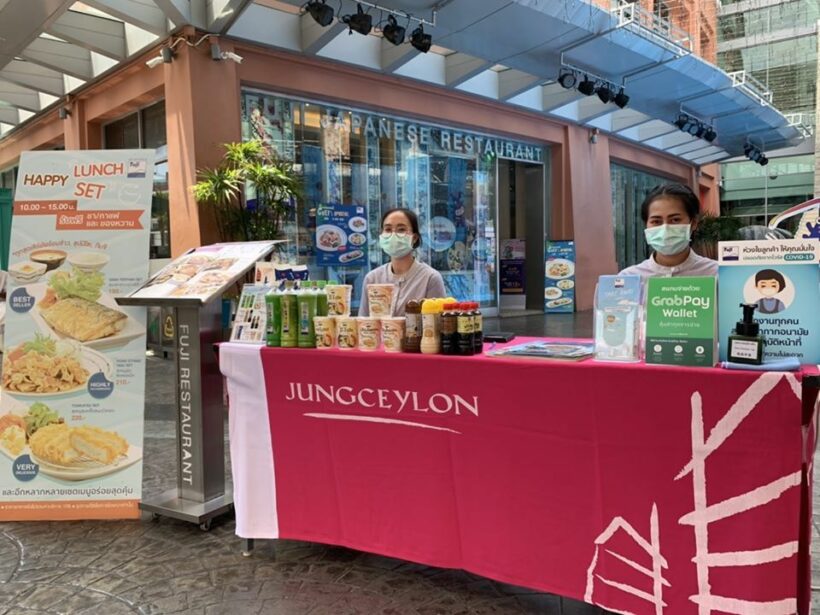 Jungceylon shopping mall, in Patong Phuket has established a 'food ordering & pick up' service point for all its restaurants and fast food outlets to increase convenience and safety for local residents in the Patong district. The mall is offering the service in partnership with 30 restaurants and chains, including…
AKA Japanese Restaurant, Baskin-Robbins, Dunkin 'Donuts, Four Seasons Restaurant, Fuji Japanese Restaurant, Haagen-Dazs, Jeffer Steak & Seafood, KFC, Kin Japanese Buffet Restaurant, Le Siam, MK Gold Restaurants. , On the table, Pizza Hut, Shabushi, Spice House, Starbuck's Coffee, Subway, Sushibox, Sweet Coconut, Sweet Mango, The Coffee Club, Wine Connection and Yayoi.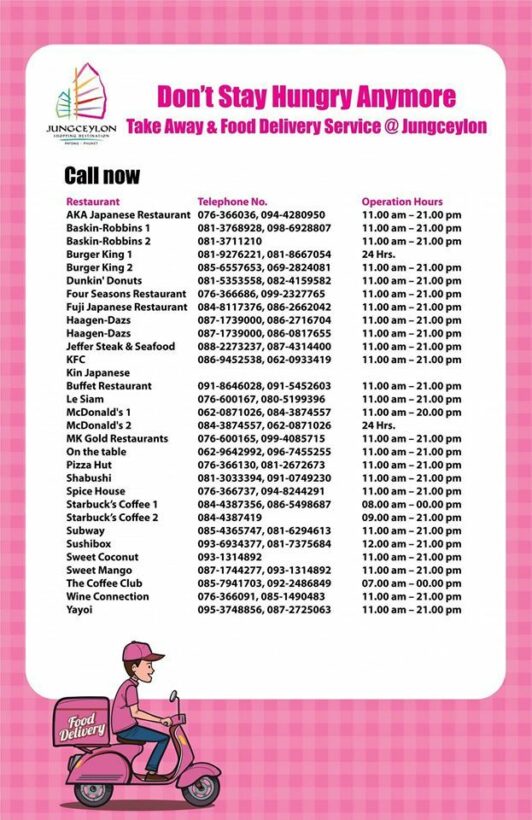 In addition, the mall is still open for necessities and services such as…
• Supermarkets (Big C Extra) from 09am – midnight
• Pharmacy (Boots and Watsons) from 11am – 9pm
• 7-Eleven convenience store, Burger King and McDonald's are also open 24 hours a day, for now
Measures to prevent exposure to Covid-19 are being implemented at Jungceylon.
For more information contact Juncylon on their web page HERE, or call 076-600-111
SOURCE: Andaman News Phuket
Keep in contact with The Thaiger by following our
Facebook page
.
Natcha from Phuket crowned Miss Hooters Thailand 2020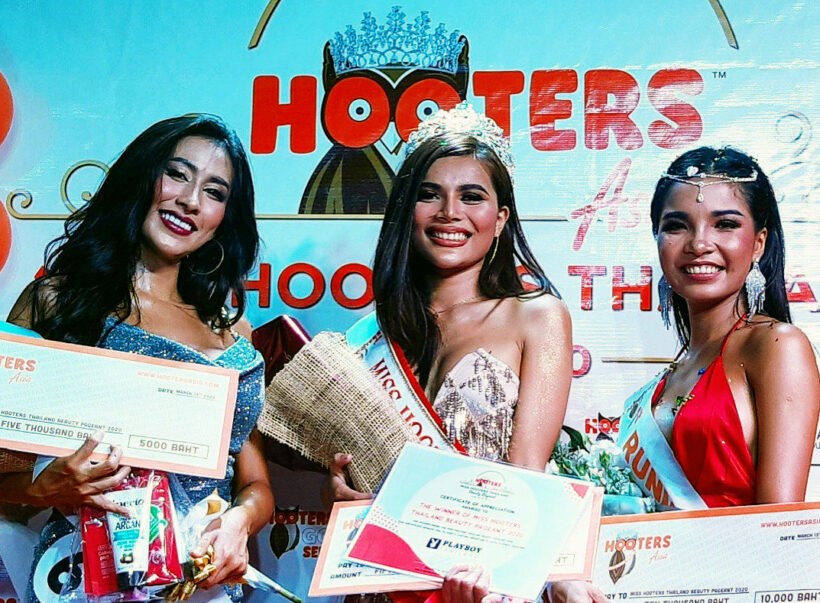 Meanwhile, somewhere in Phuket…
Beauty Pageant was recently held at Hooters Pattaya, for the fifth year running. This is event is one of Hooters biggest events that attracts audiences from across the world. Khun Ekasit Ngampichet, President of Pattaya Business and Tourism Association, came to give an opening speech and wished Hooters Asia for every success in helping together to promote Pattaya's tourism industry.
Winners from the heats held around Thailand competed for the title of "Miss Hooters Thailand 2020" at the Grand Final. A title where the winner will represent Hooters Thailand in the "Miss Hooters International Pageant 2020". Winner of that pageant gets to globally represent the franchise as a brand ambassador.
The winner, Natcha Nunoochan – earlier a month prior to the Grand Finale won the heat of Miss Hooters Phuket also went on to win the title of Miss Hooters Thailand 2020.
Natcha will represent the Kingdom in the 24th Annual Hooters International Pageant at Lake Tahoe in the US this coming June.
"Winning this is an honour. I'm so grateful and I wish to thank everyone for the support," said Natcha, who is a Hooters Girl at Hooters Phuket.
"The girls are like my family and we work hard everyday to serve our guests with the best experience of coming to Hooters. I am very proud to represent Hooters Thailand in the Annual International Pageant at Lake Tahoe this year. I will take that task on with pride and honour to represent my beautiful country.
"Being a Hooters Girl is more than just being a waitress," said Gary Murray, CEO of Destination Eats, which franchises Hooters Asia.
"They are fun, beautiful and smart, they are hardworking and good entertainers"
The final contestants were evaluated based on responses to interview questions, their personality and overall contribution to the iconic Hooters brand, including beauty and dance coordination in three separate rounds. The rounds represented Hooters uniform, evening gowns and swim wear.
The heats and the Grand Final supported The Destination Kids Foundation. All money raised from voting sales was donated to the charity who supports orphanage children with education, medical support and guidance for a brighter future.
(The event was held before the closure of all entertainment venues in Phuket)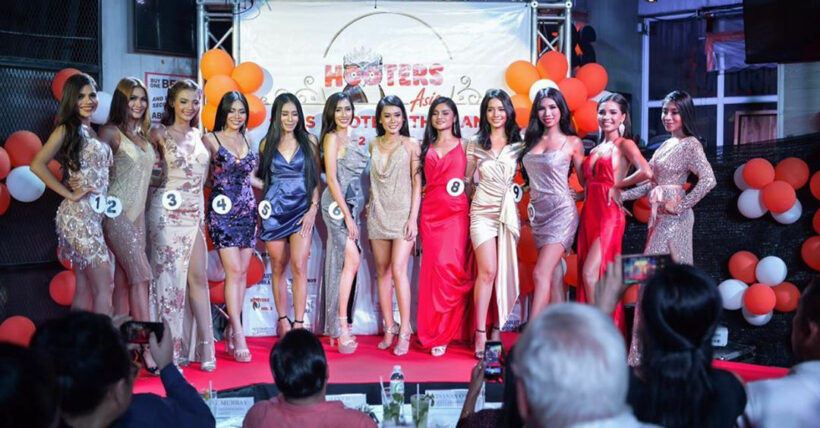 Keep in contact with The Thaiger by following our
Facebook page
.
Shutters down across Phuket's bars and entertainment industry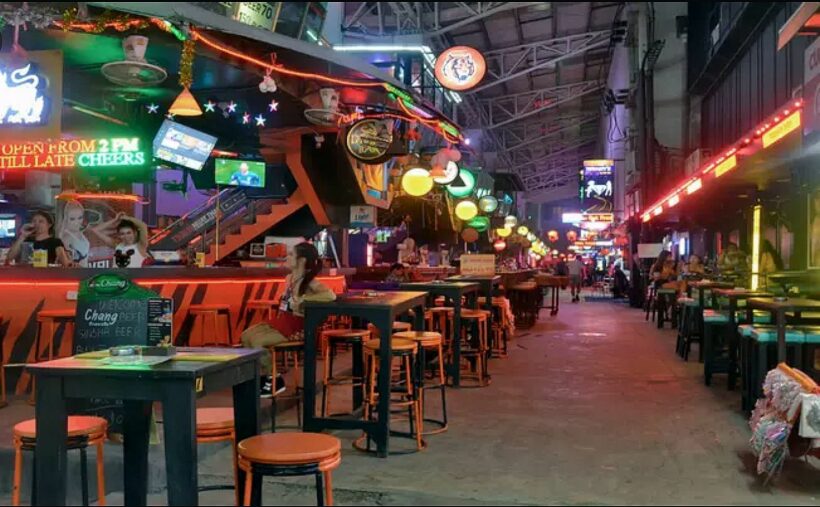 Shutters down in Thailand's holiday island of Phuket. Well, officially anyway. Bars, clubs and entertainment venues in Phuket will now remain closed for at least 14 days in the island's latest efforts to curb the spread of Covid-19. Phuket's Governor Phakaphong Tavipatana made the formal announcement yesterday after 24 hours of conjecture and confusion.
The Phuket Communicable Disease Committee resolved to issue an order for temporary closure starting from yesterday.
The move is a national roll out following the Thai Cabinet's resolution on Tuesday at their weekly meeting ordering temporary closure of entertainment venues in Bangkok and Greater Bangkok for 14 days.
"Entertainment venues" includes Thai traditional massage parlours and movie theatres. The local resolution has now been handed out to entertainment venue operators across Phuket.
The Governor said local venues would be able to request a review in their circumstances but would need "valid reasons to stay open". The Governor also stressed that Phuket continues to screen all visitors arriving at the airport and sea ports.
SOURCE: The Nation
Keep in contact with The Thaiger by following our
Facebook page
.