Hello world! Kim Jong-un resurfaces after 20 day absence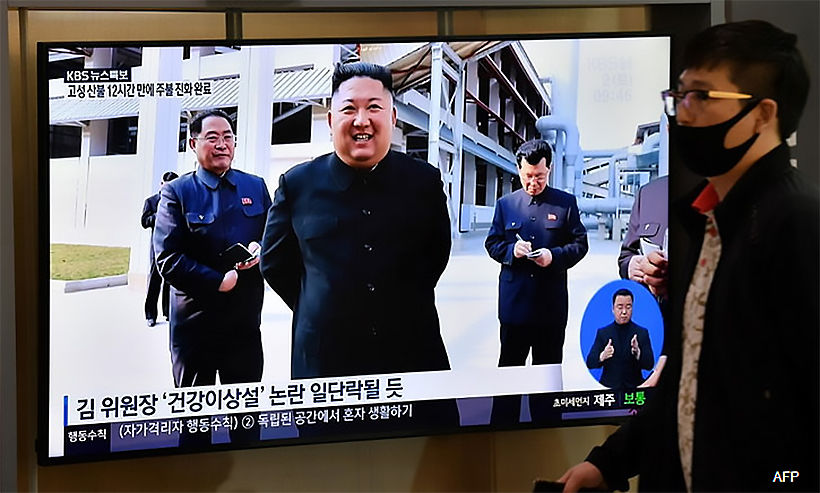 Dispelling recent rumours that he was in a "vegetative state" or even dead after an apparent heart attack and a botched surgery, North Korean dictator Kim Jong-un has resurfaced and made his first public appearance after a 20 day absence. Well, either him or a very good replica.
North Korean state media reported today that he "celebrated the completion of a fertiliser factory near Pyongyang, the hermit nation's capital.
North Korea's state news agency Korean Central News Agency reported that Kim attended the ceremony yesterday with other senior officials, including his sister Kim Yo Jong, who many pundits predicted would take over if her brother were suddenly unable to run the show.
The state Rodong Sinmun newspaper published photos of Kim wearing black and smiling as he waddled around the factory and cut a huge red ribbon.
The KCNA said workers broke into "thunderous cheers" for Kim, who it said is "guiding the nation in a struggle to build a self-reliant economy in the face of 'head wind' by hostile forces,'" a clear reference to US-led sanctions over the country's nuclear ambitions, though the report made no direct mention of Washington or Seoul.
The agency said Kim "warmly acknowledged the workers" and said his late father and grandfather "would be greatly pleased" that the factory was completed.
US President Donald Trump declined to comment about Kim's reappearance this week but remarked that he would "have something to say about it at the appropriate time."
It was the autocratic ruler's first public appearance since April 11, when he presided over a ruling Workers' Party meeting to discuss the Covid-19 coronavirus and reappoint his sister as an alternate member of the powerful decisionmaking political bureau of the party's central committee, a move that confirmed her substantial role in the government.
Keep in contact with The Thaiger by following our
Facebook page
.


Find more SE Asian News courtesy of The Thaiger.

Broke? Find employment in Southeast Asia with JobCute Thailand. Rich? Invest in real estate across Asia with FazWaz Property Group. Even book medical procedures worldwide with MyMediTravel, all powered by DB Ventures.

Opposition criticises Government for unnecessary borrowing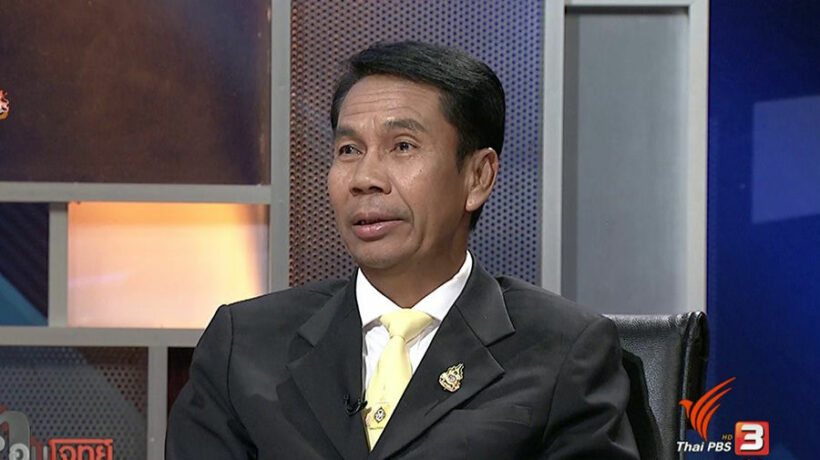 The Pheu Thai opposition party is calling on the government to look to existing funds first before attempting to borrow a trillion baht from as-yet-unnamed sources. Opposition chief whip Suthin Klangsaeng was participating in the last day of the debate on three government decrees concerning the country's finances.
A Thai PBS World report says the government is under fire for still not disclosing how it plans to borrow one trillion baht. Opposition parties say the public should be kept informed about such decisions, given that they will be paying the price for such significant borrowing for a long time into the future. Meanwhile the Thai PM Prayut Chan-o-cha has asked the Thai public to trust him and his government to acquire and handle the money with the interests of the Thai people at heart.
The opposition's Suthin points to neighbouring countries such as Cambodia, Laos and Vietnam as examples of nations that have not had to resort to borrowing huge amounts of money in the wake of the Covid-19 pandemic. He acknowledges that Thai people need help as a result of the significant blow to the country's economy but insists funds should be allocated from the government's existing reserves. He says with some reshuffling of existing spending plans, the government could potentially reduce the amount of money it needs to borrow by as much as 15%.
Suthin also questions the government's motivation in borrowing the money, accusing it of wanting to inject cash into the economy to drive spending, as opposed to compensating the small to medium businesses that have been so severely impacted by the impacts of the Covid-19 lockdowns.
SOURCE: Thai PBS World
Keep in contact with The Thaiger by following our
Facebook page
.
Despite vindication, "Rolex General" is back in the hot seat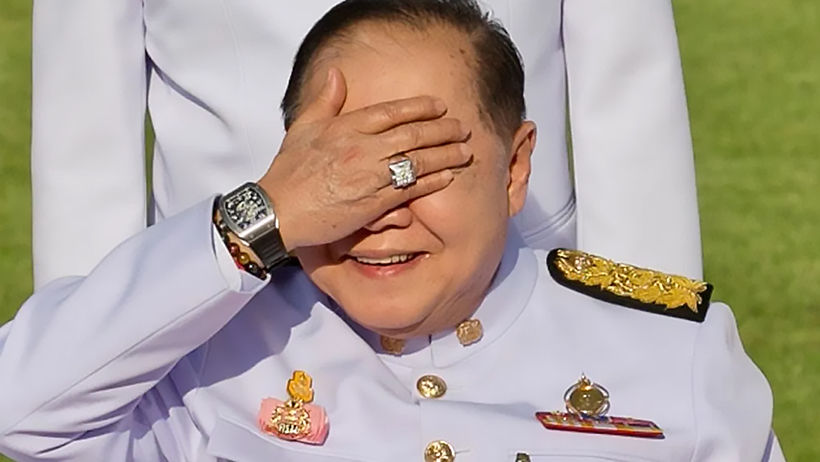 Deputy PM Prawit Wongsuwon, dubbed "The Rolex General" after a scandal over luxury watches, is once again in the spotlight.
Thailand's National Anti-Corruption Commission has been criticised for subverting the system of checks and balances of politicians and high ranking officials. Its explanation about Prawit' "borrowed" luxury watches has drawn scrutiny and criticism.
The explanation came in a letter dated Monday and sent by the NACC to an opposition politician, 17 months after he wrote to them.
A member of the opposition Pheu Thai Party asked the NACC on January 3, 2019 to explain why it didn't find Prawit guilty of failing to declare 22 luxury watches, which he claimed to have "borrowed from a friend" who later died. The original ruling was made on December 26, 2018.
The party member publicised the letter widely, signed by the acting NACC secretary-general, and it has been widely shared online. The letter says the NACC commissioners acknowledged that a Pattawat Suksriwong was the actual owner of the luxury watches and had lent them to Prawit. It also confirmed that Prawit had returned the watches, worth tens of millions of baht, to Pattawat after using them.
"The borrowing is a 'loan for use'. While a loan for use is a liability, it is not the type the NAAC requires to be declared in its asset declaration form."
"The NACC's definition of liabilities only covers money, not loans for use, in which the assets have been returned to the lenders in their original form, with no money involved."
"Therefore, General Prawit is not obliged to declare the borrowed watches as liabilities in his asset declaration form."
A former finance minister posted on Facebook that the interpretation of "liabilities" by the incumbent commissioners runs against common sense. A prevailing interpretation of liabilities is anything of monetary value, not a case where real money is involved.
"For the sake of transparency," he urged the NACC to list cases in which it had convicted or acquitted people in the past for the same reason, how it interpreted each of those cases and whether those interpretations were in line with its the letter to the Pheu Thai member.
A law professor, former MP from the now-dissolved Future Forward Party and leader of the Progressive Movement, wrote on Facebook that such an interpretation opens the door for widespread asset concealment.
"The NACC's interpretation destroys the checks and balances of politicians and government officials and renders useless the requirement that they declare assets and liabilities,"
He says that from now on, any politician or official who wants to hide his assets can "borrow" using this "loan for use" trick. Assets such as accessories, rings, necklaces, watches and sports cars, need not be declared anymore.
"All you have to do is get a rich friend of yours to say it is their assets and then explain the properties were borrowed from him."
In the past, politicians and officials often tried to avoid declaring assets by having other people, even their helpers, chauffeurs and close aides, listed as the owners.
"Yet the NACC tried hard to establish the real owners, deterring the practice." The interpretation of the NACC today has given politicians and officials a new channel to hide their assets."
"To protect the heart of the military regime, do we really need to trade it with the checks and balances we have so painstakingly built since 1997?"
Prawit was in the hot seat in 2017 after some media members spotted a US$370,000 (11.8 million baht) Richard Mille watch on his wrist in a photo taken at a ceremony for Cabinet ministers. Investigations of photos taken at other public events showed that he had worn at least 22 luxury watches worth a combined 40 million baht and expensive rings in public.
The watches and jewellery were not included in the asset declaration that Prawit filed with the NACC on in September 2014, after taking on the positions of deputy PM and Defence Minister.
Source: Chiang Rai Times |Bangkok Post
Keep in contact with The Thaiger by following our
Facebook page
.
Ambassador calls US "better friend" than China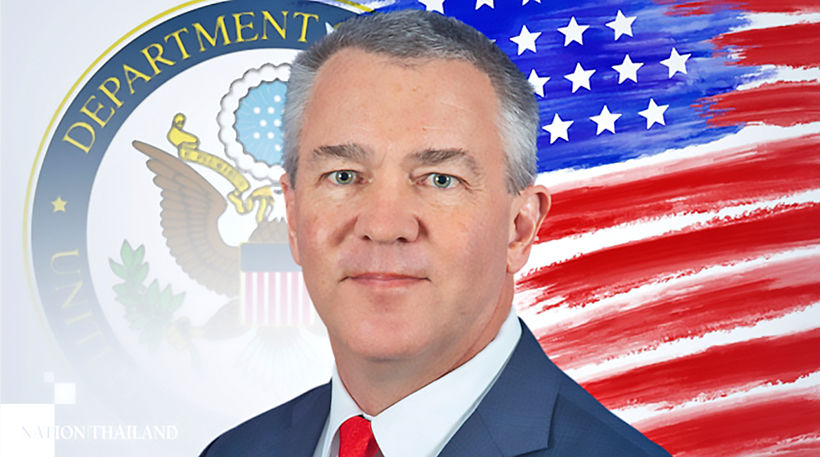 "Nobody will have to take sides."
US Ambassador to Thailand Michael George DeSombre said in an exclusive interview with Nation Thailand that the US spat with China won't affect relations in the region and nations will not have to take sides. He expects more American companies to invest in the Kingdom in the coming months and years, and reiterated that the US is a "better friend" to Thailand and to other ASEAN countries.
Some regional leaders have voiced concern about the growing tensions between the two largest economies, and worry that this feud may force them to take sides. DeSombre responded, invoking political tones, saying that Washington, "for the first time in a long time, is seeing China for what it is, not as we hope it should be".
The US has threatened sanctions on China for imposing what Washington sees as an unfair national security law in Hong Kong.
"So, we see challenges coming out of China and are addressing them directly. Obviously, that creates more tension, instead of ignoring the problems that have been created by the previous administration."
"But at the end of the day, we are not asking anyone to choose between the US and China. And as I said, we view ourselves as a better friend. If you want to be friends with other countries, with China, that's fine. But we view ourselves as a better friend and will continue to demonstrate that particularly here in Thailand."
Asked if the 2 countries will ever find common ground or come to a compromise, DeSombre said there are already some areas that the two countries will continue cooperating on.
"And we look forward to China increasing the number of areas where we do have common ground. Unfortunately, that's not happening much. But we are encouraging them to do so."
"But we do have a trade deal for example, and we are looking forward to them implementing the "phase one trade deal," which is a good example of finding common ground, given the other challenging situations."
While some observers argue that the US has taken a tough stance against China because the US presidential elections are approaching, DeSombre dismissed this notion.
"You should ask China whether the presidential election had anything to do with their decision to suddenly impose the national security law in Hong Kong. That is their choice, not ours."
"Also, I think various activities in the South China Sea, such as militarising islands, sinking Vietnamese fishing vessels among others… those were not our decisions."
Asked if he is concerned about the impact the tensions will have on ASEAN-China and ASEAN-US ties, he said he was not concerned about that, but was worried about other pressing issues.
"One area that we see some concerns about is China's actions that are contributing to drought here in Thailand, such as controlling the flow of water in the Mekong River, and failing to stop precursor chemicals from going to Myanmar, which is allowing massive production of methamphetamine, which is flowing into Thailand. These are our concerns."
Regarding the slowdown of the global economy, DeSombre said he sees an opportunity in the crisis.
"There's always an opportunity in crises, and that is where my discussions with the Thai government have really focused on: using this opportunity to move company operations to Thailand."
"In the last couple of years, we have seen a lot of companies getting concerned about their supply chain, where their manufacturing is located and whether or not they can get the product from that location to where they want to sell them. So, you have a lot of companies looking at, reevaluating their location for manufacturing."
He added that this presents a great opportunity to Thailand, because it's "a safe, reliable, secure location for operation."
SOURCE: Nation Thailand
Keep in contact with The Thaiger by following our
Facebook page
.