Phuket Airport officials warn about sky lanterns during Loy Krathong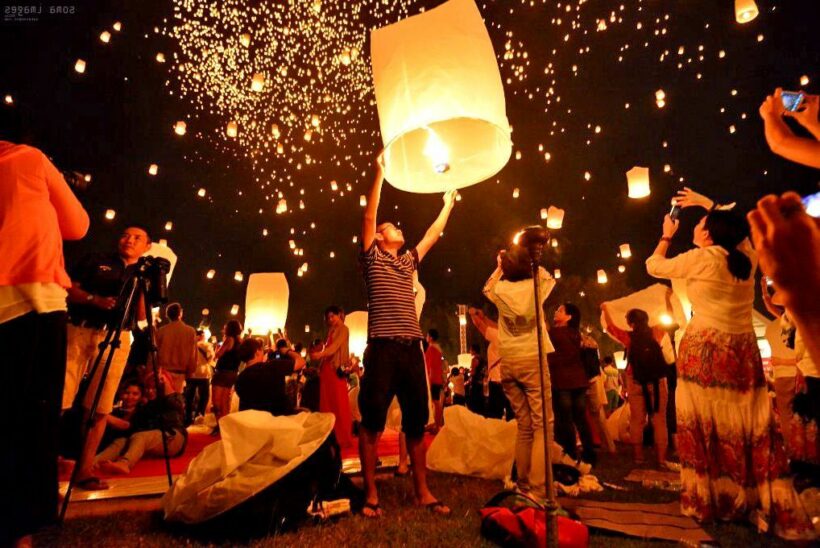 Phuket airport officials are urging people not to release sky lantern (khom fai)on Loy Krathong as well as the forthcoming New Year.
Vijit Keawsaitiam, the Deputy Director of Phuket International Airport, held a meeting about safety measures and discussed about banning lanterns and firework activities during Loy Krathong festival and the New Year celebrations.
The Deputy Director said that releasing lanterns is a tradition that has been carried on for generations and is also popular among tourists, both domestic and international, especially during big festivals and Buddhist holidays.
Airport officials recognised that the activities, including the release of lanterns and fireworks, are so popular that they have spread to the area near the airport which could be a hazard for air safety and possibly cause damage to people's assets.
(The Khom Fai lanterns have a high failure rate and can end up as a burning bundle of paper dropping randomly from the sky)
If the lantern floats into the navigable airspace, above and around the airport, it could cause problems for air traffic, or a dangerous air traffic incident. He said that the airport also takes responsibility to prevent risk of any harm from firework and lanterns, as well as other activities that can possibly be dangerous for aircraft, staff or passengers.
"Lanterns released around the airport vicinity is one of the key problems that affects the aviation safety because the light from the lanterns distracts the pilots vision, causing hazards during take off and landing."
"If a lantern is sucked into an aircraft engine while flying, the engine is likely to malfunction which would lead to tragic loss of life and assets."
"To prevent the problems, Phuket International Airport asks all hotels around, and local community leaders, to ask people in their area not to release any lanterns anywhere near the airport. If anyone was found releasing a lantern, using firework or do any activities that could affect the airport's aviation, they will be charged by law."
Loy Krathong is held every year around Thailand on November 11.
SOURCE: Newshawk Phuket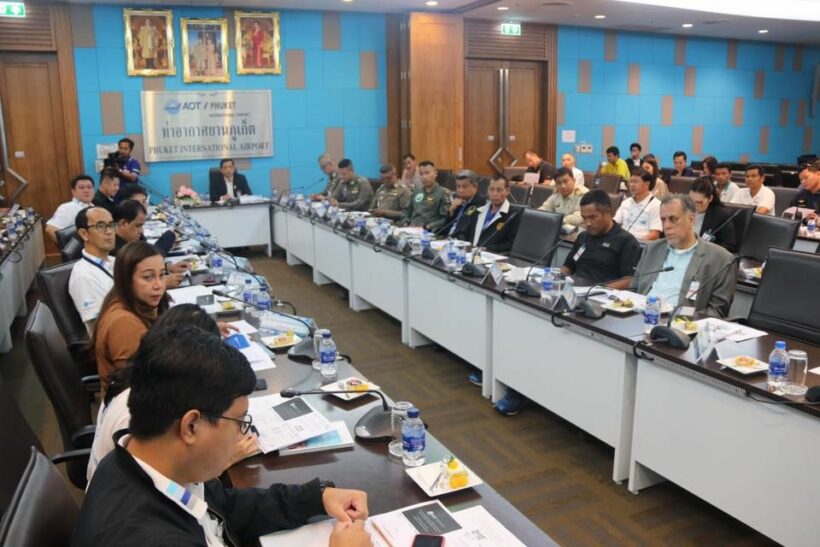 PHOTO: Newshawk Phuket
Keep in contact with The Thaiger by following our
Facebook page
.
'The Cave' premieres in Bangkok, first feature film about the Tham Luang rescue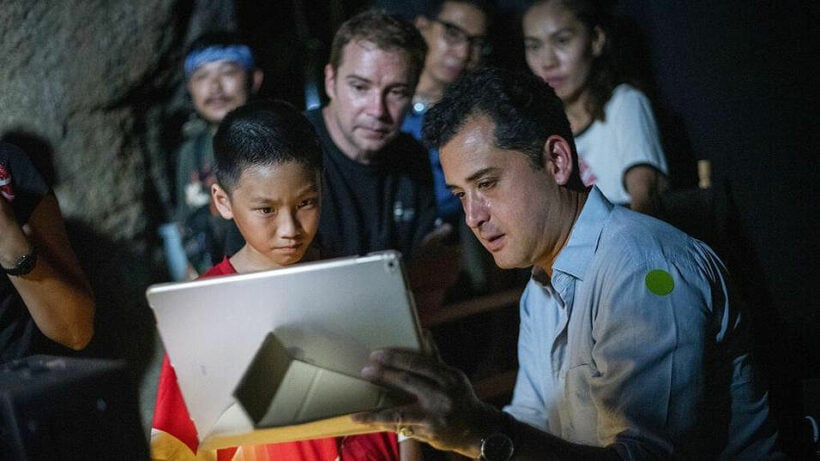 PHOTO: Director Tom Waller goes over a scene of his film 'The Cave' – Associated Press
A feature film about the story of the 2018 Tham Luang cave rescue had its Bangkok premiere yesterday. Rescuers, starring as themselves in the movie, walked the red carpet at the premiere. The film focuses on the stories of the rescuers who risked their lives to save the 13 young men who were trapped inside by flooding.
Tom Waller's 'The Cave' focusses its attention on some of the key people who were part of a 7,000-person international rescue mission to retrieve the 13 members of the Mu Pa (Wild Boars) football team from the flooded caves.
The riveting story, and happy ending, gripped the world's attention with blanket media coverage. It has also become a valuable brand which is being managed by a committee set up by the Thai government.
Netflix has already signed up a multi-million dollar deal to tell the story from the point of view of the 13 young men (including interviews with the team members), and Universal Studios is making a feature film. But 'The Cave', an independent film, directed by Thai-Irish director Tom Waller, is the first major project to hit the screens.
At the start of November the public were allowed inside the opening section of the Tham Luang cave for the first time since last year's July rescue. The area, once rarely visited, has since become a major tourist attraction, visited by more than a million tourists already.
Four divers who were involved in last year's summer rescue mission – Erik Brown, Mikko Paasi, Jim Warny and Tan Xiaolong – all played themselves in 'The Cave'. They all walked the red carpet at the Bangkok premiere last night.
SOURCE: The Guardian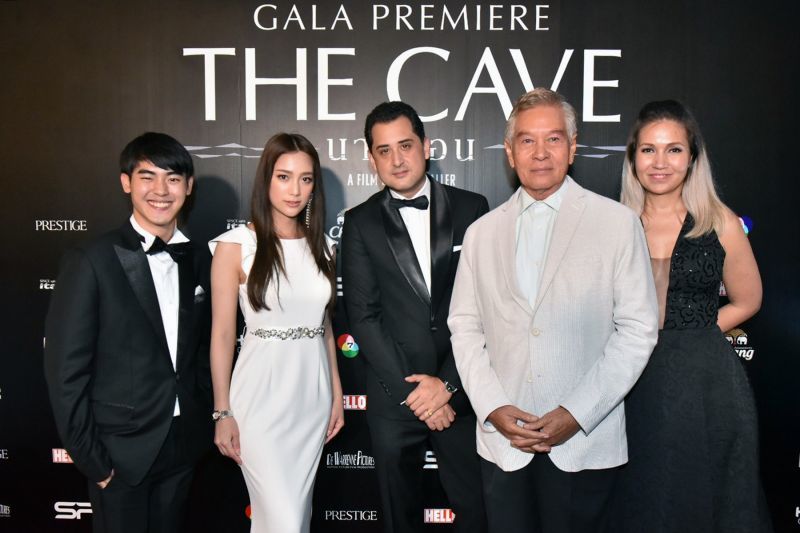 PHOTO: naewna.com
Keep in contact with The Thaiger by following our
Facebook page
.
"He comes in peace", Thai bishop says pope's visit will build bridges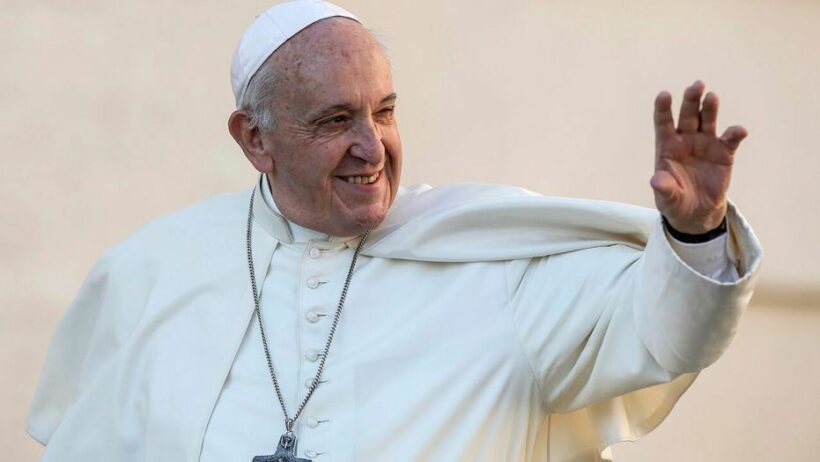 Pope Francis will begin a three-day trip to Thailand tomorrow, with the deputy secretary-general of the Catholic Bishops' Conference of Thailand declaring the visit a pilgrimage of peace.
Thai PBS World reports that Monseigneur Wissanu Thanya-anan says the visit is not just for Thai Catholics but for people of all religions.
"Pope Francis is a bridge-builder, a prophet who is a bearer of an auspicious message to all."
The Pope's visit to Thailand and Japan begins with his arrival in Bangkok tomorrow. On Thursday morning he will speak at Government House, where he will meet with the PM and other government officials, as well as representatives from civic organisations and diplomats.
Later on Thursday His Holiness will visit Wat Rachabophit, where he will meet with the Buddhist Supreme Patriarch, before heading to St Louis Hospital to visit patients and medical staff. That night he will have an audience with His Majesty the King at the Royal Palace and attend a mass at the National Stadium.
On Friday, he is due to meet clergymen and other religious figures at St Peter's parish, before heading to the Shrine of Blessed Nicholas Bunkerd Kitbamrung to meet with the bishops of Thailand and members of the Federation of Asian Bishops' Conferences.
Later on Friday, the Pope will have a private meeting with Society of Jesus members, as well as meeting Christian leaders and leaders of other faiths at Chulalongkorn University. That evening, he will attend a mass for young people at Assumption Cathedral.
The Pontiff's visit is the second time a pope has visited Thailand, following the 1984 visit of Pope John Paul II.
Monseigneur Wissanu says the Pope's visit will emphasise peace and harmonious co-existence at a time when many parts of the world are dealing with conflict and disorder. He adds that Pope Francis applauds Thailand's open society and tolerance for religious diversity.
"This an era that people of all faiths must walk together to face the challenges."
SOURCE: Thai PBS World
Keep in contact with The Thaiger by following our
Facebook page
.
Laguna Phuket Triathlon returns to the island next week, November 23 & 24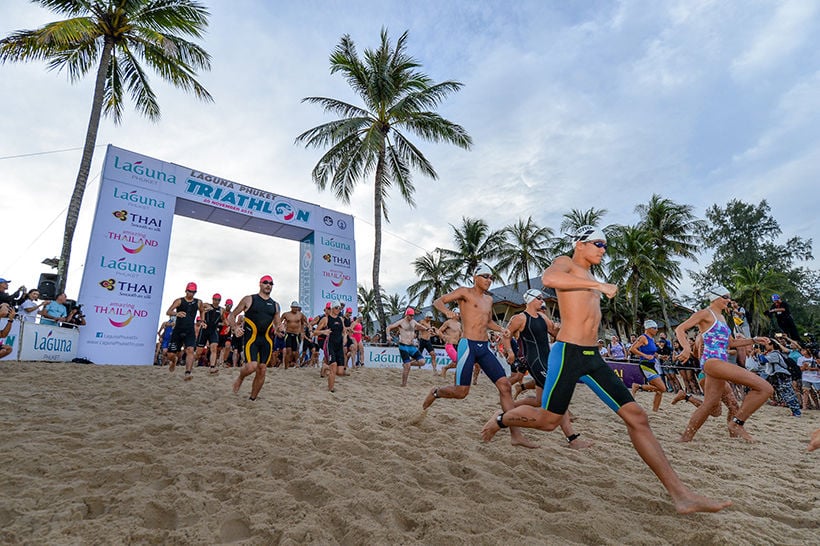 PHOTO: lagunaphukettri.com
The Laguna Phuket Triathlon returns next week with a strong pro athlete line up vying for US$20,000 (605,500 baht) prize money on Sunday, November 24.
The 26th Laguna Phuket Triathlon, will comprise a 1.8 kilometre swim, a 50 kilometre bike event and a 12 kilometre run in Asia's Laguna Phuket resort area as well as various scenic locations in Thalang District of the island, takes place on the Sunday and features the short distance race the "25 For 25 Sprint".
The sold-out sprint triathlon race comprises a 0.5 kilometre swim, 18.5 kilometre bike and 6 kilometre run.
The 2019 Laguna Phuket Triathlon will also see LPT Charity Fun Run on Saturday, November 23 featuring a 2 kilometre Kids run plus 5 kilometre and 10 kilometre runs and will raise funds in support of more than 400 underprivileged children in Phuket's 7 orphanages through Children First Fund as well as hospitals in Thailand through the Kao Kon La Kao Foundation.
Headlining this year's pro field is Michael Raelert (Germany) who holds three-peat Laguna Phuket Triathlon Championship (2015-2017).
He will be joined by Luke McKenzie (Australia), Ruedi Wild (Switzerland) who has double LPT wins in 2012 and 2013, Per van Vlerken (Germany), and Massimo Cigana (Italy) who currently holds four-time LPT champion status.
In the women's field, sports fans will get to see top performances by Laguna Phuket Triathlon podium veteran Imogen Simmonds (Switzerland) whose recent impressive records includes a great debut performance in Kona, 3rd in the Nice World Championship and 2nd Frankfurt's European Championship. Simmonds will race neck and neck with Emma Pallent (UK) and Yvonne van Vlerken (Netherlands) aka. "The Flying Dutchwoman". Beth McKenzie (USA) will also be there.
Thai triathletes will be led by Phuket-born Jaray Jearanai who holds the record as LPT's Thai champion for 8 consecutive years (since 2011) and recently broke his own record at the World Championship in Kona.
SOURCE: The Nation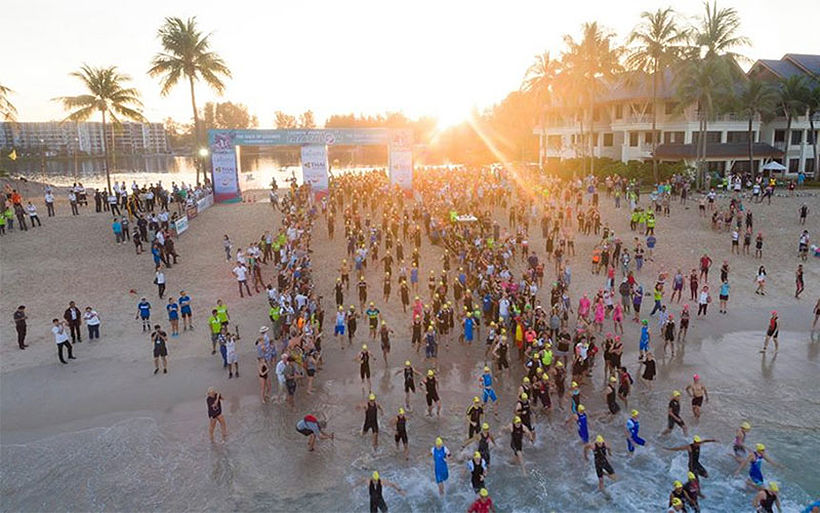 Keep in contact with The Thaiger by following our
Facebook page
.