4 reasons why you should register for this Thursday's Thaiger Flash Sale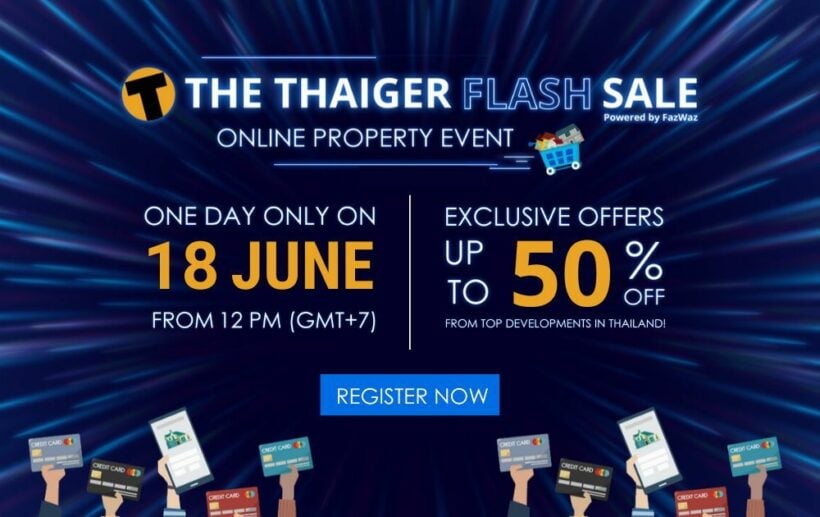 THAI PROPERTY EVENT THIS THURSDAY
Real estate experts are sounding the alarm… property prices are starting to drop! And The Thaiger Flash Sale, in conjunction with fazwaz.com is giving you the chance to own your dream home with the biggest discounts ever seen, all in one place for just 24 hours.
The Thaiger Flash Sale, happening this Thursday, June 18, 2020, starts at midday for just 24 hours. It's the first online property sale where buyers can take advantage of great deals from Thailand's best developers. If you're not yet convinced, here's a summary of the biggest benefits by joining this limited time property sale:
Big discounts
Big discounts and exclusive selections go hand-in-hand in any Flash sale. Fazwaz.com is delivering the same value to homebuyers and investors in Thailand real estate, as it puts all the best properties and marking them with the biggest discounts – all in one place!
Once-in-a-decade opportunity
It's no stretch of the imagination that these discounts are part of a real estate market cycle that only happens once a decade. It's a time where the savviest investors buy the best properties at the lowest price possible, making their value margins better than any other time of the decade. This goes to show that the best way to profit of your property investment is not by selling high, but by buying low.
Top-tier developments
Just because these are the biggest discounts ever seen, doesn't mean they're your mediocre selections! Fazwaz.com has built a strong relationship with Thailand's top developers and has partnered with a number of them to deliver their best developments at the best prices exclusively for the duration of the Thaiger Flash Sale.
Refundable reservation fee
Buyers can reserve a property that they like with a refundable reservation fee within 14 days. Fazwaz.com understands that property investments are big commitments, especially in these uncertain times. That's why buyers, who do not pursue the properties they reserved, can receive a full refund.
Are you ready for the biggest online property sales event in Thailand real estate? Register now at our expo.fazwaz.com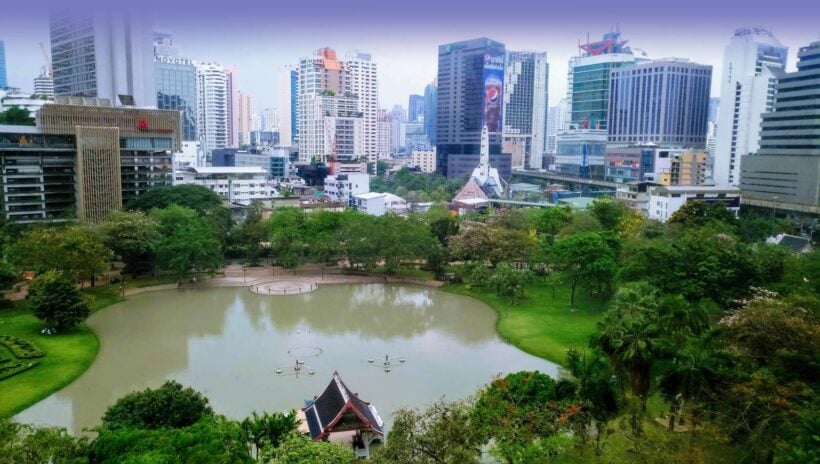 Keep in contact with The Thaiger by following our
Facebook page
.


Interested in more property news or buying property in Thailand - check out FazWaz today!

Today is Asanha Bucha Day – Why is the day special for Thai Buddhists?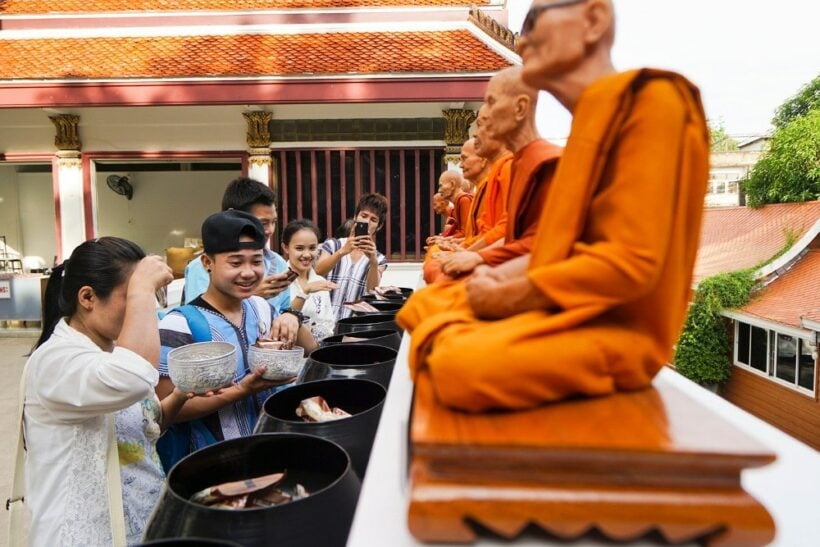 Asanha Bucha Day is a special Buddhist holiday in Thailand marking the day when the Lord Buddha delivered his first sermonat Benares in India over 2,500 years ago. The exact date of the holiday is determined by the waxing moon and the lunar months, but is usually held in July or August each year. In 2020 it falls on July 5. Today is also the start of the period of Buddhist Lent.
A moon that is waxing is one that is getting larger each night, between the new moon and full moon phase.
Because this years' Asanha Bucha Day falls on a weekend day, Monday, July 6 has been named as a public holiday across Thailand. There is also an alcohol ban that lasts until midnight on Monday night.
The Buddha preached his first sermon at a deer park and from this sermon the Dharma (doctrine) of the Buddha was symbolised as a wheel. The Dharmachakra is also known as the Wheel of Life, Wheel of Law or Wheel of Doctrine and can be seen on flags in temples and buildings all across Thailand. Similarly, pictures or models of deer can often be seen at temples or in depictions of the Buddha.
Like many other Buddhist festivals and holidays, Asahna Bucha (also written as Asalha Puja and other English equivalents) is a day when Thai Buddhists will make merit and visit the local wat. Traditionally, candles are amongst the items donated to the wat for Asahna Bucha and processions featuring candles are held at various towns in Thailand.
The tradition dates back to the times before electricity where extra light was needed at the temple during the darker days of the rainy season. Local people will also 'wian tian' which involves walking around the wat with a lit candle, lotus flowers and incense. The day after Asahna Bucha is another significant day with Wan Khao Phansa marking the start of the three-month 'Phansa' period which is sometimes referred to as 'Buddhist Lent'.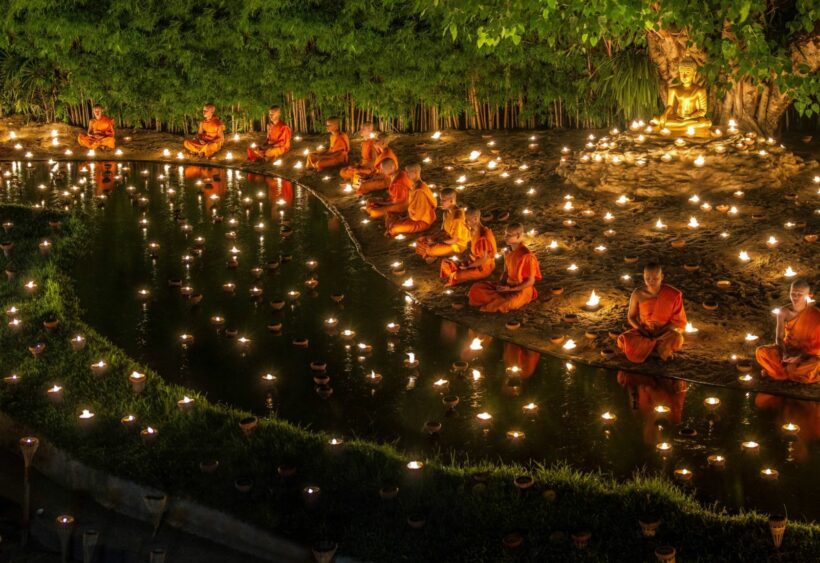 PHOTO: Pinterest
Keep in contact with The Thaiger by following our
Facebook page
.
Online "Global Pride" marks 50th anniversary of gay pride movement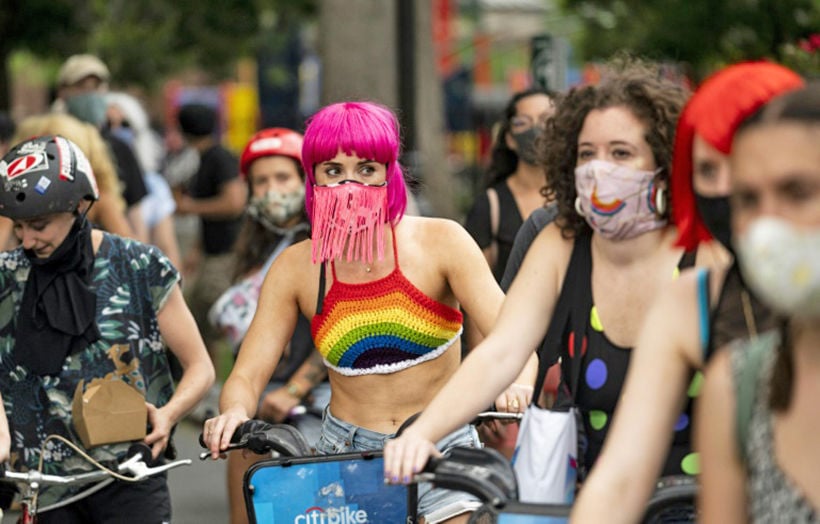 Half a century after the first Gay Pride march, the world's LGBT community and its supporters took many of their events online yesterday in response to the Covid-19 pandemic. Although some activists still took to the streets to mark the event, much of the movement's focus was channelled into Global Pride, a 24 hour online event broadcast live online.
One of the biggest events in the Gay Pride calendar, London Pride, was a major victim of the new restrictions imposed to fight the pandemic. Online events replaced it under the slogan: "Postponed, but still united." Some events were broadcast on the giant screen in Piccadilly Square and London's mayor tweeted his support, saying "We may be apart, but we are still united, as neighbours, as allies, and as one city."
68 year old veteran campaigner Peter Tatchell, wearing a rainbow coloured mask, led a group of 12 fellow activists to mark the 50th anniversary of the founding of the London Gay Liberation Front.
"We are seeking to reclaim Pride as an event for LGBT and human rights."
Police in Berlin estimated that around 3,500 people turned out to march, in temperatures of around 30°C. German foreign minister Heiko Maas tweeted a message of support to the Global Pride event…
"Be proud of yourself! No matter who you love, no matter where you live."
In Vienna, some 200 cars and motorbikes decked with rainbow flags and inflatable unicorns paraded down the city's famous Ringstrasse. Organisers say around 5,000 people turned out to watch the scaled-down event. The city's Rainbow Parade, which usually attracts hundreds of thousands, was otherwise replaced by online events.
The online Global Pride event, running with the slogan "Exist, persist, resist," got underway at 0500 GMT in London. Put together by the organisers of several of the major Gay Pride events around the world, it aimed to attract hundreds of millions of viewers around the world.
Former US president Barack Obama released a video message saluting the gay New Yorkers who rioted at the Stonewall Inn in 1969, a series of spontaneous, violent demonstrations, effectively launching the modern gay rights movement. The first Gay Pride march was held in 1970 in New York to mark the first anniversary the Stonewall riots.
"Because of the movement they sparked and the decades of work that followed, marriage equality became the law of the land five years ago and just this month the Supreme Court ruled that employers can no longer discriminate against LGBTQ workers."

Democratic presidential contender Joe Biden issued his own video, in which he referred to the recent Supreme Court ruling reaffirming the rights LGBT workers.
SOURCE: Barron's
Keep in contact with The Thaiger by following our
Facebook page
.
Q&A with David Barrett on travel, tourism and MICE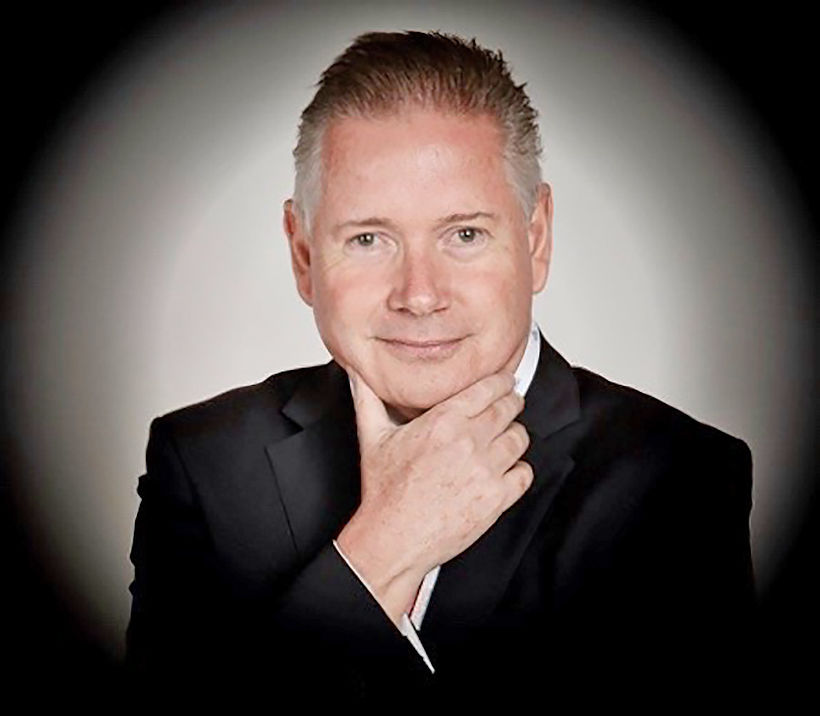 Industry expert and respected marketeer David Barrett chatted with travel writer and media consultant Andrew J Wood on the recovery from the impact of Covid-19 on Thailand's formidable travel and tourism industry.
AW. As Thailand starts to emerge from lockdown what do you believe are the most important points to consider to ensure success?
DB: As we begin to recover, we are presented with an opportunity to reset Thailand's tourism model and build a better future. Thailand is set up for mass tourism and if we want to see sustainable growth and development we need better control and management of destinations and resources.
We need to be targetting quick-win markets from bubble source markets close to home as the first step. A focus on high yield tourists is the way to go, in tandem with wooing back mass tourism, whilst being mindful of the need to better manage the Kingdom's resources, protecting the environment.
AW. When people start to think about travel again, what do you believe they are looking for in a post Covid-19 world?
DB: Biosecurity measures will be top of the list for first movers in international travel. Reassurances that their health and well-being are being taken care of. Hygiene and health measures may cause a little inconvenience compared to the free-spirited travel pre-Covid, but new measures need to be visible to reassure travellers, as safety is paramount. The first wave of travellers are most likely to take baby steps, travelling nationally this year, flying next year short haul within 4 hours and long haul hopefully will rebound in volume by 2022. If you've broken a leg and you're on the mend, you don't enter a marathon. The global tourism industry has been broken and is now in recovery, we need to take little steps close to home first.
AW. In a recent poll 75% of respondents said that the hotel industry in Thailand cannot thrive with only domestic tourism. Do you agree?
DB: We have to rely and survive on domestic tourism as this is the first market to travel. Thankfully the Royal Thai Government also sees the domestic sector as key to kickstarting the tourism economy and their stimulus package of 22.4 billion baht with subsidies and incentives to boost domestic tourism is a way to go. Tourism will continue to be a driver of growth for the Thai economy. Historically, international visitors have propelled the industry, but it is Thais' desire to travel around Thailand that has seen the domestic tourism market grow.
If you take a look at one of the niche segments — ecotourism, more than 60% of small ecotourism operators in Thailand have websites and promotional collateral only in Thai. That says something about the past success and drive to build back domestic tourism as the first-move segment. Neglect domestic tourism at your peril.
AW. Your name is often linked with the MICE (Meetings Incentives Conventions Exhibitions) industry. With new social distancing guidelines in place for meetings in Thailand do you think the industry can bounce back in Thailand?
DB: MICE will return. However, if you cut through all the positive spin, the reality is that international MICE, that traditionally has been higher yield, will take much longer to rebound. Hopefully short haul MICE with Singapore as the regional corporate hub, feeding meetings to Thailand, will return by the third quarter of 2021. Long haul markets such as Europe and the high rolling incentives from the US, that we started to see growth pre-Covid, won't be back en mass until the latter half of 2022. It's a waiting game.
The challenge is for the DMCs (Destination Management Companies) who've banked their futures on these long haul markets. Do they have deep enough pockets to ride through this waiting game? Many of the small DMCs have turned to retail to tide them over, but are stressed about the timeline for the return of their business.
In terms of safe distancing at business events, the industry will adapt and as confidence in international travel resumes, I am sure some of the stringent hygiene and health guidelines will be relaxed. The desire to travel and meet people is in our DNA, and I am confident MICE will resume to pre-Covid levels, but it may take 3 to 5 years.
AW. The Thai PM is keen to engage with industry experts. What Travel and Tourism advice would you give him?
DB: Please introduce cooperation between the Ministry of Interior, who issues hotel licenses, and the Ministry of Tourism & Sports. The two ministries need to communicate and cooperate for control of Thailand's tourism development. And ideally bring the Ministry of Natural Resources & Environment into the conversation too. We need better control and planning of tourism resources.
AW. There is much talk about resetting the industry. What do you think our priorities should be?
DB: To reset the industry:
Carefully introduce bilateral government agreements on travel, so we can open up key source markets, though elimination of entry restrictions.
A long-term master plan for Thai tourism that is sustainable for the environment and stakeholders A plan that everyone buys into, even if there are controls that may impact business operations.
Continue the great work of the Tourism Authority of Thailand in promoting Thailand as the jewel in Asia.
And please can we have a new campaign and drop "Amazing," which has run its course.
Keep in contact with The Thaiger by following our
Facebook page
.