Sand dunes exposed as water in Mekong River falls to critical level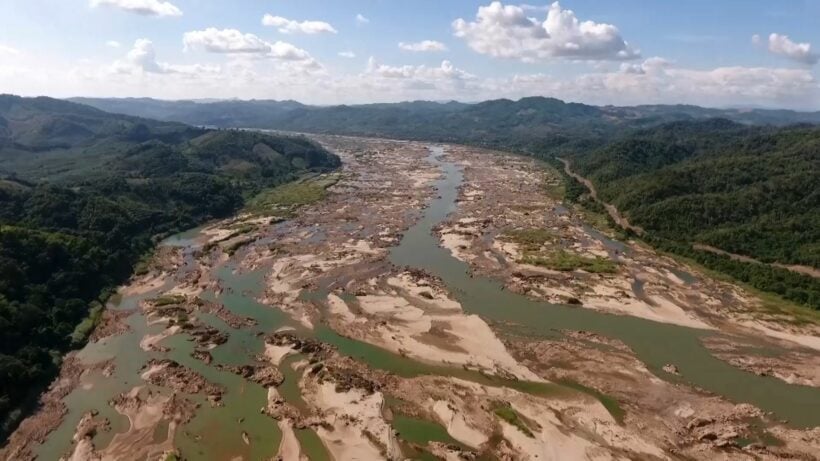 PHOTO: AFP
Sand dunes are now being exposed for the first time in a century along many sections of the Mekong River, as water levels fall to a new low milestone of 1.5 metres. Sand dunes can now be seen along many sections, causing problems for fishing vessels and cargo boats trying to travel along the river.
The Bangkok Post reports that insufficient rainfall is leaving many reservoirs in Nakhon Phanom, on the Laos border, at only 20 – 30% of their usual capacity, with the Mekong's tributaries now running dry.
The chairman of the Nakhon Phanom environmental conservation club, Arthit Phanasoon, says research studies claim the construction of dams in China and Laos are a big part of the problem. He fears the effect that will be had on the water's ecosystem if fish are unable to migrate upstream to spawn as they normally do each year.
This in turn will have a negative impact on the livelihood of fishermen and farmers along the shores of the Mekong River.
Meanwhile dam owners say they're not responsible for the water supply problem, HERE.
SOURCE: Bangkok Post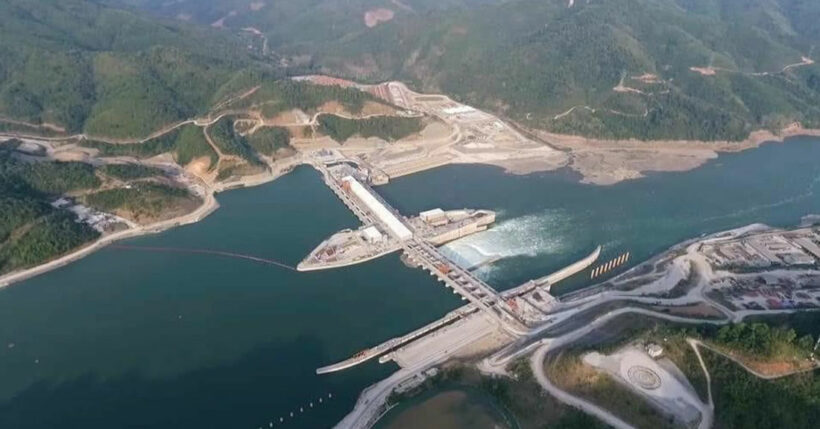 Keep in contact with The Thaiger by following our
Facebook page
.
Government confirms 2020 ban on single-use plastic bags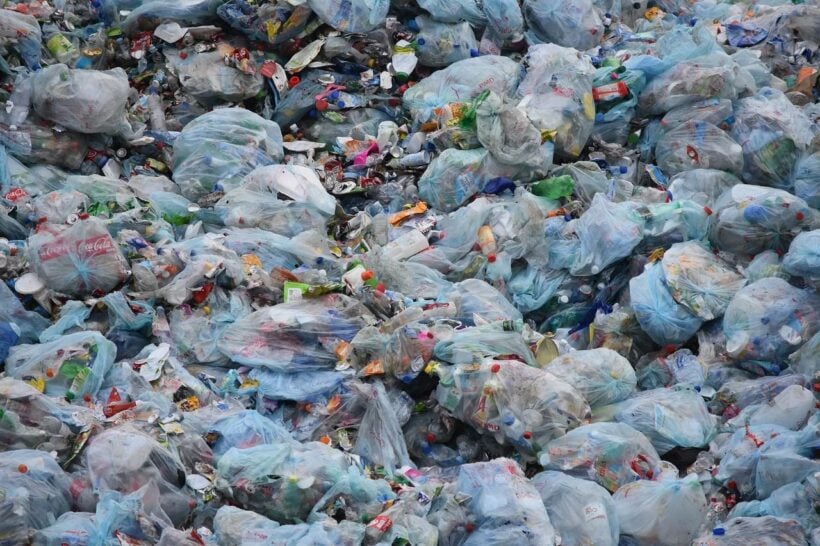 In a move that some would say has been a long time coming, the Thai government has announced that single-use plastic bags will be banned at shopping malls, convenience stores, and supermarkets from January 1, 2020.
Thai Residents says the ban was confirmed by government spokesperson Traisulee Traisoranakul, who says the move is part of Thailand's plans to eliminate plastic garbage by 2030.
The ban on single-use plastic bags had earlier been approved by the National Environmental Committee (NEC) in September and is expected to lead to a reduction of 225,000 tons of garbage a year.
This in turn is expected to reduce the amount being spent by state agencies on garbage management by 340 million baht a year.
SOURCE: thairesidents.com
Keep in contact with The Thaiger by following our
Facebook page
.
Increase in use of biodegradable krathongs pleases Bangkok governor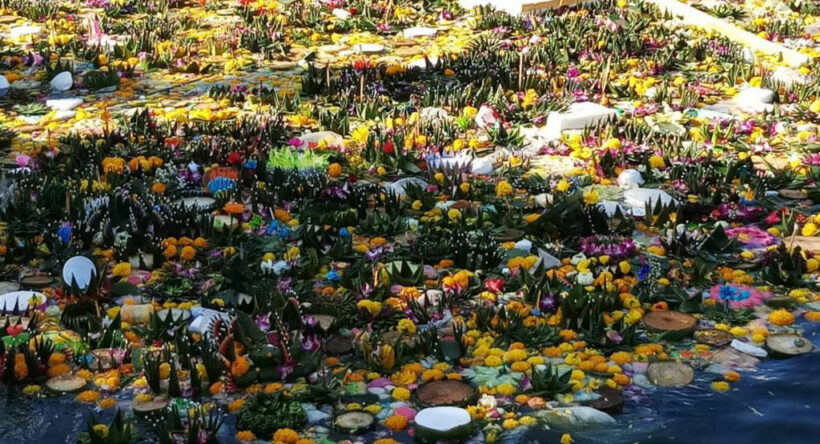 The eco-friendly message seems to be getting through as Bangkok Governor, Asawin Kwanmuang, reports an increase in the use of krathongs made from biodegradable materials.
The Nation reports that following yesteday's celebration of the Loy Krathong festival in the city, the governor praised residents for their use of environmentally-friendly krathongs, a marked departure from the use of Styrofoam and other materials considered hazardous to the marine ecosystem and environment as a whole.
The festival was marked across the city, with 30 parks opened especially for the event and a celebration held under Rama VIII Bridge in Bang Phlat district and Klong Ong Ang in Phra Nakhon district.
Krathongs that were set afloat by residents were later collected by the city's Environment Department and Irrigation Department among others, with the governor speaking after seeing the results of that work.
"Staffs and volunteers finished collecting and separating krathongs at 6.00am today. This year we collected 502,024 krathongs, 96.3% of them or 483,264 krathongs made from natural materials, while 3.7% or 18,760 krathongs were made of foam."
The governor added that there were over 40% fewer krathongs set afloat this year compared to 2018, but the ratio of those made from environmentally-friendly materials went up from 94.7% to 96.3%. There was a marked decrease in the use of foam, from 5.3% to 3.7%.
"Since we saw fewer krathongs in total this year, the fact that the percentage of natural material krathongs has gone up tells us that significantly more people use natural materials to make krathongs. Natural material krathongs are good for the environment. They will later be sent to Nong Khaem garbage factory to make organic fertiliser, while foam krathongs will be buried."
SOURCE: nationthailand.com
Keep in contact with The Thaiger by following our
Facebook page
.
A blueprint for better recycling of PET bottles in SE Asia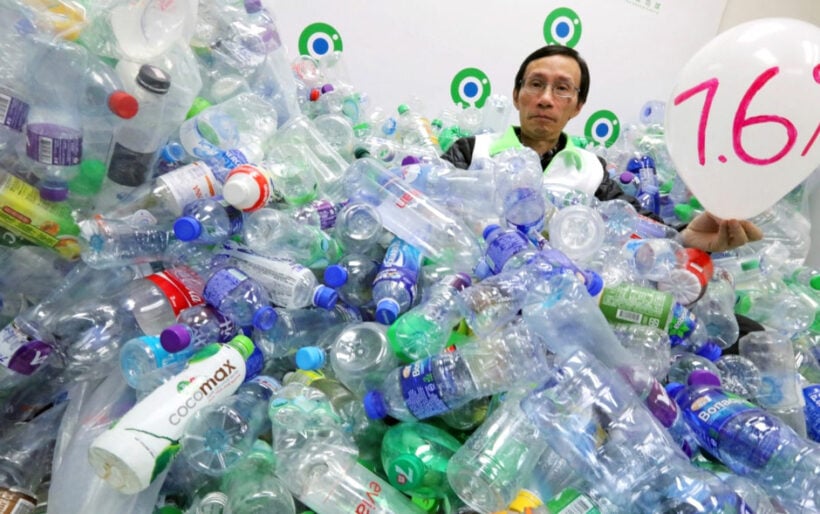 LONG READ
As leaders from around the world gather in Bangkok for the inaugural "SEA of Solutions: Partnership Week for Marine Plastic Pollution Prevention", GA Circular has launched a new report ​"Full Circle: Accelerating the circular economy for post-consumer PET bottles in Southeast Asia".
The report provides for the first time, systematic and comparable baseline collection rates for PET bottles (one of the most recyclable forms of plastic packaging) in Southeast Asia and highlights the need for a fundamental shift in the approach to driving circularity of PET bottles.
On a mission to create a world without waste by driving the transition towards a circular economy in Asia, GA Circular says that it is vital to move beyond singular efforts and work collectively on efforts to pull packaging material through the value chain by driving material value.
This report reveals that presently 54% of PET bottles sold in cities across the six Southeast Asian countries studied are collected-for-recycling (based on nine representative cities). The estimated national collected-for-recycling rate across the six countries is 26%. Across the six countries, a total of 660,000 tonnes of PET bottles was landfilled or leaked into the environment in 2018. This represents a loss of secondary material value of US$199 million.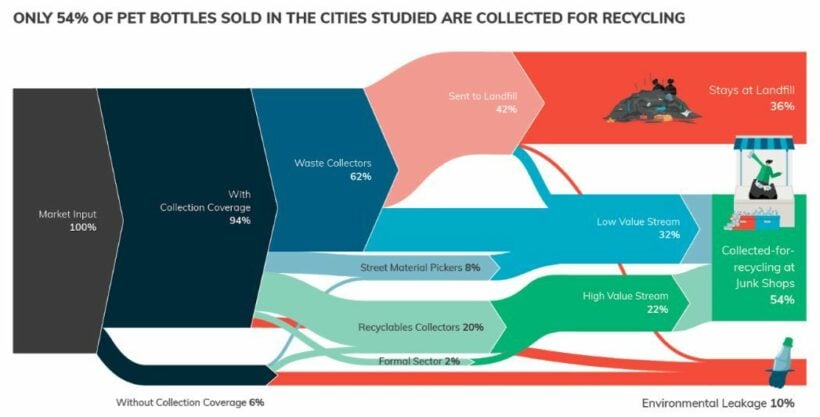 Meanwhile, PET bottles are 100% recyclable and have one of the highest intrinsic post-consumer material values amongst the materials commonly used for consumer-goods packaging in Southeast Asia. It is for this reason that PET bottles are one of the most commonly collected items by the informal sector.
The informal sector is the backbone of collection for PET bottles in the six Southeast Asian countries, contributing to 97% of all PET collected-for-recycling in the nine cities studied – and so any solutions for Southeast Asia must include the informal sector.
Multiple efforts have been initiated by the industry and government over the past decade to increase collection and recycling, however most of these efforts have ceased within one to three years or have not 'moved the needle' in terms of increasing collected-for-recycling rates. The past initiatives have been quantified and are a 'drop in the ocean' relative to the amount of PET bottles consumed.
Against this backdrop and the projected growth in PET bottle consumption of 886,000 tonnes in 2018 to 1.52 million tonnes in 2030, it is critical to focus on systemic solutions. The most effective response to the challenges currently facing the post-consumer PET landscape in Southeast Asia is one that effectively and continually boosts the collection and recycling operations currently in place.
The report highlights key systemic solutions to drive circularity: an industry-led Packaging Recycling Organisation (PRO) focused on boosting the value chain (including benefitting the informal sector) coupled with supporting policies, the use of recycled content, and investments into increasing domestic recycling capacity. Similar models have seen success in comparable developing countries such as South Africa and Mexico. PET bottle collection and recycling rates have increased to over 55% in both countries. As of 2018, South Africa has a 66% recycling rate for PET bottle, with 100% of the material recycled locally.
Two other factors that play an important role are improved packaging design to improve the economics of recyclability, and national government and municipal efforts to impact source separation and separate collection.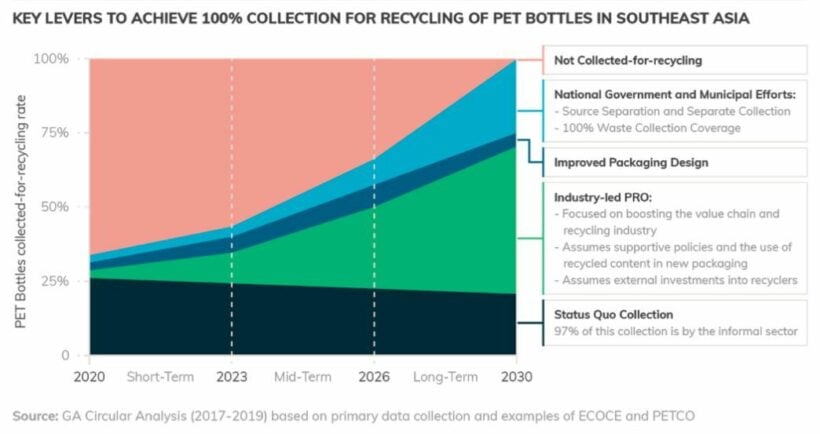 Ashwin Subramaniam, Founder and CEO of GA Circular said "The report aims to shed light on the current realities for post-consumer packaging in Southeast Asia. A realistic baseline is critical in informing the direction and nature of solutions to be implemented and this is what this report provides. AcirculareconomyforPETpackagingis100%possibleintheregionanditisoursincere hope that the recommendations outlined in this report are fully considered by industry, policymakers and investors".
By publishing the report, GA Circular said it sought to bring an important missing piece to packaging circularity solutions in Southeast Asia, demonstrating the key levers for industry, investors and policymakers to build a thriving and robust recycling industry.
"The report delivers a first-of-its-kind analysis of collection-for-recycling rates for PET plastic in key ASEAN cities and frames up a circular economy roadmap specifically tailored for the region, with a concrete set of recommendations geared towards interventions with the highest impact. At Coca-Cola, we are committed to executing these recommendations with our partners, and we have already begun to move in earnest. It is our hope that this report also helps to drive broader understanding, coordination and momentum in our shared efforts to tackle marine plastic pollution in Southeast Asia and globally" said ​Michael Goltzman, Vice President of Global Policy and Sustainability at The Coca-Cola Company.
GA Circular calls on companies and industry in Southeast Asia to adopt voluntary PROs focused on value creation mechanisms and material end markets; and for governments to support with enabling policies and standards for the circular economy, such as food grade recycled content standards, recycled content targets, and source separation and separate collection.
GA Circular is a research and strategy firm specialising in circular economy, recycling and waste management. GA Circular's mission is to create a world without waste by driving the transition to a circular economy in Asia. GA Circular collaborates with companies, government, international foundations, investors and multilateral agencies to unlock business opportunities from fast-growing streams of food and packaging waste across Asia.
Established in 2011, GA Circular is a B Corporation certified social business. GA Circular is headquartered in Singapore and operates throughout Southeast Asia and Southwest Asia.
Keep in contact with The Thaiger by following our
Facebook page
.