Plant-based meat alternatives gain popularity in a fertile Asian market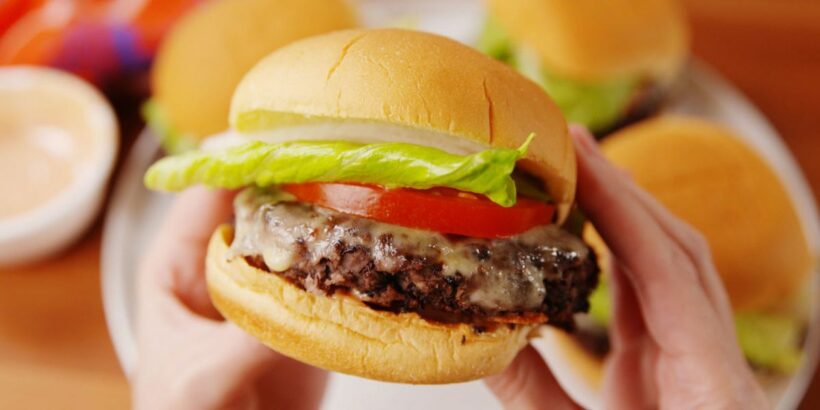 PHOTO: delish.com
Being a vegetarian, or vegan, in the land of smiles is a challenge. There are some excellent vegetarian options opening up, particularly in the tourist zones of Thailand. But outside of that you're struggling to find dedicated vegetarian options and just have to ask for your favourite Thai food, but without the meat.
But Asia, particularly south east Asia, is coming to the attention of the western alternative meat market. Because they're starting to make really interesting, and tasty, meat alternatives and they want to get a slice of the Asian market too.
In one of the largest meat-eating regions in the world (Asia), where nearly 50% of the world's meat products are consumed, it's a fertile market indeed for the growing number of vegans, vegetarians and flexitarians (people who eat a mostly non-meat diet but occasionally may have some meat as well).
The producers of the alternative meat products are now looking to take a bite out of the Asian market.
Impossible Foods, a developer of plant-based substitutes for meat products, has set its eyes on the meat market in Asia. The American firm, famous for its meatless-burgers, intends to make the region a key focus due to its huge meat consumption. The almost tasteless and inedible vegetarian 'patties' of a decade ago are now rich in flavour and gaining a large following as a viable and tasty alternative.
Asia accounts for over 46% of the world's meat intake according to the Agricultural Outlook 2019-2028 by Organisation for Economic Co-operation and Development and the Food and Agriculture Organisation.
And analysts at investment bank Barclays, predict that the alternative meat market is expected to hit US$140 billion within the next ten years.
Since April 2018, Impossible Foods has already featured its plant-based meat and dairy products in some of Hong Kong's beloved restaurants such as Little Bao, Happy Paradise, and Beef & Liberty. But they're not the only alternative meat brand eager to supply its products to the Asian market. Rival brands such as Quorn in the UK) and Beyond Meat from US, have been supplying meat alternatives in the region since 2015.
Quorn's meat free products are readily available in Singapore through FairPrice Online and RedMart, while Beyond Meat's alternative meat products are sold at NTUC Fairprice Finest and Little Farms outlets in the country. In Asia, supermarket brands like Villa Mart are carrying more alternative meat products, and they are featured often in vegetarian restaurants and starting to appear in menus of mainstream restaurants as well.
How mainstream? Even Michelin have provided a recent guide to some of the best meant-alternatives around at the moment.
As more Asians continue to adopt a vegan and flexitarian diet, the growing demand for plant-based meat alternatives is expected to steadily increase in the coming years.
NB. I'll admit to being vegetarian, part-time flexitarian, eater and happy to promote more plant-based alternatives for our diets. If you know of, or can identify, some good vegetarian restaurants or sources for meat-alternative products, we'll gather your intel and make an article to help people find vegetarian options. Send you email market 'VEGETARIAN' HERE. T
Keep in contact with The Thaiger by following our
Facebook page
.


Find restaurant and food listings around Phuket at Thaiger Bites.

Read more headlines, reports & breaking news in Thailand. Or catch up on your Thailand news.

Air purifiers installed at Victory Monument whilst southern winds blow the smoke north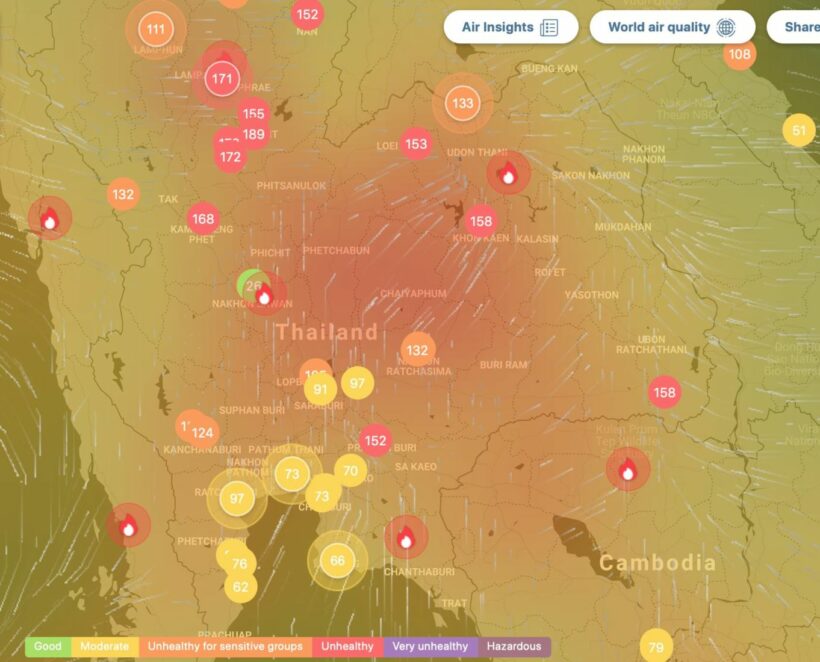 The Nation reports that the Rajaprajanukron Foundation, under Royal Patronage, installed four air- purifiers yesterday around the Victory Monument area in a trial of their effectiveness in filtering out PM2.5 dust particles.
Silpasuay Raweesaengsoon, permanent secretary of the Bangkok Metropolitan Administration says the machines can purify polluted air at the rate of two cubic metres per second.
"Placed in areas with heavy traffics, they help reduce the level of pollution caused by vehicle emissions. The purifiers will be switched on daily from 5am to 12am, and 2pm to 8pm. If the air purifiers prove practical, they will be installed at bus stops, schools, and other busy places."
The move, whilst audible, will do little to address the acute air pollution problems around the city. Most of the city's smog comes from the burning off of plantations, mostly around the central Thailand farming regions, but also in the north and north-east. The data from the NASA satellites clearly show active fires in a real-time feed (also note the even more acute problem in Cambodia, whose smoke is also floating across into Thailand)

Meanwhile the AirVisual feed this morning (below) indicates that the respite from severe air pollution today is due to the current southerly airflow out of the Gulf of Thailand. The evidence is clear that the problem in Bangkok is only when the winds are blowing the smoke from the plantation fires in the east and north towards the city. If the problem was the traffic and the factories, then Bangkok would still have poor air this morning, or right throughout the year, which it doesn't. Bangkok's air pollution problems are evidentially linked to the time of the year when the farmers light fires in pre or post harvest.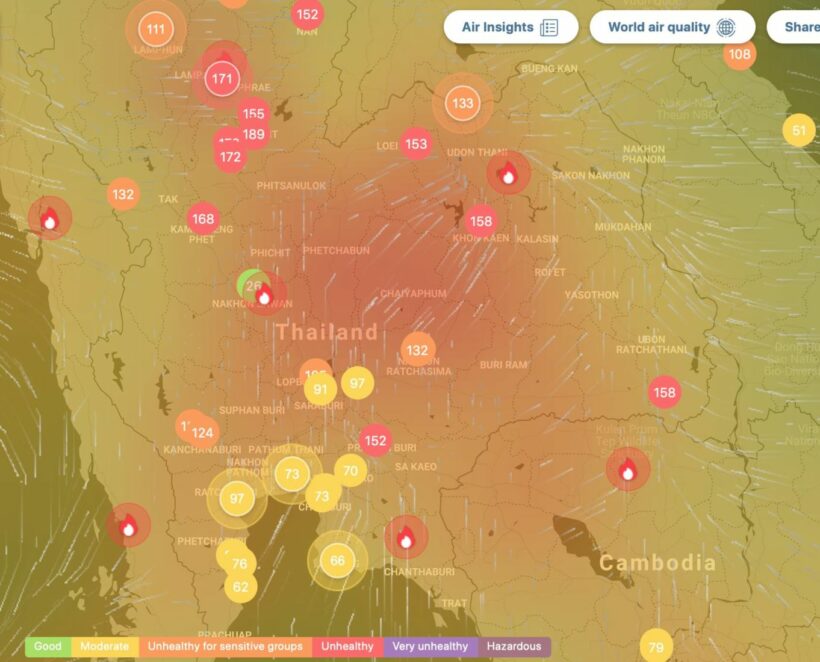 Read our editorial about the denial of Thai authorities to embrace the data and continue focussing their blame on local city factors.
Meanwhile Thailand's sugar industry is trying to take the lead in encouraging farmers of sugarcane to cur and harvest, rather than burn their sugarcane before harvesting. Read that story HERE.
SOURCE: The Nation

The southern air stream at the top of the Gulf of Thailand has pushed much of today's smoke back into central Thailand and the north – AirVisual.com
Keep in contact with The Thaiger by following our
Facebook page
.
Sugar industry asks the government to subsidise harvesting machinery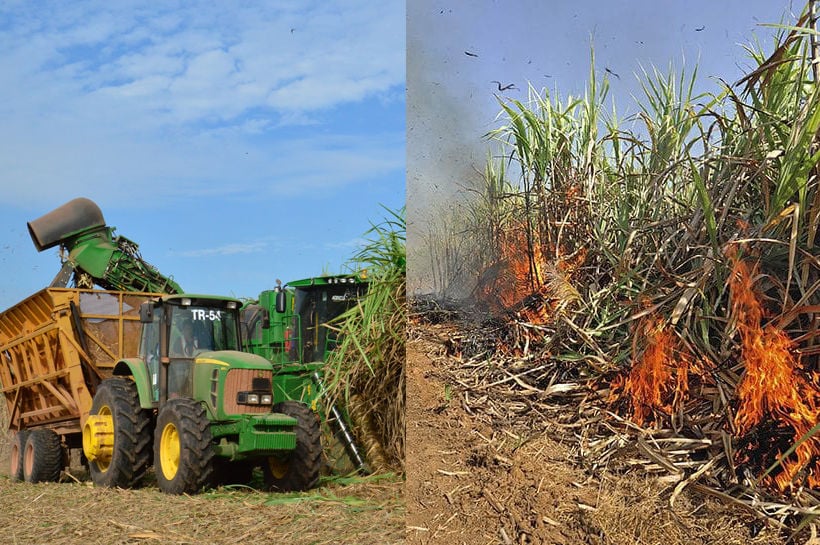 Sugar factories are campaigning to cut and harvest raw sugarcane, instead of boring it first, for processing. The conglomerates are recommending that the government offer funding at low interest rates to farmers to buy harvesters as the prices of the equipment are quite high (6-12 million baht).
They are also urging the government to purchase electricity from biomass power plants as some plants are locked out from selling their power to the Electricity Generating Authority of Thailand.
"No farmer wants to burn their field but the cost of labour is high. Factories must sign contracts with farmers to help with the harvesting."
"Factories can encourage farmers by buying raw sugarcane while some sugarcane can be left for generating power," according to The Nation.
Meanwhile, local sugarcane growers in Nakhon Sawan, central Thailand, are burning their fields at night despite authorities' ban on the practice. It appears little is being done to curb the practice which is one of the main causes, if not the main cause, of the smoke and haze problems in various parts of the country throughout this time of the year.
Despite doing their burins at night, when farmers believe they will avoid the notice of the sleeping authorities, they are providing easy to locate burn-offs. Authorities banned field burning late last year in a bid to control the hazardous fine smoke particles that were drifting into highly populated city areas.
Now the sugar industry is also trying to encourage farmers to stop the practice of burn-offs.
"The problem of fires at sugarcane plantations requires cooperation from all sectors" – Sitiwuth Siempakdee, vice president of Thai Sugar Miller Company.
Sugarcane harvesting started on December 1, 2019, at the same time the smog and smoke problems started in Bangkok and areas around central Thailand.
"The increase in sugarcane output over the previous year was because there were three new factories,. Also, factories increased the efficiency of their machines, improved sugar extraction as a result cane extraction capacity average is 1.0-1.1 million tonnes per day."
"Sugarcane output this year will be lower than 30-40% of the previous year, because of the impact of drought, or only 90 million tonnes. Sugarcane extraction will be less than last year by 3 to 4 million tonnes."
SOURCE: The Nation
Keep in contact with The Thaiger by following our
Facebook page
.
32 year old British patient recovering in Phuket, suspected Coronavirus victim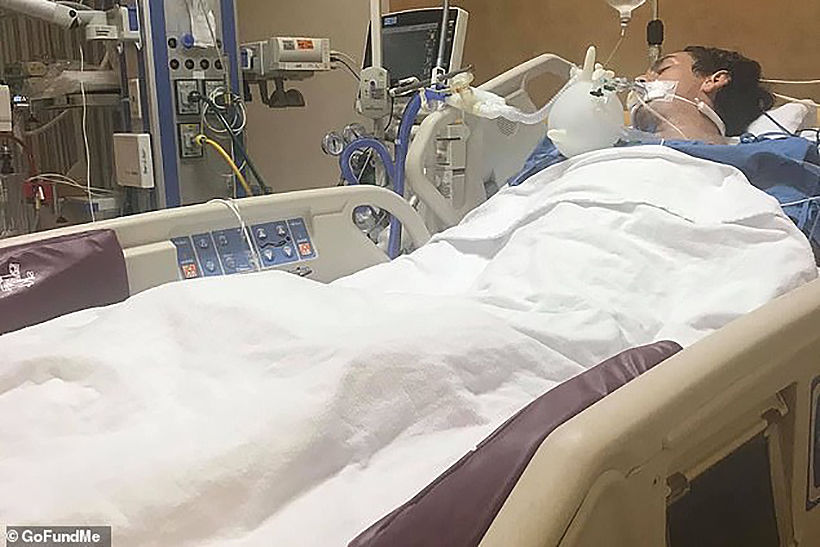 UPDATE HERE.
A British tourist is reported to be fighting for his life in a Phuket hospital. He could be the first Western victim of the coronavirus strain sweeping through China, according to Doctors at the hospital, but is yet to be confirmed. This latest coronavirus, related to the SARS (Severe Acute Respiratory Syndrome) and MERS (Middle East Respiratory Syndrome) viruses, is new and was first discovered in the Chinese city of Wuhan last month.
32 year old Ash Shorley remains in critical condition in a Phuket hospital after being infected with a virus while visiting Koh Phi Phi, in the Krabi province. He has been in hospital for nearly a month. His parents, Chris and Julie, who live in Lancashire, are now in Phuket whilst tests are being processed to determine the virus that has attacked Mr Shorley. His parents report that Ash has lost 52 kilograms since contracting the mystery disease.
"He was two days from death. If he wasn't so fit, he wouldn't be with us now. We are now waiting on tests. It is very serious." – Ash Shorley's father.
Ash was transported to Phuket by seaplane because "his lung had collapsed", according to the Daily Mail Online. Phuket doctors claim his symptoms are consistent with the Chinese coronavirus but a confirmation on their suspicions is yet to emerge. Experts, speaking to Daily Mail Online, say Mr Shorley's symptoms are consistent with the new Chinese coronavirus, but could also be a sign of other respiratory infections, as yet, undetermined.
The mysterious SARS-like virus has so far killed 3 and infected up to 220 confirmed (as of Tuesday) cases, although estimates by the WHO speculate that there are as many as 1,700 cases in Wuhan, central China, since December.
The virus is now confirmed to have spread to other parts of China – 5 cases in Beijing, 14 in Shenzhen and one in a province adjacent to Shanghai. Four other confirmed cases have been reported in Thailand, Japan, and South Korea.
The spike in reported cases comes as millions of Chinese are packing their bags to travel overseas for the Chinese New Year holiday. Meanwhile, a spokesperson from the Chinese Ministry of Foreign Affairs maintains the country has "stuck to a serious, earnest and professional attitude" to prevent and control any further outbreak of the disease.
SOURCE: Daily Mail Online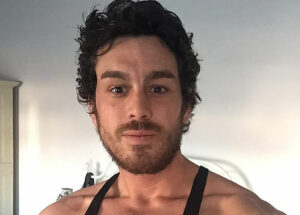 PHOTO: Instagram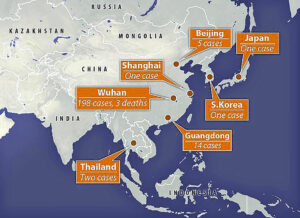 GRAPHIC: Daily Mail Online
Keep in contact with The Thaiger by following our
Facebook page
.