Pattani company turns marine debris into new shoes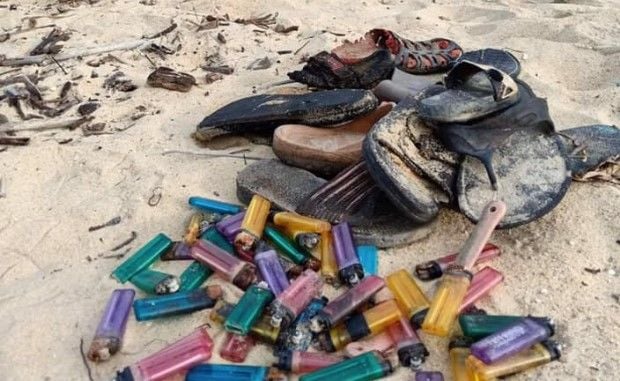 Flip flops, sandals, thongs, whatever you want to call them, are often seen washed up on beaches along with plastic bags and bottles. Those old, forgotten shoes are being transformed into new flip flops by a Pattani company called Tlejourn, a Thai phrase meaning "wandering across the sea."
Using old sandals found on the beach, Tlejourn cleans and shreds them to make small pieces. The pieces are then mixed with polymer glue and molded into the shape of a thong sandal. About 10 old shoes make 1 pair of flip flops. A pair of Tlejourn flip flops costs 399 baht. The shoes are made by locals in Pattani and most of the debris is collected from nearby beaches, the company says.
The project started almost by accident. Prince of Songkla University lecturer Nattapong Nithi-Uthai contacted Trash Hero, a volunteer organisation with local cleanup groups, to ask for some ocean waste to experiment with. The volunteers showed up to his house with thousands of flip flops. They were mismatched, torn up by the sea and some had barnacles growing on them.
Trash Hero Pattani volunteers collect marine waste found on beaches throughout the Satun islands in Southern Thailand. At one point they gathered 80 tons of flip flops in a 3 month period, Tlejourn says.
With a load of old, worthless flip flops, Nithi-Uthai worked with other university scientists on a plan to recycle trash and turn them into quality shoes. The company now operates on a zero profit model. Trash Hero supplies most of the ocean debris used to make the sandals. Tlejourn also collaborates with companies to come up with special designs for the upcycled shoes.
SOURCES:Channel News Asia| Bangkok Post | Tlejourn
Keep in contact with The Thaiger by following our
Facebook page
.
Never miss out on future posts by
following The Thaiger
.
More than 1,000 pigs killed in effort to contain spread of virus in Lampang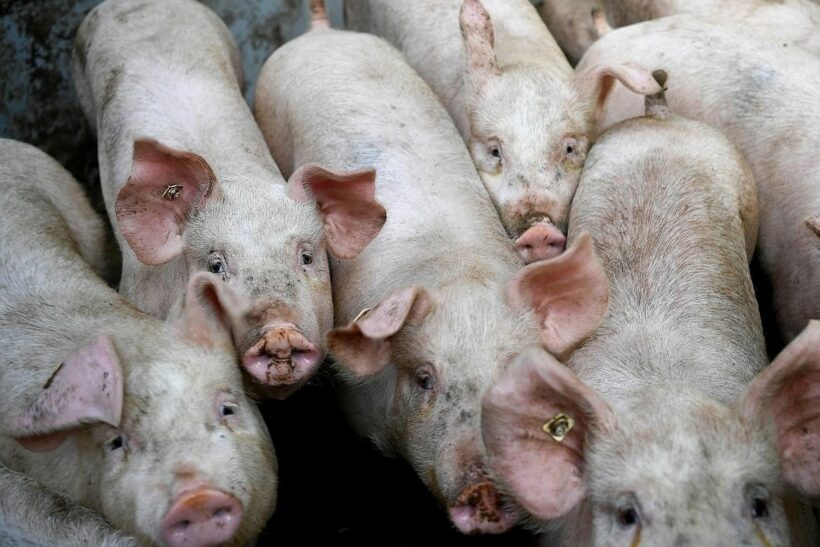 The outbreak of 'porcine reproductive and respiratory syndrome' caused the Department of Livestock Development to order the slaying of pigs in several subdistricts of Mae Tha district in the northern Lampang province. The head of the department says it has been able to prevent the outbreak from spreading out of the declared areas due to the elimination order, but the number of pigs being killed could be higher if officials deem it necessary.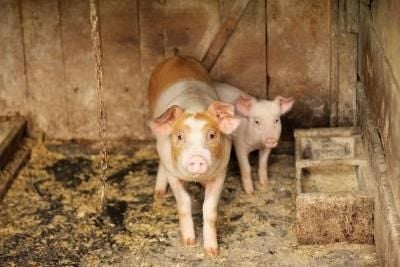 Farmers are being told to inform officials immediately if they find that their pigs have died of an unknown illness so officials can gather blood samples. Most of the affected pigs so far come from smaller farms that have up to 60 pigs. However, the department has restricted the transportation of pigs within a 5 kilometre radius from the epicentre of the outbreak in an effort to contain the virus.
Inter-provincial transportation of pigs has also been stopped as well according to the department. Officials say owners of the pigs who are eliminated receive 75%t of the pig's cost if they surrender the pigs to the department.
SOURCE: Nation Thailand
Keep in contact with The Thaiger by following our
Facebook page
.
Never miss out on future posts by
following The Thaiger
.
PM to tackle Northern Thailand's seasonal haze… again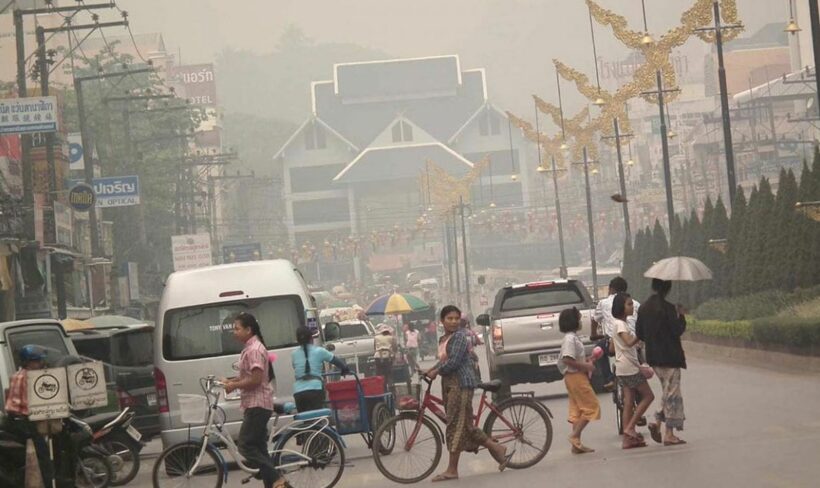 The Thai prime minister says he's working on a plan to tackle Northern Thailand's seasonal haze problem by cutting back manmade bushfires known to largely contribute to the air pollution. The issue has been broadly covered in Thai and foreign media for years, and been followed up with ministerial visits, promises, and little else.
PM Prayut Chan-o-cha spoke with governors of 17 northern provinces affected by seasonal haze, saying that he plans to supply villagers and local organisations with equipment, but reports did not go into much detail about what tools locals would get. He says authorities and state agencies need to step in to help combat the haze problem, suggesting that provincial governors head the local fight against wildfires.
"It's important to eradicate the root cause of wildfires that result from villagers' way of life… Even more farming space should be provided to farmers who need it to protect natural resources from being destroyed."
Prayut added that it's important for state agencies to collaborate on the firefighting effort and said members of the public can help raise awareness about wildfires.
The annual haze/smoke/air pollution problem is not just a Thai issue with the neighbouring countries, particularly Myanmar, causing their fair share of the illegal plantation fires, as shown in sharp detail in the satellite images.
Read The Thaiger's take on the annual 'smoke' problem HERE.
SOURCE: Chiang Rai Times
Catch up with the latest daily "Thailand News Today" here on The Thaiger.
Keep in contact with The Thaiger by following our
Facebook page
.
Never miss out on future posts by
following The Thaiger
.
Thailand Post to upcycle parcel boxes into furniture for Border Patrol Police School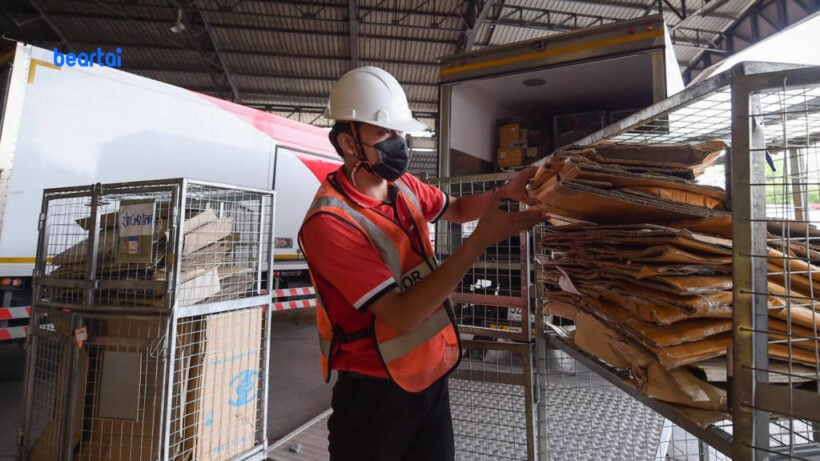 The Thailand Post is going to turn its parcel cardboard boxes and paper envelopes into tables and chairs for students at the Border Patrol Police School. The postal service says they've already received 10,000 kilograms of used boxes and envelopes for the upcycling project.
People can send used parcel boxes and envelopes back to Thailand Post to be collected for the furniture project. President of the postal service Korkij Danchaivichit says discounts and promotions are offered through the 9.9 online shopping campaign which promotes the reuse of the packages. He says some local online marketers have already hopped on board.
"It is a win-win situation for all… First of all, suppliers use compostable paper parcels that are eco-friendly; also 9.9 online shopping enhances the economy, and finally, we (Post Office) get to collect the reusable paper parcels and turn them into furniture to supply schools."
The campaign ends on October 31. Korkij says he'd like to invite more people, online retailers and businesses to send back their used parcel boxes and envelopes.
SOURCES:Xinhua| Nation Thailand
Keep in contact with The Thaiger by following our
Facebook page
.
Never miss out on future posts by
following The Thaiger
.