Pathum Thani villagers coping with heavy smoke from rubbish fires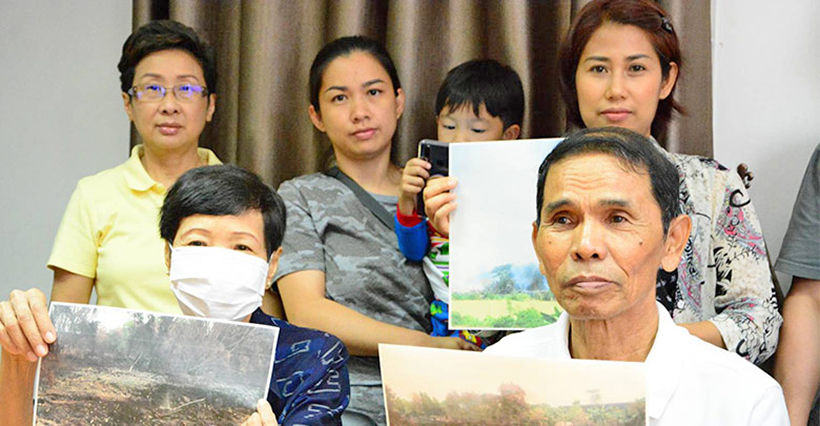 Villagers in Pathum Thani Province near Bangkok are complaining of rubbish fires, saying locals are breathing heavy black smoke every day, causing health issues, especially for small children. They claim people are secretly burning garbage and grass in the area. Residents of Sataporn Village have formed a group and reported to local media in hopes taking the issue public. Smoke from illegal rubish and crop fires has become a serious issue in Thailand
The group gathered at the Sataporn Village Office on Monday to make their voices heard. Behind their village is a large forest, mainly tall grass. One of the villagers, Yupaparn Homnet, says her home, located 100 metres away from the forest, is one of the households most affected by the smoke. Only a small pond and the tall grass separate her house from the fires.
Immediately behind the village and in the forest is a well known spot where people often secretly dump and burn garbage. Almost every day, Yupaparn says, her home and others are filled with black smoke, the stench of garbage, and ashes that cover their homes like black rain. Her family have been forced to breathe the smoke and dust and have now all developed allergies. Villagers have tried closing windows and doors, but the smell comes through air conditioners and under doors. Yupaparn's house now "just smells burnt all the time."
Another villager says there are over 1,000 households in Sataporn Village and nearly all are affected by the continuous burning. They live with the heat of the fires, smoke, and dust in the air. Many cannot use their air conditioners. "The villagers have filed complaints to local agencies, and they've sent fire trucks to put out the fires, but people just start them again."
Source: Thai Reisdents
Keep in contact with The Thaiger by following our
Facebook page
.
Wildfire damages over 2000 rai in national park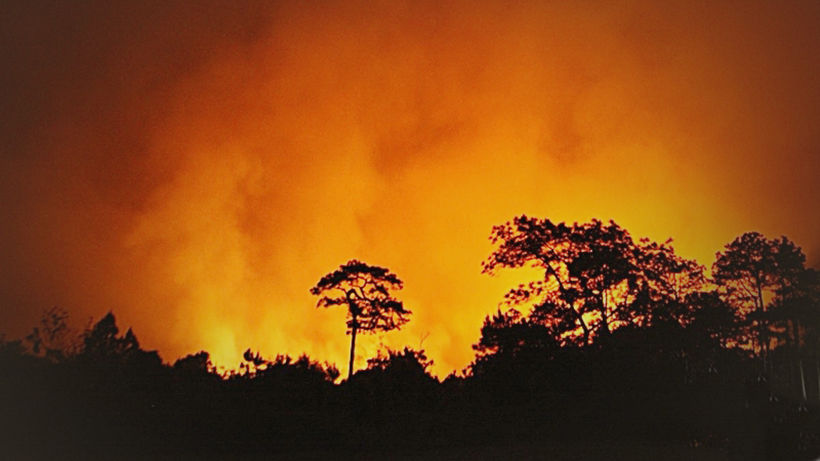 A wildfire yesterday morning in the Phu Kradueng National Park in the northeastern province of Loei damaged more than 2000 rai, mostly pineforest and grassland. Adisorn Hemthanont, chief of the park's wildfire extinguishment unit, made the announcement today.
"A dozen staff tried to extinguish the fire but the strong winds blew fireballs across the fire barrier and [they] landed about 400 metres from Mesa Cliff. At around 11am, the bushfire spread quickly around Mesa Cliff, covering a large area."
Adisorn says more than 130 staff from the extinguishment unit, park officials and volunteers used three tractors and four water trucks, working all afternoon and into the night to build a barrier to prevent the fire spreading. The blaze was reportedly brought under control at around dawn today.
Phu Kradueng National Park is in Si Than subdistrict, Loei province. It's one of Thailand's best known national parks, with a high point of 1,316 metres at Khok Moei and a total area of 348 square kilometres. It's famous for beautiful sandstone cliffs, scenic viewpoints and a variety of tropical flora and fauna.
SOURCE: The Nation
Keep in contact with The Thaiger by following our
Facebook page
.
Fires continue devouring Thailand's North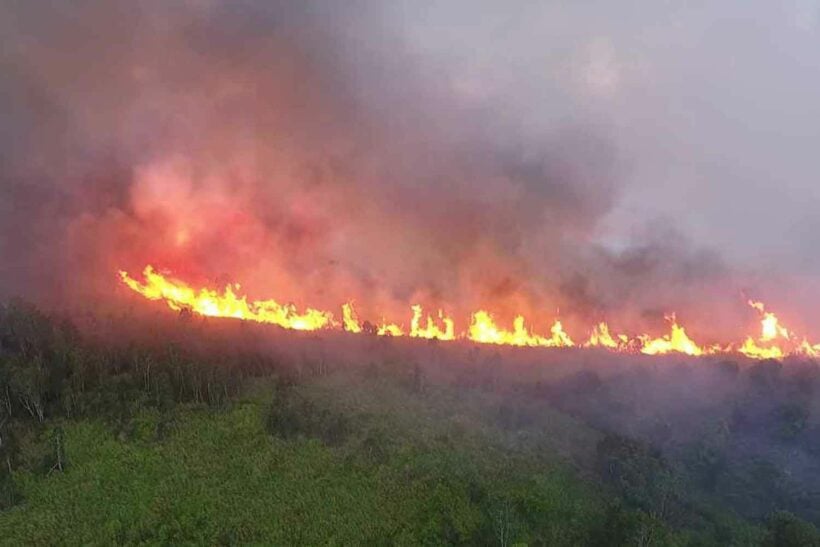 Despite prohibitions on agricultural burning, wildfires continued ravaging forests across Thailand yesterday, especially in the North. Satellite images charting the progress of large fires yesterday morning showed the number of hotspots in the north had risen from 823 on Friday to 1,334. A total of 3,238 forest fires were recorded nationwide.
Mae Hong Son province had the highest number of large-scale blazes with 340, followed by Uthai Thani in the central region (209) and Tak (205), also in the north. The Pollution Control Department's air monitoring stations showed the overall level of PM2.5 pollution in Mae Hong Son rose to 96 microgrammes per cubic metre, nearly double Thailand's "safe" threshold of 50µg/m³. The threshold set by the World Health Organisation is 25µg/m³
Also hard-hit was Lampang province, where fires continued ravaging national park and wildlife sanctuary areas. Lampang's provincial governor says that despite the fires, levels of PM2.5 have remained normal there, but he expects them to rise again in the coming week.
Officials of the Doi Pha Mueang Wildlife Sanctuary in Lampang say the fires wiped out 13 rai of forest in a single day, including seven rai of in conservation areas of Tham Pha Thai National Park.
Meanwhile, the director-general of the Department of Disaster Prevention and Mitigation said yesterday two helicopters were deployed to battle fires in inaccessible mountain areas in Lampang, Chiang Mai and Phrae provinces.
SOURCE: Bangkok Post
Keep in contact with The Thaiger by following our
Facebook page
.
Rare leatherback turtle lays eggs in Phuket's Mai Khao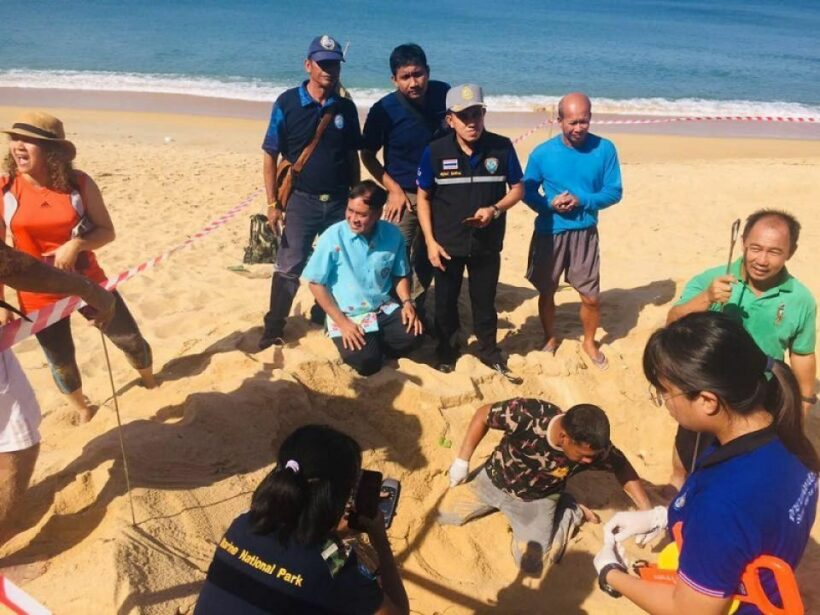 Officials of the Department of Marine and Coastal Resources and army personnel rushed to build a fence at Mai Khao Beach on Friday after learning from a village headman that a leatherback sea turtle laid eggs there. The area is located in the Sirinart Marine National Park, one kilometre north of Phuket's airport.
Officials built the fence and posted army guards to protect the eggs. It's the third nest of leatherback eggs to be found on the island.
Three weeks ago, officials at a national park in the southern province of Phang Nga were thrilled when the first baby turtle hatched there. The little leatherback emerged from its nest onto the beach at 6.20am and was taken to a nursery to be nurtured before being released into the sea. Park officials are keeping a close watch on that nest, hoping for more turtles to hatch.
A total of 104 leatherback turtle eggs were found at the Phang Nga nest, outside the territory of the national park on November 17. Eighty-five were found to be viable and taken to another nest inside the park.
In March of last year 40 leatherback hatchlings emerged from their shells and headed out to the Andaman Sea off Phang Nga beach. They hatched in one of three nests found there. Its was first time in five years that turtles had returned to lay eggs there.
Leatherbacks are the largest sea turtle specie. They're named for their shells, which are softer than those of most other turtles. They're also one of the most migratory species, and sometimes cross both the Pacific and Atlantic oceans. While not officially endangered, they are classed as a "vulnerable' specie and their population is declining.
SOURCE: Chiang Rai Times
Keep in contact with The Thaiger by following our
Facebook page
.