Unemployed Chiang Mai teacher arrested for child pornography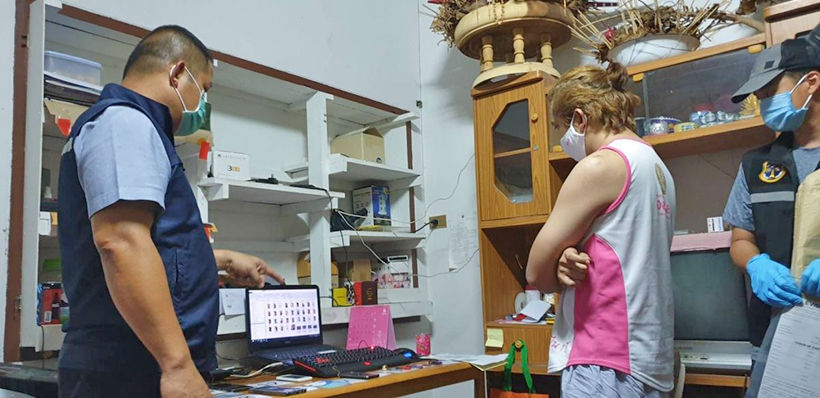 Police in Chiang Mai province have arrested an unemployed teacher after finding child pornography on his computers. The 33 year old man had previously worked as a music and dance teacher at a private school. He was reportedly paying a LINE app group to download sexual images of children as young as 10. Chiang Mai police collaborated with the Thailand Internet Crimes Against Children task force on Friday and raided the house, owned and occupied by "Chai," whose surname was not given.
Officers arrested the man after they pornographic images of both male and female children on 2 laptop computers, 2 mobile telephones and several USB flash drives and SD storage cards. Chai reportedly admitted that he had downloaded all the materials after joining a group on the LINE app that charges for membership before files can be downloaded.
Chai is charged with possessing child pornographic material, which carries a maximum punishment of 5 years in prison and/or a fine of up to 100,000 baht. Authorities will also investigate the LINE group for possible involvement in human trafficking.
The ICAC task force launched its "Save Children Operation" during the Covid-19 crisis when computer-related crimes spiked. In 56 days of operations in 24 provinces, they made 47 arrests and helped 100 victims, as well as seizing more than 150,000 images of child pornography.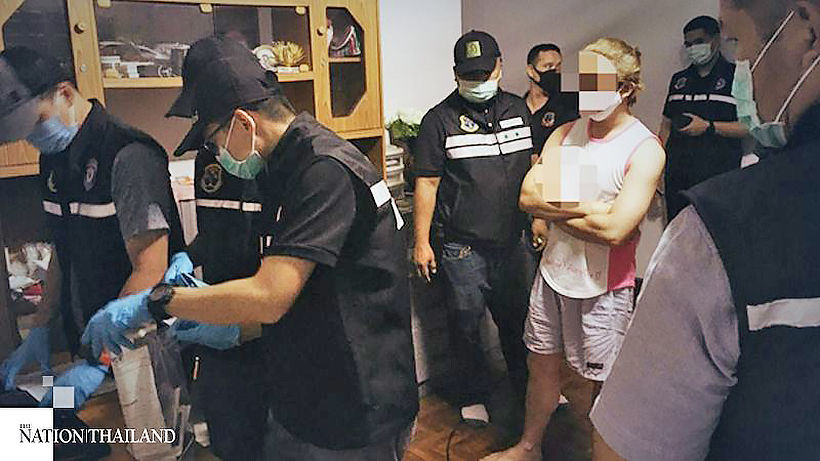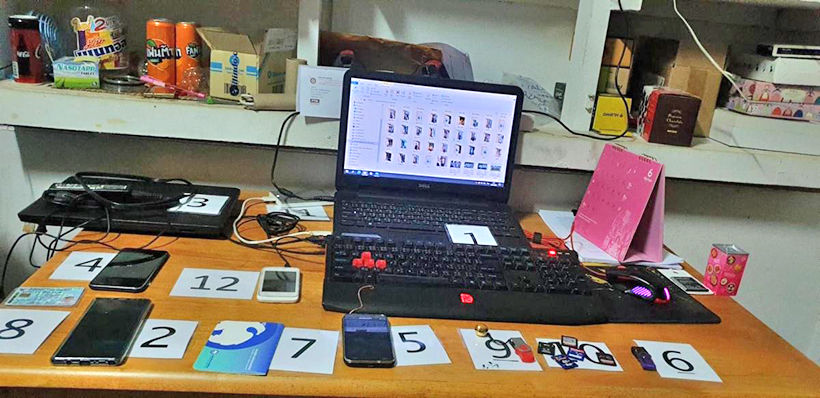 SOURCE: Nation Thailand
Keep in contact with The Thaiger by following our Facebook page.
Never miss out on future posts by following The Thaiger.
Thailand News Today | Bangkok protest fallout, northern fire bans | March 1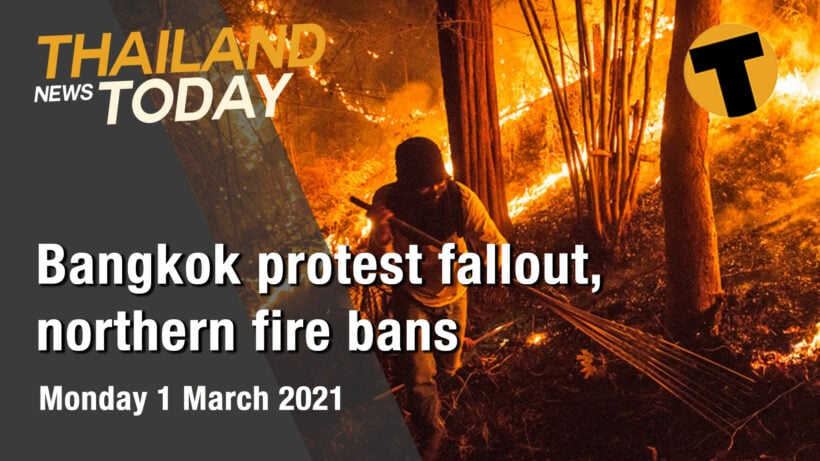 Coming up today… the fallout from yesterday's latest protest violence in Bangkok, the first vaccine in Thailand who got it, and a major drug haul along the Mekong.
But first we'll start up north where Lampang Province is joining other northern provinces todday by putting a total fire ban in place from today, March 1, until the end of April. Chiang Mai also started a ban on all deliberately lit fires from today and Lamphun, just south of Chiang Mai, already has one in place.
The bans are timely after a horrid weekend of air pollution in many of Thailand's provinces over the long weekend, even as far south as the tourist destination of Phuket where visibility was down to about 1 kilometre and the smell of smoke was noticeable.
Whilst up in the north… 4 Thai women were arrested at a security checkpoint in Tak's Mae Sot district after they illegally crossed the border from Myanmar into Thailand.
Illegal casinos and fancy hi-so massage parlours in Myanmar in areas near the border, have attracted wealthy Thais and Burmese. The establishments have also attracted plenty of Thais looking for well-paid work across the border.
In a major bust along the Mekong River, a notorious hotzone for drug trafficking, border patrol police seized 920 kilograms of dried, compacted cannabis from a boat along the Nakhon Pathom riverbank, bordering Laos.
Now to the weekend violence as the protests resume where they left off last year…
At least 22 people were arrested during the major Bangkok protest yesterday. It turned violent as pro-democracy activists marched toward the Thai PM's residence. It's been reported that one officer died during the rally, reportedly due to heart failure.
At least 33 people were injured… that includes 23 police officers. The clashes happened in front of 1st Infantry Regiment barracks on Vibhavadi Rangsit Road and involved around 1,500-2,000 activists from the Restart Democracy movement, part of the Free Youth group. The group has been protesting against the government and calling for reform of the country's constitution and monarchy since protests began in July of last year.
And Thailand's Covid-19 vaccine campaign started with Public Health Minister Anutin Charnvirakul who received the first of China's Sinovac vaccine yesterday. PM Prayut Chan-o-cha was initially planned to be the first to kick off Thailand's immunisation plan with the AstraZeneca vaccine, but due to problems with paperwork, the PM's injection was postponed.
Keep in contact with The Thaiger by following our Facebook page.
Never miss out on future posts by following The Thaiger.
4 top tourist destinations to be prioritised for Covid-19 vaccine distribution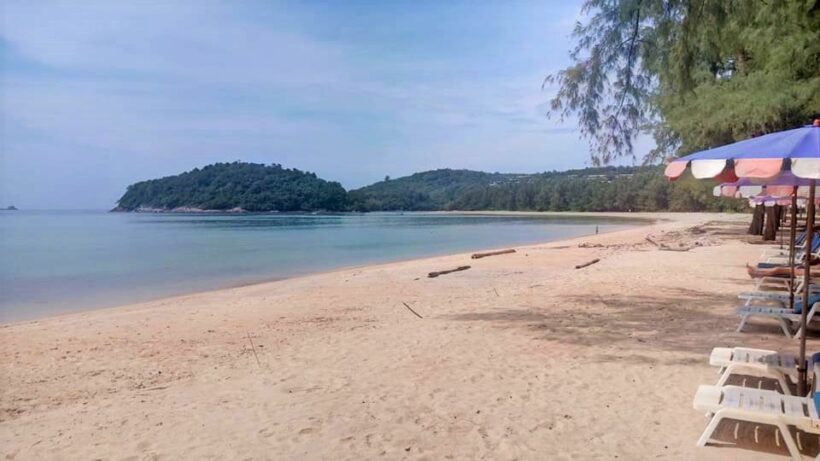 The Centre for Covid-19 Situation Administration says 4 of Thailand's major tourism destinations are to be prioritised in the distribution of vaccines. They are Phuket, Chon Buri, Chiang Mai and Surat Thani. In addition, a further 9 provinces with significant infection numbers are being prioritised in the rollout of the first vaccine doses arriving in the Kingdom today.
Taweesin Visanuyothin from the CCSA says 70,000 doses will go to the hard-hit "highest control" area of Samut Sakhon, where Thailand's second outbreak began late last year. 8,000 doses are being set aside for medical officials in the central province, along with 6,000 for frontline healthcare workers, 46,000 doses for seriously ill patients, and 10,000 doses for migrant workers and local residents.
Another 105,000 doses will be distributed to similar groups in Bangkok, in the central provinces of Pathum Thani, Nonthaburi, Nakhon Pathom, Samut Songkram and Samut Prakan, and in the western province of Ratchaburi and the Mae Sot district of Tak.
The Pattaya News reports that 14,700 doses will be sent to 4 major tourist destinations, with 4,700 going to the eastern province of Chon Buri, 4,000 to the southern island of Phuket, 3,500 to the northern province of Chiang Mai, and 2,500 going to the island of Samui in the southern province of Surat Thani.
In the case of the vaccines going to tourism spots, it is not yet known which groups will be vaccinated first, with that decision being left to the Provincial Communicable Disease Committee and other related authorities.
Meanwhile, the CCSA says other plans for the 4 tourism destinations are being considered, including the possibility of "area quarantine", which would allow vaccinated foreign arrivals to remain within certain boundaries during their quarantine period. The Tourism Authority of Thailand has been pushing for a vaccine passport policy for vaccinated visitors, while PM Prayut Chan-o-cha says the government may consider lifting quarantine restrictions for vaccinated tourists.
SOURCE: The Pattaya News
Keep in contact with The Thaiger by following our Facebook page.
Never miss out on future posts by following The Thaiger.
UPDATE: Thailand Covid zones and your restrictions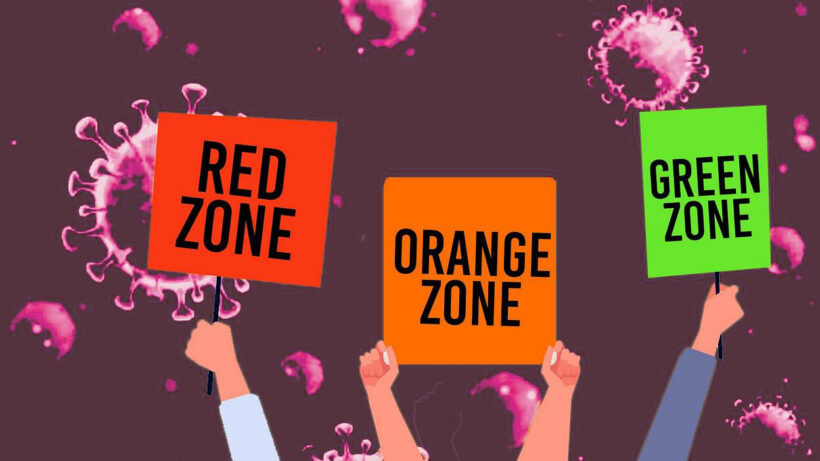 Which of the five coloured zones are you living in? A green zone? Red zone? Pale red zone? hat's the difference and what's open and what's not? If you're not in Samut Sakhon, the coastal province just south west of Bangkok, then some of the restrictions imposed by the CCSA have recently been lifted. Here's a quick look at what's open and what restrictions remain as of Friday, January 29. (Some local provincial exceptions will apply)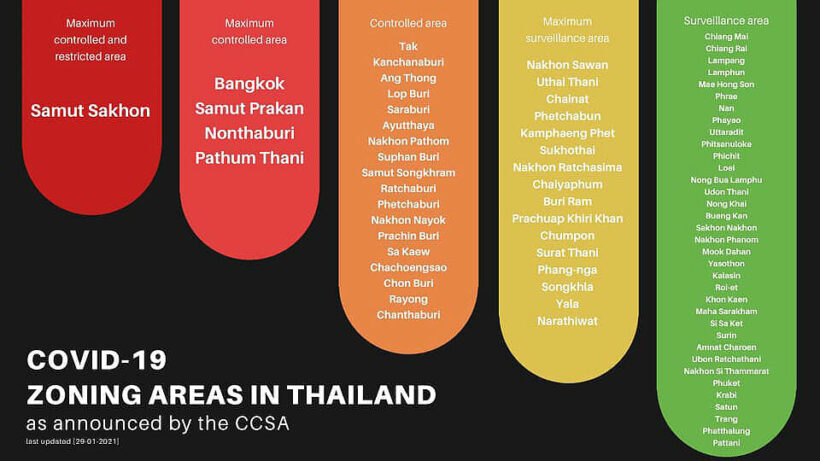 According to the list there's a Red Zone for Samut Sakhon, called a Maximum Controlled and Restricted Area, and then the light Red Zone, called a Maximum Controlled Area. Previous Red Zones – Rayong, Chon Buri (including Pattaya) and Chanthaburi – have been downgraded to Orange Zones, aka. Controlled Area. Trat, previously a Red Zone, has disappeared off the map! (An omission – we understand Trat is now an Orange Zone).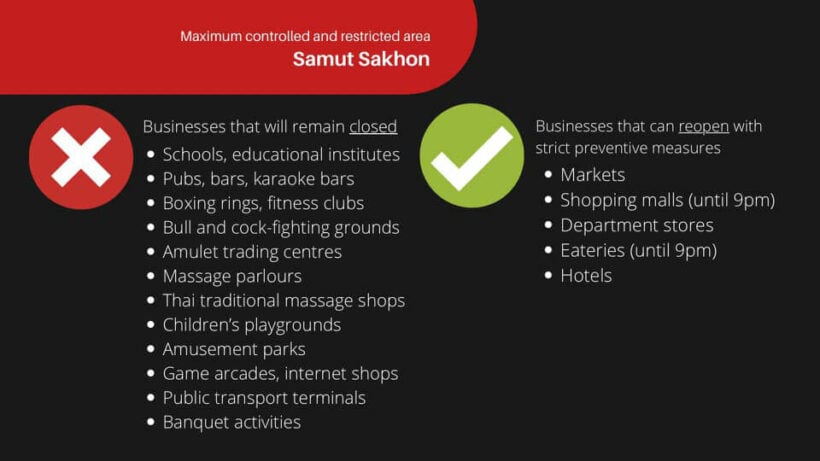 In Samut Sakhon, the epicentre of the latest outbreak around the seafood markets and coastal fishing ports, has the maximum current restrictions. Restaurants can currently stay open only until 9pm at the moment, markets and hotels are still allowed to open.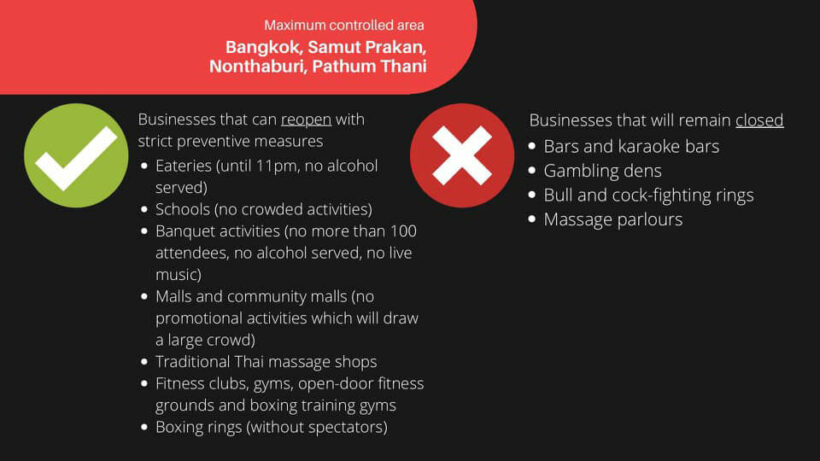 The 'pale' Red Zone includes Bangkok and now allows restaurants to stay open until 11pm but the serving of alcohol is still banned. Bars and karaoke bars are still required to remain closed. As is the 'bull and cock-fighting rings'. Shopping Centres are being asked not to conduct promotional activities that would draw large crowds but are otherwise still open. The city's schools are all open although some private institutions have decided to remain closed – check with your school to confirm. Gyms and boxing gyms are allowed to re-open.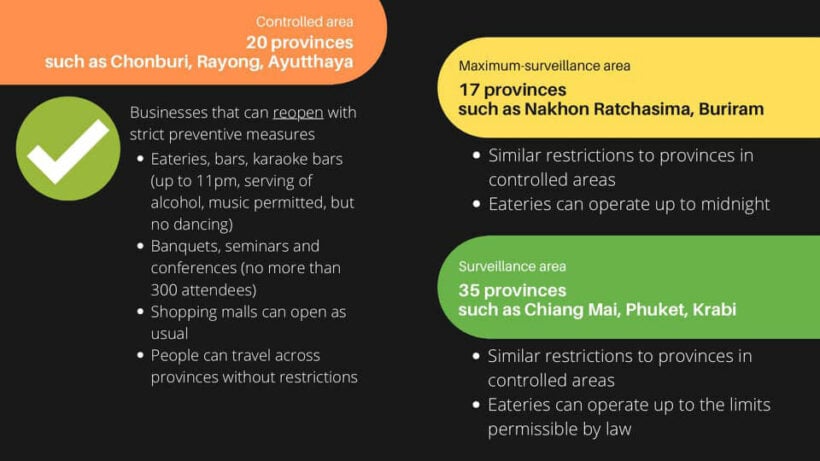 The Orange Zone includes Pattaya which now permits restaurants and bars to re-open until 11pm, including the serving of alcohol, but no dancing (damn!). Shopping Centres can open as per usual and residents in the Orange Zones are now allowed to travel across provincial borders again unhindered. All this will allow some of Pattaya's entertainment establishments a sigh of relief as they were relying heavily on some weekend traffic from Bangkok to keep the wheels turning until the tourists are allowed back into the country.
The other 3 popular tourist zones of Chiang Mai, Krabi and Phuket have been in the Green Zone throughout the current month of restrictions and can operate much as they were before December last year. But domestic airlines have slashed their flights to these areas and the few flights remaining are asking higher fares than the pre-second wave prices.
Some of the provinces will still require you to carry the Mor Chana app on your phone and other provinces, eg. Phuket, have their bespoke websites to register where you are staying. If you don't have a mobile phone the local officials usually just check you ID and ask a few questions about where you've been and get contact details if they need to get hold of you.
Of course, despite the latest list of eased restrictions and changes in the colour zoning, there will be some local variances and enforcement. Local provincial governments have been given the power to add additional restrictions in some cases.
GRAPHICS: Thai PBS World
Keep in contact with The Thaiger by following our Facebook page.
Never miss out on future posts by following The Thaiger.