Students charged after tying white bows around Bangkok monuments
3 students were sent to the police station after tying big white bows to the gate of the Democracy Monument in Bangkok. The students called on the Thailand and Cambodia governments to address the abduction of an exiled Thai political activist.
The students were charged for violating the Road Traffic Act by tying the bows, according to Coconuts Bangkok. The Student Union of Thailand posted a live stream yesterday from the protest showing police removing the ribbon and taking students to the police department (below). The group also posted photos of white ribbons tied to objects throughout Bangkok.
Political activist 37 year old Wanchalearm Sataksit was living in exile in Phnom Penh, Cambodia's capital. The Human Rights Watch claim Sataksit was dragged into a black car last week by a group of armed men and has been missing since. His sister was talking to him at the time on the phone. He ran an anti-government Facebook page. Thai police issued an arrest warrant in 2018 accusing him of violating the Computer-Related Crime Act for writing a post "inciting unrest".
The Cambodian police announced yesterday that they will investigate Sataksit's disappearance. The Royal Thai Police has refused to investigate the alleged abduction, one saying "This did not take place on Thai soil … Thai authorities do not have the authority to meddle."
The former deputy director of the National Intelligence Agency says Thailand doesn't have the resources to investigate, and urges people not to assume Sataksit has been abducted and killed.
"An abduction is a high-risk operation and needs a superpower nation to do it … Thailand is not a superpower."
SOURCE: Coconuts Bangkok | Bangkok Post | Bangkok Post | Human Rights Watch
Keep in contact with The Thaiger by following our
Facebook page
.
Cambodia announces changes to entry rules for citizens with foreign passports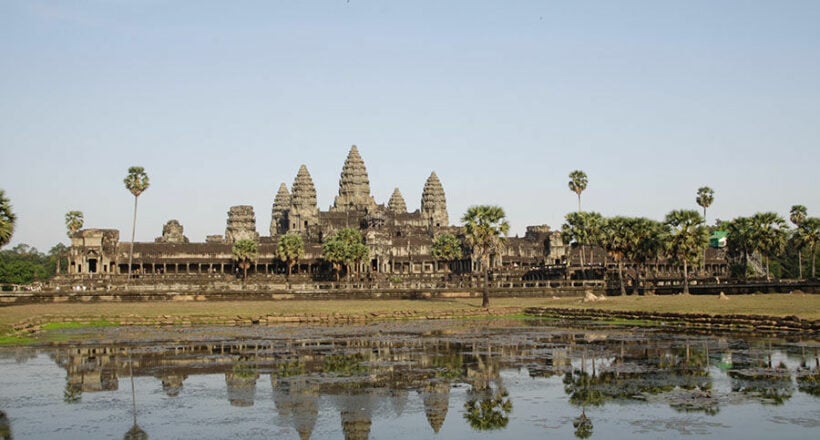 Cambodian nationals who hold foreign passports will likely welcome the government's decision to do away with the requirement for a US$3,000 deposit to cover Covid-19 costs, along with the compulsory US$50,000 health insurance. But a report in TTR weekly says the changes only apply to Cambodian citizens with foreign passports and a Visa K entry permit.
Following the move by the country's State Secretariat of Civil Aviation, entry requirements have been updated at all Cambodian airports, but the health insurance requirement and hefty deposit are still mandatory for all foreign visitors. The SSCA adds that Cambodian citizens are still required to show a medical certificate that proves they have tested negative for the Covid-19 virus.
"Cambodian nationals holding foreign passports with Visa K are still required to possess a health certificate indicating a Covid-19 negative status issued by competent health authorities of their residing country no more than 72 hours from the departure time from their residing country."
In addition, all international organisations in Cambodia, including foreign embassies and consulates, must confirm that staff and diplomats entering the country are free from Covid-19 and ensure they fulfill the mandatory 14 day quarantine period.
SOURCE: TTR Weekly
Keep in contact with The Thaiger by following our
Facebook page
.
Billions in illicit drugs burned in Thailand and Myanmar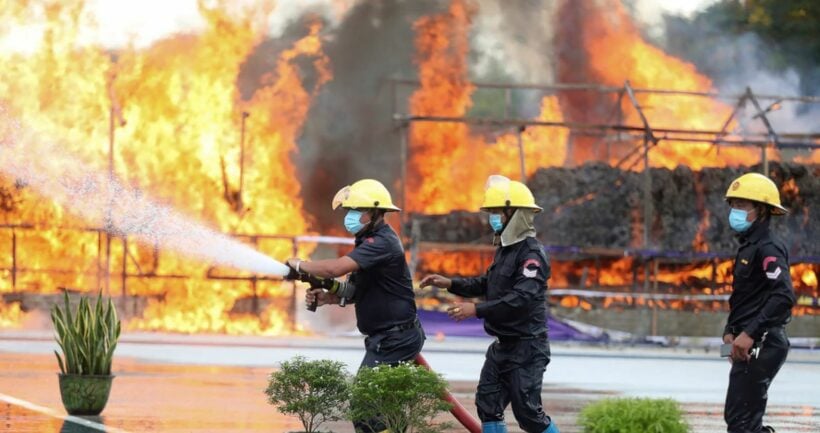 In a joint operation, authorities in Thailand and Myanmar destroyed 25 tonnes of illicit drugs valued at more than 62 billion baht (US$2 billion) in Ayutthaya and Yangon. The move comes as drug cartels in the Golden Triangle boost supplies and seek new channels of distribution. The Golden Triangle, where Laos, northern Myanmar and Thailand meet, has been a hub of illicit drug traffic for decades. Authorities say production there is now taking place on an industrial scale.
In Ayutthaya, about 80 kilometres north of Bangkok, Thai authorities marked International Day Against Drug Abuse and Illicit Trafficking with a mass burning of drugs. Police guarded boxes of drugs unloaded from trucks while bricks of heroin and bags stuffed with methamphetamine pills, known as "yaba," were thrown into dumpsters for incineration. In Yangon, meanwhile, plumes of black smoke filled the sky as sacks full of drugs were set ablaze. Firefighters quickly extinguished the flames.
Thai authorities say Covid-19 travel restrictions and checkpoints helped reduce smuggling, but the United Nations Office on Drugs and Crime said last month that the trade continues to thrive. Thailand's deputy national police chief says drug criminals are getting more creative, and the internet is becoming a growing outlet for the illicit drug trade.
"Our children are making the wrong decision to order narcotic drugs online. And the dealers send the drugs to them."
Rising heroin use among young people is among several worrying trends. Though opium cultivation and heroin refining have dropped, methamphetamine production in Myanmar's northern regions has increased dramatically, with armed ethnic groups collaborating with organised crime elements. Thailand is used mainly as a conduit and distribution point, with some drugs sold domestically, but most smuggled onward.
Jeremy Douglas, the UNODC regional representative, says online drug sales represent a worrying trend, with an oversupply of meth pushing prices down and adding to more drug abuse.
"Above all we are looking now at an increase in drug availability. Very dangerous. Frankly speaking, Myanmar has become the transit place of narcotic drug distribution to Europe and Asia."
SOURCE: Reuters
Keep in contact with The Thaiger by following our
Facebook page
.
Military weapons seized near Burmese border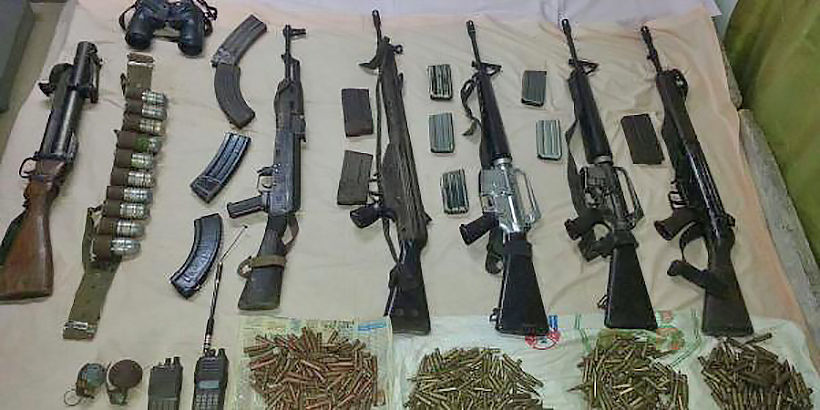 Police in the Mae Sot district of the Tak province, near the Burmese border, have seized a massive cache of military weapons, including 33 M16 and AK47 assault rifles, M79 grenade launchers and PK general purpose machine guns, together with a large quantity of ammunition of different calibers. 2 Thai men were arrested, but no details were available as to where.
Thailand's national police chief says that he suspects the weapons were intended for use by ill-intentioned elements which, according to intelligence reports, have been plotting to stir political unrest in the region. He declined to speculate or identify any specific political groups, saying the matter is under investigation by authorities.
He has ordered police in all areas, particularly in 10 provinces, including Chiang Mai, Phrae, Nakhon Ratchasima, Ayutthaya and Khon Kaen, to keep a close watch on political movements today, the 88th anniversary of the transformation from absolute monarchy to to constitutional monarchy, saying he worries that there will be gatherings as a symbolic gesture.
Past reports of arms seizures in Mae Sot, as well as other districts bordering Myanmar, appear to show that most of the weapons are actually smuggled from Cambodia by traffickers, for sale at huge profits to Burmese rebel groups based along the porous border between Thailand and Myanmar.
SOURCE: Thai PBS World
Keep in contact with The Thaiger by following our
Facebook page
.