Mother abandons 3 young children in their locked Bangkok room for 3 days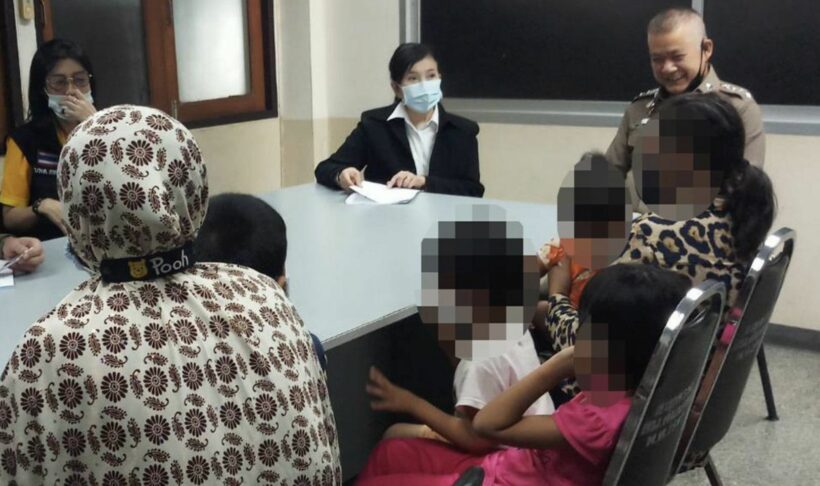 3 young Bangkok children were abandoned in a small room for 3 days after the mother allegedly visited her new boyfriend. A neighbour was taking care of the youngest of the 4 children, a 4 month old baby, but the mother never contacted anyone about her other 3 kids. The mother hadn't returned to pick up her baby from the neighbour, as promised. Police report that the 3 children had no food for the 3 days. Paveena Hongsakul from the Foundation for Children and Women called Police at the Khan Na Yao Police Station, a northeastern suburb of Bangkok.
Police received a report about the 4 children, aged 7, 6, 4 and the baby.
The 25 year old stepsister notified the foundation on Thursday informing police that her 32 year old sister, Gift, is the mother of the children. Gift's husband is serving a sentence for drug charges and has been incarcerated for 3 years. Since then Gift had the 4th child, although the family is unsure who the father is. The sister claimed that Gift was always asking the family for financial assistance.
Last Monday Gift's neighbour contacted the sister saying that she had been taking care of the young baby. She went to Gift's room to see if she was there and the room was locked. She checked through a window and could see the 3 other children and noted that they were stressed and looked hungry.
When she asked the children about their mother the youngsters remained silent. She worked with the other neighbours to rescue the children through the window. Gift's phone was left in her room. After filing a report with the local police the neighbour took the other 3 children in to care for them but told police that her room was only 33 square metres and there were 11 people living in her tiny room already.
Police and the neighbour tried to call Gift's new boyfriend. Eventually he answered but told them that he was "far away and didn't know when Gift could return".
All 4 children are now safe at the foundation after a visit to the local police station as police wait to interview Gift when she returns.
SOURCE: Thai Residents | Khaosod.co.th
Want more from the Thaiger family?
📱 Download our app on Android or iOS for instant updates on your mobile
📧 Subscribe to our daily email newsletter
👍 Like/Follow us on Facebook
🔔 Subscribe to or Join our YouTube channel for daily video updates
9 student nurses experience side effects from Sinovac vaccine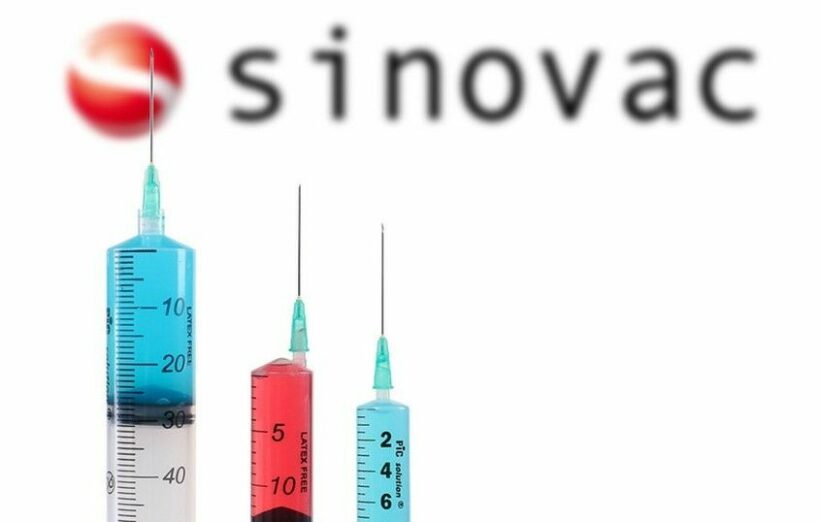 After receiving the Sinovac vaccine, 9 student nurses at Thammasat University have complained of side effect according to the Facebook page of the Student Organization of Thammasat University. After 88 student nurses received the Chinese-made vaccine on April 23 and May 5, 2 experienced minor side effects of a little pain in the arm they were vaccinated in, while 7 felt substantial reactions including chest pain, muscle pain, dizziness, fatigue, breathing problems, numbness, and facial tics.
One case of severe side effects was a female nursing student with an underlying allergy who felt fatigued immediately after receiving the jab. she felt better an hour later, but was placed under observation. 2 days later she briefly felt that her legs and hands were numb but soon felt better. Later that evening, symptoms strengthened, with eye and facial spasms, dizziness, fatigue, and weakness in her hands.
She visited a doctor twice for the side effects and the first time was given sleeping pills and vitamin B, but the second time after a blood test, doctors concluded that the symptoms were unrelated to the Sinovac vaccine. She had been previously prescribed Clonazepam, and that prescription was changed to Pyridostigmine.
The remaining more severe side effect sufferers were as follows:
One male nursing student found he had difficulty breathing and dizziness for 3 days after receiving his jab.
A female nursing student reported that just 30 minutes after receiving the injection she felt shortness of breath and the next day had some numbness in her body.
14 hours after receiving the jab, a female nursing student said that she felt side effects of fatigued and had trouble breathing and had to use pillows to help her breathing difficulties.
Another female student felt muscle pain and dizziness the next day after receiving the vaccine.
A female student ended up receiving Vitamin B and Amitriptyline from a doctor for her side effects. She reported to initially feel something in her arm and hand where she was injected, and then numbness in her left leg and in her fingertips on both hands.
For the 3 days following her inoculation, the last female nursing student had side effects of chest pains and shortness of breath.
SOURCE: Thai PBS World
Want more from the Thaiger family?
📱 Download our app on Android or iOS for instant updates on your mobile
📧 Subscribe to our daily email newsletter
👍 Like/Follow us on Facebook
🔔 Subscribe to or Join our YouTube channel for daily video updates
Sunday Covid UPDATE: 17 more deaths, 2,101 covid infections, provincial totals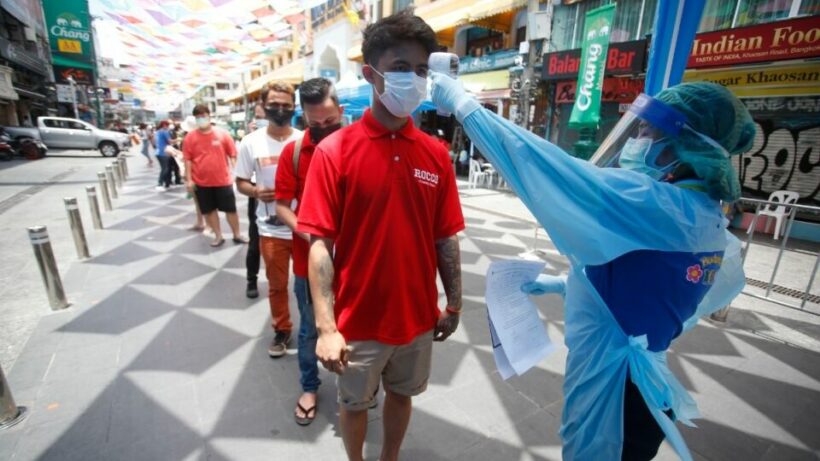 For Sunday, the numbers for new infections and Covid-related deaths from Bangkok and the Thai provinces over the past 24 hours were announced early this morning. There has been 17 deaths and 2,101 new cases announced by the CCSA.
Thailand has now reached 83,375 total cases since January 2020 and 399 deaths. Out of the 17 deaths, 8 were male and 9 female. One of them was a foreigner. The average age of the deaths was 68 years old.
Bangkok, again, is leading the way with new infections with 980 registered in the past 24 hours, mostly in 4 key clusters of low-income housing communities.
Here are all the provincial totals…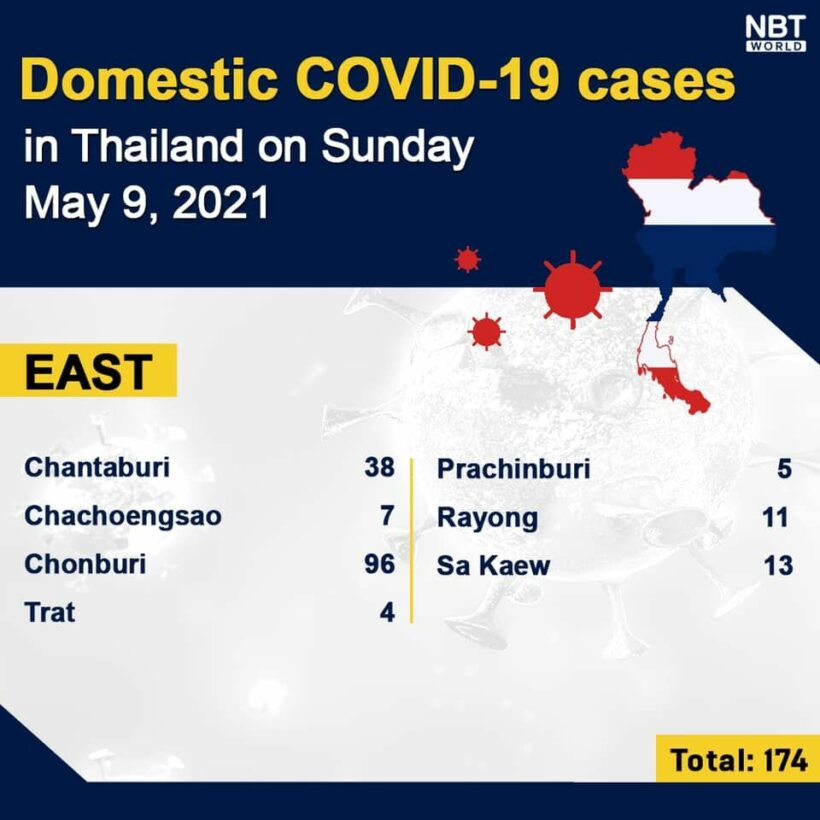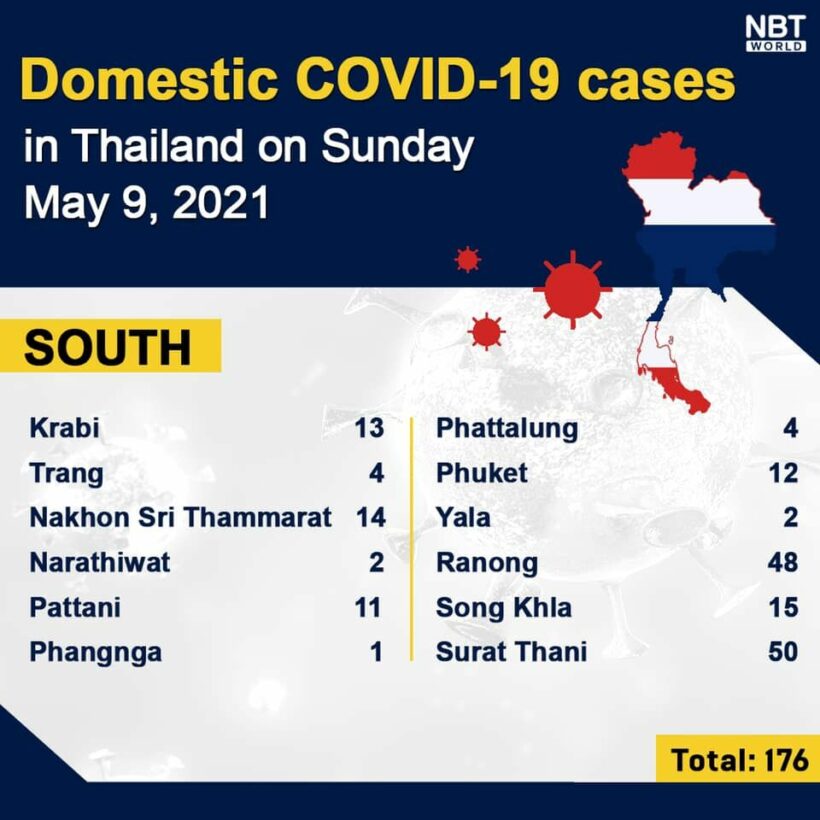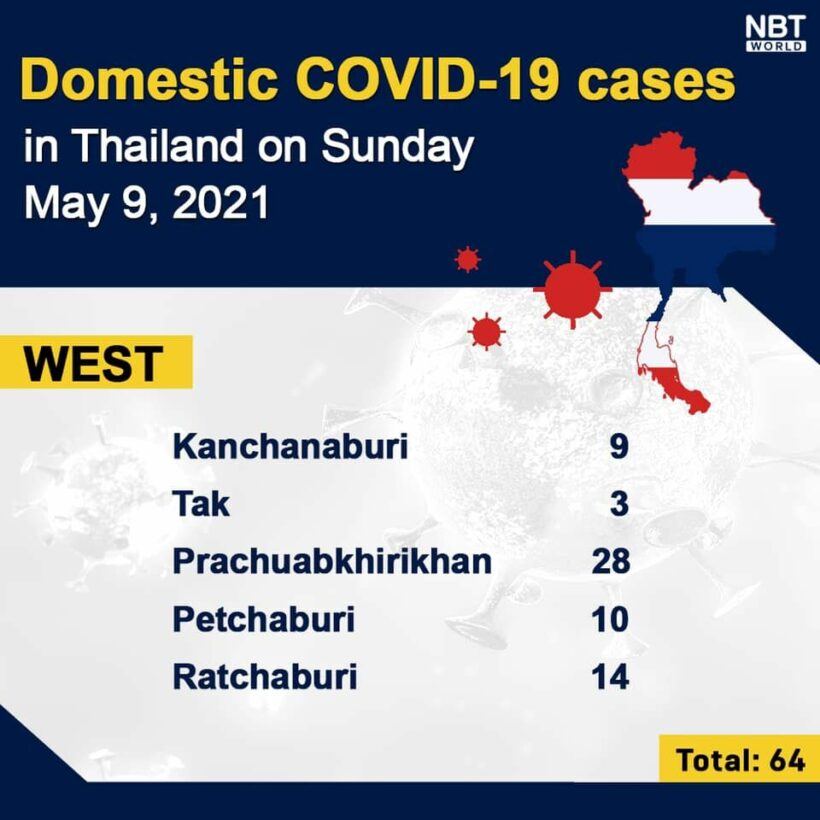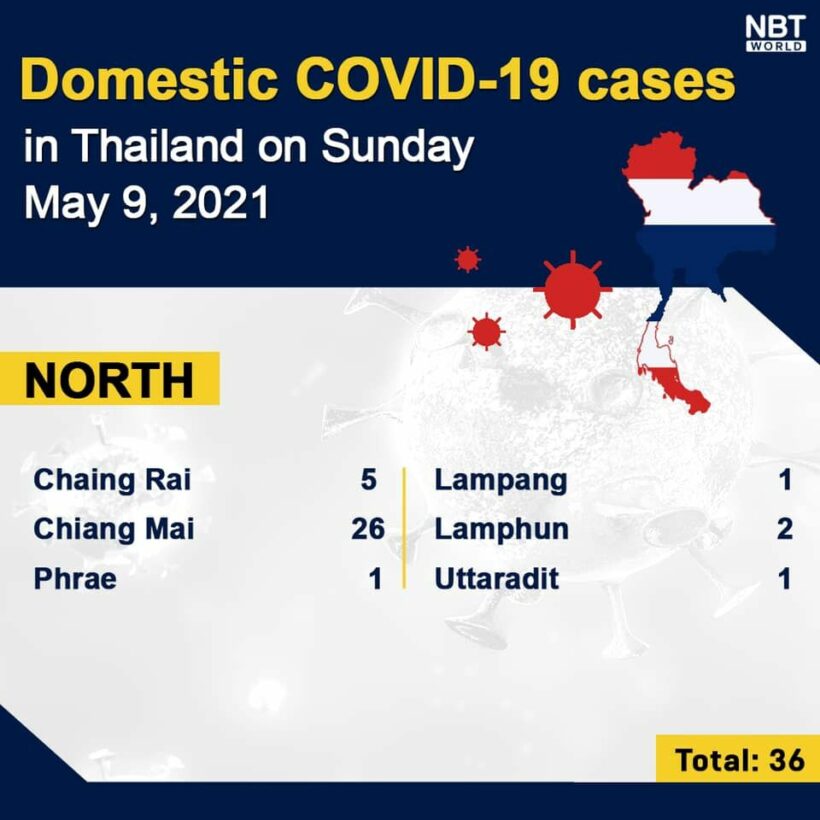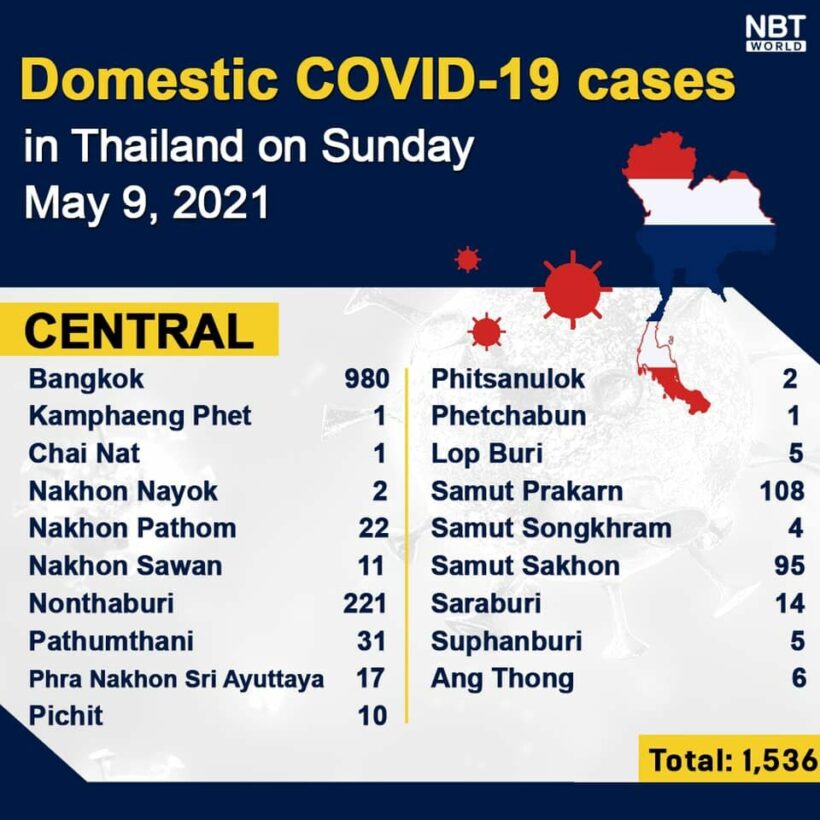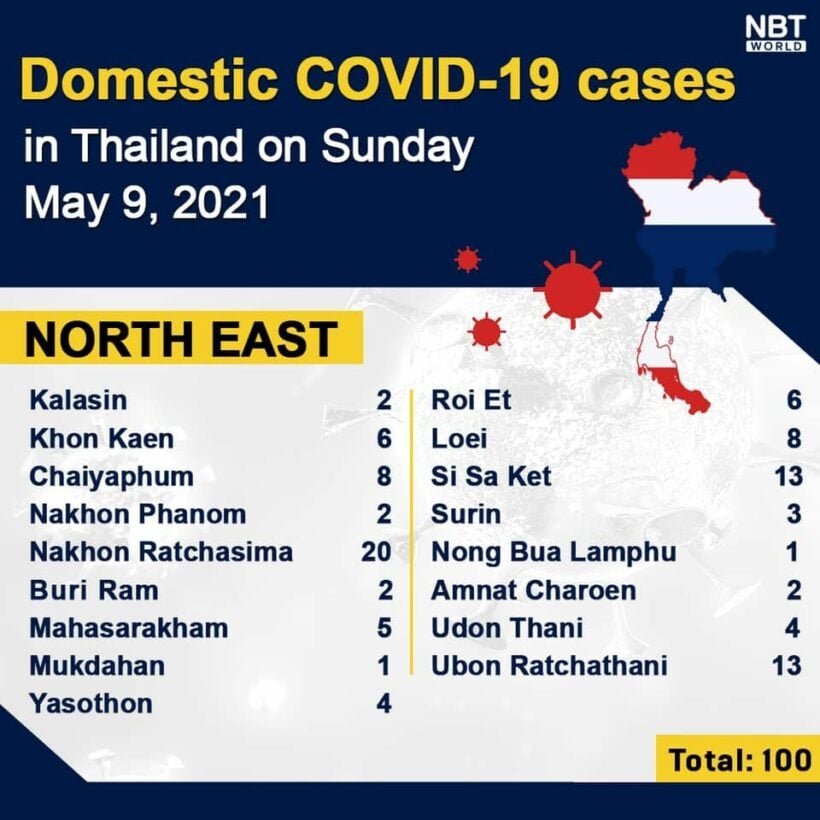 • Meanwhile, Thai restauranteurs are pleading with PM Prayut Chan-o-cha to ease the Covid-19 restrictions, especially the ban on dine-in services in dark red zone provinces.
• On the aviation front, the third wave of Covid-19 around the country is forecast to show a drop in air travel by 38% for this financial year, according to the Aeronautical Radio of Thailand.
They expect the air traffic in Thailand to remain subdued until at least September this year. Aerothai's executive VP for operations, said the number of local flights had been stable for the first half of April but it plummeted dramatically in the second half.
Want more from the Thaiger family?
📱 Download our app on Android or iOS for instant updates on your mobile
📧 Subscribe to our daily email newsletter
👍 Like/Follow us on Facebook
🔔 Subscribe to or Join our YouTube channel for daily video updates
Thai woman admits to stealing lottery tickets from blind ticket seller in Bangkok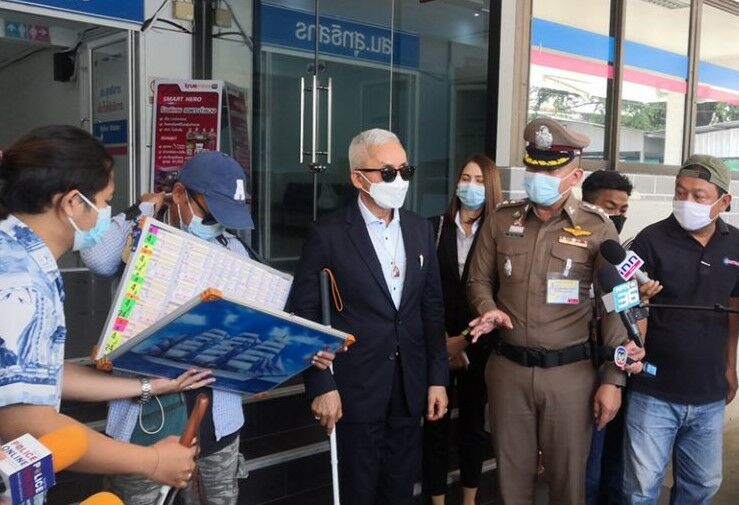 A 57 year old Thai woman is admitting to stealing lottery tickets from a blind seller in Bangkok. The woman, Sumali Muangpluem, is now under arrest for allegedly stealing from the disabled seller in the underground Sutthisan Station train between November 25-27 of last year. Sutthisan police say they collected evidence of the same type of theft in many districts, leading them to issue an arrest warrant for Sumali.
Police say their investigations revealed that the suspect would approach blind lottery ticket sellers while holding several tickets in her left hand. She would then use the right hand to pretend she was choosing a ticket and pull all of the tickets off at once so that the lottery seller would only hear one ticket being pulled. She would then hand some tickets to the seller while she hid the rest so onlookers wouldn't notice. She would then put the tickets in her bag while talking to the seller at the same time to keep her from noticing.
They say the suspect would then tell the seller she would be back to get the tickets and would leave money for the seller in the form of a deposit. One seller said he was keeping in regular touch with police as the same woman kept stealing lottery tickets from other blind sellers. He says he is afraid the suspect may hurt him because he filed a police report against her.
Police say Sumali has stolen about 450 tickets, valued at over 45,000 baht. They say she has stolen tickets at Victory Monument, Payathai, and Bang Na train stations in Bangkok.
SOURCE: Thai Residents
Want more from the Thaiger family?
📱 Download our app on Android or iOS for instant updates on your mobile
📧 Subscribe to our daily email newsletter
👍 Like/Follow us on Facebook
🔔 Subscribe to or Join our YouTube channel for daily video updates