Lone gunman storms into Lopburi gold shop and kills three people – VIDEO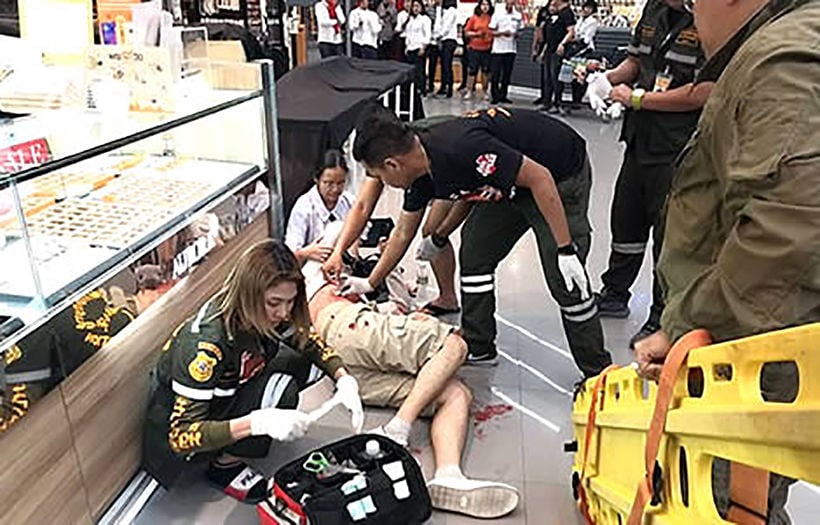 Police are now on the hunt for the Lopburi gold-shop robber who has killed three and injured four. The man stormed into a Robinson Department Store gold shop last night killing three people as he walked in. He shot without hesitation and paid no attention to the people he'd shot. One of them was a young boy. The gunman also wounded four others during the attack.
The armed man walked into the Aurora gold shop inside a mall on the Phahon Yothin Highway at 8.44pm. He strode in and started shooting at customers and staff. He then jumped on top of the glass counter, snatched three trays of gold necklaces valued around 500,000 baht, and then shot a security guard dead before fleeing on a Yamaha motorcycle. The entire incident lasted around a minute.
The robbery and shooting. WARNING: Graphic content.
Three people died as a result of the shots fired as the man entered the store, including a two-year old boy shot in the head while walking past the gold shop with his mother.
The shooter was wearing a full-face face mask, balaclava, black shirt and "camo" trousers. He has armed with a 9mm pistol with a 'silencer' attached. The gunman acted alone.
Armed police commandos have now been deployed in the hunt for the gunman.
SOURCE: Bangkok Post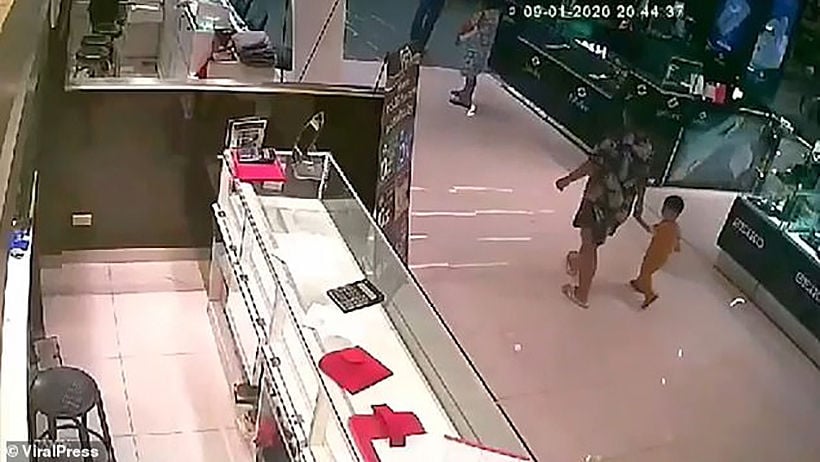 SCREENGRAB: The young boy, walking with his mother, was shot moments after. He died in hospital.
Keep in contact with The Thaiger by following our
Facebook page
.
Prasitthichai speaks to the Thai media, "killings were unintentional"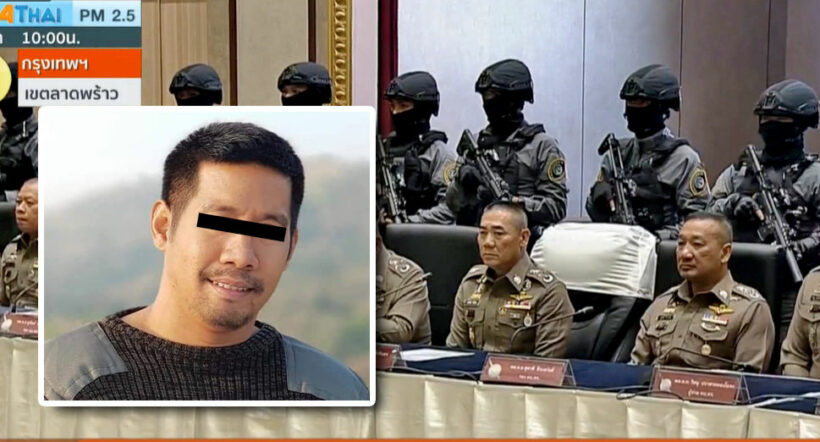 In a bizarre sequence of events, Thai media were able to directly question the suspect, who has allegedly confessed, of the cold-blooded murders of three, whilst injuring four others, on January 9 at a Lop Buri gold shop.
School principal Prasitthichai "Golf" Khaokaew is reported to have told police that he robbed the gold shop because he had financial problems and that the shooting of a female employee and a two year old were unintentional. They both died as a result of their wounds, along with a shopping centre security guard who was shot when the gunman was fleeing the scene of the crime.
Prasitthichai spoke to the media via telephone, at a media presser this morning at the Royal Thai Police headquarters in Bangkok. The media event was hosted by the national police chief, Pol Gen Chakthip Chaijinda. The assembled police chiefs were flanked by members of the special forces Hanuman assault team who arrested the suspect yesterday.
Prasitthichai told the assembled media that had to open fire because he "wanted to cause panic and clear the way as he approached the shop". He says he'd planned the robbery only 3 days earlier.
• He claimed that the shooting of the female employee was accidental claiming his glove got stuck in the pistol trigger when he tried to remove it, and his pistol accidentally discharged two shots.
• He claimed that he didn't see the 2 year old boy when he tried to shoot at a security guard. The wounded guard staggered out of the building and subsequently died on the road.
• He claimed he bought the gun's silencer from a friend on the Internet.
• Prasitthichai offered an apology, especially to the family of the 2 year old boy, "Title".
He told the assembled media that he was going to surrender to police tomorrow (January 24) but ended up being arrested by the Special Forces Hanuman Division whilst driving his car yesterday. Meanwhile police recovered stolen gold ornaments from the man's parents' house last night with the gold stuffed into steel tube rafter inside the roof. Police are also still searching for the silencer.
Thai PBS World have published some excerpts from the bizarre exchange between the reporters and the suspect on speaker-phone.
Q: Why did you have to shoot to kill the victims?
Prasitthichai: I only meant to shoot to frighten people.
Q: Did you plan the robbery in advance?
Prasitthichai: I thought about it for a few days.
Q: Why did you shoot at the gold–shop attendant again?
Prasitthichai: When I was on top of the counter and had my gun trained at the woman by hand-glove got tangled with the trigger. I tried to pull it off and caused the gun to fire twice.
Q: Why did you shoot 2 year old Titan?
Prasitthichai: I did not see him. I shot at the security guard to frighten him. The child could have been hit by the ricochet. I didn't mean to shoot at the child.
Q: Don't you have any sense of remorse? You still lived your normal life after what you had done.
Prasitthichai: I do regret. I saw news about what happened to the child and regret what I have done.
Q: How could you return to your normal life after what happened?
Prasitthichai: I tried to live a normal life and did not think about escaping. But deep down I regret what I did.
Q: If you wanted to frighten people, why didn't you just fire warning shots?
Prasitthichai: I did fire two shots at the gold show-case and didn't expect the bullets to hit the attendant. And then when I saw two customers (who were also shot) I just lost my mind. I want to say I am sorry and ask for pardon.
Q: What do you want to say to the families of the victims?
Prasitthichai: I want to say I am sorry, especially to the family of Titan and those of other victims. I am sorry and I want to ask for their mercy.
Q: Why did you use silencer and where did you get it from?
Prasitthichai: I bought it from someone my junior I know on the internet. I used it because I didn't want to frighten people with loud noises.
Q: Did you think of giving yourself up?
Prasitthichai: I did think about surrendering but didn't consult with anyone. I did everything by myself. My intention was to give myself up after January 24.
Q: Why January 24?
Prasitthichai: I had an assignment with students at my school that I needed to finish first.
Q: Was your first shot intentional or accidental?
Prasitthichai: It was intentional. I wanted to frighten people, to prevent people from getting near. But it ended up hitting Titan
Q: There was rumour that you committed the crime because you wanted to die, a daredevil act.
Prasitthichai: No. I did it because of my personal problems. I have to excuse myself now.
SOURCE: Thai PBS World
Keep in contact with The Thaiger by following our
Facebook page
.
Lone gunman tells police he killed to "spice up his boring life"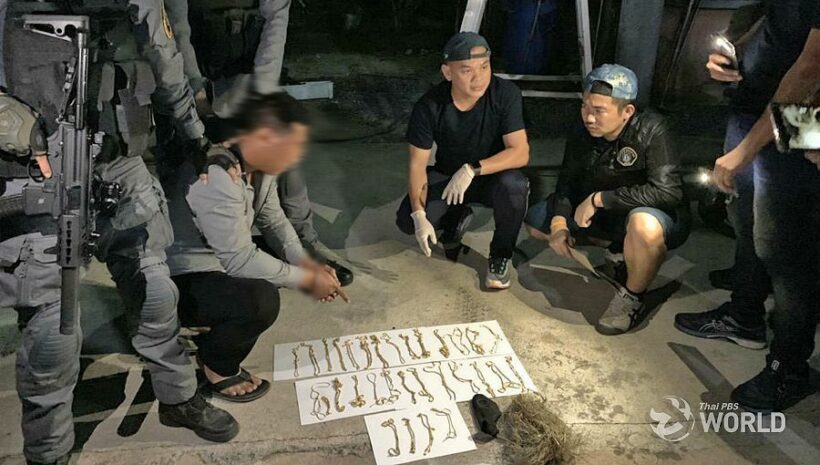 So how did Thai police track down and arrest the suspect, who has allegedly confessed, accused of a brutal and callous robbery and shooting which resulted in the death of three with four other injured? The suspect was arrested following an intensive 14 days of forensic investigation.
38 year old school principal, Prasitthichai Khaokaew, is now in custody, suspected of being the lone gunman in the gold shop murders. He was apprehended by the Crime Suppression Division's Hanuman special unit, following an extensive joint effort by police and forensic specialists who analysed hours of CCTV footage from the crime scene at Robinsons Shopping Mall in Lop Buri, and then tracking him along possible escape routes in the moments after the crime.
The man claimed he killed to "spice up his boring life", according to police sources speaking to Bangkok Post. He lives in Lop Buri and was arrested on his way to school yesterday morning, driving a black BMW Series 5, registered in Bangkok.
Informed police sources, speaking to Thai PBS, say that investigators studied the clothing of the assailant, noting things like the long-sleeved black sweater, grey patches on the shoulders, black sneakers and carry bag, all which provided clues about his unique taste in clothing. They analysed the man's stance and walk and concluded that he had surgery on his right knee.
Then concluded the gun could be a Czech made 9mm CZ SP75-01, fitted with a long silencer. Delving into the records they found it belonged to, and was registered to, a police officer. That police officer had since retired and was Prasitthichai's father.
CCTV footage followed the gunman on his escape after shooting dead a security guard on his way out of the Shopping Centre. He was riding a white and red Yamaha Fino motorcycle.
They tracked him past Wat Dong Noi, turning right in Motel 111 lane toward Ban Mai Khun Nuan and then turning right again through Tambon Tha Sala onto the Pahonyothin highway. According to investigators, he made a U-turn in front of Thai Rath Wittaya 1 School to turn into Chompon Road, turned left into Erawan Road before entering Lop Buri View housing estate. The suspect, Prasitthichai Khaokaew, has a house in that estate.
Prasitthichai Khaokaew is the Director of the Wat Pho Chai School in nearby Muang district of Sing Buri province, adjacent to Lop Buri province.
His arrest was carried out by the Hanuman police unit, set up by the Crime Suppression Division last November to replace its commando unit which has been transferred to His Majesty the King's Ratchawallop royal guard unit.
Police say they doubt the suspect "killed for the thrill" as he claimed, and will continue to question the man.
SOURCE: Thai PBS World | Bangkok Post
Keep in contact with The Thaiger by following our
Facebook page
.
Arrested Lop Buri murder suspect was a provincial headmaster

The director (headmaster) of a Sing Buri school is now in police custody as a suspect in the case of the lone of being the lone gunman in a gold shop robbery at the Robinson's Shopping Centre in Lop Buri province on January 9. Three people, including a two year old boy, were shot and killed, another four were injured as a result of the shooting.
The armed gunman, carrying a 9mm pistol and fitted with a silencer, escaped after his shooting rampage, with gold jewellery valued at 450,000 baht worth of (some media report higher amounts up to 680,000 baht).
The 38 year old suspect has been identified as Prasitthichai Khaokaew, and is currently in custody. Police allege the man has confessed to the crime.
Amnart Wicchayanuwat, secretary-general of the Office of Basic Education Commission, says they will set up a committee to consider dismissal of the school director if he is found guilty of the offences, as charged.
In the days after robbery, the Royal Thai Police issued a shoot-to-kill order and a bounty was offered for information leading to his apprehension. Over the weekend police reported that had been speaking to a suspect over the incident. It has not been confirmed if Prasitthichai Khaokaew was the man who police were questioning over the weekend.
SOURCE: Thai PBS World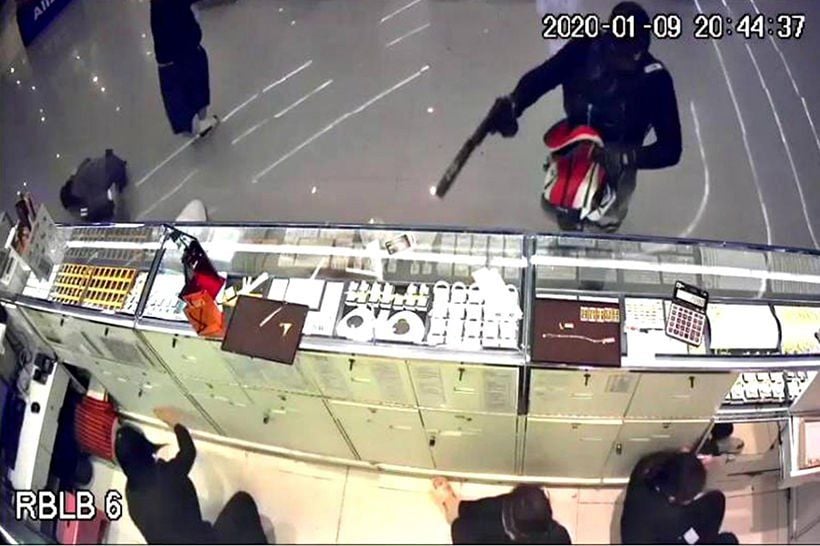 Keep in contact with The Thaiger by following our
Facebook page
.