Forex-3D Ponzi scheme dupes thousands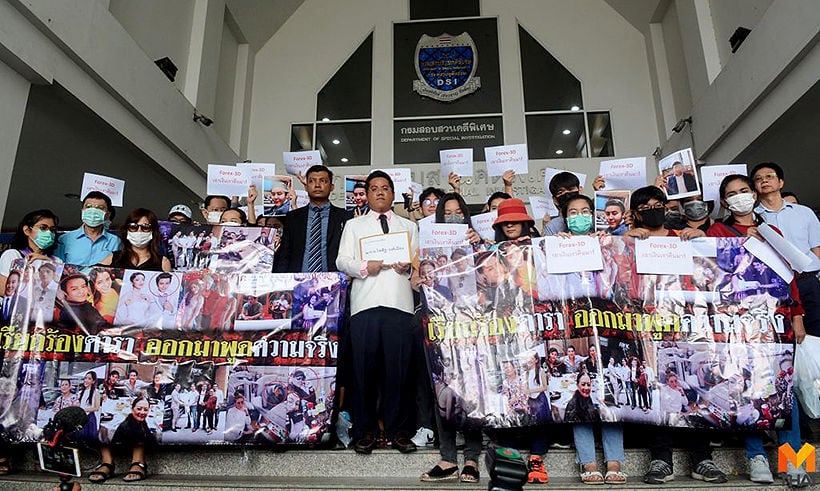 PHOTOS: MThai
At least 1,000 people have fallen for the 'Forex-3D' Ponzi scheme, with losses currently estimated at 10 billion baht. Victims and their lawyers have already filed reports with the Department of Special Investigation (DSI). Dozens showed up in front of the DSI HQ with posters showing the faces of people allegedly connected to the scheme. Victims have asked the DSI to speed the prosecution process and to create a QR code that will allow victims enable file their complaints online.
Forex-3D started as an invitation-only brokerage company, splitting profits at a rate of 60/40 with 60% to the investor. Members (investors) started with a minimum investment of 2,000 US$, or about 50,000 baht.
The company advertised that investments would be repaid at an extremely high dividend rate within a short period. But it began having problems repaying investors in April and didn't respond to their queries. Victims became so confused and angry that they joined in a cursing ceremony at the company's headquarters, aimed at the directors and those involved.
There are rumours that celebrities and some government officials have been victims of the scheme, and victims with many social media followers influenced others to invest. Victims have demanded that celebrities and others captured in photos with the company's directors give the public an explanation. It's now up to the DSI to decide how to investigate and who to prosecute.
Forex-3D has posted on Facebook denying being a Ponzi scheme, saying any incidents that may have happened were caused by members acting illegally, and that the company has no connection to such activities. Victims say that if the company is truly innocent, they should have no problem visiting the DSI in person.
Last week the Justice Minister, Somsak Thepsutin, handed a case, where at least 2000 victims were allegedly cheated out of more than 430 million baht, over to the DSI as well.
The "Mae Manee pyramid scheme" was allegedly run by a couple who offered returns of up to 93% a month. The alleged architect of the scheme was using a fake profile as part of the scam.
Last Tuesday October 29 the Criminal Court approved warrants for the arrest of 28 year old Wantanee Tippaveth, aka. Mae Manee, and her 20 year old boyfriend Methee Chinnapha. They face charges of public fraud, illicit borrowings and the input of false data into a computer system.
SOURCE: Thai Residents
Keep in contact with The Thaiger by following our
Facebook page
.
Foreigners and Thais conned out of 45 million baht in Pattaya property scam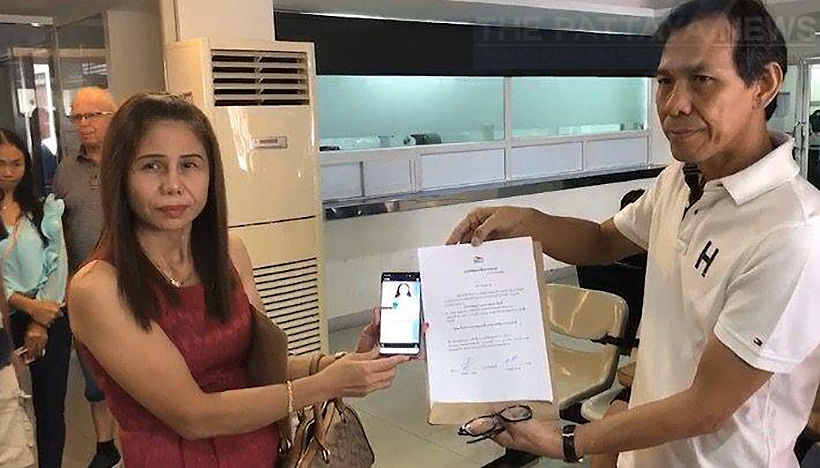 Police in Pattaya are hunting for a 49 year old real estate agent, Jidapha Sirikhong, who is alleged to have scammed both Thai and foreigner residents in a 45 million baht property scam. The Pattaya News reports that Jidapha is the owner of Som Property, with an office in an unnamed condominium building near Jomtien beach, where she took deposits for condo bookings.
Another real estate agent, 49 year old Thippawan Boonyam, says she made a number of long term rental bookings through Som Property, for customers in Thailand and overseas.
The customers, who included Australian, American, Austrian and Norwegian nationals, were told their deposits would be passed on to the condominium owners to secure their bookings. But the condo owners say they have not received any money.
Another victim, 52 year old Nanthika Mesnukun, says she bought a condo through Jidapha, paying Som Property in installments, but the current owner of the condo has received nothing.
The victims have now filed a group report with Pattaya City Police. The Acting Chief of police says they are currently hunting for Ms Sirikhong, who has disappeared. She is believed to have conned potential condo buyers and renters out of a total of 45 million baht.
SOURCE: The Pattaya News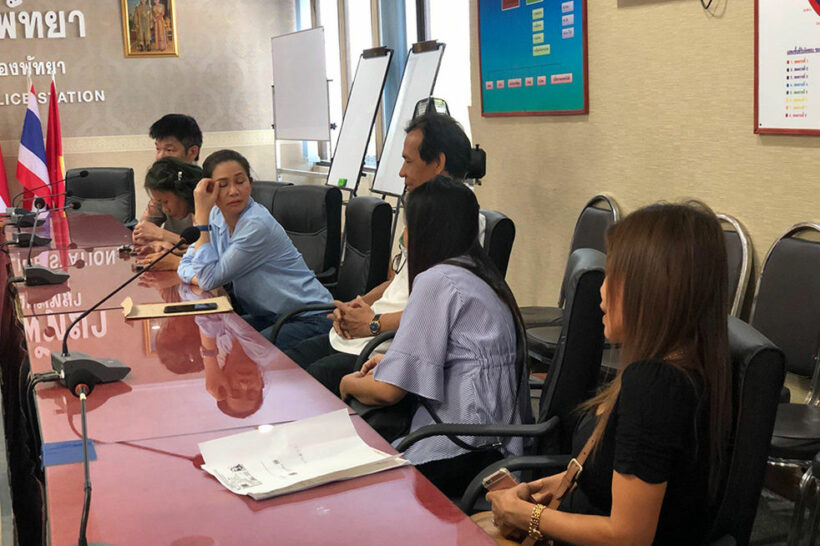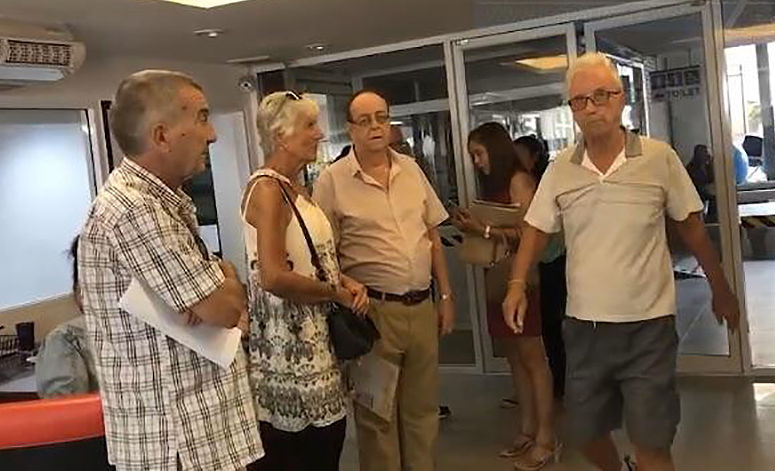 Keep in contact with The Thaiger by following our
Facebook page
.
Mother cat and 4 kittens poisoned at Sai Kaew Beach, Phuket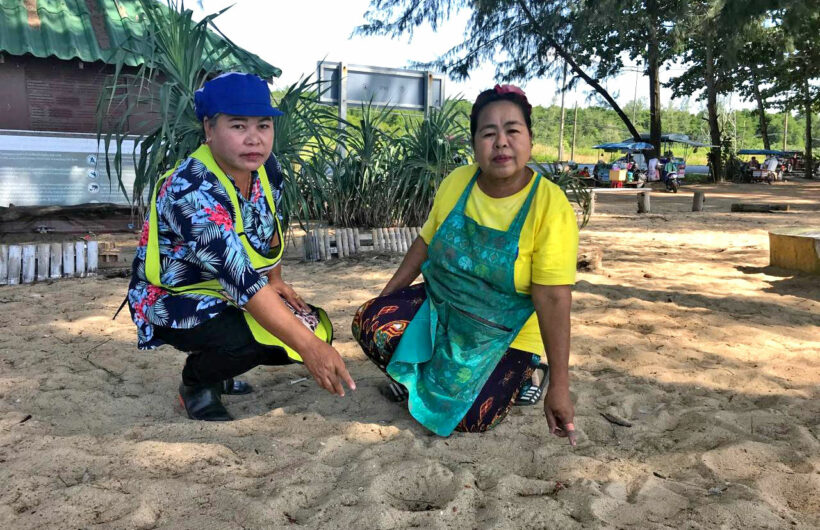 On December 11, a report was made following a post from the Facebook page 'Rain Forest' about 5 cats that were dumped and poisoned at Sai Kaew Beach, at the far north end of Mai Khao Beach in Phuket.
The post shows pictures of a cat and her four kittens that had been poisoned with water and food, probably laced with rat poisoning. Two food vendors at the beach, 58 year old Petch Saejia and 55 year old Kanchana Saenghuad, are the witnesses who found and buried the cats. (The pictures are in the original post although we decided not to display them)
Petch said that the incident happened on December 9, in the morning. She was riding her three-wheel 'saleng' to sell food at the beach as usual. But when she arrived, Kanchana, who had arrived earlier told her that someone dumped the 5 cats at the beach and poisoned them. She saw the dead kittens on the sandy area of the beach while the mother cat, who still had a collar with a bell, was struggling to move to her babies and licked them before she died as well, which Petch said was very tragic.
She also mentioned that the kittens were not weaned and they were still feeding the mother cat.
Petch said that she cried when she saw the incident. She said she felt sad for the cats and very angry toward the person who committed this crime. She believes that the cats had an owner as the mother cat still had a collar, but the owner might have been bored of them so they were dumped and killed.
She mentioned that she noticed a water dish with something that looks like rat bait at the bottom of the dish. The two vendors buried the cats along with leftover cat food.
She said that this action was "very evil" and she wished that the person who did this will suffer the same as these cats.
"If next life exist, I wish these cats will become humans instead of this cruel person."
Meanwhile, Kanchana said that she also cried when seeing the dead kittens. They also went to the temple yesterday (December 11) to make merit for the lost souls and wish them to go to a good place where they won't meet any cruel person like this.
(Translated)
SOURCE: Thairath.co.th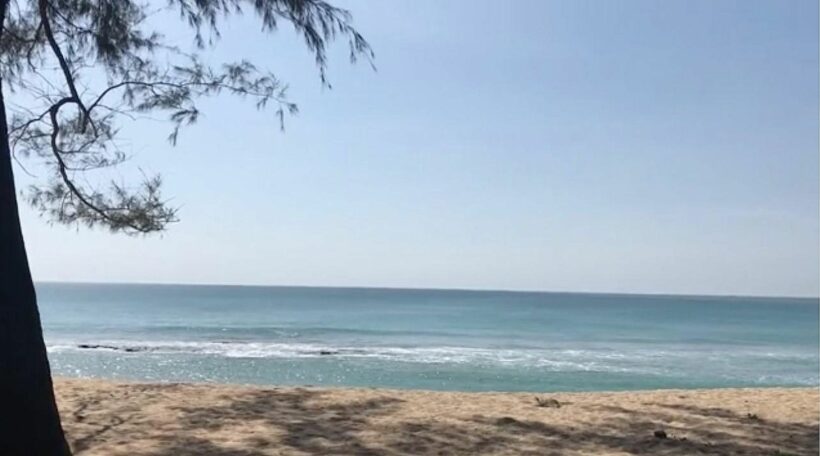 Keep in contact with The Thaiger by following our
Facebook page
.
Teacher arrested for death of twins who stole his limes in Phattalung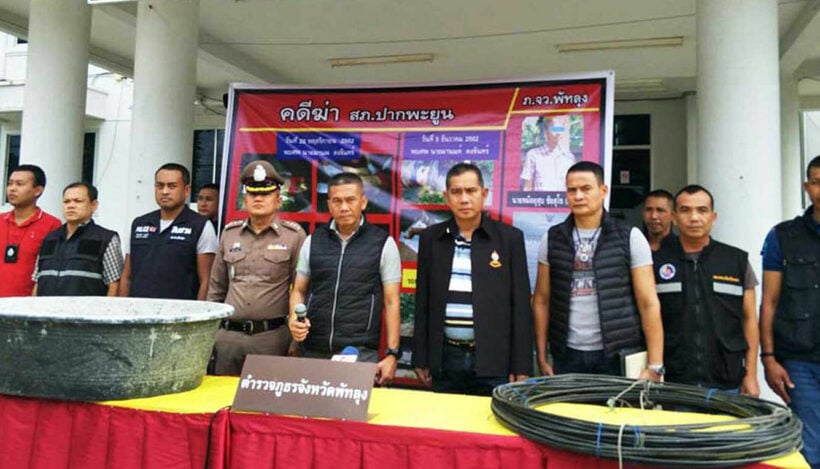 PHOTO: Assawin Pakkawan
A 55 year old teacher has been arrested for the murder of twin brothers who, according to the police report, stole limes (lemons) from his farm in Phatthalung Province, southern Thailand. Police announced the arrest of Madyusup Chaisukkho, an English teacher at a public school in Pak Phayun district, for the deaths of 31 year old Manop Khongchan and his twin brother Manon.
Madyusup has been charged with first degree murder and concealment of evidence. Electrical wiring, a metre-diameter fibreglass tank and a pickup truck were seized in the arrest, according to the provincial police chief. Police say Madyusup has confessed to all charges during interrogation.
He told police that thieves had been stealing limes from his farm almost every night. He said he laid electrified copper wire at ground level as a deterrent, never imagining that it would kill anyone.
In his statement Madyusup said he got scared when he found the two electrocuted bodies and dumped them far from the farm. But the victims were of large build, and investigators didn't believe Madyusup acted alone, or that he was providing police with the whole story. Police speculate up to six people could have been involved.
Madyusup's farm is about a kilometre from his house, according to police.
Local residents found Manop's body and motorbike in a local reservoir on November 28, about 2 kilometres from the farm. A week later, his twin brother Manon's body was found in a drain in the same area, about 600 metres away.
Police launched an investigation after the victims' parents reported them missing, fearing they'd been murdered.
SOURCE: Bangkok Post
Keep in contact with The Thaiger by following our
Facebook page
.