13 year old Chiang Rai girl saved from forced marriage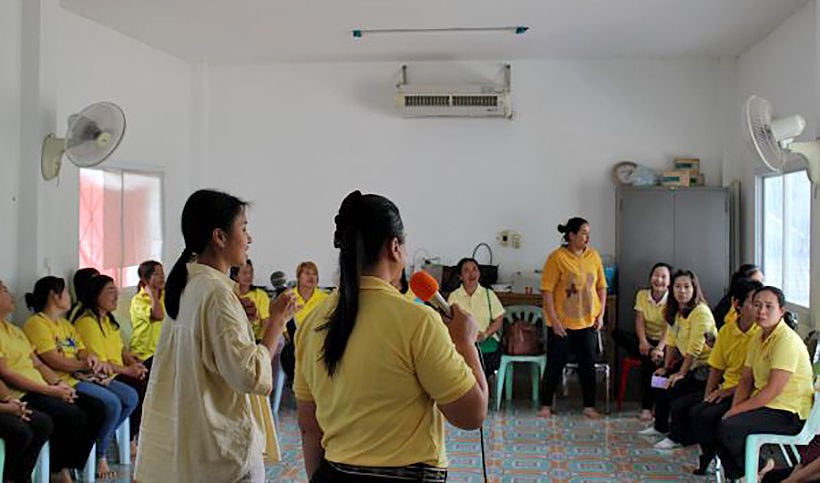 PHOTO: Workshop in progress at the Chiang Rai-based Center for Girls – center4girls.org
A non government organisation in Chiang Rai reports that it has helped a 13 year old girl escape a forced marriage to a 50 year old man.
The Centre for Girls posted on their Facebook page that the organisation received a note from the girl, "Nu Na," pleading for help. She said her parents were forcing her to marry a 50 year old man as soon as she finished high school.
"I don't want to get married yet. I want to keep going to school."
"My mom is forcing me to get married, but I don't want to. I want a scholarship so I can keep going to school. I want to go to school outside. Help me. I want to study."
Nu Na's friend had taken part in a Centre for Girls workshop on children's rights and learned that child marriage is a violation of children's rights. This friend told her to seek help and delivered the letter.
Nunnaree Luangmoi, founder and director of CFG, said Nu Na's family had financial problems and owed the man money. She said that the man may have given the parents an ultimatum: repay or give him their daughter instead. According to Nunnaree CFG doesn't have the authority to separate children from their parents, and the government can't help because no crime had been committed at that stage.
Since they weren't able to remove Nu Na from her family, a team from the Centre went to see the man. He said had bought the girl a mobile phone, and her mother had urged him to take her out. The team took a copy of the Criminal Code and explained the legal penalties the man would face if he married the child.
The alleged groom denied everything, saying that he didn't think of Nu Na in that way. He said he only likes her and bought her a mobile phone because she was a good student.
According to a CFG spokesman, one of Nu Na's older sisters has already been married off. She said the parents were violent toward their children and claim that because Nu Na is their child, they can do anything with her.
They have been talking to the parents for several months.
When CFG was organising a children's camp, Nu Na asked to go with them. She told the workers that she wasn't staying at her home anymore. Ultimately the organisation were able to convince the parents to let Nu Na leave home and go to school.
Nu Na has been referred to a shelter, where she now lives and has transportation to a nearby school everyday.
SOURCE: prachathai.com | Chiang Rai Times
Keep in contact with The Thaiger by following our
Facebook page
.
Driver sees red, smashes window of car parked in disabled zone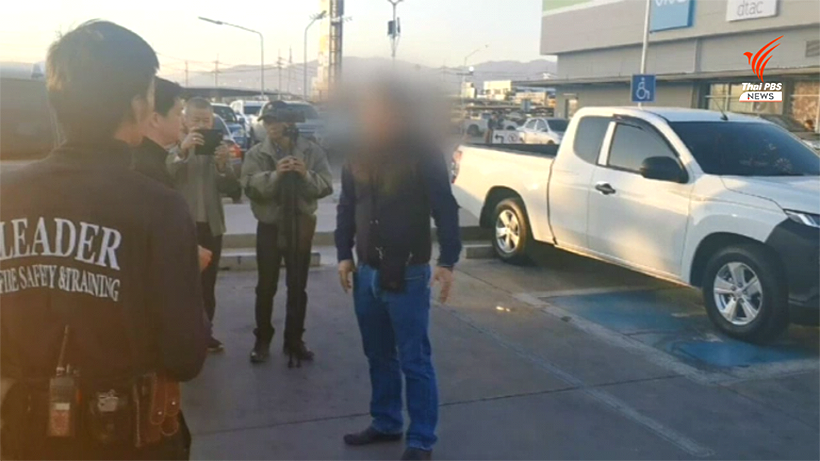 PHOTO: Thai PBS World
A driver who's had enough of able-bodied people parking in disabled parking bays has vented his frustration by smashing the car window of one such offender.
The incident is understood to have taken place in the parking lot of a Big C in Chiang Rai, with the man posting about it on social media, saying he saw the driver and passenger leave the car in the disabled parking bay and walk away, indicating they were not in any way physically incapacitated.
Peerapong Amornpich has posted a video on Facebook showing the damage done to the car. He confesses he smashed the window because he's fed-up of seeing able-bodied people parking in spaces reserved for disabled drivers or passengers. His confession has sparked online debate as to whether or not he did the right thing.
Mr Peerapong says he tried pointing the violation out to a store official, asking that the car be moved. He says he smashed the window when it became clear nobody was going to take responsibility for moving it, saying it was a reminder to able-bodied drivers not to park in disabled spaces.
One campaigner for the rights of disabled people says that while he does not condone violence of any kind, he urges shopping malls and department stores to ensure parking rules are respected. It's understood Mr Peerapong has now agreed to pay the car owner 10,000 baht in damages.
SOURCE: Thai PBS World
Keep in contact with The Thaiger by following our
Facebook page
.
British diver's lawyer claims jury blundered in Elon Musk defamation trial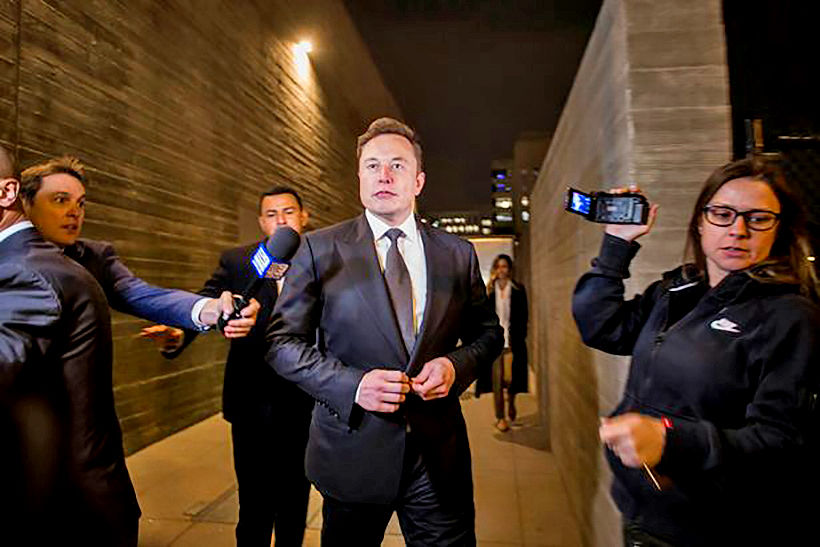 PHOTO: Getty Images
"That is a serious problem. It doesn't matter whether you're a bullying billionaire or a penniless troll, that behaviour is ­destructive." – Vernon Unsworth's lawyer, Mark Stephens
Elon Musk could face a retrial in his defamation case after a lawyer for the British cave diver Vernon Unsworth, based in Chiang Rai, claimed the jury blundered. The Tesla founder had a spat with diver Vernon Unsworth over the rescue of 13 young men trapped in the flooded Tham Luang cave in June and July last year. Read The Thaiger story of the trial verdict HERE.
In a Twitter spat in July last year, the US Tech-guru branded Vernon as the "pedo guy". Vernon had criticised Elon's offer of an 'escape tube' saying it was (paraphrasing) impractical and just a 'vanity project' by the American tech crusader – the founder of Space X and Tesla electric cars.
At the time Vernon branded Elon's gesture a "PR stunt", telling him to "stick his submarine where it hurts".
On Friday Elon Musk told the court the phrase "pedo guy" was a common slur in South Africa where he grew up. But Vernon claimed the remarks were effectively "a life sentence without parole", saying the defamatory comment would 'stick' even though Elon later retracted them.
Vernon Unsworth made a claim for US$190 million in damages but Elon Musk was cleared of the defamation suit last Friday.
Now Vernon's lawyer, Mark Stephens, claims post-verdict interviews with jurors show they decided the tycoon was not liable because he did not name Mr Unsworth in his tweet, according to an article in the mirror.co.uk.
Mr. Stephens claims the jurors made a mistake that could set a dangerous precedent for future 'Twitter' based defamation cases.
"We all know jurors make mistakes on occasion."
SOURCE: mirror.co.uk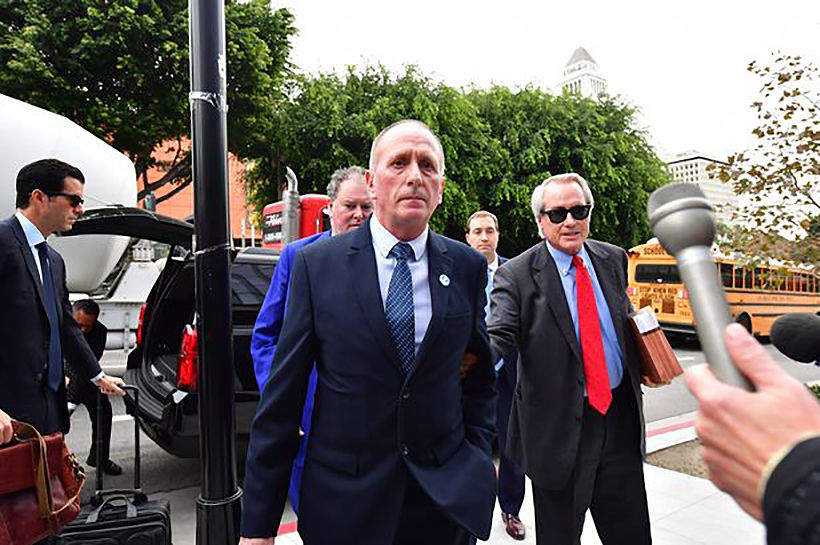 PHOTO: Vernon Unsworth arrives for the trial verdict last Friday – Getty Images
Keep in contact with The Thaiger by following our
Facebook page
.
Tesla's Elon Musk wins defamation trial over 'pedo guy' tweet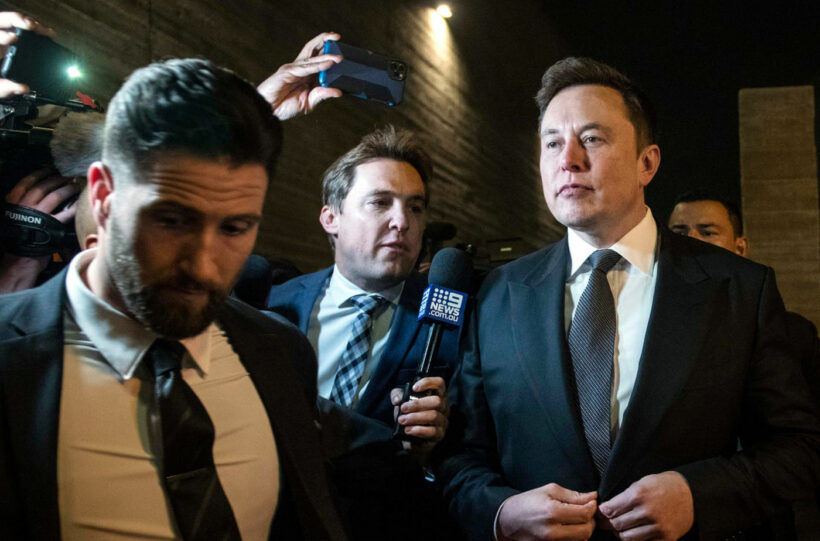 PHOTO: Christian Monterrosa/EPA
"My client went toe to toe with a billionaire bully."
Tesla's mercurial Elon Musk has emerged victorious after a defamation trial as a federal court jury swiftly rejected the US$190 million claim brought against him by a British cave explorer, Vernon Unsworth, who Musk branded a "pedo guy" on Twitter. The incident happened during the attempts to rescue the 13 young football players from the Tham Luang cave in Chiang Rai in July 2018.
The unanimous verdict by a jury of five women and three men was returned after roughly 45 minutes of deliberation on the fourth day of Musk's trial. The case has been closely watched by legal experts because it is believed to be the first major defamation lawsuit by a private individual to go to trial over statements made on the Twitter platform.
Musk shook hands with his lawyer after the four-day trial in LA. He didn't address Mr. Unsworth, whose team had told the court earlier on Friday the Tesla CEO should pay at least US$190 million in damages for his tweets about the diver.
Meanwhile, 64 year old Vernon Unsworth spoke outside the courthouse saying that he was resigned to his defeat.
"I accept the jury's verdict, take it on the chin and get on with my life."
L. Lin Wood, a high-profile trial lawyer, leading the legal team for the plaintiff Vernon Unsworth, says the jury's decision signals a higher legal threshold for challenging libelous material on social media.
"The challenge that was thrown down by Elon Musk was that if you don't sue it's true. We sued because it's false."
"This verdict puts everyone's reputation at risk."
The outcome was a triumph for Musk, whose fickle behaviour in a number of instances last year came under close scrutiny from federal regulators and shareholders of Tesla, his Silicon Valley-based electric car manufacturer.
48 year old Musk, who had testified during the first two days of the trial in his own defence and returned to court on Friday to hear closing arguments, exited the courtroom after the verdict."
"My faith in humanity is restored."
Unsworth's lawyer says he nevertheless saw the lawsuit as meaningful in helping erase the stain he said his client's reputation suffered.
SOURCE: Thai PBS World | The Guardian
Keep in contact with The Thaiger by following our
Facebook page
.