Cruise ships save the day in Koh Samui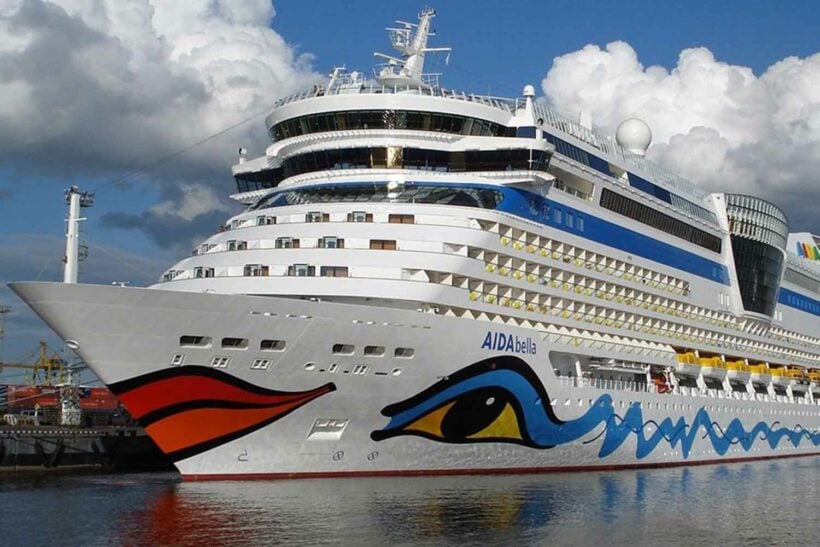 It's Europeans to the rescue in Koh Samui, as the last group of Chinese tourists for the foreseeable future left on Tuesday. Two cruise ships brought thousands of European visitors yesterday to save this southern resort island's struggling economy. About 3,500 passengers, mostly from Britain and Germany, arrived aboard the German-flagged AIDAbella and the British-registered Marella Discovery.
Groups of tourists visited all the major attractions including Chaweng beach, local temples, restaurants and souvenir shops, much to the relief of local businesses. Smiling shop owners say their arrival has revived Koh Samui.
Surat Thani's governor says 11 cruise ships are expected to arrive in Koh Samui this month and will do much to compensate for the absence of Chinese visitors. Flights from China are suspended because China has stopped all outbound group travel.
The governor says visitors on yesterday's arrivals were screened and no one was found infected with the Novel Coronavirus.
SOURCE: Bangkok Post
Keep in contact with The Thaiger by following our
Facebook page
.
New coronavirus case brings Thailand total to 35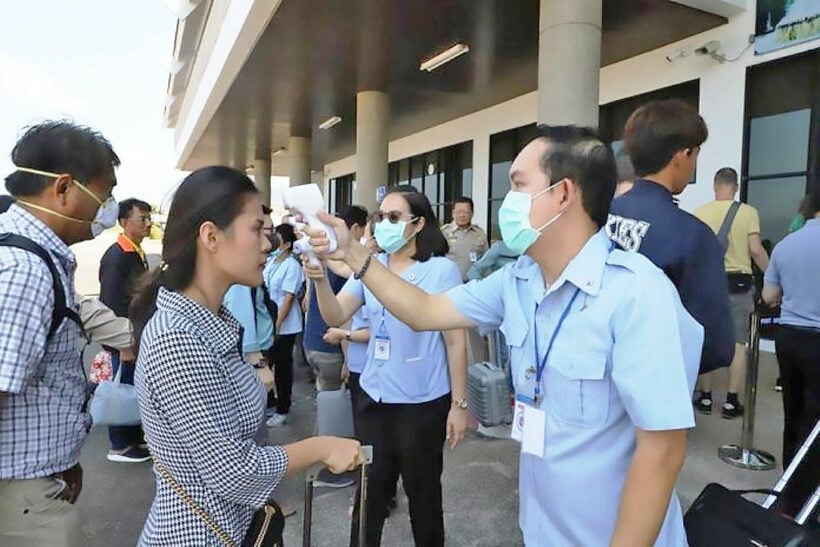 Thailand has a new case of the COVID-19 coronavirus, bringing the total in the country to 35 since January, the Ministry of Public Health's permanent secretary announced at a press conference today. The new case is a 60 year old Chinese woman whose relatives earlier contracted the virus.
Of Thailand's 35 confirmed cases since January, 15 have recovered and return home. Over 1,700 people in China have died from the virus but Thailand has had no fatalities so far.
If you believe you may have been exposed to the COVID-19 coronavirus, the Tourism Authority of Thailand (TAT) would like to inform locals and tourists alike that an online self-screening for has been launched.
The questionnaire is available in Thai, Chinese and English, and can be accessed online at http://sescimande.net/Self-Screening.
On completion of the questionnaire, the user is classified as either "no risk," "medium risk" or "high risk." A recommended course of action is provided for each category.
TAT urges users to provide the most accurate and truthful medical statement to assist Thai health authorities to treat and prevent the spreading of the disease effectively. Do not provide fake or incorrect information, as it may cause widespread panic. Individuals spreading fake information can be found guilty under Thailand's Computer Crime Act of 2017. Also, people should check any news before sharing and not believe information that appears in unreliable sources.
To protect themselves from the disease, the general public as well as local and international tourists are advised to comply with the Ministry of Public Health's recommendation by eating cooked food, using a serving spoon, washing hands, wearing a mask when visiting crowded places, and not touching their eyes, nose and mouth.
Useful contacts:
Department of Disease Control Call Centre 1422
TAT Contact Centre 1672
Tourist Police 1155
SOURCE: Bangkok Post |Tourism Authority of Thailand
Keep in contact with The Thaiger by following our
Facebook page
.
21 Vietnamese fishermen taken for coronavirus testing in Songkhla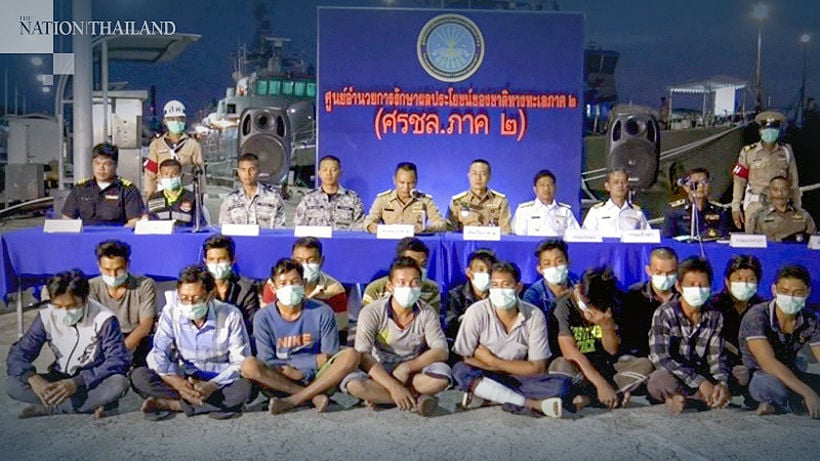 21 Vietnamese crew from four Vietnamese fishing boats looking for sea cucumbers have been taken ashore to a Songkhla Navy hospital by Royal Thai Navy officials last night. They are being quarantined whilst being tested for coronavirus.
Sea cucumbers are echinoderms from the class Holothuroidea. They are marine animals with a leathery skin and an elongated body containing a single, branched gonad. Sea cucumbers are found on the sea floor worldwide.
The Songkhla Naval Base Hospital's medical team has now screened the entire crew following a report that the Vietnamese boat had travelled to China since the start of the outbreak. Concerns were raised when Maritime Information Sharing Centre was informed on February 14 that foreign ships searching for sea cucumbers had also encroached into Thailand's maritime zone.
Thailand, Cambodia and Vietnam share parts of the Gulf of Thailand.
Its name in Malay and Khmer translates as the "Gulf of Siam". In Thai, the gulf is historically known as Ao Sayam. In Vietnamese it is known as Vịnh Thái Lan.
Of the fishermen brought ashore, 16 didn't show any symptoms of coronavirus while the condition of the other five, who have now been screened, is yet to be confirmed.
SOURCE: The Nation
Keep in contact with The Thaiger by following our
Facebook page
.
Thai Airways starts to trim back schedules due to loss of demand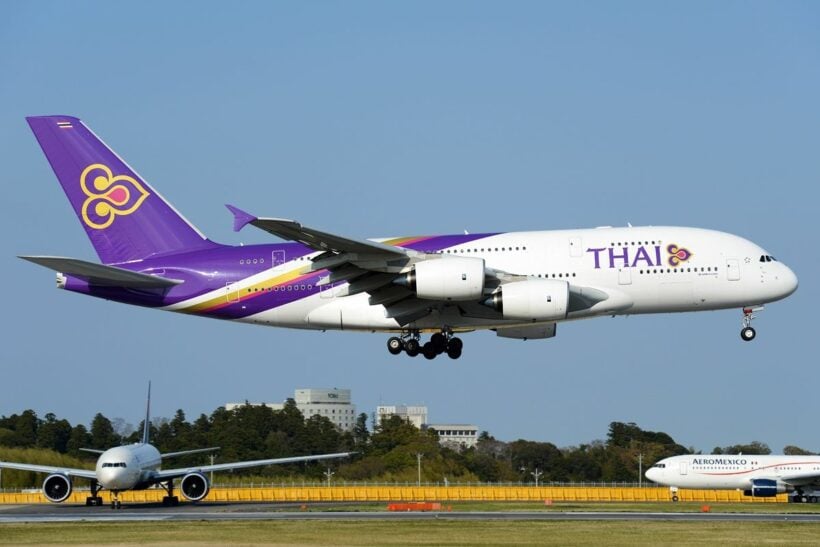 Thai Airways is cutting back services to South Korea and Singapore out of Bangkok due to "a dramatic fall in demand" and cancellations caused by the coronavirus outbreak. The vice president of sales at Thai Airways, Nond Kalinta, says the national carrier had adjusted flight schedules to match commercial demand. He confirmed the following changes.
• Flights reduce on the Bangkok-Seoul-Bangkok route from five to four daily February 26 to March 28.
• The airline will cancel flights on the Bangkok-Busan (South Korea)-Bangkok route on February 27 and March 5 & 6.
• Flights on the Bangkok-Singapore-Bangkok route will be cut from five to four flights daily from February 20 to March 27.
Meanwhile, South Korea's major airlines are suspending some services to Bangkok and Chiang Mai. The South Korean government issued a travel advisory that recommends Koreans should refrain from travelling to countries that have confirmed cases of the coronavirus. The travel advisory recommended travellers refrain from visiting Hong Kong, Japan, Malaysia, Macau, Singapore, Thailand and Taiwan.
Asiana Airlines suspended flights to Bangkok and Chiang Mai while Jeju Air and Korean Air halted services from Busan to Bangkok.
Keep in contact with The Thaiger by following our
Facebook page
.