Indian tourist numbers to Thailand steadily climbing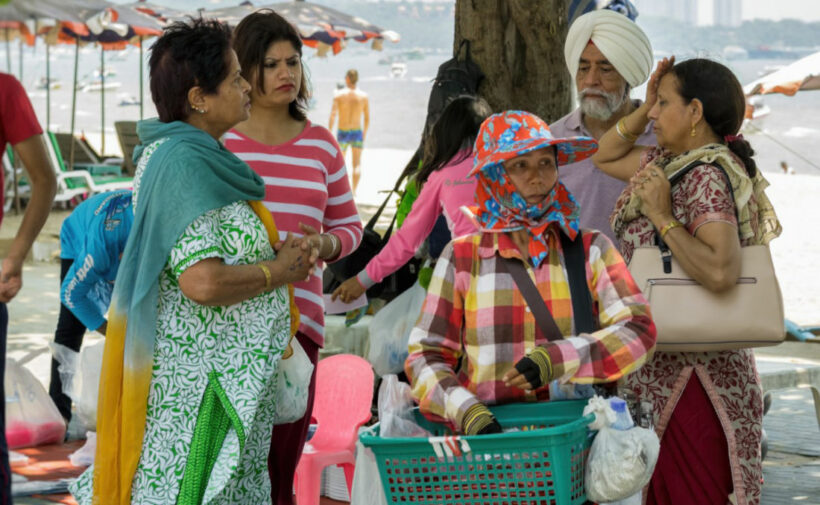 The number of Indian tourists coming to Thailand has doubled over the past half a decade and continues to grow by an average of 15% each year. The figures are from a survey conducted by researchers Nutchanart Kuprasert and Jidapha Chuayphan on behalf of the Bank of Thailand.
Contributing factors include an overall increase in Indians travelling overseas as evidenced by 10 million new passports being issued annually. Thailand is a popular choice for first-time Indian tourists as distances are short and travel is easy thanks to some 3,000 direct flights now being offered by various carriers between both main and secondary destinations including to Phuket plus the introduction of free visa-on-arrival.
The study indicates that Indian tourist will keep catching up to the leading tourist demographic, the Chinese , but not surpass them any time soon. Projections for the next decade show that some 21 million Chinese tourists will visit Thailand compared to 14 million Indian nationals. But in terms of spending, Indian tourists are similar strong spenders, like the Chinese, and able to travel to Thailand all year round, even during the low season.
Popular destinations are listed as Bangkok, Pattaya, Phuket, Hua Hin and Chiang Mai. In addition, information from tour operators in Thailand reveals that Indian tourists are not as sensitive as Chinese tourists to unexpected events. Generally speaking, if the trip has been planned in advance, they will not change plans or cancel travel.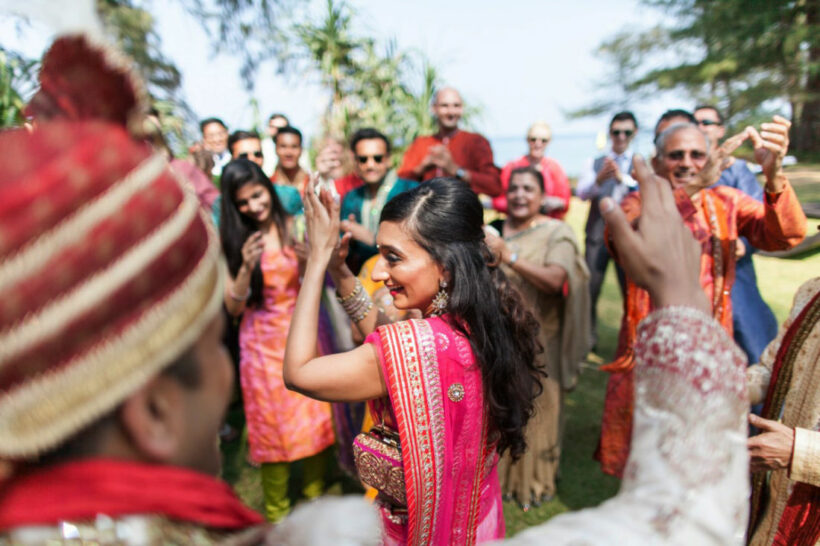 The report divides Indian tourists who enter Thailand into 3 main groups…
• Tourism for vacation accounts for 85%. Most visitors are between the ages of 25 and 35, prefer to travel with friends or come here for a honeymoon because the cost is not high. They spend an average of 27,000 baht per person and favour the country as they can get a visa on arrival. Some groups use Thailand as a base for visiting other countries.
• Weddings account for 5% of visitors, mostly amongst the well-heeled. The data show that more than 300 Indian come to get married in Thailand every year often with wedding parties exceeding 200 guests. In India, luxury events such as weddings are a show of family status, and the budget ranges from 10 million to 120 million baht per event. Couples favour 15 well-known 5-star hotels and the average spending per person is 50,000 baht.
• MICE (Meetings, Incentives, Conferences, Exhibitions) groups or group meetings account for 10%, with many large companies choosing Thailand as an incentive destination. These popularly travel in large groups of around 800 people and are likely to visit Thailand on multiple occasions. The average spent per person per time is 76,000 baht. Thai business tour operators indicate that some groups request specific travel programs in Pattaya, ask for entertainment venues and request hotels that allow outsiders to stay.
The study shows that seminar tourist groups and marriage groups spend the most and recommends that Thailand focuses on attracting these visitors while also paying attention to maintaining the millennial tourist base because India has a large young population. However, it also points to a need to modify Thailand's image as a cheap place to stay and erase its reputation as a 'sex' destination.
SOURCE: The Nation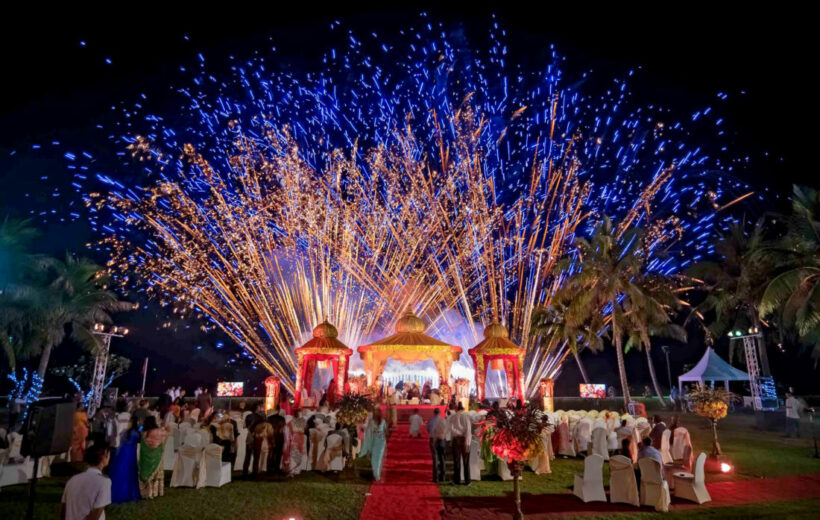 Keep in contact with The Thaiger by following our
Facebook page
.
Chao Phraya welcomes the Royal Barge Procession in perfect Bangkok weather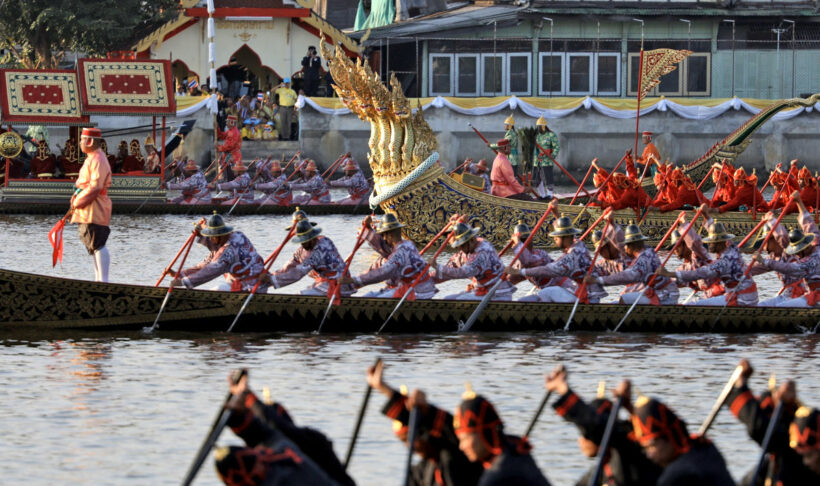 PHOTOS: The Nation
Perfect weather greeted the royal barge procession for HM King Maha Vajiralongkorn for the celebration of his coronation yesterday. Thousands gathered along the shores in sic specially constructed grandstands to view the rare spectacle of the Royal Barges, crewed by Thais in full regalia, plying the waters of the Chao Phraya. Millions more watched the live coverage.
HM the King, accompanied by HM the Queen, started the procession at Wasukri pier at 4pm. They disembarked at Ratchaworadit pier and proceeded to the Grand Palace. The procession of barges was about 1.2 kilometres long, and 100 metres wide as it made its way down the river.
HM the King then rode in the royal palanquin in the small royal land procession on Maha Rat Road. The procession travelled to the Grand Palace through Vises Jayasri Gate. Meanwhile, Her Majesty Queen Suthida also participated in the land procession participating in the King's Guard. After arriving at the Grand Palace, His Majesty changed his royal attire and robe and then returned to Amphorn Sathan Residential Hall by car.
King Maha Vajiralongkorn Phra Vajiraklaochaoyuhua, Her Majesty Queen Suthida Bajrasudhabimalalakshana, and His Royal Highness Prince Dipangkorn Rasmijoti were travelling on the royal barge Suphannahong, considered the most gracious and beautiful barge in the collection.
Suphannahong was crewed by 50 oarsmen with two steersmen, two officers, one standard bearer, one signalman, seven Royal Chatra bearers and one lead 'chanter' to sing the traditional boat song with the oarsmen chanting in unison.
Her Royal Highness Princess Bajrakitiyabha Narendiradebyavati and Her Royal Highness Princess Sirivannavari Nariratana Rajakanya were onboard the royal barge Anekkachatphutchong.
The royal officials invited Phra Buddha Patima Chaiwat, a Buddha image from the reign of King Rama IX, to be enshrined in the middle of the barge, a tiered roofed shrine on the royal barge Anantanakkharat.
The royal barge procession departed Wasukri Pier to Ratchaworadit Pier where the land procession to be held.
SOURCE: The Nation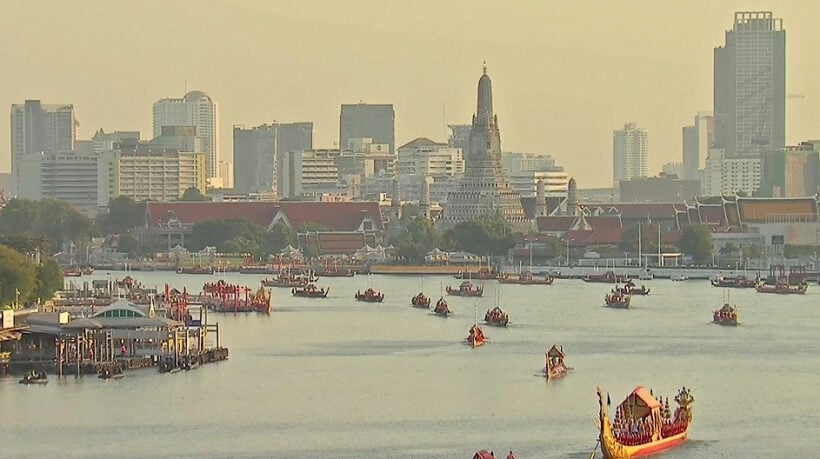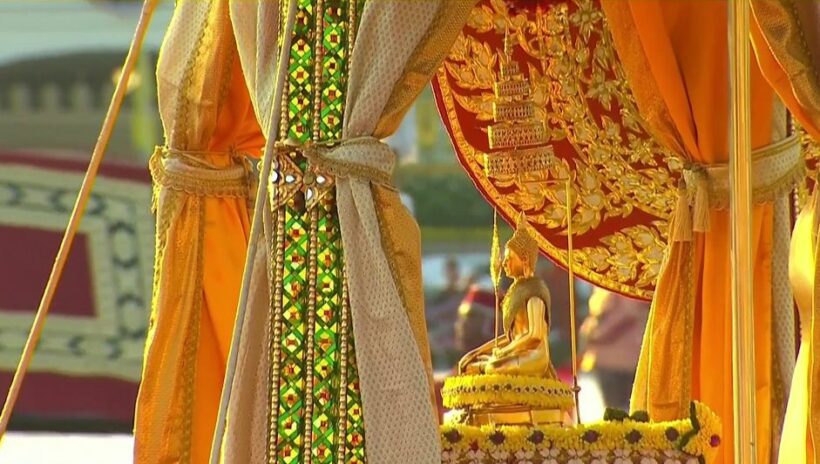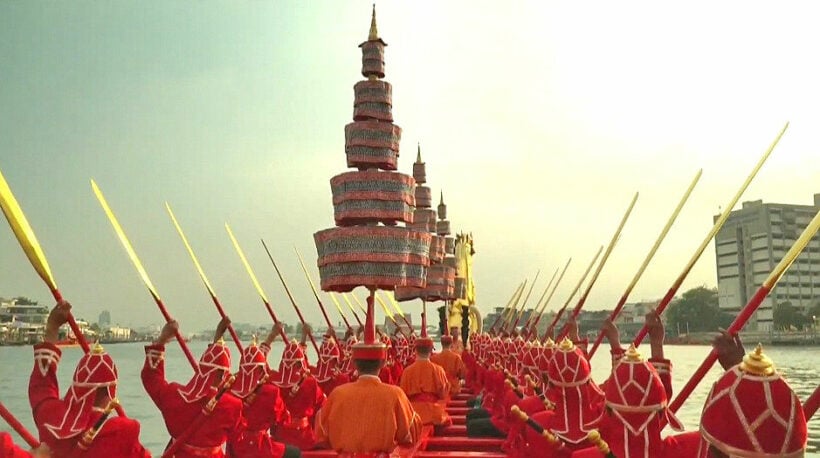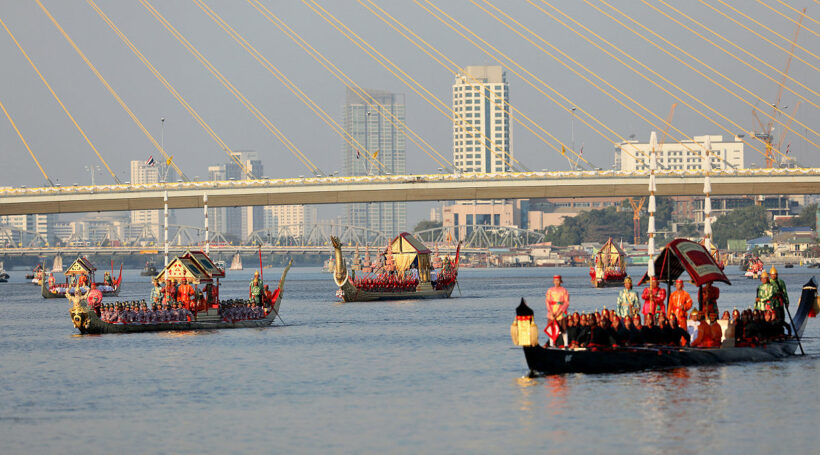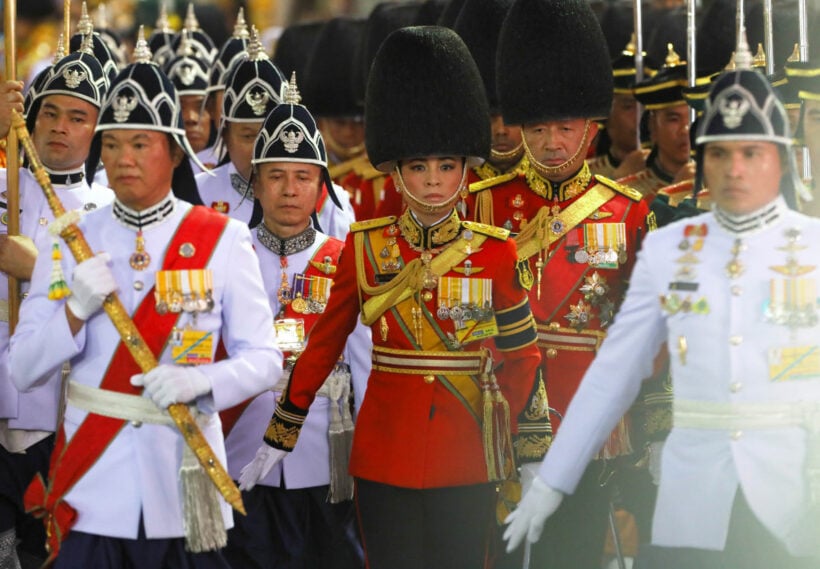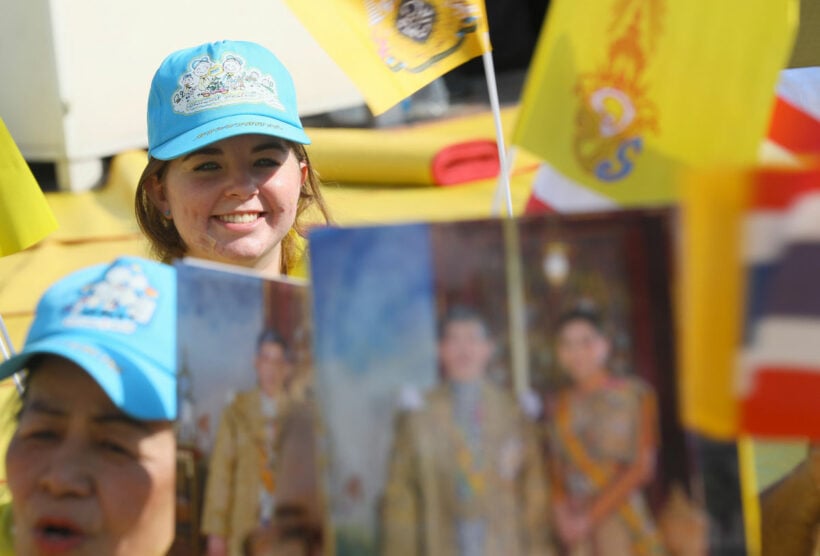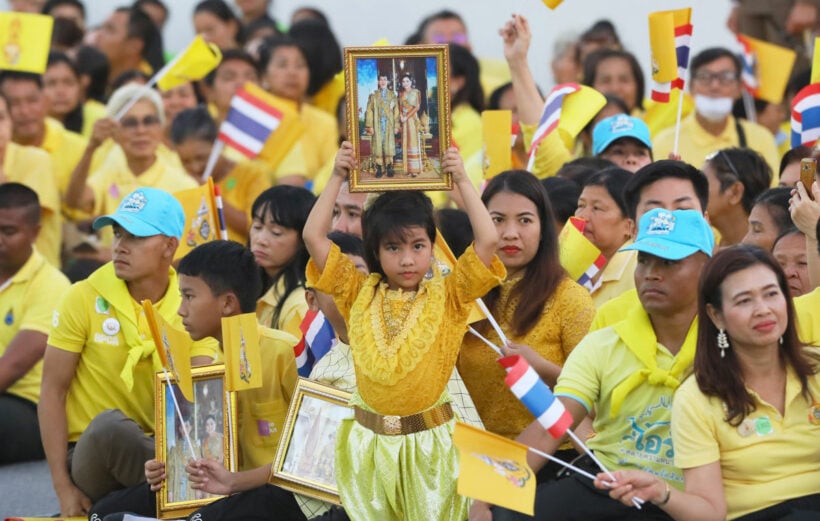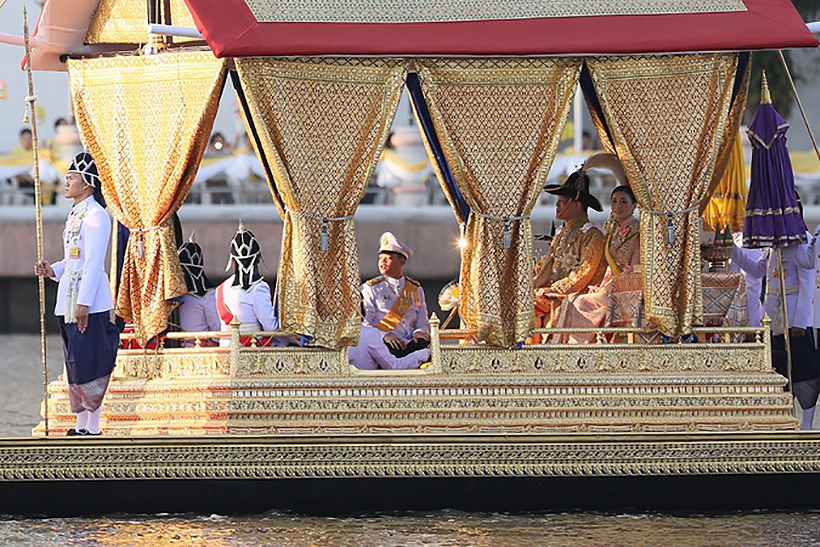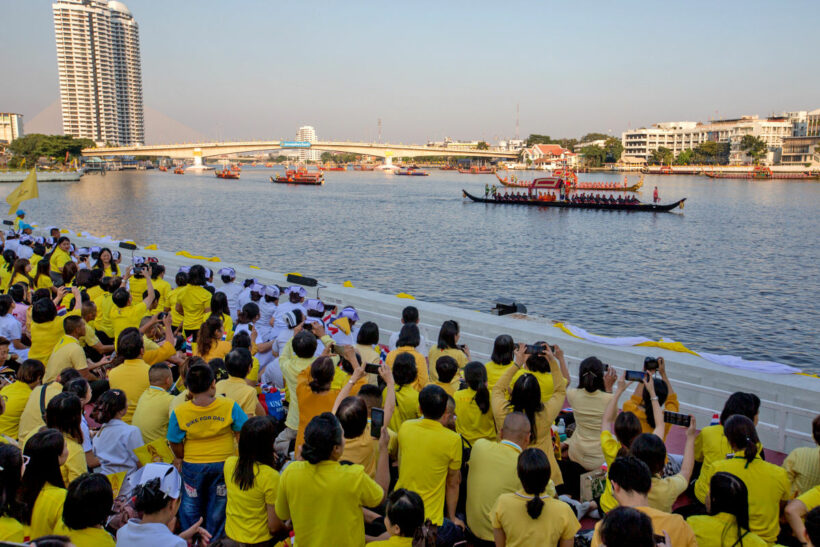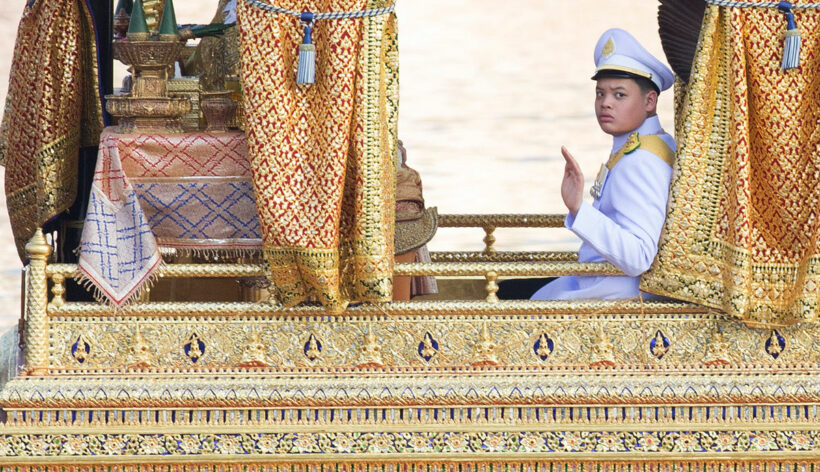 PHOTO: His Royal Highness Prince Dipangkorn Rasmijoti
Keep in contact with The Thaiger by following our
Facebook page
.
Live links to streaming coverage of the Royal Barge Procession in Bangkok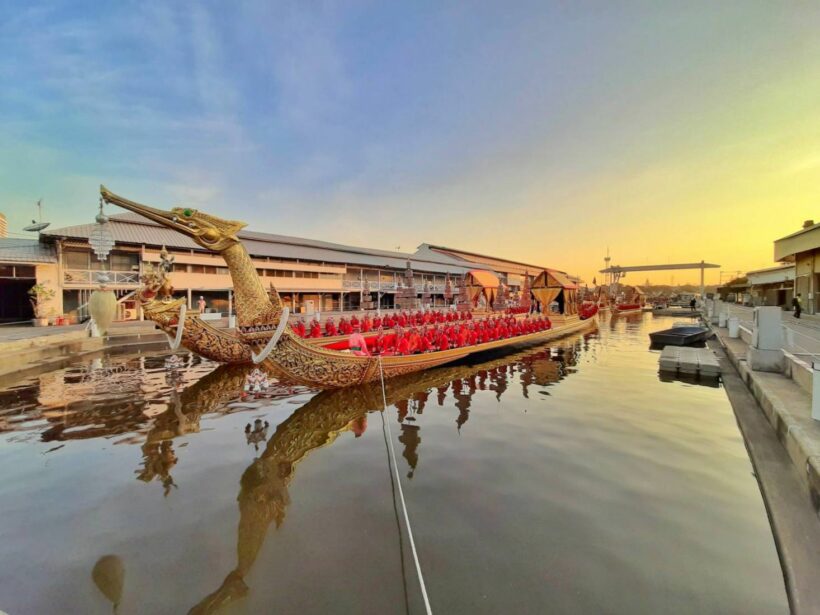 Here's a link to the official Facebook page including a livestream…
And a link to the official YouTube livestream as well…
Keep in contact with The Thaiger by following our
Facebook page
.
Transport and viewing locations for today's Royal Barge Procession in Bangkok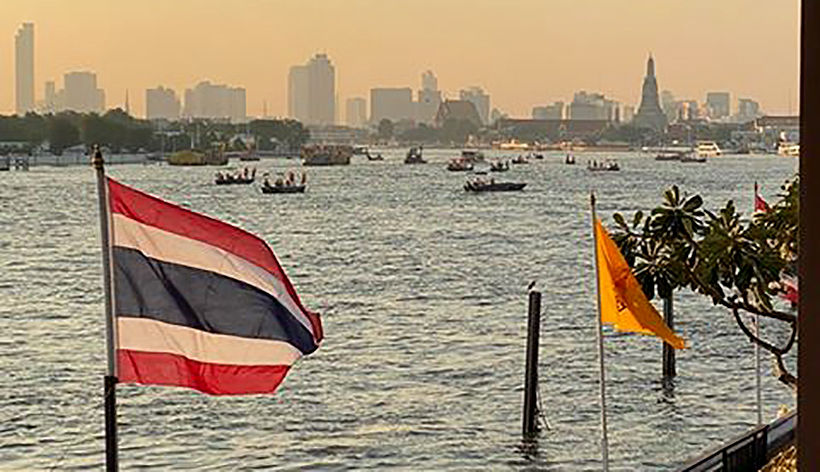 This morning we wake to a perfect Bangkok day for today's final act in the Royal Coronation – the Royal Barge Procession. Here's some travel tips, free transport options and places to watch the procession. The processions starts at 3.30pm.
Travel will be free on all mass transit rail services and selected BMTA bus routes today (December 12), for the Royal Barge Procession on the Chao Phraya River. The rare and grand event will be presided over by His Majesty King Maha Vajiralongkorn as the final act in this year's auspicious coronation that took place between May 4-6.
And the weather looks perfect for the grand spectacle.

Sixteen areas, on both banks of the Chao Phraya River, including six with stands, are being provided for spectators. Those attending are advised to dress appropriately for a Royal event, with yellow shirts for men and yellow dresses for women. Please note that black or bright shirts of other colours are prohibited.
Viewing locations on the eastern side of the river…
Wat Rachathiwat Pier, under Rama VIII Bridge, Sam Phraya Park, Santi Chai Prakan Public Park, Thammasat University Tha Prachan campus, under Phra Pinklao Bridge, along Maha Rat Road, and at Nagaphirom Park.
Viewing locations on the Thonburi (western) side of the river… 
at the end of Soi Charan Sanitwong 52, Rama VIII Park near the bridge of the same name, Phra Pin Klao Bridge Pier, under Phra Pin Klao Bridge, Chaloem Phrakiat 72th Year Park, Siriraj Hospital, and Wat Rakhang Khositaram.
Grandstands are set up at Santi Chai Prakan Public Park, Thammasat, Nagaphirom Park, Rama VIII Park, Chaloem Phrakiat 72th Year Park, and Siriraj Hospital.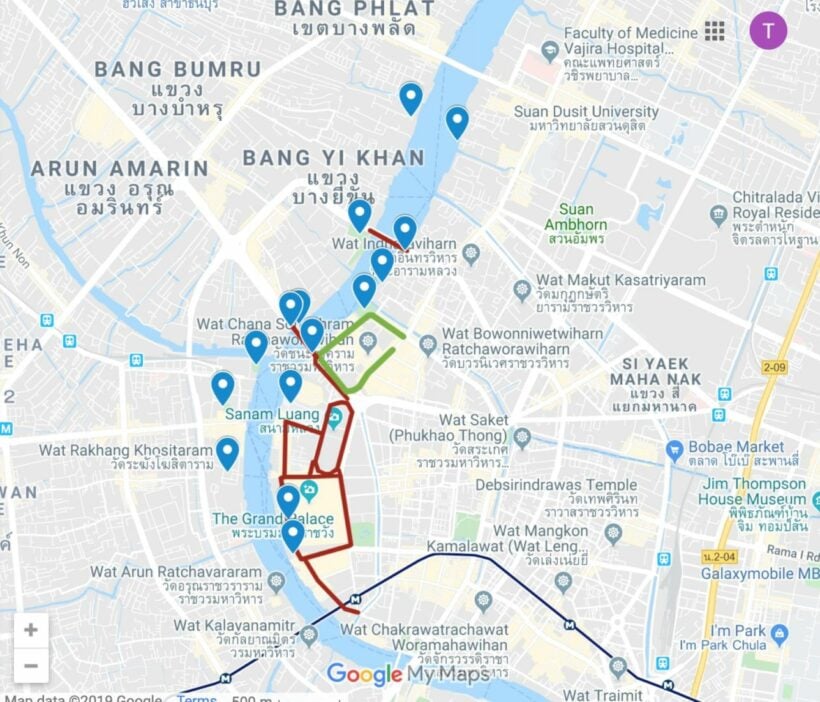 To facilitate the Royal Barge Procession and the motorcade around the city by HM the King and HM the Queen, the Rama VIII and Pinklao bridges will be closed to all traffic from 3.30pm-5pm.
Eight roads will be closed to traffic from 4.30pm-6pm today. They are…
Rajinee Road from Pinklao Bridge to Pan Phipob intersection
Na Phra That Road
Chan Road
Na Phra Lan Road
Maharat Road
Thai Wang Road
Rajdamnoen Road
Sanam Chai Road from Pom Padet intersection to Ror Dor circle
The BTS skytrain, MRT including the Purple Line, Airport Rail Link and the bus rapid transit lane (BRT) operators have announced free rides all day to help people attend the historic event.
The Bangkok Mass Transit Authority said about 200 buses on 19 routes will also transport people without charge to locations by the river where people can enjoy the event.
The State Railway of Thailand will also run some free trains…
Train No.320 leaving Ayutthaya for Hua Lamphong at 9.30am and returning train No.321 leaving Bangkok at 8.15pm; train No.322 departing Nakhon Pathom for Thon Buri at 9.55am, and train No.333 leaving Thon Buri for the return at 8pm (information from Bangkok Post).
Train No.326 leaving Chachoengsao for Bangkok at 9.20am and return train No. 325 scheduled to leave Bangkok at 8.05pm; Train No. 4322 leaving Mahachai at 9.35am to Wong Wian Yai station, and the return trip, train No.4347, departing Wong Wian Yai at 8.10pm (information from Bangkok Post).
The royal barge procession is the last in a series of events to mark the coronation of HM the King. The processions starts at 3.30pm, leaving from Wasukree Pier to Wat Arun (the Temple of Dawn), with HM the Queen and royal family members also attending the ceremony.
For security reasons, all spectators will need to pass through security checkpoints and show their ID cards or passports. There's also a hotline about traffic arrangements available by dialling 1194 around the clock.
SOURCES: Bangkok Post | Thai PBS World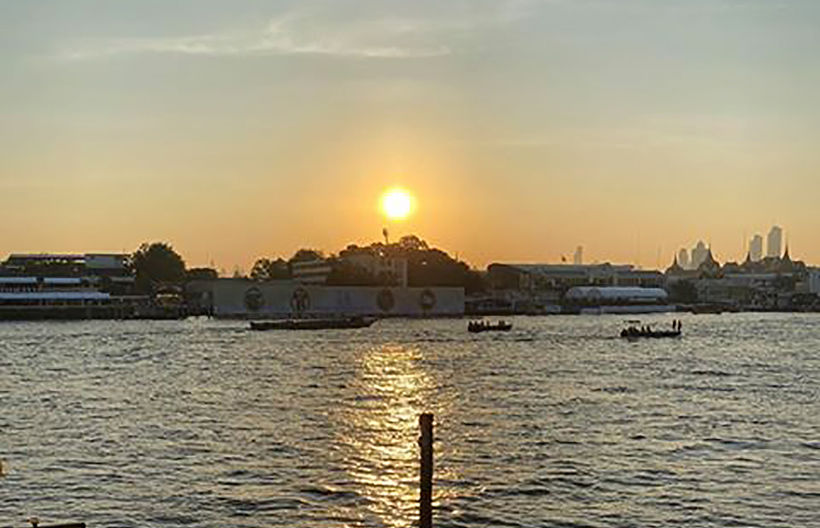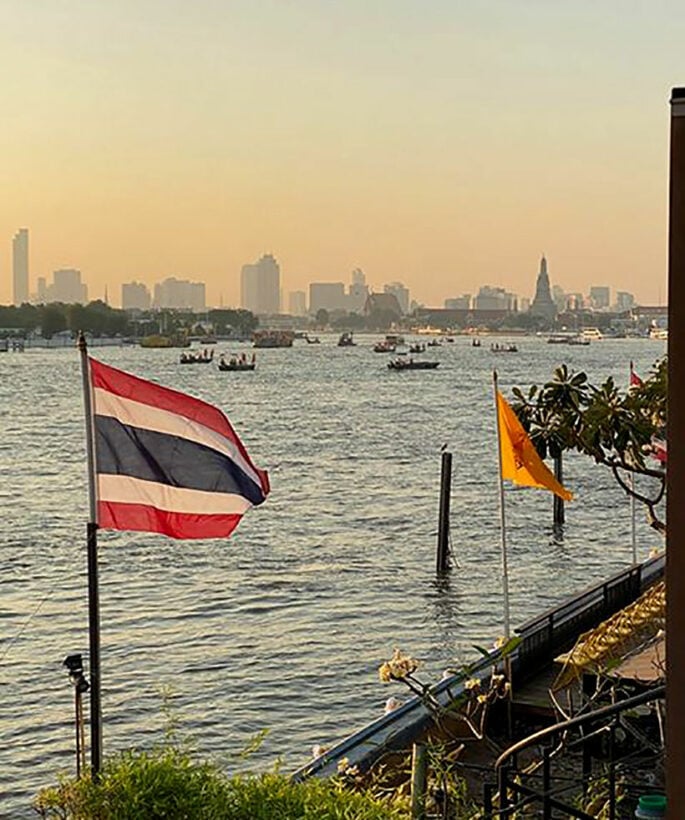 Keep in contact with The Thaiger by following our
Facebook page
.