Thai PM mulls private car ban in pollution-stricken areas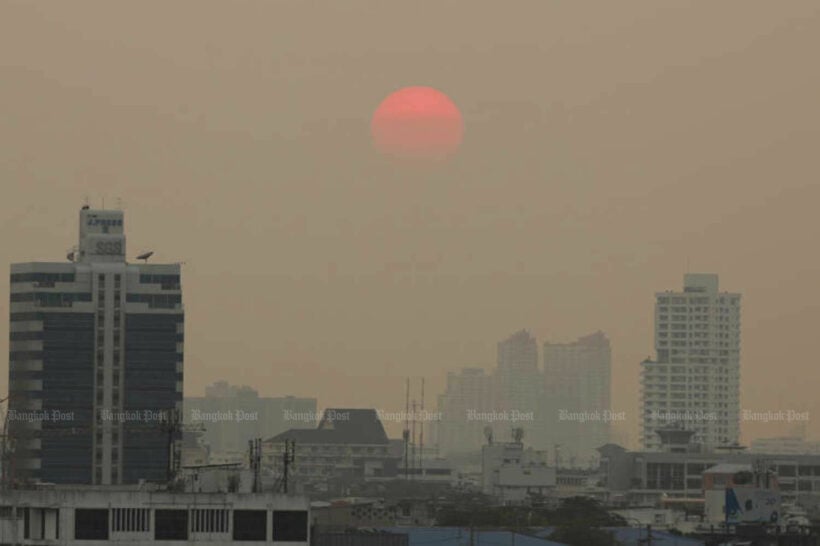 "Bangkok's governor has also signed an order yesterday to close 437 schools in in the city today due to a forecast of higher pollution levels."
The government is considering a ban on private car use in areas affected by hazardous levels of air pollution. The harsh proposal was unveiled Tuesday by PM Prayut Chan-o-cha after a cabinet meeting in Narathiwat. The PM said only public transport services would be allowed to use the roads during a ban.
"Is that what we want? Do we really have to go that far?"
The severe measure would be employed on a case by case basis to avoid unnecessarily negative impact.
The PM says the government is ready to step in with such measures when ultra-fine PM2.5 dust particles in the air exceed 100 micrograms per cubic metre, twice the national so-called safe limit of '50'. (PM2.5 is particulate matter 2.5 micrometres or less in diameter suspended in the air)
"If the dust levels rise to more than 100 micrograms, the government will take over all the work and everyone will be affected."
The PM was responding to questions about calls for tougher measures to deal with sources of the problem and accusations that his government hasn't done enough. According to the Prime Minister, vehicle exhausts are the primary source of PM2.5, followed by biomass burning and industrial emissions. The specific burins of sugarcane plantations, known to be the largest single cause of the smoke problems, wasn't addressed.
In areas where the PM2.5 levels rise to between 75 and 100 micrograms per cubic metre, the provincial governor will implement more stringent measures like prohibiting heavy trucks from entering certain areas of the province at certain times.
And if PM2.5 levels go above 100 micrograms the government will step in and may implement even more stringent rules, "which would affect everyone," according to the PM.
How these measures would play out in reality, and how motorists would be warned of the restrictions wasn't explained.
Natural Resources and Environment Minister Varawut Silpa-archa, meanwhile, hinted that if measures against lorries prove inadequate, private cars could be targeted next.
"It has been found that 72% of the PM2.5 dust particles come from traffic emissions."
The source of the Minister's claim wasn't announced at the time he made the statement.
Among the short-term measures to be implemented next in Bangkok is a ban on heavy trucks from entering certain parts of the city on alternate days, possibly in February only.
Bangkok's governor has also signed an order yesterday to close 437 schools in in the city today due to a forecast of higher pollution levels.
SOURCE: TheBangkok Post | Air Visual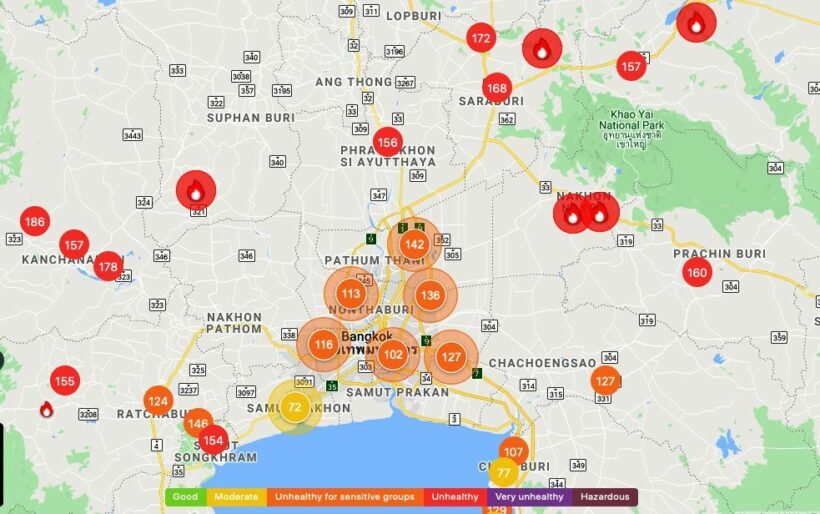 GRAPHIC: Air quality has improved around parts of the capital today whilst the fires to the north east and north west are clearly displayed – Air Quality
Keep in contact with The Thaiger by following our
Facebook page
.
Bangkok halts construction of electric rail and highrises for 3 days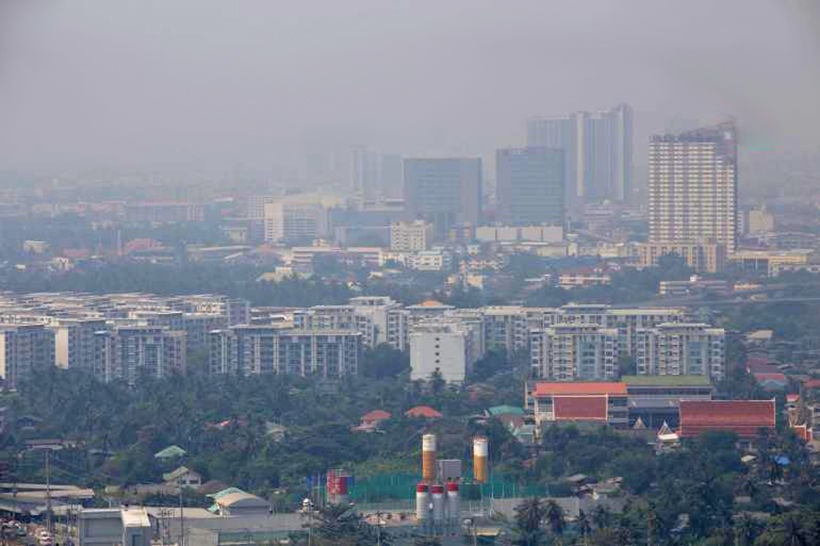 The Bangkok Metropolitan Administration today ordered a 3 day suspension of the construction of seven electric train lines, highrise buildings and roads throughout Bangkok, in order to reduce PM2.5 pollution.
The Pollution Control Department reported this morning that 39 areas in Bangkok and four in its suburbs were found to have high levels of PM2.5 particles, measured to be between 37 and 76 microns per cubic metre, exceeding Thailand's 50 micron safety threshold.
Lat Phrao Soi 95 in Wang Thong Lang district, Tambon Khlong Koom in Bung Koom district were the worst affected, with 76 microns, followed by 72 microns in Tambon Thung Song Hong in Laksi district.
City Hall's spokesman Pongsakorn Kwanmuang said yesterday that high atmospheric pressure, compounded by poor air circulation, is preventing fine particles from dispersing, thus the need to suspend construction of major projects.
He said that activities not directly related to construction, such as interior decoration of highrise buildings, can continue, and that the city's administration is coordinating with the Industrial Works Department to send inspectors to factories in and around Bangkok to check for excessive smoke discharge.
SOURCE: Thai PBS World
Keep in contact with The Thaiger by following our
Facebook page
.
Hazy days and Sundays – Bangkok has fifth highest air pollution in the world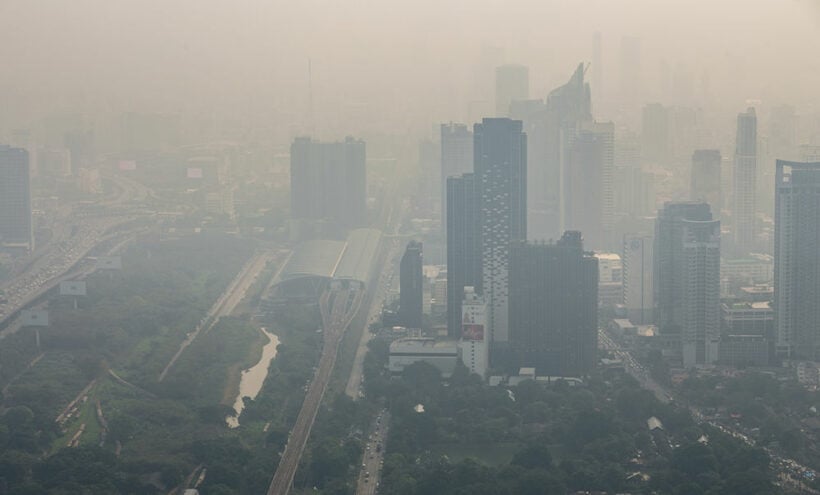 "Unhealthy". That about sums up the air Bangkokians are breathing this morning, a situation almost completely avoidable but allowed to continue by the Thai Government. Bangkok is in bad company today with other polluted cities in Asia – Lahore, Hanoi, Delhi and Dhaka – as the fifth most polluted city in the world, a headline the Thai Government would prefer to avoid.

Right around the capital this morning, a day of the quietest traffic, and stretching around the central Thailand region and down to Pattaya, the smoke and haze caused by the plantation burn-offs is palpable as people try and find some respite from the poor air quality.
The northern airflows are blowing all the smoke from the field fires lit by farmers back into the city today. The city, already in a mild panic over the Coronavirus cases in Thailand, is short on masks and probably even shorted on patience as the Thai Government continues to put lives at risk by doing little about solving the smog crisis.
Let's be clear, this has almost nothing to do with old buses and factories, and burning incense sticks (all which have been blamed in the past), and EVERYTHING to do with the annual burn-off season, mostly sugar cane, corn and rice fields.
Even the sugar industry, the source of much of the pollution, has been pro-active enough to offer solutions to encourage, or force, farmers into harvesting the crops and using machinery to prepare the paddocks for the next crops, instead of resorting to the cheap solution of burning.
Sugar factories are campaigning to cut and harvest raw sugarcane, instead of boring it first, for processing. The conglomerates are recommending that the government offer funding at low interest rates to farmers to buy harvesters as the prices of the equipment are quite high (6-12 million baht).
The Thaiger has published countless articles over the past few years about the pollution problem HERE, HERE and HERE. There's even been a 'crackdown' on the plantation fires with police being given the power to prosecute farmers who continue to light the fires.
"National Police chief Pol General Chakthip Chaijinda has ordered deputy chief Pol General Suwat Jaengyodsuk to be the central administrator of these measures. They are to be enforced at traffic routes, industrial factories, construction sites and burnt crop fields where the PM2.5 comes from nationwide."
But here we are, on a Sunday, in one of the world's most visited cities by tourists from around the world, enveloped in choking pollution that measures up to 4 times the Thai Government's own classification of a safe upper limit. And up to 8 times what the World Health Organisation deems as 'safe'.

If the map readings of Unhealthy and Very Unhealthy aren't enough to scare a Thai Government public servant into action this morning, perhaps they should just look out of their windows at the pall of smoke descending on the city. Or perhaps they should go and greet some arriving visitors at the country's largest international port, Suvarnabhumi Airport, where this morning's reading is 205 microns (of 2.5 micron particulate per cubic metre of air).
Welcome to Bangkok.
PS. If the police need any help to find where the fires are burning, 1) look for the smoke or 2) log onto the NASA satellite fire map HERE (screenshot below) for some live data about fires burning around Thailand. Hundreds and hundreds of fires.


Maps courtesy of AirVisual

Keep in contact with The Thaiger by following our
Facebook page
.
2015 plan dusted off as North suffers severe pollution levels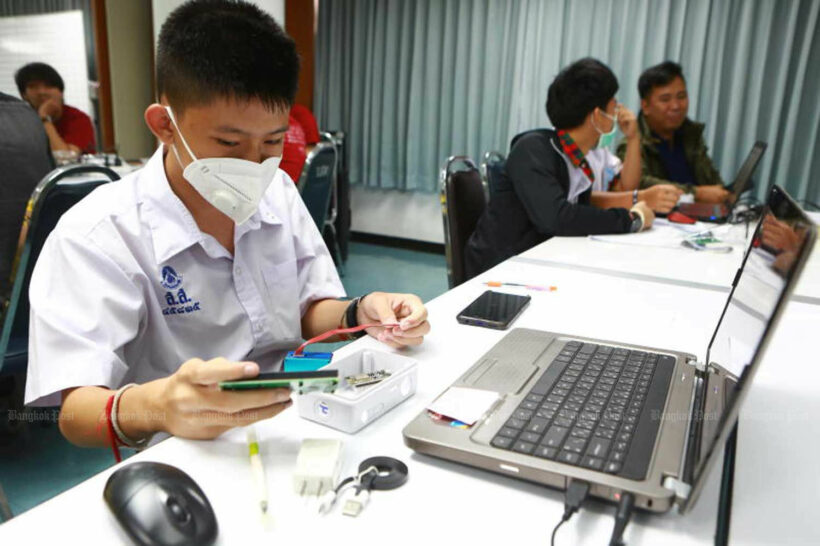 All 77 of Thailand's provinces have been told to adopt the 2015 disaster prevention and mitigation master plan to address the current PM2.5 air pollution crisis. The decision was approved by the cabinet this week after it was proposed by Interior Minister Anupong Paojinda. He says the 133 page plan contains guidelines for action on risk reduction, emergency response, international cooperation and restoration.
"The situation in individual regions varies, so governors are allowed to adjust the action plan to suit their local situations."
The move comes after air pollution from seasonal fires set by farmers to clear their land rose to hazardous levels in four northern provinces this week. Levels of PM2.5 pollution exceeded the government's threshold of 50 microgrammes per cubic metre (µg/m³) in Lampang, Nan, Phayao and Phrae provinces. Thailand's "safe" level is twice that of the World Health Organisation, 25µg/m³.
The real-time PM2.5 level surged to over 400µg/m³ in parts of Phrae and Chiang Mai provinces on Monday, a level considered 'hazardous'.
The Pollution Control Department also reported Tuesday's PM2.5 levels were building again in greater Bangkok after a few days of respite, though they remained below the safe threshold at 16-41 µg/m³ as of Tuesday morning.
Deputy PM Prawit Wongsuwon has ordered officials to "enforce stringent legal actions" against burning outdoor fires.
SOURCE: The Bangkok Post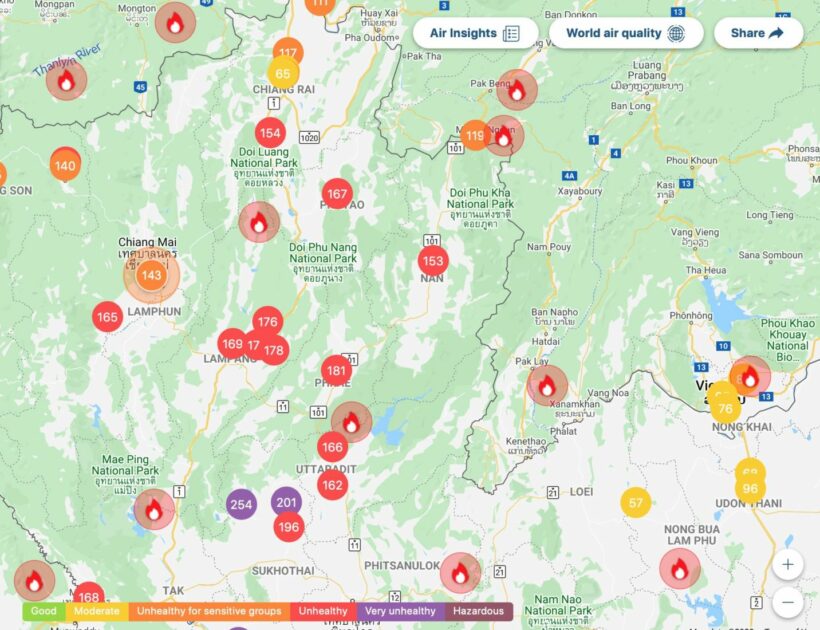 AirVisual
Keep in contact with The Thaiger by following our
Facebook page
.