Chiang Mai, Chiang Rai, continue to suffer under persistent haze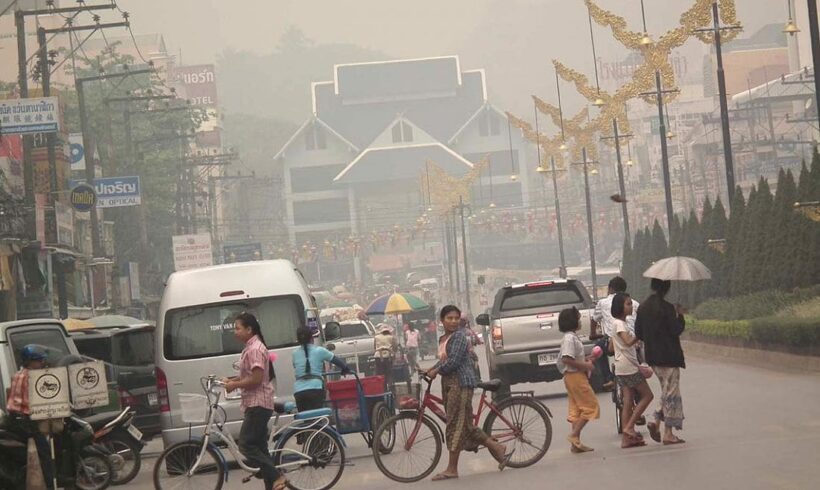 PHOTO: Chiang Rai Times
Air pollution levels remain high in many of the northern population areas with little respite on the horizon for the smog-stricken northern provinces.
Chiang Mai Natural Resource and Environment Office director Saratcha Suriyakul Na Ayudhaya says that public, private and other sectors are contributing to the lowering the levels of air pollution by spraying water and cleaning road surfaces.
But the generally high levels of air pollution and smoke haze persist despite the best efforts of locals.
Many areas of Chiang Mai still report high levels of haze – ranking 63-90 micrograms per cubic metre of air, according to the Pollution Control Department today.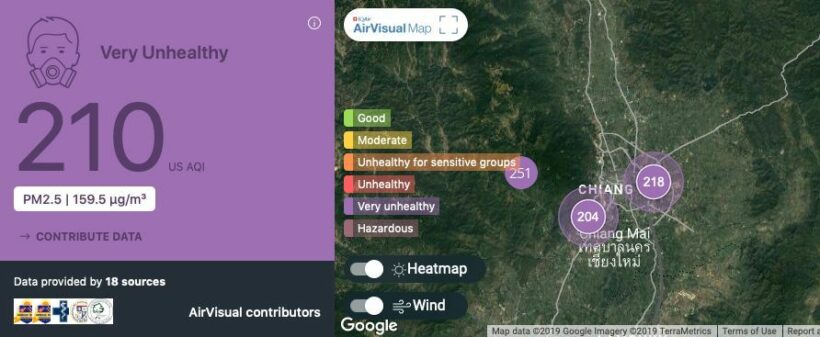 Here's Chiang Rai's readings today as well…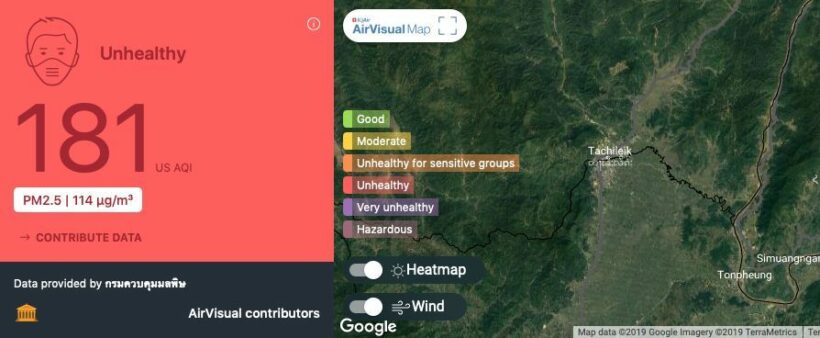 Most of Chiang Mai smoke and haze issues are largely due to multiple forest fires – a total of 31 hot spots reported in the past 24 hours, most of which were in conserved forestland in Chaing Dao and Fang districts.
The PCD report that from January 1 until March 26, Chiang Mai had a total of 934 hot spots – 461 of which occurred in conserved forestland. The authority imposed an outdoor burning ban from March 1 through April 30 and has so far arrested nine violators, most of whom were poachers looking for forest products.
In Phayao's Mae Chai district, Mae Puem National Park's participation promoting division head Pathom Meesap revealed that his team had a key mission to fight forest fire that had ravaged areas in Chiang Rai and Phayao in the past month.
Many forest firefighters have now developed health issues with rashes, skin and eye irritation and were deprived of sleep, having a total of eight hours of sleep in three days, according to forestry officials.
Weather over the next five days in Chiang Mai shows little sign of the natural weather conditions helping to clear the situation.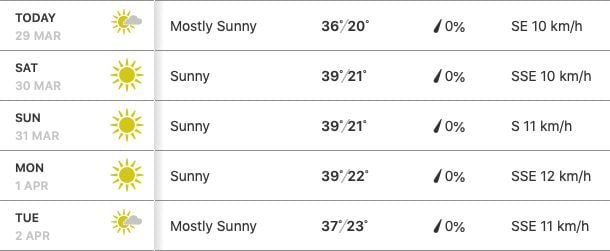 SOURCE: The Nation | weather.com | airvisual.com
Keep in contact with The Thaiger by following our Facebook page.
Never miss out on future posts by following The Thaiger.
Owners of vehicles emitting black smoke to be fined up to 5,000 baht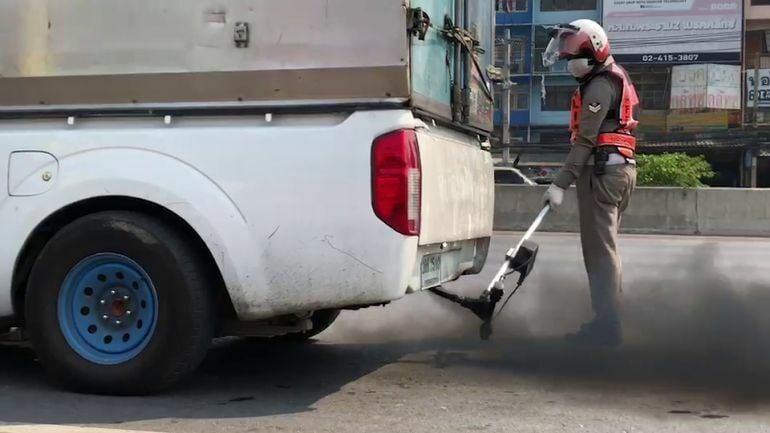 Owners of cars and trucks emitting an excessive amount of black smoke face a fine up to 5,000 baht. The heavy fine is an attempt to reduce air pollution in Bangkok. Along with the fine, the Department of Land Transport will also order the vehicle be suspended from use until its emission system is fixed.
According to the department, from October last year until January, 689,333 vehicles in Bangkok areas have been inspected for black smoke emissions, while 8,762 of them have been suspended from usage. Those vehicles emitting a high volume of smoke, but are under the safety standard, will receive warnings and owners are urged to check vehicle conditions and keep proper maintenance.
Vehicles with exceeding black smoke are urged to check their vehicles at the department's certified vehicle inspection centres located around Bangkok's outskirts, including Phutthamonthon, Romklao, and Khlong Luang areas. Motorists are also encouraged to help reduce air pollution caused by black smoke and PM2.5 particles by having their vehicles regularly serviced or alternately switching to electric or NGV-powered vehicles.
People who witness vehicles emitting black smoke can also report the authorities by calling 1584, or contact Line: @1584DLT, or via DLT GPS mobile application.
SOURCE: Nation Thailand
Keep in contact with The Thaiger by following our Facebook page.
Never miss out on future posts by following The Thaiger.
Stop the burn – Thai Governors told to stop farmers burning off agricultural waste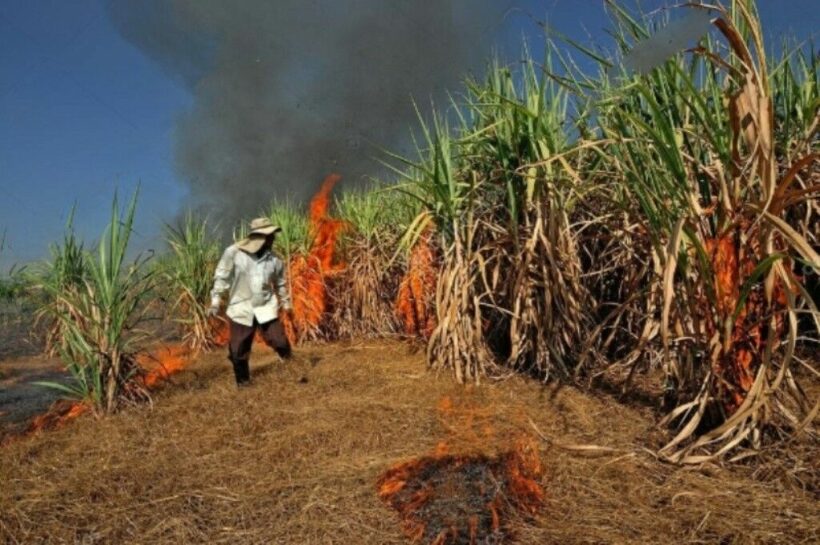 Provincial governors in Thailand's farming areas are being told to mitigate the burning off of agri-business waste by farmers in their provinces. The annual burn-offs are the biggest cause of the December to April air pollution in Bangkok and Central Thailand which lie in the wake of the light north-easterly breezes this time of the year. The burn-offs partly co-incide with the lighter annual north-easterly monsoons.
Lt-Gen Kongcheep Tantravanich, a spokesman for Deputy PM Prawit Wongsuwan, has been one of the first to openly admit that the agri-fires are the common denominator in the capital's annual smog woes. Over recent decades Bangkok's Pollution Control department has trotted out any number of PR stunts, including water-spraying drones and asking temples to stop lighting josh sticks.
Now that spokesperson says that the accumulation of PM2.5 micron dust in the atmosphere… "mainly caused by outdoor burning of waste, especially on farms, combined with poor air circulation, has been posing a health risk for the past several days".
Deputy PM Prawit has now ordered all provincial governors to send teams to warn farmers to stop the burning or face prosecution. It's not the first order from the top directed at farmers trying to find cheap ways to get rid of agri-waste and prepare their plantations for the next crop. But, despite the 'warnings' in the past the practice has continued largely unenforced.
Thai farmers conduct the burn-off activities to reduce the amount of leftover materials – biowaste – like stalk tops, leaves and refuse left after the harvesting. Rice farmers also routinely burn rice stubble – the residual plant waste to prepare fields for the next season of crops.
Around 70-75% of Thailand's sugar production is sent overseas and the country ranks second in exports just behind Brazil. It's a big industry. The government also introduced a quota, distribution and price support system between growers and millers which has helped to artificially keep a ceiling on the export prices. Most of Thailand's sugarcane plantations are in the Central and Northeast regions, some of them, evidenced by the fire maps, are less than 100 kilometres north of the capital.
But the Natural Resources and Environment Minister Woravut Silpaarcha is resorting to the old government narrative, repeating that officials at the Pollution Control Department will have to coordinate with the Interior Ministry and the Bangkok Metropolitan Administration to "intensify efforts to reduce emissions of PM2.5 dust from vehicles and factories".
He's also suggested that companies should allow employees to work from home to reduce the amount of vehicles on the city's roads.
The Pollution Control Department is now estimating that the biomass burn-off contribution to the PM2.5 levels could vary between 24 – 38%, with the majority of it coming from sugarcane and rice burning. Most of the concentrations of agri-burning is around Northern Thailand and in the farmlands north of Bangkok. These areas also suffer considerably from the direct effects of the smoke. Fire maps also indicate that an even worse problem exists in northern Cambodia and north-west Myanmar where the burning carries on un-abated.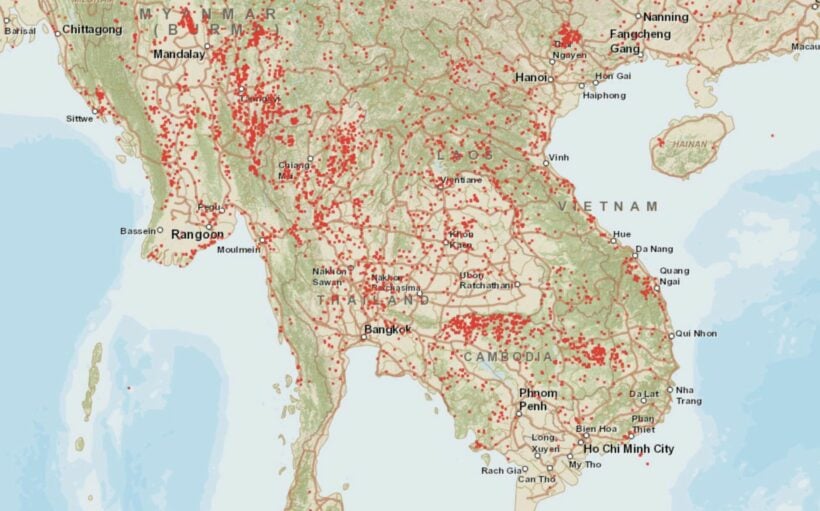 GRAPHICS: firms2.modaps
The Thaiger has waged a long campaign to provide fire maps and air-pollution readings over the past 3 years as evidence of the contribution of the agri-burning to Bangkok's annual smog problem. But officials have kept beating the same drum, blaming factories, vehicle traffic and old diesel buses (which certainly need to be regulated as well but are not the main cause of the December to April haze and smog).
Keep in contact with The Thaiger by following our Facebook page.
Never miss out on future posts by following The Thaiger.
Smog across Bangkok can be blamed on a 'Dust Dome' of pollutants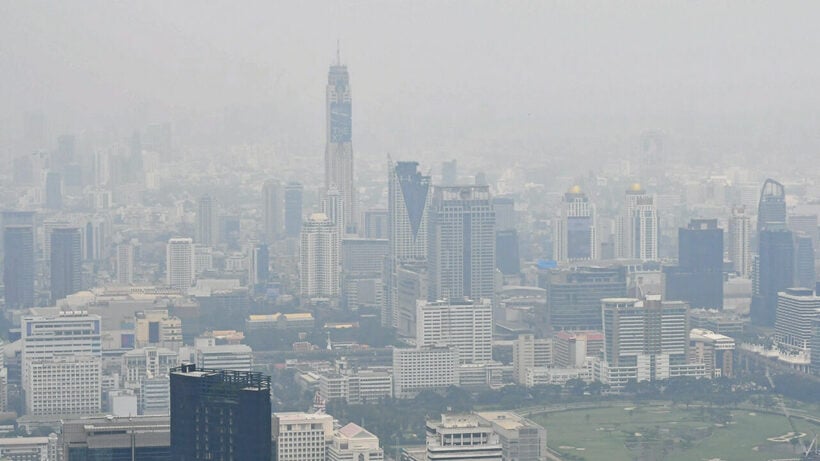 Poor air quality across Bangkok in the past week are not just caused by the PM2.5 dust. We can blame a 'dust dome' that is formed with low atmospheric pressure, dust and pollutants from the farmland waste burning, and greenhouse gases.
Natural Resources and Environment Minister Varawut Silpa-archa says that the pollutants come from "the improper disposal" of farming waste around Bangkok's northern outskirts. He also asked provincial governors to ask farmers to avoid burring farm waste. If they refuse to cooperate, there might be an order to ban all outdoor burning activities in the future, while suggesting that farmers should sell their agricultural waste instead of burning it.
The mentioning of the agricultural sector being major contributors to Bangkok's smog problems is a rare official recognition of the pollution 'elephant in the room'.
People in Bangkok are also being encouraged to avoid outdoor activities and wear their masks when going outside to prevent both the pollutants and Covid-19. While "unhealthy level" of PM2.5 has been reported in many areas over the past week, the Department of Pollution Control is considering both short-term and long-term measures to tackle the air pollution problems.
Measures that have been rolled out include an extension of the work-from-home policy, lowering the price of low sulphur fuel in the capital and its vicinity, extensive monitoring of waste burning on farms, as well as offering higher prices for sugarcane products which were made in a sustainable manner.
For a long-term plan, the department is considering setting a new standard of air quality by lowering the "safe" threshold for PM2.5 exposure below the current level, but this is likely to happen in the next 5 years. Also, the government aims to apply the Euro-5 standard for vehicle emissions by 2024.
He also says that the pollution situation in Thailand has seen improvement after the measures were implemented. And, the number of days where [air quality] exceeded safe standards was less than 20% of the year.
SOURCE: Bangkok Post
Keep in contact with The Thaiger by following our Facebook page.
Never miss out on future posts by following The Thaiger.