Epic outdoor escapes: Uncover Thailand's finest adventure hotels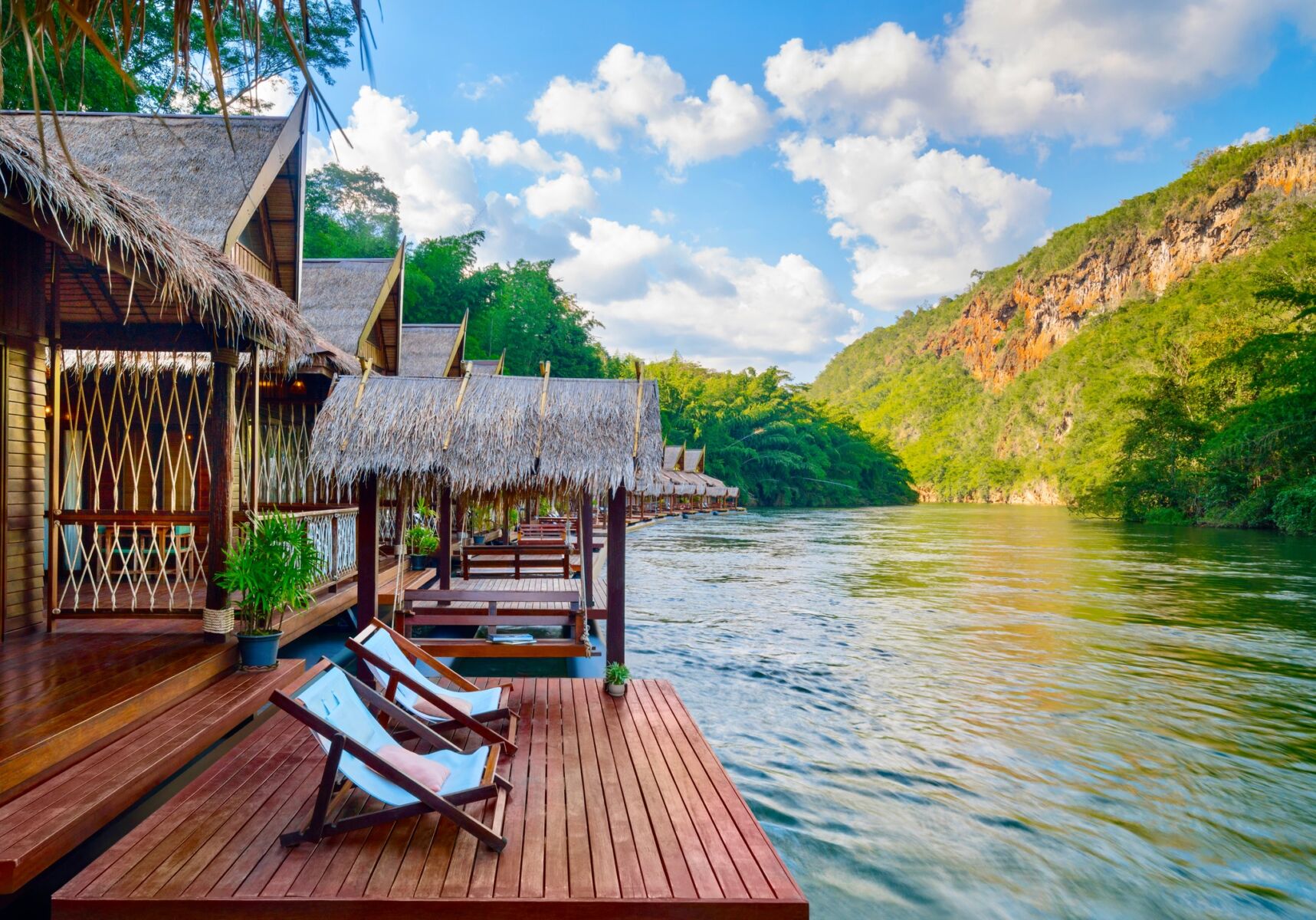 Are you an adventure seeker looking to explore the natural wonders of Thailand? If so, then you're in luck! Thailand is a country filled with breathtaking landscapes, from towering mountains and dense forests to tranquil beaches and crystal-clear waters. And with its growing popularity as an adventure tourism destination, Thailand offers an abundance of outdoor activities for travellers of all ages and abilities.
To make the most of your adventure tourism experience in Thailand, it's essential to find the right hotel that caters to your needs. Whether you're seeking a hotel that provides easy access to hiking trails, water sports, or wildlife safaris, there are plenty of options to choose from. And with so many hotels in Thailand that offer adventure activities and services, finding the right one can be a daunting task.
In this article, we've compiled a list of the best adventure tourism hotels in Thailand, showcasing their unique features and offerings. So if you're ready to embark on a thrilling adventure, read on to discover some of the top hotels that can help make your trip unforgettable.
Top 5 Adventure Tourism Hotels
1. Elephant Hills, Khao Sok National Park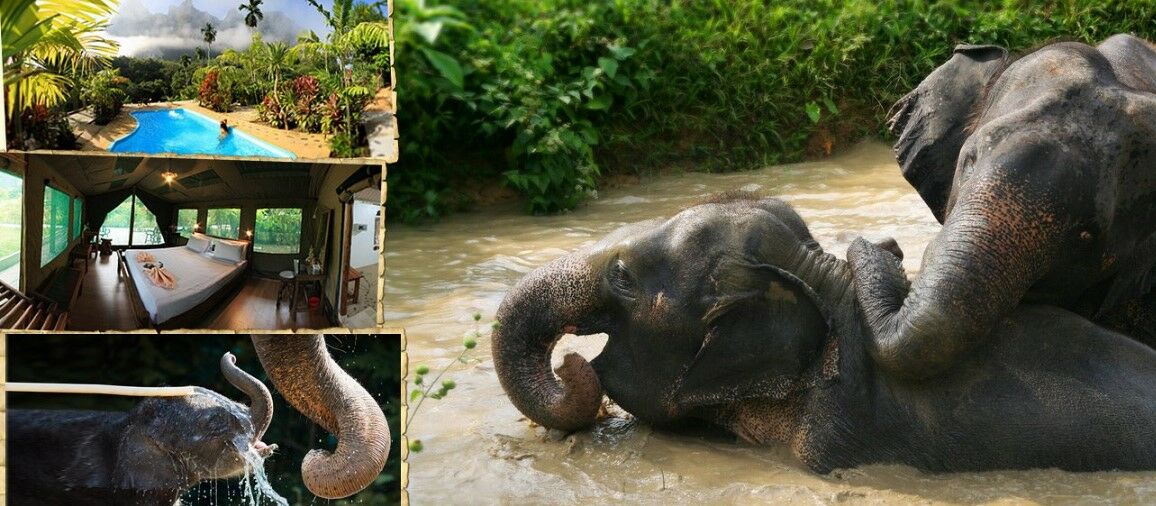 Designed as a tented camp, this hotel is a perfect destination for adventure tourism in Thailand, offering a unique and thrilling experience for those seeking to explore the country's natural beauty. Set in the heart of the lush rainforest, this luxury-tented camp provides an authentic and immersive jungle adventure without compromising on comfort.
Adventure enthusiasts will find a wide range of exhilarating activities to choose from at Elephant Hills. Embark on a guided jungle trek through the stunning rainforest where you can spot exotic wildlife, marvel at majestic waterfalls, and discover the diverse flora and fauna of the region. Explore the enchanting Cheow Lan Lake on a canoe safari, navigating through the tranquil waters while taking in the breathtaking views of limestone cliffs and lush greenery. For a unique nocturnal experience, guided night safaris provide an opportunity to explore the jungle after dark. Equipped with flashlights, you can observe the fascinating behaviour of nocturnal creatures and listen to the captivating sounds of the forest at night.
For those who prefer water-based activities, bamboo rafting down the Sok River, kayaking through the calm waters of the lakes, or navigating hidden coves and inlets provide a serene experience amidst picturesque scenery. Alternatively, mountain biking enthusiasts can navigate the challenging terrain and scenic trails, offering an adrenaline-pumping way to explore the stunning landscapes of the region.
Another highlight is the Elephant Experience, where guests can interact with these gentle giants in a responsible and ethical manner. Learn about elephant conservation, feed and bathe the elephants, and observe them as they roam freely in their natural habitat.
2. Rayavadee, Krabi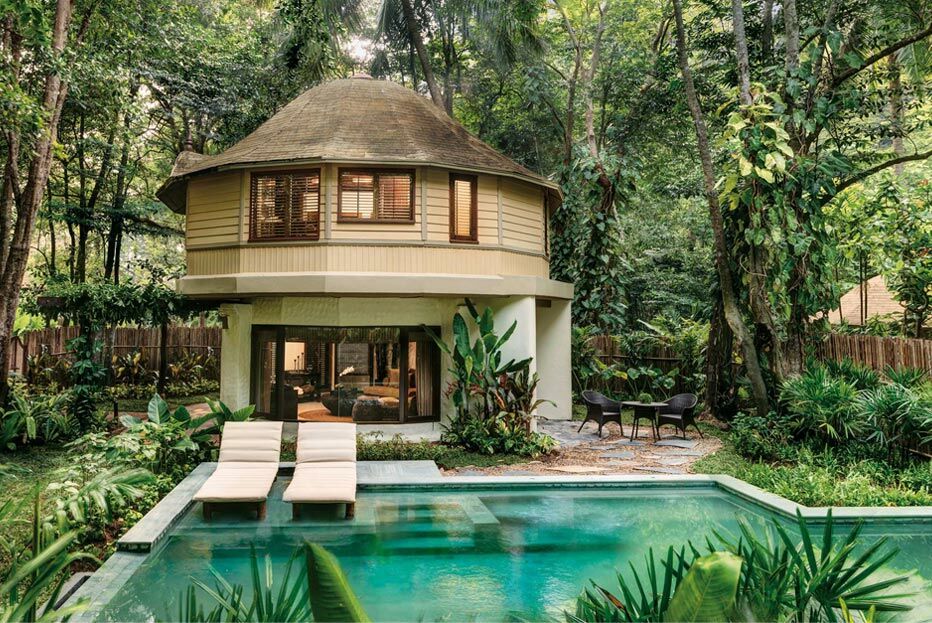 Rayavadee Krabi, a luxurious resort nestled among tropical gardens and dramatic limestone cliffs, is an adventure lover's paradise. As a prime destination for adventure tourism in Thailand, Rayavadee Krabi provides a unique blend of natural beauty, comfortable accommodations, and exhilarating experiences.
Rock climbing enthusiasts will relish the opportunity to scale the towering limestone cliffs surrounding the resort, taking in breathtaking views of the Andaman Sea and lush rainforest. Expert instructors are available to guide climbers of all levels, ensuring a safe experience. The crystal-clear waters of Krabi provide the perfect setting for scuba diving and snorkelling adventures. Discover vibrant coral reefs and a diverse array of marine life as you dive into the underwater world of the Andaman Sea. The resort also offers guided sea kayaking excursions, allowing guests to explore the hidden lagoons, mangrove forests, and sea caves scattered along the stunning coastline.
Some additional thrilling experiences include stand-up paddleboarding in the calm waters of Krabi's beautiful bays and beaches. This relaxing yet invigorating activity allows you to explore the coastline while getting a full-body workout. Guided jungle treks through lush rainforests to discover hidden waterfalls and exotic flora and fauna and learn the ancient art of Thai boxing (Muay Thai) from experienced trainers gives you a unique experience amidst the serene natural surroundings of the forest.
3. Four Seasons Tented Camp, Golden Triangle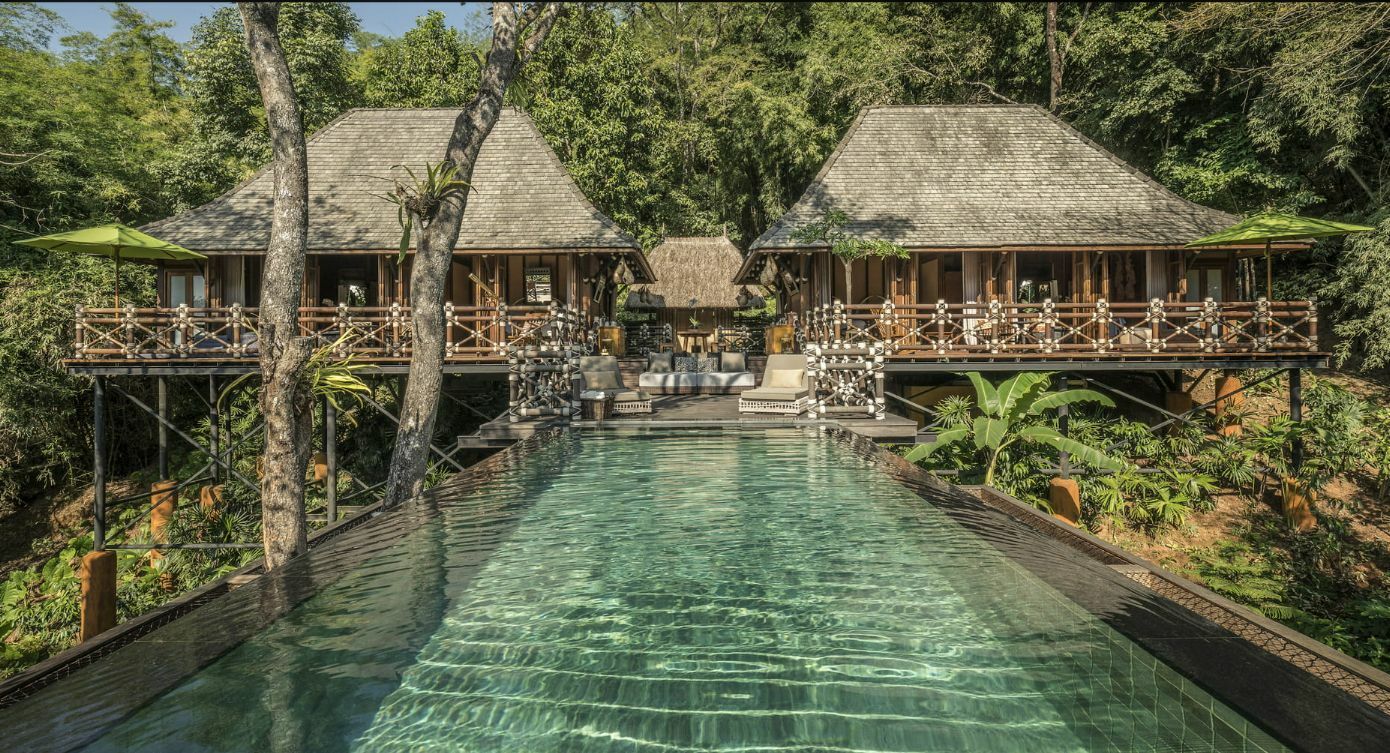 Four Seasons Tented Camp Golden Triangle is an extraordinary luxury retreat located in the heart of Thailand's lush jungle, where adventure and comfort come together in a unique experience. This upscale tented camp offers an immersive encounter with nature, allowing guests to reconnect with the great outdoors while indulging in world-class amenities and service.
A hallmark adventure activity at the Four Seasons Tented Camp is the ethical elephant experience, where guests can interact with these majestic creatures in their natural habitat. Learn about elephant conservation, join the elephants on jungle treks, and even participate in river bathing sessions alongside. The resort also offers guided jungle hikes, where guests can explore the dense rainforest and learn about the region's fascinating ecosystem.
For those seeking a more leisurely adventure, the camp provides mountain biking opportunities, allowing you to ride through picturesque landscapes while enjoying the fresh air and stunning views. Another exciting activity at the Four Seasons Tented Camp is the Mekong River cruise. Explore the beauty and tranquillity of the Golden Triangle, where the borders of Thailand, Myanmar, and Laos converge, as you sail along the river, taking in the breathtaking scenery and observing local life along the riverbanks.
4. The Float House River Kwai, Kanchanaburi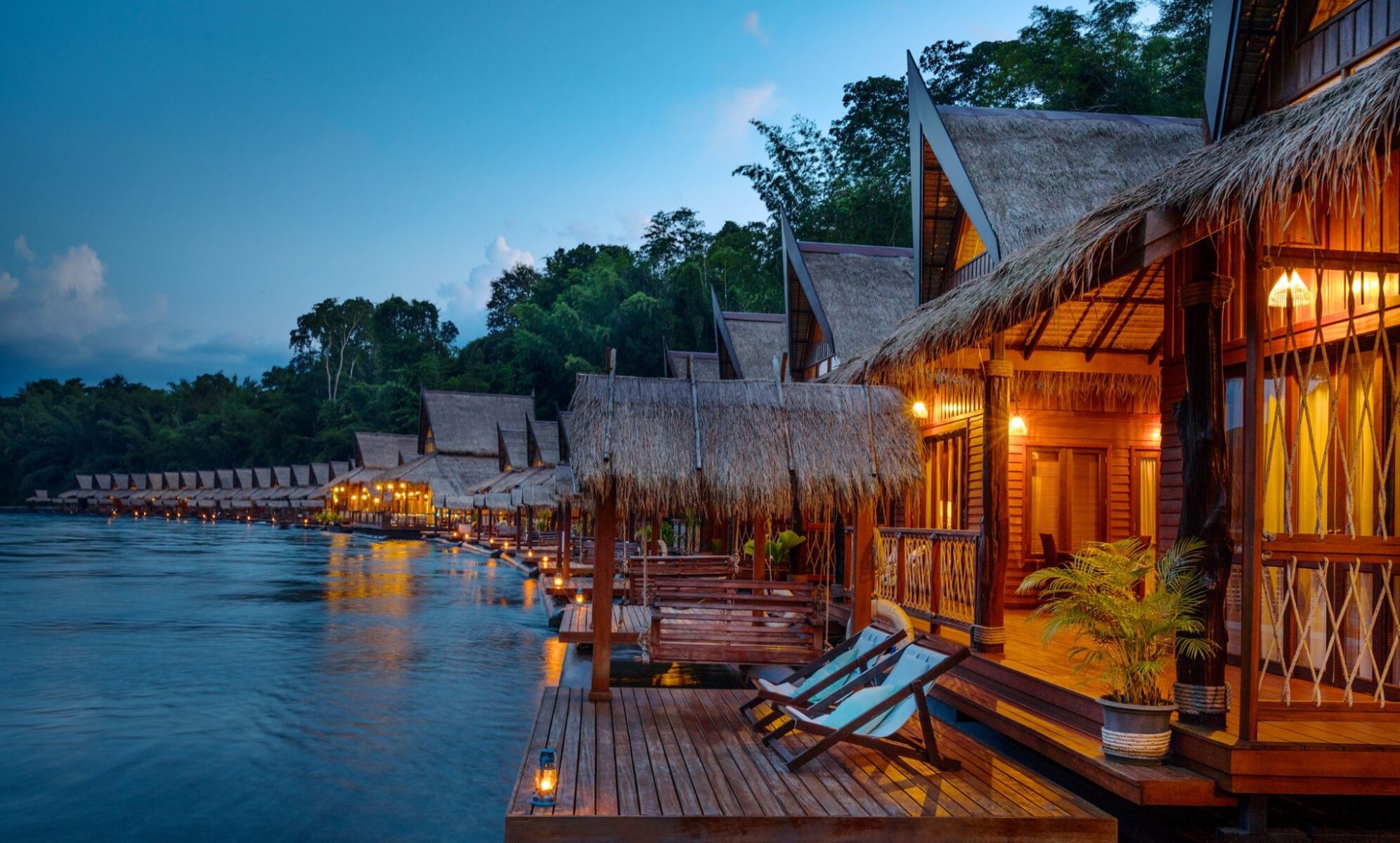 The Float House River Kwai in Kanchanaburi is a unique floating hotel that offers an immersive experience in the heart of the Thai jungle. Surrounded by bewitching landscapes, this eco-friendly resort is an ideal choice for adventure tourism in Thailand, providing easy access to a variety of thrilling outdoor activities. You can also click here to read the top 14 Kanchanaburi activities that will get your adrenaline pumping.
One of the main attractions at the Float House is bamboo rafting along the serene River Kwai. Float down the river on a traditional bamboo raft, taking in the breathtaking beauty of the surrounding jungle and spotting wildlife along the riverbanks. Along with canoeing or kayaking through the tranquil waters of the River Kwai, guests can enjoy birdwatching in the diverse ecosystem that supports a wide variety of bird species.
For adrenaline seekers, zip-lining through the jungle canopy provides an exhilarating experience, while exploring the fascinating caves in the region offers a chance to admire unique geological formations. Those interested in trying their hand at river fishing can catch and release various species of fish in the River Kwai. Additionally, guests can immerse themselves in Thai culture by participating in Thai cooking classes that use fresh, locally sourced ingredients.
5. Panviman Chiang Mai Spa Resort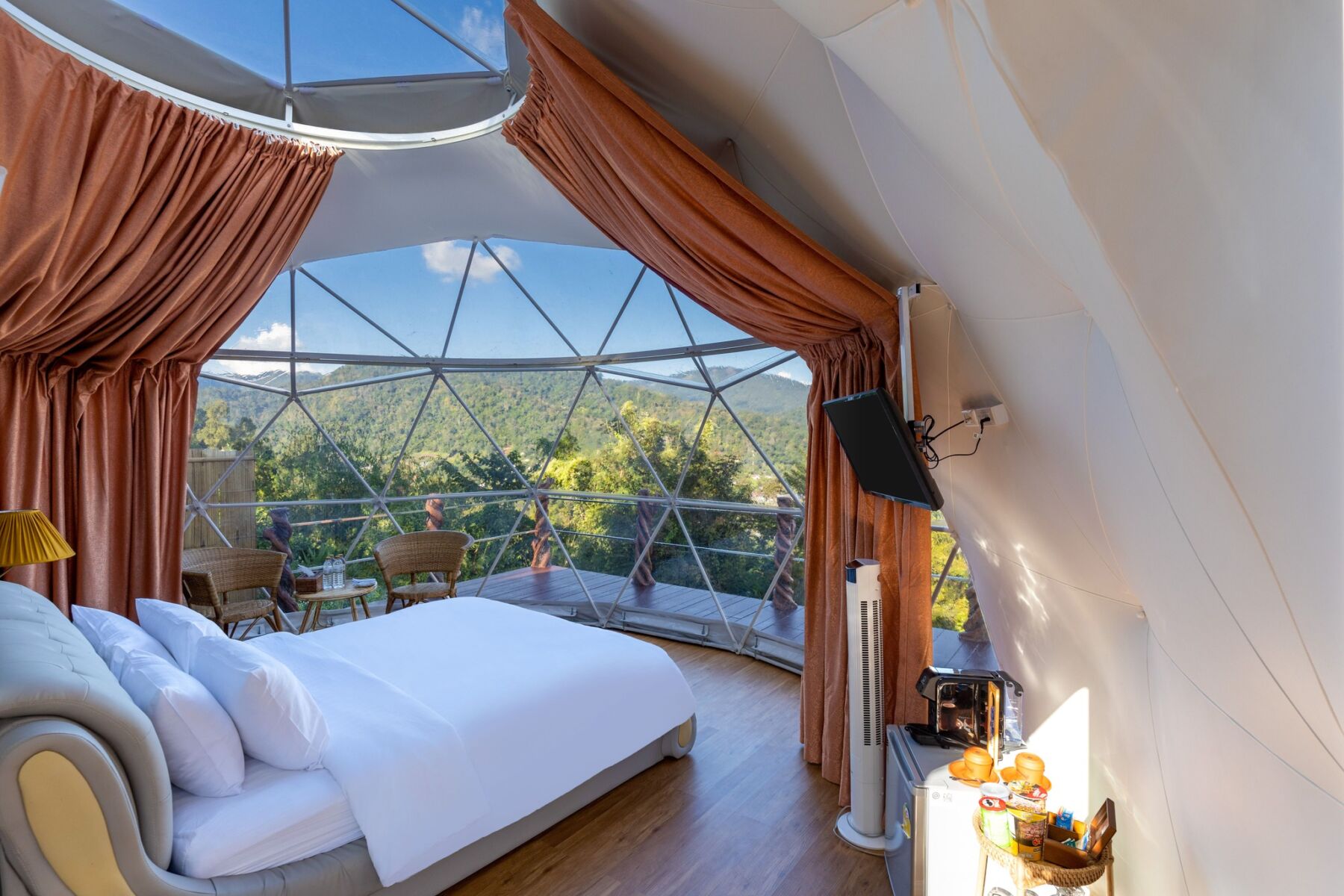 Adventure tourism enthusiasts looking for more options in Thailand can consider the Panviman Chiang Mai Spa Resort, a luxurious retreat nestled in the mountains of northern Thailand. For a more immersive cultural experience, the resort provides Thai cooking classes and local village visits, allowing guests to learn about traditional customs and practices while engaging with the local community.
Experience the thrill of ziplining through the jungle canopy for a unique bird's-eye view of the lush landscape, or embark on guided hikes to discover hidden waterfalls, where you can swim in refreshing pools and marvel at the natural beauty. Navigate the picturesque trails and rugged terrain on ATVs for an adrenaline-pumping adventure, or soar above the valleys, mountains, and rice fields in a hot air balloon, taking in breathtaking panoramic views.
Immerse yourself in the region's rich cultural heritage by visiting ancient temples and sacred sites, and learning about their history and architectural significance. It may interest you to read about some of the best outdoor adventures in Chiang Mai if you ever plan to visit this sublime city of thrill and rich culture.
Book Your Stay Now!
If adventure runs in your veins, then these hotels are definitely worth the try. We've handpicked the best adventure hotels in Thailand to help you make the most of your journey in this beautiful country. Whether you're seeking an adrenaline-fueled experience or a peaceful retreat surrounded by nature, our selection of hotels guarantees a spectacular adventure.
Things To Do

Join the conversation and have your say on Thailand news published on The Thaiger.
Thaiger Talk is our new Thaiger Community where you can join the discussion on everything happening in Thailand right now.
Please note that articles are not posted to the forum instantly and can take up to 20 min before being visible. Click for more information and the Thaiger Talk Guidelines.