University hospital unveils robots to assist in Covid-19 cases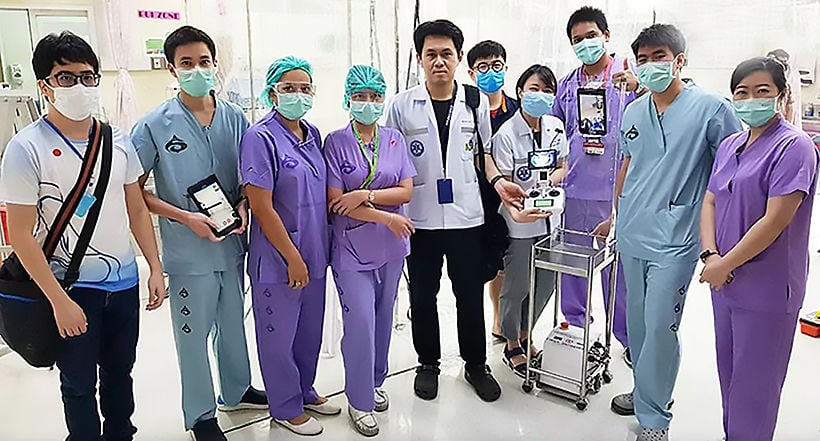 A fleet of robots, designed and built with the assistance of Toyota Motor Thailand to reduce contact between Covid-19 patients and medical staff, was unveiled at Bangkok's Ramathibodi Hospital yesterday. A a neurosurgeon at the hospital and head of the team that came up with the idea, presented them in a media briefing.
"A prototype was developed in March, but it too bulky and slow so we turned to Toyota Motor Thailand for help. Within 10 days of working together, we overcame the problems."
The doctor says each robot weighs only 40 kilograms and can carry up to 10 kilograms. Each unit costs 100,000 baht to produce and they're operated via remote control over the hospital's wi-fi network. 2 of the robots are already at work on a ward for male Covid-19 patients, where they're used for simple tasks like delivering meals and medicine or providing videoconference links between patients and doctors.
The dean of the Faculty of Medicine at Mahidon University, where the hospital is located, the hospital and Toyota Motor Thailand will deliver 7 similar robots to hospitals in the southern provinces, namely Patong Hospital in Phuket, Yala Hospital, Pattani Hospital and Satun Hospital to assist with Covid-19 patients.
One nurse says the robots have become a valuable asset to her medical team.
"Covid-19 is very new for us. At the beginning of the outbreak, medical staff were unhappy when having close contact with the patients. These robots have already helped to lessen our anxiety."
Similar robots have been used at Chulalongkorn University's hospital, in Singapore and elsewhere to diminish risk when ddealing with Covid-19 infections
SOURCE: Bangkok Post
Keep in contact with The Thaiger by following our
Facebook page
.
Lumpini boxing stadium officials side-lined over Covid-19 cluster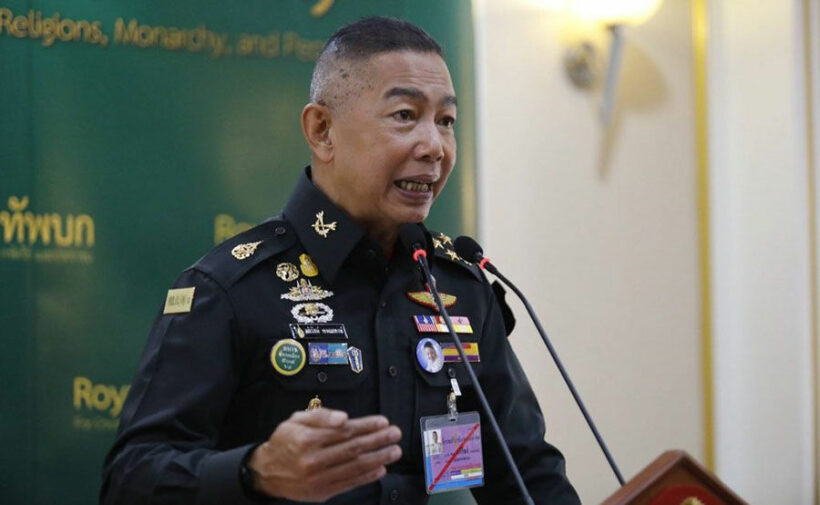 A report in Nation Thailand says that Thailand's army chief Apirat Kongsompong has ordered the transfer of all committee members at the Lumpini Boxing Stadium in Bangkok. The dressing down and side-lining of the officials comes after the committee went ahead with a boxing match at the stadium on March 6, two days after the government ordered such venues to close, as part of the Covid-19 lockdown measures.
The stadium is owned and operated by the Royal Thai Army.
The stadium was later found to be a hotbed for the virus, generating a cluster of hundreds of infectionsthat spread beyond Bangkok and into other provinces. A subsequent inspection has revealed serious problems with the venue's hygiene and disease prevention measures.
Army Chief Apirat Kongsompong is ordering the transfer of all committee members, having already transferred the manager, Rachit Arunrungsee, who is reportedly set to retire in September.
SOURCE: Nation Thailand
Keep in contact with The Thaiger by following our
Facebook page
.
Man arrested after hacking bank account of nearly 400,000 baht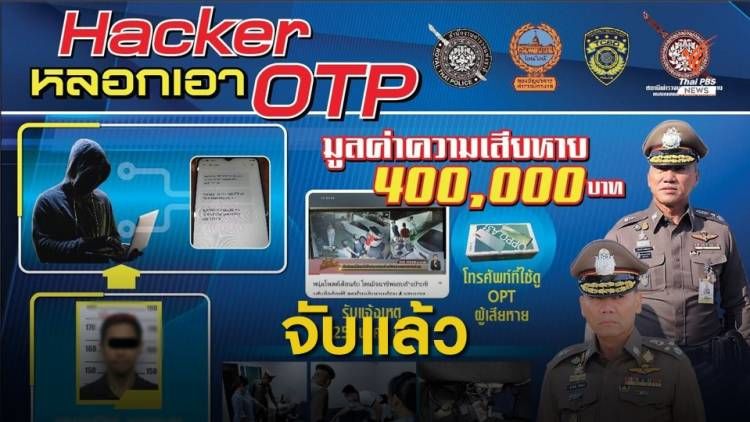 Police arrested a man for fraud after he hacked into a rich businessman's bank accounts using a smartphone sent in the mail, posing it as a prize. 34 year old Anontwat Vorametchayangkul took 395,000 baht from the man's accounts, police announced yesterday. He has a background in computer science, and police say he is wanted in 9 cases which are mostly fraud related.
A text message was sent to the businessman saying he won a phone in a customer reward promotion from a luxury hotel where he had recently stayed. He also received calls from the number, and when he didn't answer, they contacted his mother's phone saying the won the phone in a random drawing and he also won a free 3-day stay at the hotel.
The phone was later delivered to his house in Bangkok and was told to keep the SIM card in the phone for 2 hours to verify his reward. He checked his bank account sometime after and noticed money was missing.
The delivery driver was questioned. He said he took short term jobs he found online and was hired to deliver mobile phones people won in a hotel promotion for 5,000 baht. Police say the driver was not involved in the scam.
SOURCE: Bangkok Post
Keep in contact with The Thaiger by following our
Facebook page
.
Robots provide novel approach to virus prevention at Bangkok mall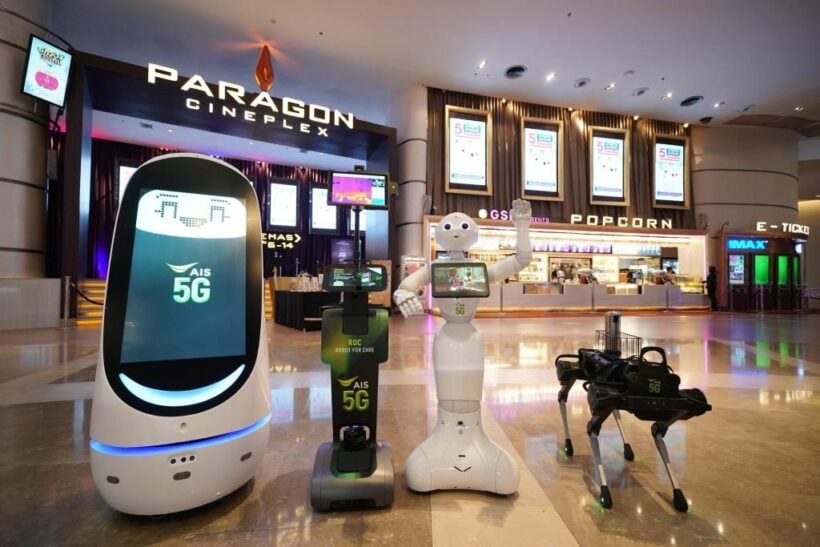 A robot dog is helping protecting people from the coronavirus at a Bangkok shopping centre by dispensing hand sanitiser. It's name is K9 and it runs off 5G internet from the mobile phone operator AIS (The Thaiger smells a PR stunt for the new AIS 5G network). K9 looks like he, or she, needs a head and a wagging tail.
A shopper who came across the robot at Central World mall called it "creepy", but an AIS marketing officer says robots are to assist people "and many people think K9 is cute". There's also the robot ROC, who checks temperatures, and LISA, who helps with customer service. While the robots help with checking temperature and dispensing hand sanitiser, they also help with social distancing, reducing the risk of person to person contact. All the robots run off 5G, which is providing faster internet speed as its rolled out around the country. AIS plans to launch 5G network smartphones by the end of the year.
As shopping malls opened back up last month, preventative measures have been put in place, such as temperature checks before entering, signs throughout reminding people about social distancing and personal hygiene practices. There's also been an app for check ins to assist with contact-tracing should there be a confirmed case within the shopping precincts.
Bangkok's Seacon Square shopping centre, has a machine they call the "Face Bot" which takes temperatures and scans faces to make sure people are wearing a face mask. And Foot pedals were installed at the Srinakarin Department store at the mall bro e used instead of buttons on the elevator.
SOURCE: Agence France Presse
Keep in contact with The Thaiger by following our
Facebook page
.