Thailand's food delivery services are booming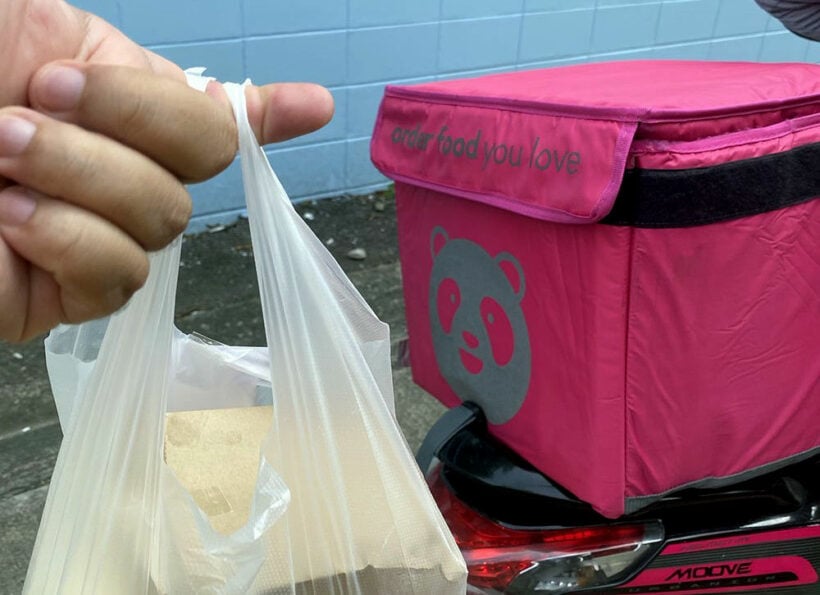 Whilst most businesses have been turned upside down by the disruptions caused by the Thai government's reaction to Covid-19, along with enforced closures, at least one business is booming at this crazy time. With restaurants closed to sit-down customers, the delivery services are providing a valuable service getting food to customers stranded at home whilst applying social distancing for the safety of their drivers and hungry customers.
Food delivery services are among the few local businesses that will not only survive but thrive throughout the outbreak in Thailand. Last year Kasikorn Bank Research reported that Thailand's food delivery business in 2019 was worth 33-35 billion baht, up 14% from the previous year. You can bet it's growing even faster now, some reporting rises of up to 100% in the past few months.
A ban came into affect on March 26 preventing people going out and sitting down for meals at restaurants. But restaurants have been able to provide take-away services and many either have their own delivery services or use the network of delivery apps like Food Panda or Grab Food to provide ordering and delivery services.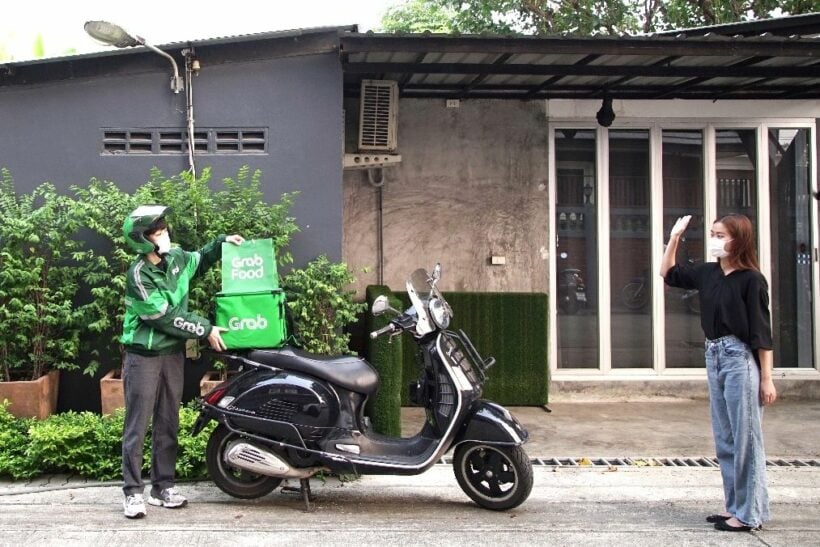 A 43 year old Grab Food driver says that he's been doing up to 15 deliveries over a 2 hour period. He's been doing deliveries for about a year. He noted that the demand for deliveries has surged during the recent disruption. He works mostly around Bangkok's Pattanakarn area.
"Of course, I'm scared of catching Covid-19, but I have to make a living, so there is no choice left for me. I just wash my hands many times a day and try not to get too close to other people," he told Bangkok Post.
35 year old Jakkrit Kamwan also works for GrabFood…
"The number of orders has doubled since the government invoked the emergency decree. I don't think I am at high risk of contracting it because I don't touch or talk to people when running orders."
Last week GrabFood introduced the "contactless delivery" to ensure the hygiene and health of customers during the Covid-19 crisis. Tarin Thaniyavarn of Grab Thailand says, "Grab has been closely monitoring the Covid-19 situation and is prepared to execute any necessary measures to promote safety standards for everyone involved."
GrabFood and its restaurant providers use these safety guidelines…
Drivers will be wearing face masks as they follow customers' directions via an in-app chat as to where to deliver their order.
Safety guidelines in food preparation and packaging.
Customers are advised to make payments via GrabPay to reduce the transmission risk.
29 year old Pongsatorn Chuaychart, who works for LINE MAN, said its no-contact policy helps to encourage customers who might be reluctant to use a food delivery service for fear of being infected.
"Even more, it make those carrying out the deliveries feel protected. But I'm also taking my own precautions. I plan to keep delivering as long as orders keep coming in. People still have to eat."
Others industries that are thriving though this really difficult time are the medical industry, medical supplies, hygiene sanitary services and supplies, life and health insurance policies, food packages and digital technology. People are also spending a lot of time online searching for accurate news and information.
SOURCE: Bangkok Post
Keep in contact with The Thaiger by following our
Facebook page
.
4 new board members for THAI restructure, 1 has airline experience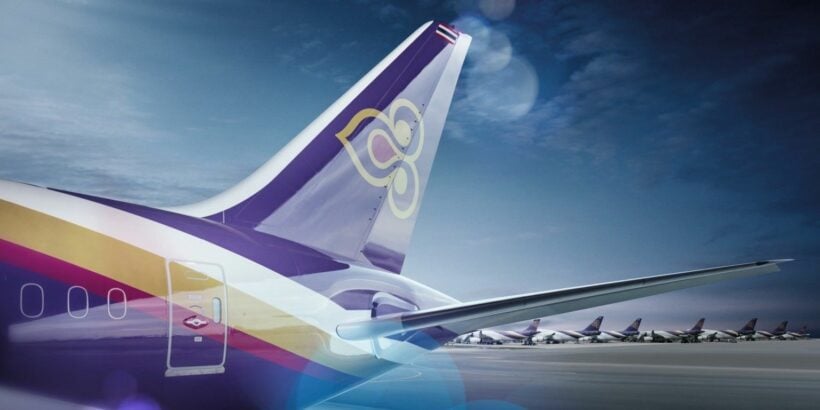 Four new board members for Thai Airways are the face of hope for the national airline as it addresses massive losses and restructuring. The airline's business is now being addressed under the country's Bankruptcy Act.
Piyasvasti Amranand, Pirapan Salirathavibhaga, Boontuck Wungcharoen and Pailin Chuchottaworn have joined the Thai Airways executive board. Piyasvasti served as the airline's president from June 2009 to June 2012.
The four board members were hand-picked by Thai PM Prayut Chan-o-cha, who said he needed "trustworthy people" to help guide the national airline to a more profitable future.
Last week the Thai cabinet approved a plan for the 60 year old airline to enter a court-sanctioned restructuring scheme under the country's bankruptcy law. The plan for Thai Airways to borrow 54 billion baht to stay afloat in another government 'bail out' was met with widespread opposition, from government ministers, prominent businesspeople and social media. The airline has accumulated debts of 244 billion baht. The Covid-19 pandemic has also grounded most of its fleet, massively compounding the airlines' already complex problems.
Also last week, the Stock Exchange of Thailand listed airline informed the SET that the Finance Ministry had sold 3.17% of its majority shareholding in the airline to the state-backed Vayupak Fund on May 22. This reduced the ministry's stake from 51.03% to 47.86% control, stripping Thai Airways of its status as a state enterprise, providing more scope for the new board to restructure the airline and seek private financial assistance.
But the government technically retains a majority stake in the airline if the shares of the Finance Ministry, Vayupak Fund and Government Savings Bank are combined.
2 days ago the PM appointed a 9 member committee to handle the restructuring plan for the ailing airline, chaired by trusted sidekick Deputy PM Wissanu Krea-ngam. The other members are mostly state officials, including the permanent secretaries of the Finance, Transport and Justice ministries as well as the secretary-general of the Securities and Exchange Commission. The four additional board members will help draw up a restructuring plan for the airline.
But critics are warning of potential built-in pitfalls stemming from numerous conflicts of interest. There is no 'aviation' expertise and the "jobs for the boys" criticism will not go away with the new board. They all have impressive backgrounds as senior executives in the private and public sectors.
The airline was already swimming in debt when one of the new board members, Piyasvasti Amranand, became Thai Airways president in 2009. He cut costs at the time by slashing salaries and jobs and reducing unnecessary expenditure. At the same time he was the person responsible for locking the airline into a major aircraft acquisition and starting up the subsidiary Thai Smile – originally meant to be competition for regional low-cost carriers but eventually morphed into a domestic offshoot for Thai Airways leaving the parent company mostly with the international routes.
The other new board members are all politically connected with Prayut and have served in his cabinets or as political advisors. They have all had extensive public service experience heading up multiple Thai enterprises.
Keep in contact with The Thaiger by following our
Facebook page
.
No role for Transport Ministry in Thai Airways rehab plan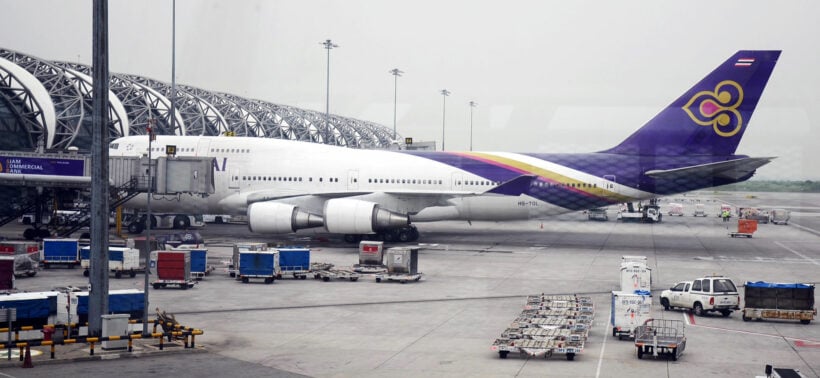 After initially insisting on having a say in the management of the rehabilitation plan for the beleaguered Thai Airways, the Ministry of Transport has conceded that, with its holding in the airline reduced to less than 50%, it no longer has any jurisdiction over what is now a listed public company.
Deputy Transport Minister Thaworn Senneam says the struggling carrier is no longer a state organisation under its control and administration of the court-approved rehabilitation plan now sits with the Finance Ministry.
Thai PBS World reports that both ministries had clashed over who would oversee the plan as, until filing for bankruptcy protection, the airline was both a listed public company with the Finance Ministry as its largest shareholder, and a state enterprise under the Transport Ministry.
The Transport Ministry had hoped to recommend 4 people as members of a "super board" that would oversee the administration of the airline's rehabilitation plan, with other members to be nominated by the Finance Ministry.
The jockeying for position of the 'super board' has already begun with prominent names publicly putting themselves forward.
SOURCE: Thai PBS World
Keep in contact with The Thaiger by following our
Facebook page
.
Thailand's economic forecast among Asia's worst: central bank governor to step down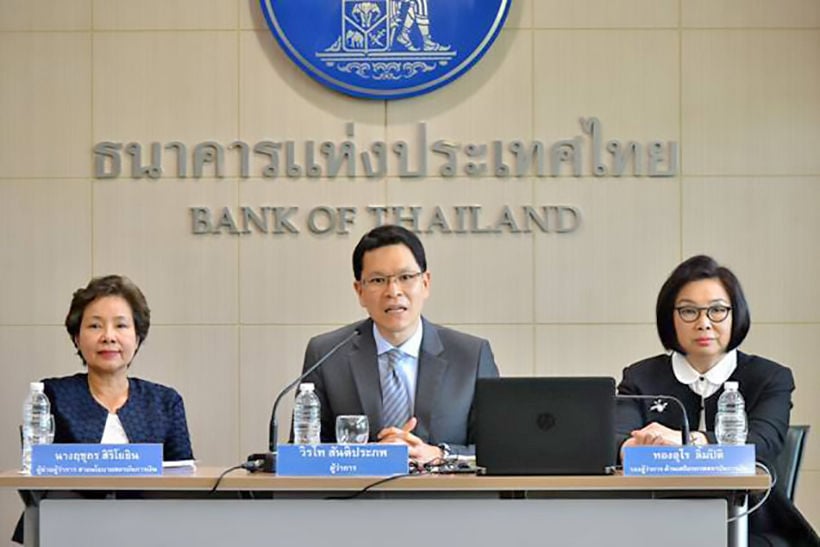 The governor of the Bank of Thailand will step down when his term ends in September. Veerathai Santiprabhob announced yesterday that he has decided against seeking a second 5 year term for "family reasons." His departure comes as Thailand sees its economy contracting as much as 6% this year, mostly as a result of the impacts of lockdown provisions to protect citizens from the coronavirus, including closing the borders. Thailand's economy is among the worst in Asia as Covid-19 has shattered its vital tourist sector.
Last week, the head of the BoT's selection committee said said the application period for the next chief will run for 15 business days, from today to June 16, and the shortlist of candidates will be announced by July 2. The committee will meet on June 18 to compile the list of applicants, who will each present their vision for the central bank in late June. The candidates will not be announced until the selection process is finished, and if there is only one, or no candidates, the application period will be extended.
With the bleak economic outlook due to the the Covid-19 pandemic, the next BoT governor will face a challenging task.
Thailand's gross domestic product is expected to shrink 5%-6% in 2020, according to the National Economic and Social Development Council. Yesterday's estimate is "based on a limited outbreak in the second quarter," a spokesman told journalists, adding that "the situation is still hard to predict."
The new projection follows data showing GDP shrank 1.8% in the first quarter from a year ago, the first contraction since 2014. That was lower than the median estimate for a decline of 3.9% in a Bloomberg survey of economists and compares with revised growth of 1.5% in the fourth quarter.
Thailand relies heavily on tourism and trade, both of which have taken a severe blow as countries around the world imposed restrictions to contain the virus. Official data show a 74.6% plunge in tourist arrivals in March compared to last year.
"We don't really see the full impact in this quarter yet. The worst is coming in the second quarter, and most of the population will be affected."
SOURCES: Chiang Rai Times
Keep in contact with The Thaiger by following our
Facebook page
.