Thailand re-opens its international borders today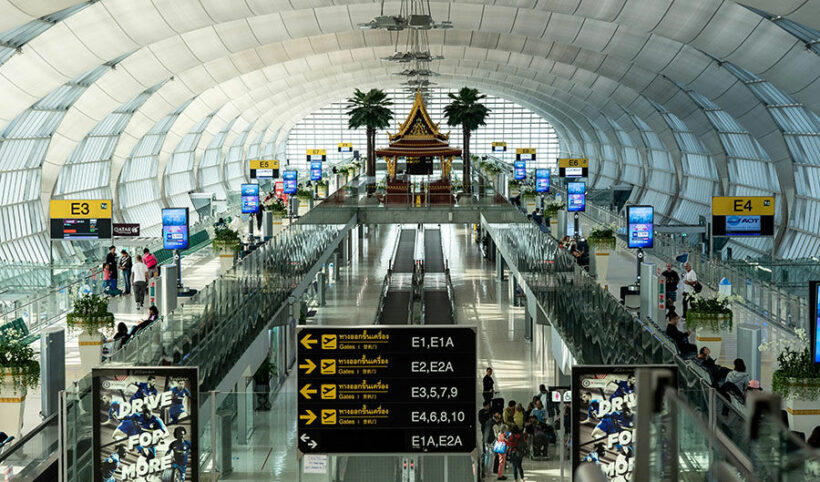 Thailand is lifting its ban on international flights on July 1. But before you dust off the suitcase and book your flight, there are still many restrictions on the return of foreigners into the country. The Civil Aviation Authority of Thailand says the ban on international flights is being lifted from July 1 but "conditions for re-entry apply".
"People entering Thailand must comply with the conditions, time limits and rules of the authorised persons under the Immigration Act, communicable diseases laws, aviation law and the emergency decree."
The announcement follows the government approving some foreign travel back into Thailand, including business travel and foreigners with spouses, work permit holders or people with permanent residency (not retirement visas). General tourism is not permitted at the moment.
The list of people allowed back into Thailand at this stage includes…
1. Thai nationals
2. Persons with exemption or persons being considered, permitted or invited by the Prime Minister, or the head of responsible persons accountable for resolving state of emergency issues to enter the Kingdom, as necessary. Such consideration, permission or invitation may be subject to specified conditions and time limits.
3. Non-Thai nationals who are a spouse, parents, or children of a Thai national.
4. Non-Thai nationals who hold a valid certificate of residence, or permission to take up residence in the Kingdom
5. Non-Thai nationals who hold a valid work permit or are allowed to work in the Kingdom, including their spouse or children.
6. Carriers of necessary goods, subject to immediate return after completion.
7. Crew members who are required to travel into the Kingdom on a mission, and have a specified date and time for return.
8. Non-Thai nationals who are students of educational institutions approved by Thai authorities, including the parents or guardians of the students.
9. Non-Thai nationals who are in need of medical treatment in Thailand, and their attendants. However, this shall not include medical treatment for Covid–19.
10. Individuals in diplomatic missions, consular affairs, international organizations, government representatives, foreign government agencies working in Thailand, or individual in other international agencies as permitted by the Ministry of Foreign Affairs, including their spouse, parents, or children.
11. Non-Thai nationals who are permitted to enter the Kingdom under a special arrangement with a foreign country.
It's understood that foreigners who are granted entry into Thailand will have to go through 14 days of mandatory quarantine at their own expense (unless they have been invited by the government). Anyone who believes they fall into one of the categories described in the CAAT's announcement (detailed below) should contact their local Thai embassy for more information.
Although the CAAT allowed the resumption of domestic flights at the end of May, the countries borders were kept shut until the end of June in a blanket ban on scheduled flights. The government has also been allowing Thais to return to Thailand over the past 2 months where many new cases of Covid-19 have been detected. All Thais repatriating to Thailand have to undergo 14 days of state-sponsored quarantine.
The Department of Airports report that fewer than 5 million people have passed through the country's 28 airports since the beginning of the year, the vast majority before the borders were closed in March and local airlines grounded.
With the country now progressively opening back up in recent weeks, a limited number of domestic flights have started slowly pushing up airport usage. Around 15,000 – 20,000 passengers are now passing through the country's 28 airports each day. Thailand's airports are currently managing between 60-80 scheduled flights a day, down from the daily average of between 160-170 domestic flights in previous years.
Keep in contact with The Thaiger by following our Facebook page.
Never miss out on future posts by following The Thaiger.
OPINION – Vaccinating against Covid-19, why wouldn't you?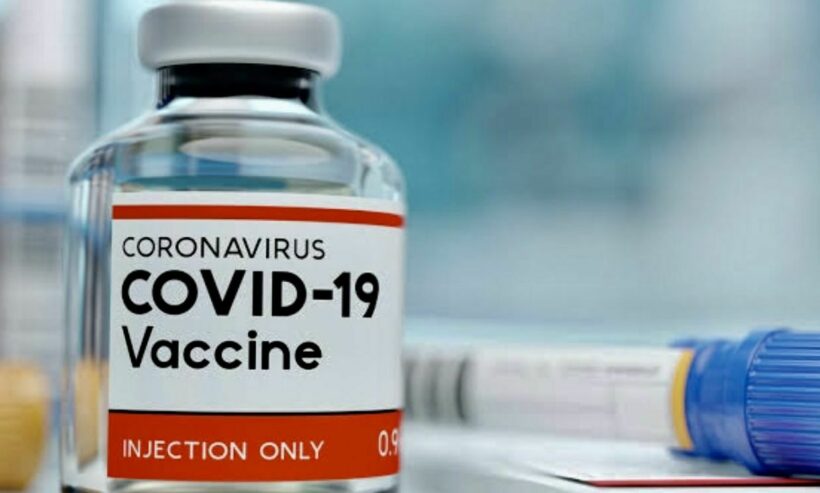 by Andrew J. Wood
The World Health Organisation not only advises that vaccines save millions of lives each year, but they also reduce transmissions. They and their partners are working together on tracking the pandemic, advising on critical interventions and distributing vital medical supplies to those in need, thereby reducing the number of infected people to transmit the virus.
Vaccines work by training and preparing the body's natural defences — the immune system — to recognise and fight off the viruses they target. After vaccination, if the body is later exposed, the body is immediately ready to destroy them, preventing illness.
WHO states on its website…
"Since February 2021, at least seven different vaccines have been rolled out. Vulnerable populations in all countries are the highest priority for vaccination.
"It is understandable that some people may be concerned about getting vaccinated now that Covid-19 vaccines are available. While more Covid-19 vaccines are being developed as quickly as possible, routine processes and procedures remain in place to ensure the safety of any vaccine that is authorised or approved for use. Safety is a top priority, and there are many reasons to get vaccinated."
One of the most frequent asked questions is can a Covid-19 vaccine make you sick with Covid-19? The simple answer is no, as none of the Covid-19 vaccines contain the live virus.
According to the USA's Centre for Disease Control the benefits of getting a Covid-19 jab will help keep you from getting the virus. All Covid-19 vaccines currently available in the United States have been shown to be highly effective at preventing Covid-19.
"Based on what we know about vaccines for other diseases and early data from clinical trials, experts believe that getting a Covid-19 vaccine may also help keep you from getting seriously ill even if you do get Covid-19 and may also protect people around you, particularly people at increased risk."
The CDC reminds us that wearing masks and social distancing help reduce the chance of being exposed to the virus or spreading it to others, but these measures are not enough. Vaccines will work with your immune system so it will be ready to fight the virus if exposed.
Australia's government says vaccination is the most effective way to protect against infectious diseases. Vaccines strengthen your immune system by training it to recognise and fight against specific viruses. They add that when you get vaccinated, you are protecting yourself and helping to protect the whole community by slowing down the spread of the disease. Achieving herd or social immunity is a long-term goal. It usually requires a large amount of the population to be vaccinated.
The CDC notes that people who have already had Covid-19 or tested positive may still benefit from getting the Covid-19 vaccination. There is not enough information currently available to say if or for how long people are protected from getting Covid-19 after they have had it (natural immunity). Early evidence suggests natural immunity from Covid-19 may not last very long, but more studies are needed to better understand this.
In Australia the government say that wearing a mask and physical distance is still important, "It may take time for everyone who wants a Covid-19 vaccination to get one. A vaccine that is 95% effective means that about 1 out of 20 people who get it may not have protection from getting the illness," they advise online.
Some people never show symptoms so vaccinations are important. There is a common confusion between pre-symptomatic spread (people who spread the virus before showing symptoms) and asymptomatic spread (spreading the virus by someone who never shows any symptoms). The former is one of the hallmarks of the pandemic, the latter much less common. What is important to understand is that everyone agrees vaccines reduce transmission.
So why wouldn't you take the vaccine that are tested to be safe and federally approved? I read comments like "it's poison" and "does not work" on social media, but the science and three stage testing, prior to receiving government approval, dispel all that.
An Israeli study found that from 100 vaccinated patients, those who received both doses of the vaccine did not become carriers of the virus and cannot spread it further.
Israel is one of the most vaccinated countries in the world and has compiled comprehensive data.
A new study has also found a reduction in transmission rates even after the first dose. Those who test positive for Covid-19 showed that twelve or more days after taking the first dose have a viral load that's four times lower than those who have not been vaccinated. Those receiving the vaccine became far less of a Covid transmission risk even before receiving their second dose.
Being less of a risk would allow more freedom to travel with significantly lower transmissions, especially when coupled with mask wearing, social distancing and frequent hand washing.
University Professor Cohen linked to the Israeli study and member of the official Health Ministry Advisory Committee on coronavirus vaccines, says…
"This shows that indeed, besides reducing symptoms and hopefully mortality, the vaccine may facilitate reaching some kind of herd immunity, allowing the partial protection of the weak or non-immunised."
The question to open borders to vaccinated visitors is now looking more and more likely as the risk to do so is manageable.
---
ANDREW J WOOD
Andrew J Wood was born in Yorkshire England, he is a professional hotelier, Skalleague and travel writer. Andrew has 48 years of hospitality and travel experience. He is a hotel graduate of Napier University, Edinburgh. Andrew is a past Director of Skål International (SI), National President SI Thailand and is currently President of SI Bangkok and a VP of both SI Thailand and SI Asia. He is a regular guest lecturer at various Universities in Thailand including Assumption University's Hospitality School and the Japan Hotel School in Tokyo.
The content of this article reflects the writer and does not necessarily reflect the editorial stance of The Thaiger.
Keep in contact with The Thaiger by following our Facebook page.
Never miss out on future posts by following The Thaiger.
79 new cases today-COVID-19 Update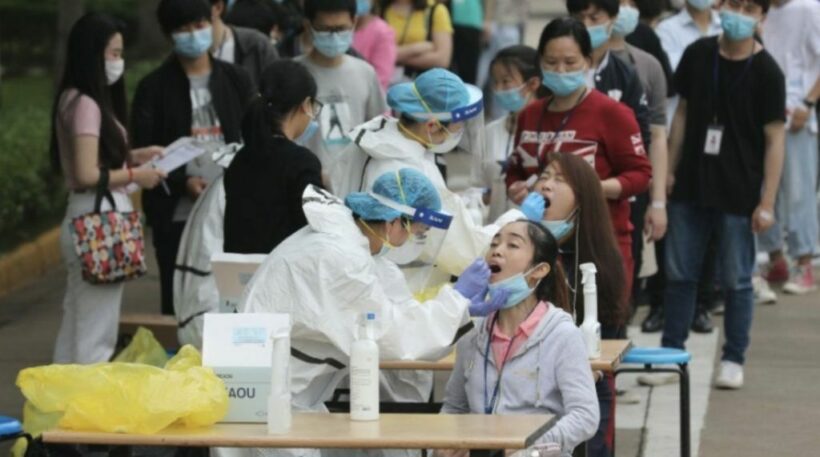 Today, the Thai government is reporting 79 new cases of Covid-19, with 65 locally-transmitted, and 14 imported, raising the total to 26,241 since the pandemic began. 1 new death has been reported, raising the total amount of deaths to 85. The new infections, which are now in the double-digits, shows Thailand's Covid situation as improving according to the assistant spokeswoman for the Centre for Covid-19 Situation Administration, Panprapa Yongtrakul.
"The two-digit level of new cases found at hospitals and communities shows that the local Covid-19 situation is under control."
The CCSA reports that 43 of the 65 local infections were found in communities with 22 of the 65 found in hospitals across 4 provinces.
Samut Sakhon province, the source of the second wave of Covid in the Kingdom, reported 77% of the new cases. Of the 50 cases found in the province, 38 were found in communities and 12 were found at hospitals.
Pathum Thani reported 8 new cases, with 3 being found at hospitals, and 5 in the community. Bangkok reported 6 new cases at hospitals and Chon Buri reported 1 infection found at a hospital. 12 of the 14 imported infections were quarantined arrivals from Russia, The United Arab Emirates, The United States, Slovenia, South Africa, Germany, Libya and Italy.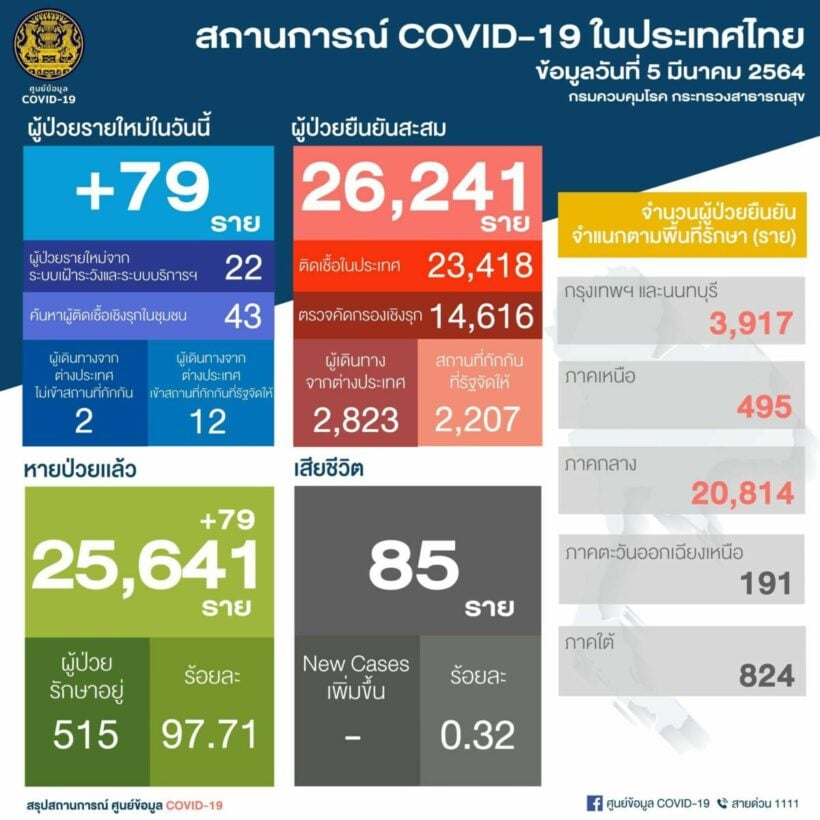 The other 2 imported cases were that of Thai women, who ellegedly returned from Myanmar illegally through a natural border crossing in Tak province, despite the government closing off natural border crossings after the February coup by the military in Myanmar.
Covid-19 cases rose worldwide by 446,747 over the past 24 hours to 116.21 million. The worldwide death toll rose by 9,955 to 2.58 million. The US still has the most cases at 29.53 million, rising by 68,321 over the past 24 hours, and the most deaths at 533,636, rising by 1,993 over the last 24 hours.
In light of the recent downturn in reported cases, Samut Sakhon has recently reopened 22 of its wet markets. However, the seafood market where the second wave of the Covid outbreak began, is not one of them, and it is not yet known when that might reopen.
SOURCE: Bangkok Post
Keep in contact with The Thaiger by following our Facebook page.
Never miss out on future posts by following The Thaiger.
Thai Health Minister to chair panel on travel bubbles, vaccine passports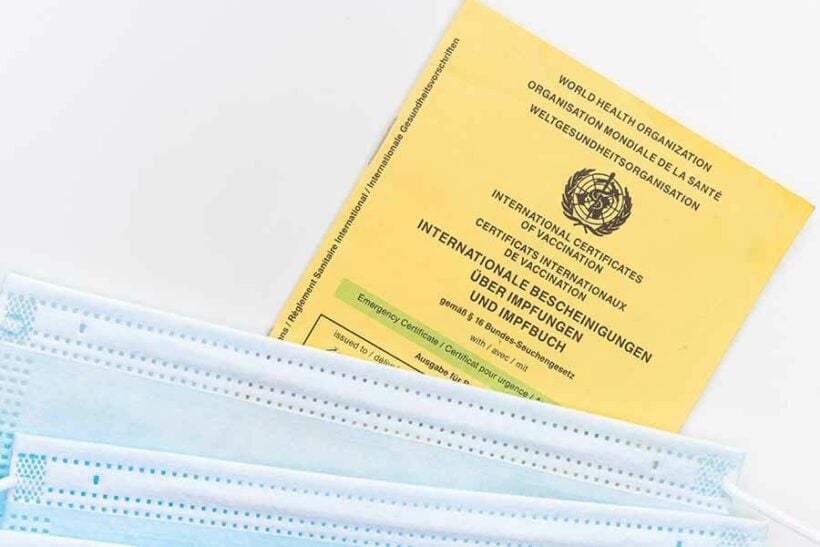 Thailand's Public Health Minister, Anutin Charnvirakul, will chair a meeting on Monday, in which a vaccine passport scheme and potential travel bubbles will be discussed. Anutin says those who've been inoculated against Covid-19 will be issued with a book to confirm their vaccination. It's hoped this will make international travel easier, as well as boosting the public's confidence and helping life return to some kind of normality.
"The Public Health Ministry is making preparations to bring life back to normal, restore businesses and revive the Thai economy."
A number of groups and industry representatives have added their voices to growing calls for a vaccine passport policy. The Joint Standing Committee on Commerce, Industry and Banking is urging the government to implement the scheme without further delay, while also calling for private companies in Thailand to be allowed purchase and distribute vaccines.
The Tourism Authority of Thailand is also pushing for a vaccine passport policy, while the Tourism Ministry has urged the Health Ministry to approve one. Meanwhile the PM, Prayut Chan-o-cha has asked the Foreign Ministry to carry out a study on vaccine passports, adding that the jury is still out as to their effectiveness. They also have their critics, primarily among rights' groups and doctors, who argue that there is not yet enough evidence that vaccination prevents transmission.
At Monday's meeting of the National Communicable Diseases Committee, the Anutin-led panel will also discuss the idea of travel bubbles. Thailand has been considering entering into reciprocal travel arrangements with countries with a high take-up of Covid-19 vaccines.
Meanwhile, Anutin says the public must continue with the practice of mask-wearing, noting that the number of Thais doing so has recently slipped. He says that recent data shows the number of people wearing masks has dropped below 80%, compared to 90% last month.
SOURCE: Nation Thailand
Keep in contact with The Thaiger by following our Facebook page.
Never miss out on future posts by following The Thaiger.