Thailand confirms 35 new coronavirus cases, total surpasses 200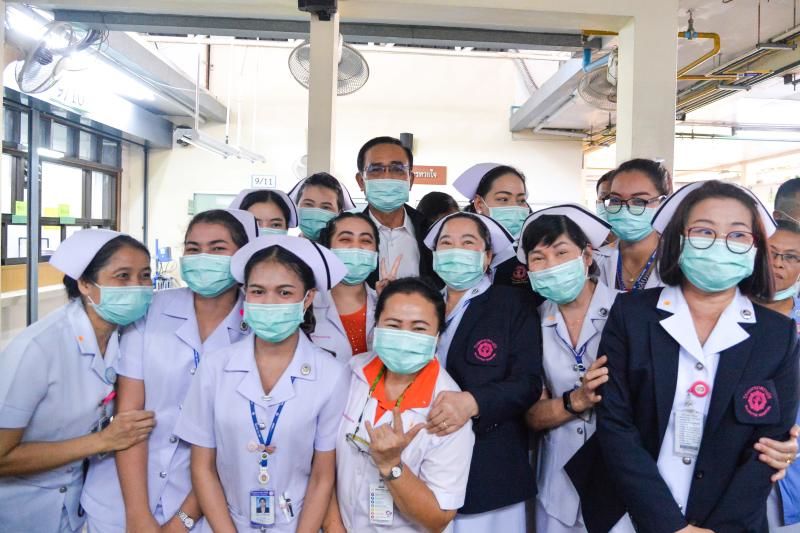 Thirty-five new cases of the Covid-19 coronavirus have been confirmed in Thailand today, a new daily record, taking the total to 212 since the virus struck in January. Thirty-five of the new cases are linked to a Bangkok boxing stadium and entertainment venues.
The director-general of the Department of Disease Control said today that this was the highest number of confirmed cases in a 24 hour period. 29 of the new patients have links to previous cluster cases: 13 people hailing from Bangkok, Khon Kaen Samut Prakan, Chiang Mai, Sukhothai, Nakhon Ratchasima, Kalasin, and Roi Et provinces got infected from Lumpini Boxing Stadium. Four got infected from entertainment venues in the Thong Lor district of northern Bangkok. Twelve patients had close contacts with previously confirmed cases, most of them co-workers. Another group consisted of six cases, one of whom had returned from Cambodia; four were working closely with foreigners as a receptionist, waiters, and a residential juristic person.In one case, the source of infection is still being investigated.
Two of the new patients are in critical condition, bringing the number of critical cases to three. A 49 year old Thai man in Surat Thani province developed high fever and flu-like symptoms on March 8. He was later diagnosed with pneumonia and kidney dysfunction. A 67 year old Belgian man in Phetchaburi, southwest of Bangkok was diagnosed with pneumonia and acute respiratory distress syndrome. He has since tested positive for the virus. 
One patient has recovered and been discharged today. As of today 169 are under medical care, 42 have recovered and been discharged, and there has been one death from complications related to the illness. Of the 83 students who returned from Italy , 77 at Sattahip Navy base and six in hospital have tested negative but still face 14 days in quarantine.
In related developments, the first coronavirus infection in Khon Kaen was confirmed by provincial governor Somsak Jangtrakul yesterday, and the Public Health Ministry today announced the names of 40 laboratories nationwide that have been certified to conduct coronavirus testing.
SOURCE: The Nation
Keep in contact with The Thaiger by following our
Facebook page
.
Google will publish user location data to aid in the fight against Covid-19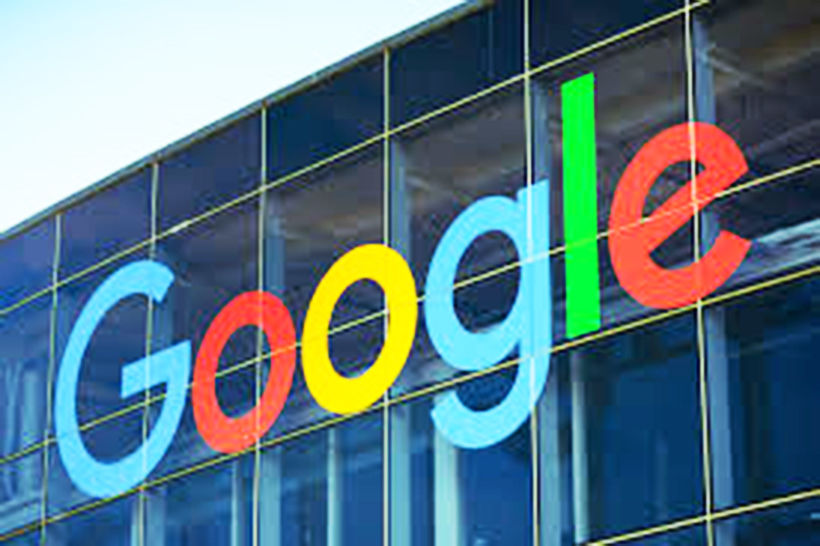 Today in Paris, Google has announced that it will start publishing location data from its users located in 131 countries, starting today. This will be done to allow the governments to indicate the performance of social distancing to help in the combat of the Covid-19 pandemic.
Reports of users' movement will be recorded on a special website and will 'chart movement trends over time by geography'. Trends will be displayed as 'a percentage point increase or decrease in visits' to locations like parks, shops, homes and places of work.
Leader of Google Maps Jen Fitzpatrick, and the company's chief health officer Karen DeSalvo says…
"We hope these reports will help support decisions about how to manage the Covid-19 pandemic, this information could help officials understand changes in essential trips that can shape recommendations on business hours or inform delivery service offerings."
Similar to the measurement of traffic on Google Maps, the new reports will use "aggregated, anonymised" data from users who have activated their location history. No "personally identifiable information," such as a person's location, contacts or movements, will be made available. To ensure this the reports will also employ a statistical technique that adds "artificial noise" to raw data, making it harder for users to be identified.
SOURCE: Bangkok Post
Keep in contact with The Thaiger by following our
Facebook page
.
Onerous new document requirements for stranded foreigners announced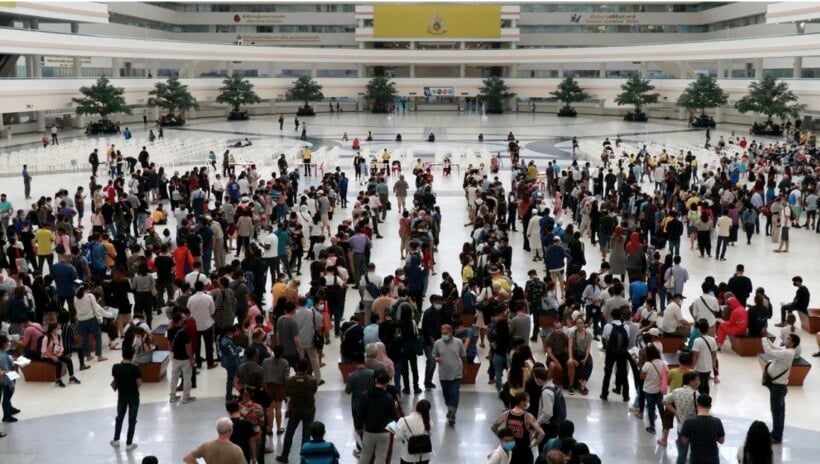 Thailand's Immigration Bureau announced yesterday that 9 separate documents are now required for foreigners stranded here to extend their stay for up to 30 days. New requirements include land deeds, rental contracts, even selfies of foreigners at their accommodations, even as scenes of chaos and massive queues at immigration continue unabated. A Thai Immigration spokesman defended the inconvenience on the grounds of "national security."
Countless long queues have been packing immigration offices around Thailand as foreigners scramble to sort out their visa situation and apply for extensions to avoid overstays. The long queues, many in stinking hot conditions around the country at the moment, are putting Thai immigration staff, and the applicants, in a dangerous NON social distancing situation.
Be aware that the same requirements may not be required at every immigration office on every day as the situation remains fluid and immigration officials are working hard to process all the paperwork and adapt to the changes in rules.
"Indeed, we are requiring more documents than usual because there are those who want to exploit the opportunity. We are doing our best to provide the best service, but bearing in mind that national security is our utmost priority."
The new rules were brought to public attention in a photo posted yesterday by longtime British expat Richard Barrow.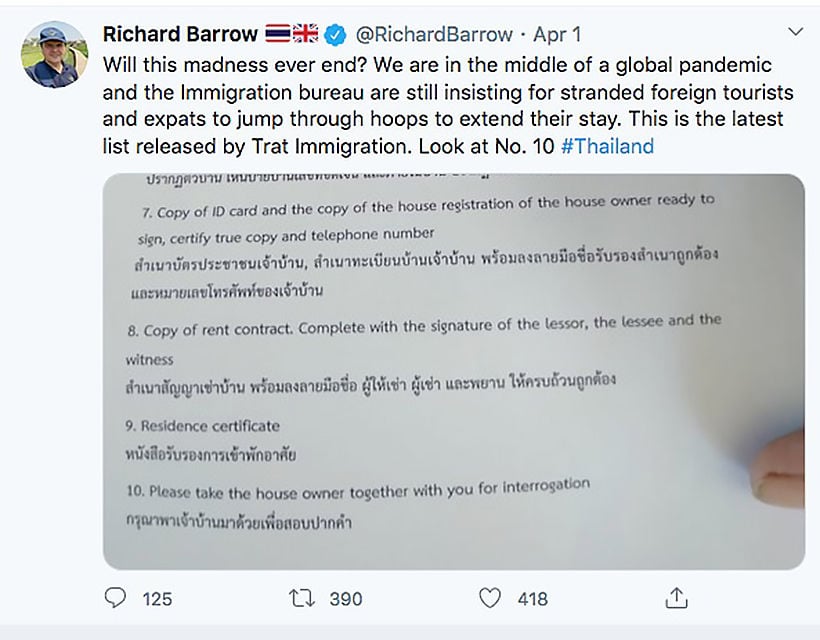 Apart from the usual TM7 application form, copies of passports, and applicants' photos, the new rules require a certificate from their respective embassies, a copy of a rental contract, a document confirming their stay at the accommodation, a copy of the landlord's ID card and house registration, and a map showing the location of their residence.
The landlord must accompany the applicant in person when submitting the documents (!!!??###!!!???) The applicant must also provide at least four photos of themselves at the accomodation, preferably showing the house or apartment number, to prove their residency.
The spokesman said these new regulations are "in accordance with immigration protocols."
Speaking by phone, the spokesman also shot down news reports that the Cabinet has approved automatic visa extensions for foreign tourists.
"In fact, the matter is still being deliberated."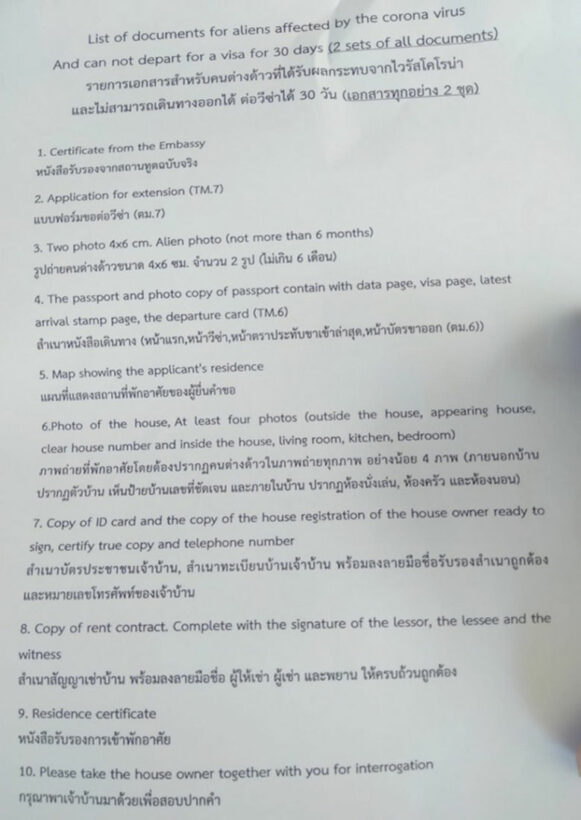 SOURCE: Khaosod English | Twitter/Richard Barrow
Keep in contact with The Thaiger by following our
Facebook page
.
Is a 24 hour national curfew next?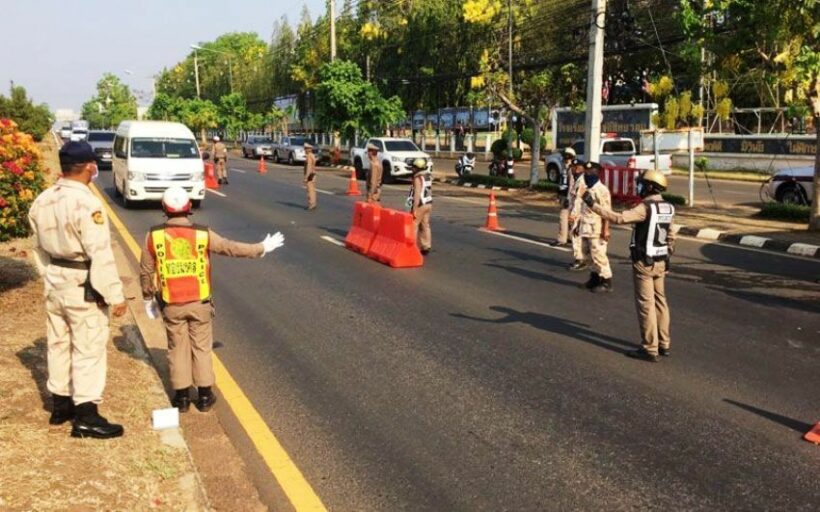 The Thai government may impose a 24-hour curfew if the rate of new Covid-19 infections does not slow to a manageable level after this current national trial curfew of 10pm to 4 am and 8pm to 3am in Phuket now in effect. The national curfew was announced yesterday by Thai PM Prayut Chan-o-cha and came into affect from today. There are number of provincial curfews already in place.
Government spokeswoman Mrs Narumon Pinyosinwat made the comment today that the Government will assess the results of the nationwide partial curfew. If the curfew is not having the desired effect, the Government may take a more drastic step but she said that PM Prayut Chan-o-cha does not want to resort to such a "bitter pill".
Pinyosinwat says it may not be required if the public cooperates with public health advice to stay home and observe strict social distancing when in public.
SOURCES: Chang Rai Times | Thai PBS
Keep in contact with The Thaiger by following our
Facebook page
.