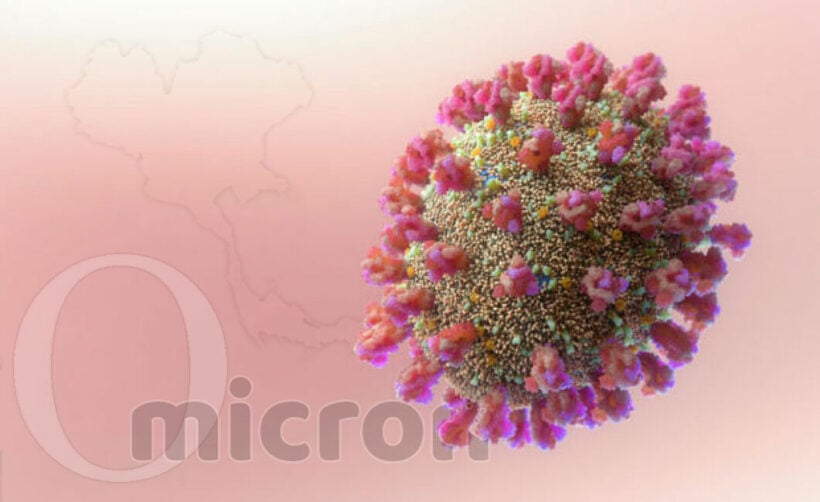 The Omicron variant of Covid-19 has now been detected in 95 countries and Thailand has not escaped unscathed. 104 Omicron variant infections have now been uncovered in Thailand according to the CCSA with the first local transmission recently discovered. Most of the cases of the new variant are currently receiving treatment though some have recovered already, according to the Department of Disease Control.
According to data quoted by the US Centres for Disease Control and Prevention, the Omicron variant is far more transmissible than other variants of Covid-19 and has already been found in 47 of the 50 United States. A shocking 73% of all new Covid-19 infections in the US are now of the Omicron variant.
Other countries have locked down or tightened restrictions in the face of the rapidly spreading Omicron variant. Israel is not allowing its own population to travel to Omicron risk spots like the US, UK, and Russia, as well as many countries throughout Europe like Portugal, Morocco, Germany, Italy, Switzerland, Hungary, and Turkey.
Thailand has followed suit in tightening international travel restrictions and has walked back the reopening on November 1 that created the Test & Go scheme that avoids quarantines longer than waiting for RT-PCR test results, as well as expanding the Sandbox program to locations around the country.
Now those easements have been delayed indefinitely and getting into Thailand will require quarantining again. Authorities in Thailand have not banned its citizens from travelling abroad but they have requested that Thais not travel to and from the US, Europe and Africa.
In December, before this tightening of rules, 182,578 international travellers arrived in Thailand with relatively few Covid-19 infections, Omicron variant or otherwise. Just yesterday, 10,759 travellers arrived with the vast majority coming under the closing Test & Go scheme:
TEST & GO ARRIVALS

9,479 travellers
34 positive Covid-19 tests
0.35% infection rate

SANDBOX SCHEMES

1,140 travellers
2 positive Covid-19 tests
0.18% infection rate

ALTERNATIVE QUARANTINE

140 travellers
3 positive Covid-19 tests
2.1% infection rate
(Interesting to note – the Alternative Quarantine scheme that allows unvaccinated travellers to enter Thailand has an infection rate at least 6 times higher than the programs that require vaccination.)
SOURCE: Thai PBS World