So, how's Thailand doing with Covid-19? – OPINION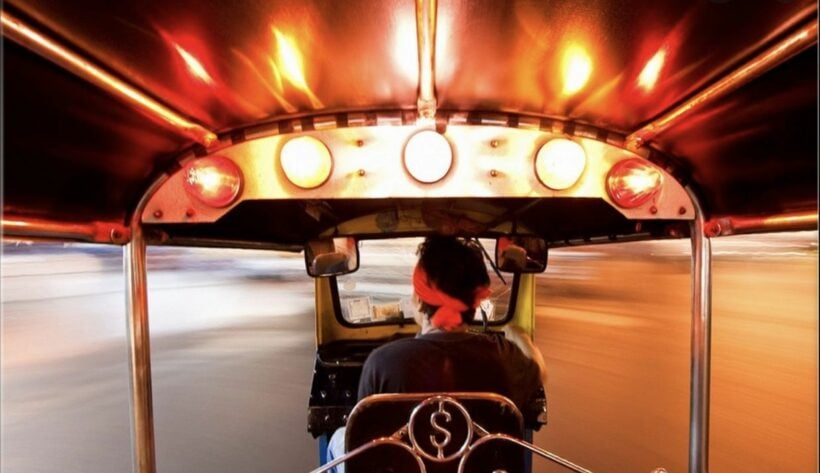 OPINION by "Issan John"
According to some, Thailand's a leading success story, with minimal deaths and an equally minimal effect on daily life. According to others, it's fudging the figures and on the brink of economic collapse, and the only solution is to "open the borders", take a risk with Covid-19, and welcome back the tourists it allegedly relies on for its survival.
Even within those opposing camps, there are those who think the successes are down to careful planning, and those who think instead that they're more a matter of luck than judgement, as well as those who think the failures are inevitable, down to the unstoppable world-wide spread of Covid-19 and the resultant global recession, rather than down to incompetence and self-interest.
Unavoidably there are "lies, damned lies and statistics" and the Covid-19 figures can be read in many ways…
Thailand has had only 59 deaths reported from Covid-19, compared to over 43,000 in the UK and over 36,000 in Italy with similar sized populations
Thailand has only tested less than 1% of the population, as have most of ASEAN, while the West has tested as many as 25%.
Consequently, it's often alleged that Thailand and others are "cheating" and fudging their figures to hide the deaths and the number of cases as they're "too good to be true" and 80% of cases are asymptomatic, so the number of cases is likely to be far higher since testing isn't as widespread as it is in the West.
The reality, though, is that if 80% of cases are asymptomatic then 20% have to be symptomatic, so they'd show up when temperatures are taken at Tesco, Big 'C', or 7-11 and tens or hundreds of thousands would be turned away and queueing at the hospitals, particularly given the alleged "paranoia" about Covid-19 here, and that simply hasn't happened.
The West has gone for mass testing as their way ahead, while Thailand has effectively gone for targeted testing instead; both have advantages and disadvantages.
Thailand has a steady Case Fatality Rate (CFR) of below 2%, half the global average and on a par with New Zealand, while most of the West has a CFR of between 7 and 14%;
That suggests Thailand has better "care" for Covid-19 cases than the West, which seems unlikely. The estimated Infection Fatality Rate (IFR, rather than CFR), though, indicates that apart from comorbidities, from smoking to age to obesity, the IFR is likely to be closer to 0.35% globally (compared to 0.04% for "seasonal" flu, if unvaccinated), with little variation nationally apart from as a result of care / treatment, so that suggests that the infection rate is actually considerably higher than thought in the West while it's genuinely low in Thailand
Thailand, like it or not, has clearly done genuinely well in terms of controlling the pandemic, not only minimising deaths, but minimising the effect on people's lives in the country.
The effect of that success on the economy, though, is a different matter…
International tourism has undeniably collapsed in Thailand, affecting GDP which dropped by 12.2% in Q2.
Exports are down by over 6% in Q2
… but the Thai baht's been steady against the US$, GB£ and Euro since before the Covid crisis.
Unfortunately international tourism can only be improved by opening the borders, which would inevitably mean the risks of Covid-19 increasing unless effective checks are made, and at the moment that has to mean quarantining and testing – the incubation period and the efficacy of current tests simply leaves no other option:
Quarantining and testing pre-flight is impossible to verify – the means just aren't available.
Current tests are only 93 to 97% accurate, so between 20 and 40 passengers on each flight (5%) have false readings.That can't be reduced to zero, but it can be reduced by a factor of 1,000 with 14 days quarantine and testing.
If tourism were to return to "normal", pre-Covid, with 40 million visitors per year unchecked by 14 days quarantine and tests, that could mean 2 million cases of Covid-19 coming in to Thailand every year.
That doesn't just mean that 7,000 of them would die here, or that many times that number of Thais would also die. The effect of that on Thailand's economy and everyday life for Thais would go way beyond that, as Thailand would have to go the way of the West, closing schools and factories, and locking down bars and beaches and limiting travel as the West has done. There would be a short term gain, in return for a massive medium and long term loss. Not only would international tourism collapse, but so would so much else.
Those in, and reliant on. the tourism industry will suffer, inevitably, but that has to be balanced against the alternative as it is in Thailand's tourism competitors, like Cambodia and Vietnam, and the long term winner will be the one who can hold their nerve and support their economy the most in the short term.
On the other hand, it's far from all a success story.

There are reportedly some 120,000 "tourists" still stuck in Thailand, many of whom have nowhere else to go as it's either not possible for them to return to their "home" countries or they're "yachties" and other "travellers" whose "home" is wherever they are. Any moves to force them out while they're here and spending would seem to be both short-sighted and counter-productive – particularly if the "option" is to replace those 120,000 already here with a planned 1,200 per month on Special Tourist Visas, and due to the "on-again/off-again" moves for those already here rather than clarity and forethought a lot of trust, confidence and goodwill has been sadly squandered.
The constant conflicting and contradicting "suggestions" from Ministers and departments, with the Anti-Fake News Centre and Thai Embassy saga just being one example of far too many, leading ot a similar lack of confidence (although it doesn't compare with the antics of all too many Western MPs and ministers blatantly ignoring their own rules).
Thailand, in my view, has been one of the few national Covid-19 success stories ….. but whether that's because of decisions taken or in spite of them is in the eye of the beholder.
"Issan John" (his spelling, not ours) is a regular, if not frequent, contributor to the comments section of The Thaiger's website and was invited to submit his well-argued thoughts on Thailand's progress through the Covid-19 mess. The opinions of Issan John do not necessarily reflect that of The Thaiger staff or management.
Comment below…
Keep in contact with The Thaiger by following our
Facebook page
.
Never miss out on future posts by
following The Thaiger
.
9 new Covid-19 cases in Thai quarantine, with a possible reinfection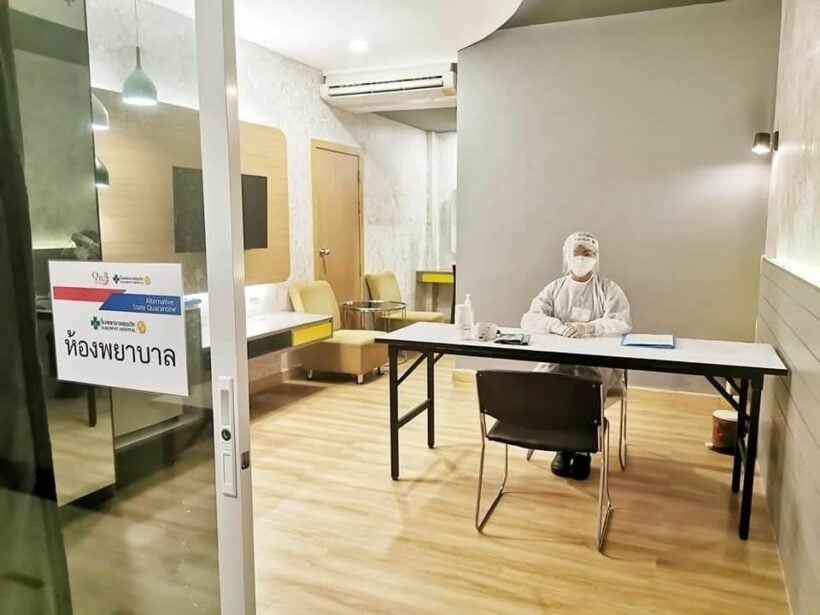 9 new Covid-19 cases were detected in Thai quarantine facilities, including a patient who may have been infected with the virus a second time, or never fully recovered, according to the Centre for Covid-19 Situation Administration. Most of the cases were army engineers travelling from South Sudan.
Thailand's total number of confirmed Covid-19 cases is now at 3,700 with 3,491 recoveries and 59 deaths. 150 people are still receiving medical treatment.
6 army engineers, ages 25 to 49, travelling from South Sudan tested positive for Covid-19. They arrived on October 12 and they tested positive 3 days later while in quarantine in Chon Buri. They were admitted to Phramongkutklao Hospital in Bangkok.
2 people travelling from the United Arab Emirates tested positive for Covid-19. They both arrived in Thailand on October 9 and tested positive 7 days later. A 25 year old masseuse was first diagnosed with Covid-19 on September 1. After arriving in Thailand, she reported symptoms of a cough and headache. She was quarantined in Bangkok and admitted to the Central Chest Institute in the Nonthaburi province, just outside Bangkok, for treatment. A 22 year old student tested positive while quarantined in Bangkok. He was also admitted to the Central Chest Institute.
A 26 year old woman travelling from Oman tested positive for Covid-19. She arrived on October 14 and tested positive for the virus 4 days later. She was quarantined in Chon Buri and then admitted to a hospital in Samut Prakan.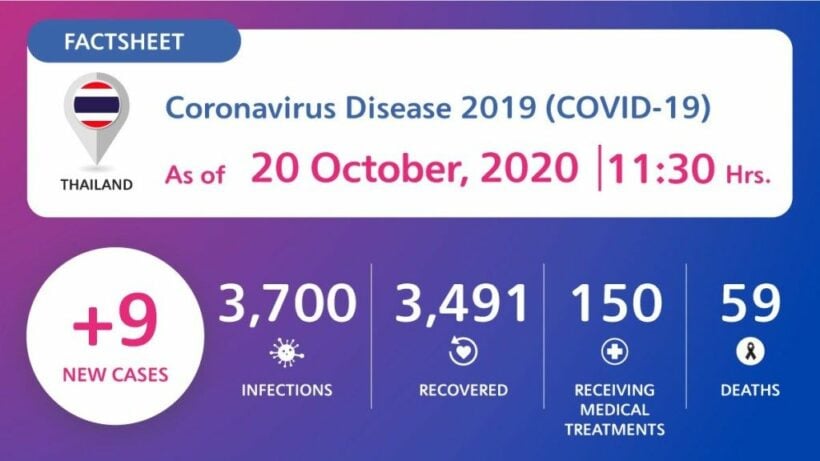 Daily new Covid-19 cases in Thailand
SOURCE: Bangkok Post
Catch up with the latest daily "Thailand News Today" here on The Thaiger.
Keep in contact with The Thaiger by following our
Facebook page
.
Never miss out on future posts by
following The Thaiger
.
50% of Thailand's population to get Covid-19 vaccine when available – Health Minister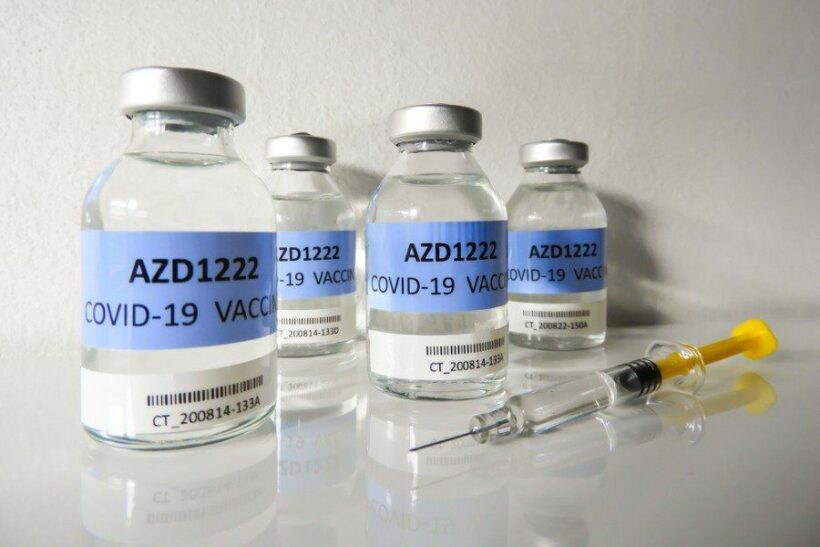 Half the population in Thailand will be injected with the Covid-19 vaccine once it's released and available to the public, Public Health Minister Anutin Charnvirakul says. Oxford University and the pharmaceutical company AstraZeneca are conducting trails of the new vaccine. Thailand is planned to be the Southeast Asia production site for the new vaccine.
The health minister says the vaccine will be first used on Thai nationals who are in their mid-60s and then the ministry will work to make sure at least 50% of the population is injected with the vaccine.
The Public Health Ministry is also going through the World Health Organisation's COVAX facility to make sure there is a sufficient supply of a vaccine. The ministry's deputy permanent secretary Supakit Sirilak says about 65 million doses will be needed for Thailand, adding that 40% will be reserved with COVAX, 40% will go to AstraZeneca and 20% will go to other sources.
Siam Bioscience will be producing the vaccine in Thailand. Director of the National Vaccine Institute Nakorn Premsri says they have the potential to produce up to 200 million doses. Production is expected to start in mid-2021.
"Once the technology transfer agreement is signed, the Thai side will have to be trained on production processes. AstraZeneca's vaccine is expected to pass Phase 3 testing and production should start in December. After that it needs to register with the FDA in the UK and Thailand, before we can start producing the vaccine mid next year."
SOURCE: Nation Thailand
Keep in contact with The Thaiger by following our
Facebook page
.
Never miss out on future posts by
following The Thaiger
.
Covid19 – US infections "balloon", world case total surpasses 40 million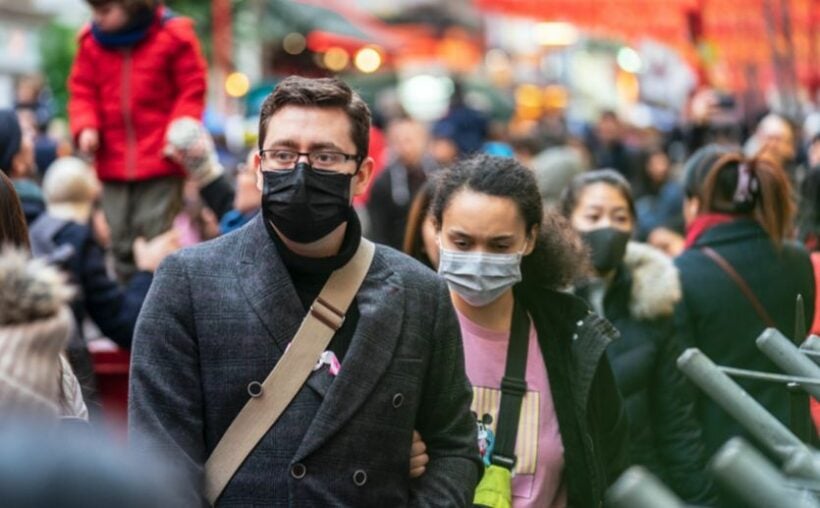 "We were really hoping to crater the cases in preparation for a bad winter. We've done basically the opposite."
New Covid-19 cases are again surging in many countries. Globally, the number of infected people exceeded 40 million as of last night with new infections starting to accelerate again. Today the total number of confirmed cases around the world is 40,323,461. The number of total deaths remains at 1,118,826 and recovered patients at 30,135,040 (as of 4pm Thai time).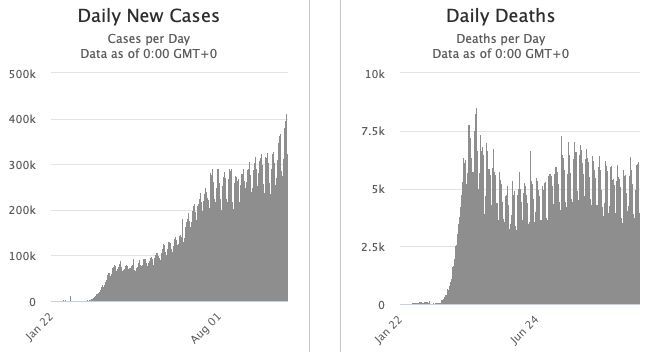 Notably, the death rate from Covid-19 is not rising as treatment for complicated cases continues to rapidly improve. The US, India, Russia, Brazil, the rest of South America, and parts of Europe and the UK, are the current 'hot spots' (below).
Regionally, the surge of cases in Myanmar is causing headaches for Thai border officials in the north west of the country. The Governor of Tak decided to close the border checkpoints this morning. But the 2,000 kilometre long land border between Thailand and Myanmar has many unofficial "Natural" crossing points.
In the US, the nation's top infectious disease doctor, Dr. Anthony Fauci, director of the National Institute of Allergy and Infectious Diseases, says following public health measures is the way out of the crisis that has hobbled the economy, claimed thousands of lives and sickened millions.
"The predicted fall surge is here, and rising cases across the US appear to bear that out."
The US is averaging more than 55,000 new cases a day, and 10 states reported their highest single-day cases counts last Friday. As of this morning, US time, there were more than 8.5 million cases and 219,674 coronavirus deaths, according to Worldometers.info
"The Covid-19 crisis would have to be 'really, really bad' to implement a national lockdown. Despite the climbing totals, a nationwide lockdown is not the way forward unless the pandemic gets "really, really bad."
Tara Smith, a professor of epidemiology at Kent State University says the worst fears of rising cases, leading into winter, are being realised.
"We were really hoping to crater the cases in preparation for a bad winter. We've done basically the opposite."
After hitting an all-time high in July, cases did drop significantly, but the US never reached a level where the public health system could truly get a handle on the outbreak or describe it as 'contained'.
Now infections are on the rise again, driven by ballooning outbreaks across the country's interior, especially in the Midwest, the Great Plains and the West.
Contributing to the rise is the return of students to schools and campuses across the country, puzzling resistance to social distancing and mask wearing recommendations, and more people spending time in restaurants and other indoor settings as the weather starts to cool down.
SOURCE: worldometers.info | nor.org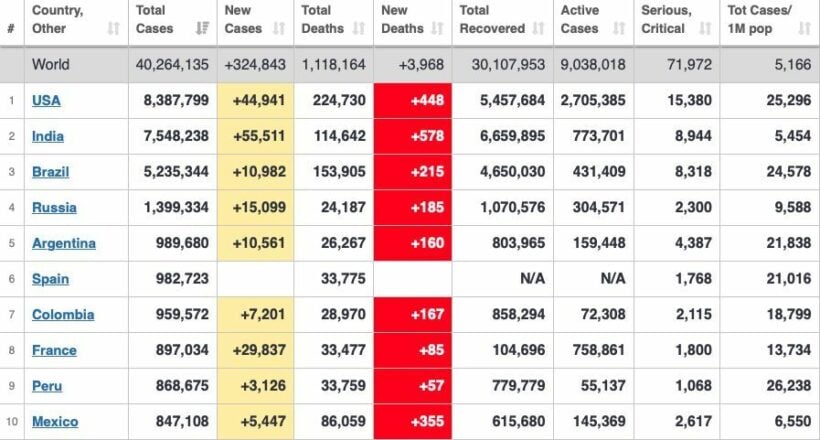 TABLE: worldometers.com
Keep in contact with The Thaiger by following our
Facebook page
.
Never miss out on future posts by
following The Thaiger
.