So, how's Thailand doing with Covid-19? – OPINION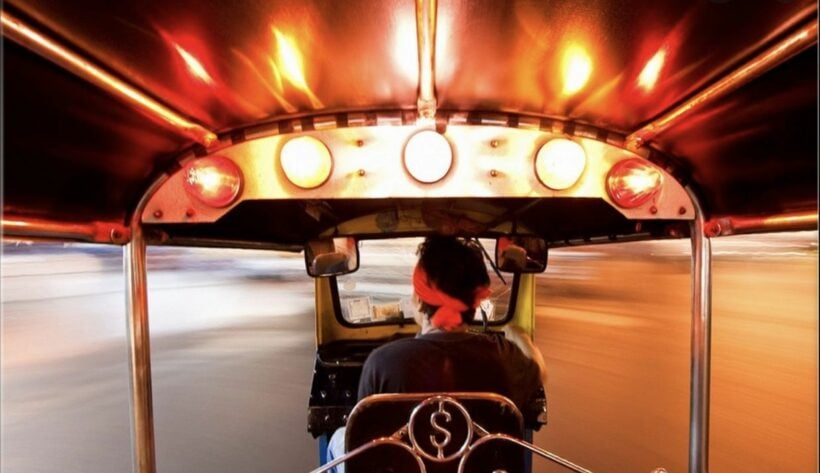 OPINION by "Issan John"
According to some, Thailand's a leading success story, with minimal deaths and an equally minimal effect on daily life. According to others, it's fudging the figures and on the brink of economic collapse, and the only solution is to "open the borders", take a risk with Covid-19, and welcome back the tourists it allegedly relies on for its survival.
Even within those opposing camps, there are those who think the successes are down to careful planning, and those who think instead that they're more a matter of luck than judgement, as well as those who think the failures are inevitable, down to the unstoppable world-wide spread of Covid-19 and the resultant global recession, rather than down to incompetence and self-interest.
Unavoidably there are "lies, damned lies and statistics" and the Covid-19 figures can be read in many ways…
Thailand has had only 59 deaths reported from Covid-19, compared to over 43,000 in the UK and over 36,000 in Italy with similar sized populations
Thailand has only tested less than 1% of the population, as have most of ASEAN, while the West has tested as many as 25%.
Consequently, it's often alleged that Thailand and others are "cheating" and fudging their figures to hide the deaths and the number of cases as they're "too good to be true" and 80% of cases are asymptomatic, so the number of cases is likely to be far higher since testing isn't as widespread as it is in the West.
The reality, though, is that if 80% of cases are asymptomatic then 20% have to be symptomatic, so they'd show up when temperatures are taken at Tesco, Big 'C', or 7-11 and tens or hundreds of thousands would be turned away and queueing at the hospitals, particularly given the alleged "paranoia" about Covid-19 here, and that simply hasn't happened.
The West has gone for mass testing as their way ahead, while Thailand has effectively gone for targeted testing instead; both have advantages and disadvantages.
Thailand has a steady Case Fatality Rate (CFR) of below 2%, half the global average and on a par with New Zealand, while most of the West has a CFR of between 7 and 14%;
That suggests Thailand has better "care" for Covid-19 cases than the West, which seems unlikely. The estimated Infection Fatality Rate (IFR, rather than CFR), though, indicates that apart from comorbidities, from smoking to age to obesity, the IFR is likely to be closer to 0.35% globally (compared to 0.04% for "seasonal" flu, if unvaccinated), with little variation nationally apart from as a result of care / treatment, so that suggests that the infection rate is actually considerably higher than thought in the West while it's genuinely low in Thailand
Thailand, like it or not, has clearly done genuinely well in terms of controlling the pandemic, not only minimising deaths, but minimising the effect on people's lives in the country.
The effect of that success on the economy, though, is a different matter…
International tourism has undeniably collapsed in Thailand, affecting GDP which dropped by 12.2% in Q2.
Exports are down by over 6% in Q2
… but the Thai baht's been steady against the US$, GB£ and Euro since before the Covid crisis.
Unfortunately international tourism can only be improved by opening the borders, which would inevitably mean the risks of Covid-19 increasing unless effective checks are made, and at the moment that has to mean quarantining and testing – the incubation period and the efficacy of current tests simply leaves no other option:
Quarantining and testing pre-flight is impossible to verify – the means just aren't available.
Current tests are only 93 to 97% accurate, so between 20 and 40 passengers on each flight (5%) have false readings.That can't be reduced to zero, but it can be reduced by a factor of 1,000 with 14 days quarantine and testing.
If tourism were to return to "normal", pre-Covid, with 40 million visitors per year unchecked by 14 days quarantine and tests, that could mean 2 million cases of Covid-19 coming in to Thailand every year.
That doesn't just mean that 7,000 of them would die here, or that many times that number of Thais would also die. The effect of that on Thailand's economy and everyday life for Thais would go way beyond that, as Thailand would have to go the way of the West, closing schools and factories, and locking down bars and beaches and limiting travel as the West has done. There would be a short term gain, in return for a massive medium and long term loss. Not only would international tourism collapse, but so would so much else.
Those in, and reliant on. the tourism industry will suffer, inevitably, but that has to be balanced against the alternative as it is in Thailand's tourism competitors, like Cambodia and Vietnam, and the long term winner will be the one who can hold their nerve and support their economy the most in the short term.
On the other hand, it's far from all a success story.

There are reportedly some 120,000 "tourists" still stuck in Thailand, many of whom have nowhere else to go as it's either not possible for them to return to their "home" countries or they're "yachties" and other "travellers" whose "home" is wherever they are. Any moves to force them out while they're here and spending would seem to be both short-sighted and counter-productive – particularly if the "option" is to replace those 120,000 already here with a planned 1,200 per month on Special Tourist Visas, and due to the "on-again/off-again" moves for those already here rather than clarity and forethought a lot of trust, confidence and goodwill has been sadly squandered.
The constant conflicting and contradicting "suggestions" from Ministers and departments, with the Anti-Fake News Centre and Thai Embassy saga just being one example of far too many, leading ot a similar lack of confidence (although it doesn't compare with the antics of all too many Western MPs and ministers blatantly ignoring their own rules).
Thailand, in my view, has been one of the few national Covid-19 success stories ….. but whether that's because of decisions taken or in spite of them is in the eye of the beholder.
"Issan John" (his spelling, not ours) is a regular, if not frequent, contributor to the comments section of The Thaiger's website and was invited to submit his well-argued thoughts on Thailand's progress through the Covid-19 mess. The opinions of Issan John do not necessarily reflect that of The Thaiger staff or management.
Comment below…
Want more from the Thaiger family?
📱 Download our app on Android or iOS for instant updates on your mobile
📧 Subscribe to our daily email newsletter
👍 Like/Follow us on Facebook
🔔 Subscribe to or Join our YouTube channel for daily video updates
Sunday Covid UPDATE: 2,302 new infections and 24 deaths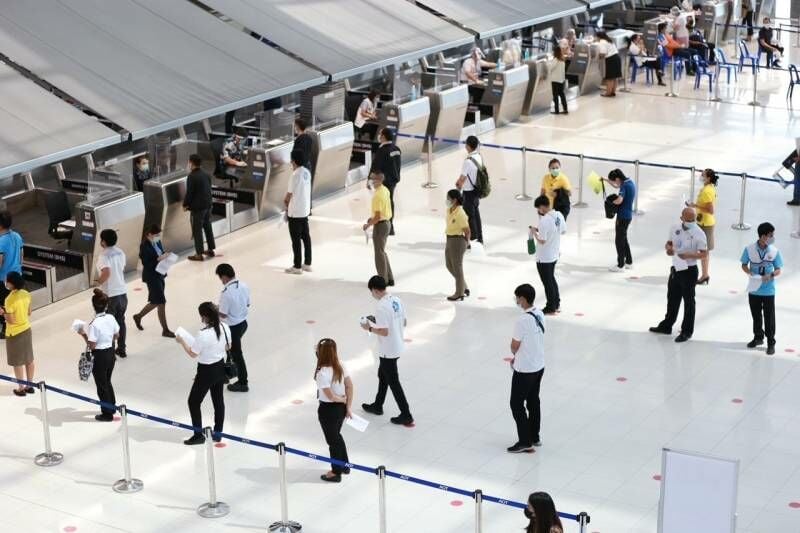 For Sunday the public health department have announced 2,302 new infections and 24 Covid-related deaths over the past 24 hours. There's now been a total of 101,447 infections and 589 deaths since the start of Thailand's tally on January 18, 2020. More than 64,000 are registered as 'recovered'.
• Starting Monday, restaurants in Bangkok, Nonthaburi (immediately north of Bangkok), Pathum Thani, and Samut Prakan (south east of Bangkok) will be allowed to offer dine-in services at 25% of seating capacity until 9pm.
Restaurants in other 17 Red Zone provinces will be allowed to stay open until 11pm without seating limitations. Restaurants in the other Orange Zone provinces will be allowed to resume "normal operations", though alcoholic beverages may not be served anywhere across the country. In the Red Zones, schools can open as normal with permission from local and provincial authorities. In the Orange Zone schools can open without permission but under the latest rules.
• The Office of the PM has dismissed as false online rumours that Her Majesty the Queen was infected with Covid-19.
The office urged people to monitor Covid-19 news from a reliable channel, such as the Facebook page of the Centre for Covid-19 Situation Administration.
• Chonburi and Chiang Mai are being removed rom the dark red zone, or maximum control area, due to an improvement in the Covid situation in those 2 areas.
"If this proposal is approved by the prime minister, there would only be 4 provinces designated as dark red zone, namely Bangkok, Nonthaburi, Pathum Thani and Samut Prakan."
Chonburi, with only 33 new infections yesterday, will be moved to the orange zone, or medium control area, joining 16 other provinces… Kanchanaburi, Chachoengsao, Tak, Nakhon Pathom, Nakhon Si Thammarat, Narathiwat, Prachuab Khiri Khan, Ayutthaya, Phetchaburi, Yala, Ranong, Rayong, Ratchaburi, Samut Sakhon, Songkhla and Surat Thani.
Phuket was also downgraded into the Orange Zone.
Want more from the Thaiger family?
📱 Download our app on Android or iOS for instant updates on your mobile
📧 Subscribe to our daily email newsletter
👍 Like/Follow us on Facebook
🔔 Subscribe to or Join our YouTube channel for daily video updates
Covid-19 mask violators in Phuket forced to exercise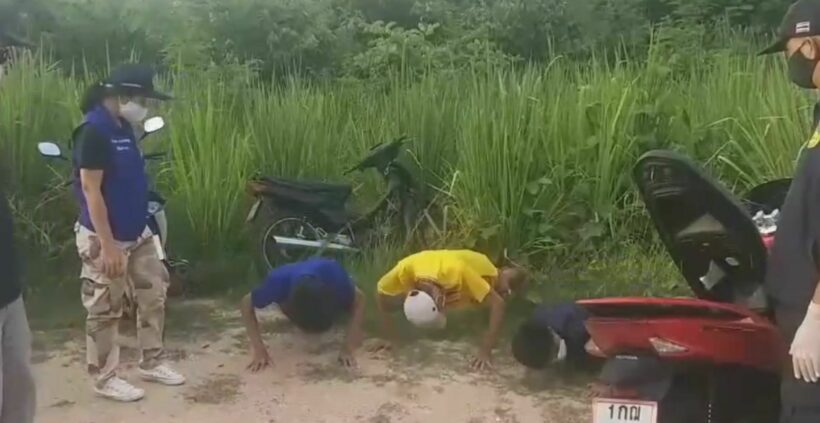 For those who have more pounds on their body than pounds in their pocket, exercise punishment seen in Phuket yesterday for mask violators may or may not be welcome. Officials have walked back the strict 6,000 baht punishment for the first warning against someone not wearing a mask and were spotted forcing those who have gone out without a mask to do exercise on the street.
The people forced to exercise were at a Covid-19 checkpoint in the Rawai subdistrict, where the Chalong Police along with local medical workers were checking people yesterday. The checkpoint was set up in an effort to push one hundred per cent mask compliance to stop the spread of Covid-19 on Phuket.
Not only were they checking everyone who passed by to make sure they had their masks, but also to correct those who were wearing their masks improperly. We've all seen the people who seem to think that a mask on their chin or underneath their nose is somehow just as effective as a properly worn mask, or at least that they can get away with "wearing a mask" while limiting their personal inconvenience.
Officials were quick to point out that the overwhelming majority of people passing through the checkpoint, both foreigners and Thai, did have their masks with them and were wearing them properly. But they did catch more than 10 people not wearing their face mask or not using them correctly.
Authorities decided to let them off with a first soft warning by moving bodies instead of moving baht. Police made violators do exercise right there on the street in hopes of shaming them into making better decisions next time. All violators did have their names and details taken down with a promise that if they were caught again proper traditional fines would be handed down.
No word yet on any plans to make this punishment into a Tik-Tok Channel.
SOURCE: The Pattaya News
Want more from the Thaiger family?
📱 Download our app on Android or iOS for instant updates on your mobile
📧 Subscribe to our daily email newsletter
👍 Like/Follow us on Facebook
🔔 Subscribe to or Join our YouTube channel for daily video updates
1,000 to 6,000-patient field hospital opened at IMPACT complex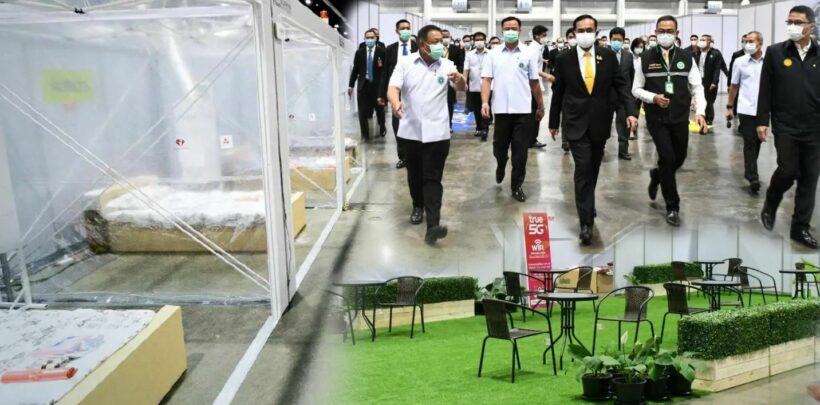 IMPACT Muang Thong Thani exhibition centre in Nonthaburi has just opened as a massive field hospital that will be supervised by the Public Health Ministry. PM Prayut Chan-o-cha, Public Health Minister Anutin Charnvirakul, and Interior Minister Anupong Paochinda were all in attendance for the launch yesterday.
Situated in the northern suburb of Bangkok, the huge commercial complex has ample space in a variety of buildings. IMPACT Muang Thong Thani houses on its grounds multiple exhibition halls, a convention centre, and an arena.
Operating under the name Bussarakham Hospital, the huge venues of IMPACT can currently hold 1,092 patients in its initial opening, but if needed there is room to expand to a max capacity of 4000 to 6,000 people. The public and private health sector collaborated to build and maintain the Covid-19 emergency overflow facility.
So-called yellow-coded Covid-19 patients, those who have slight to severe symptoms, will be the primary patients treated at the IMPACT field hospital. Emergency medical equipment like respirators are on hand in the event of a patient's condition worsening suddenly though. The hospital will employ a total medical staff of 780 people. 260 medical staff members will be on duty at any given time, working 3 shifts divided between the staff.
The IMPACT field hospital was set up in just one week with the help of all the involved partners. The Public Health Minister touted the success of the project, saying that it is set up to care for patients physical and mental needs with comfort.
"Apart from the treatment zone, the hospital also provides a relaxing zone where patients can stay watching movies and exercise under good ventilation all around the area while staying socially distanced."
Anutin also made a point to reassure area residents that converting IMPACT into a field hospital will not interrupt or negatively affect the local community.
SOURCE: The Pattaya News
Want more from the Thaiger family?
📱 Download our app on Android or iOS for instant updates on your mobile
📧 Subscribe to our daily email newsletter
👍 Like/Follow us on Facebook
🔔 Subscribe to or Join our YouTube channel for daily video updates