Sa Kaeo closes 19 Cambodian border checkpoints – Covid-19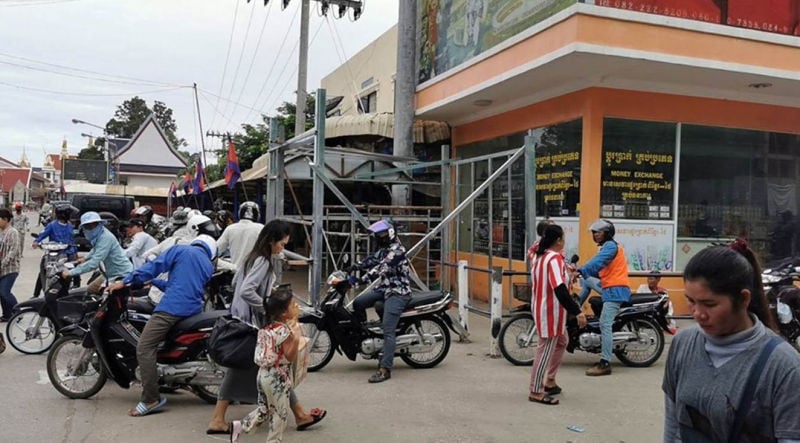 Despite denials only days ago, all 19 checkpoints in the eastern province of Sa Kaeo, two permanent and 17 temporary, along the border with Cambodia will be temporarily closed in a bid to stem the spread of the Covid-19 coronivirus. Thai health officials announced a new total of 599 cases. Read that story HERE.
The order, dated yesterday, signed by governor Voraphan Suwannus, is effective from Monday (tomorrow) until April 5.
Under the order, all persons and vehicles are forbidden to travel in or out through these checkpoints, with the exception of goods vehicles and pushcarts and their operators.
This morning from 10am, Voraphan, was scheduled to hold a meeting with Um Reatrey, the governor of Cambodia's Bantey Meanchey province, to discuss measures to prevent the spread of the coronavirus between the two border areas.
As of yesterday, 65 people in Sa Kaeo had been tested for the coronavirus. Of those, 47 tested negative, while 18 others were awaiting test results.
SOURCE: Bangkok Post
Keep in contact with The Thaiger by following our
Facebook page
.
Stranded migrant workers can stay and work in Thailand, for now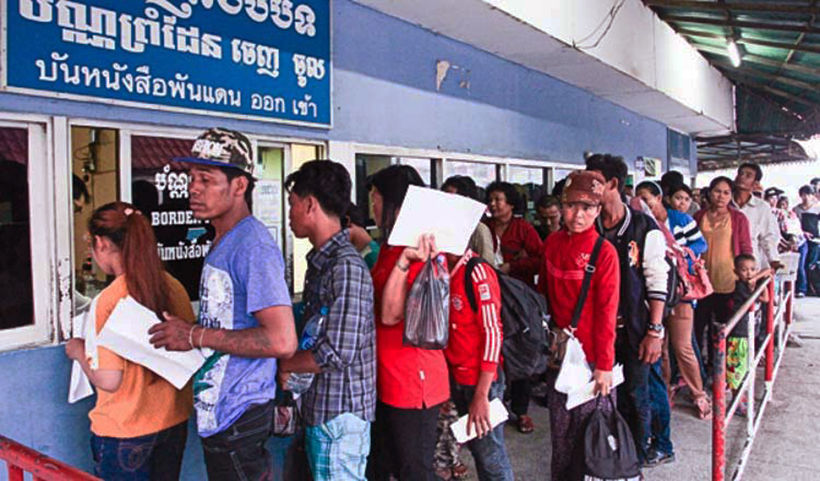 Today the Thai Labour Ministy is allowing stranded workers from Laos, Cambodia and Myanmar to stay and work beyond the expiration date of their work permits, due to the recent closure of their borders.
Labour Minister Mom Ratchawongse Chatumongol Sonakul says that the migrant workers are allowed to continue with their work until the borders reopen.
"This decision will benefit 108.586 migrant workers. They consist of 44,222 workers brought into the country to work for 4 years, based on memorandums of understanding with neighbouring countries, and 64,364 workers who hold border passes and work in border areas on a daily seasonal basis."
SOURCE: Bangkok Post
Keep in contact with The Thaiger by following our
Facebook page
.
Thailand closes many of its land borders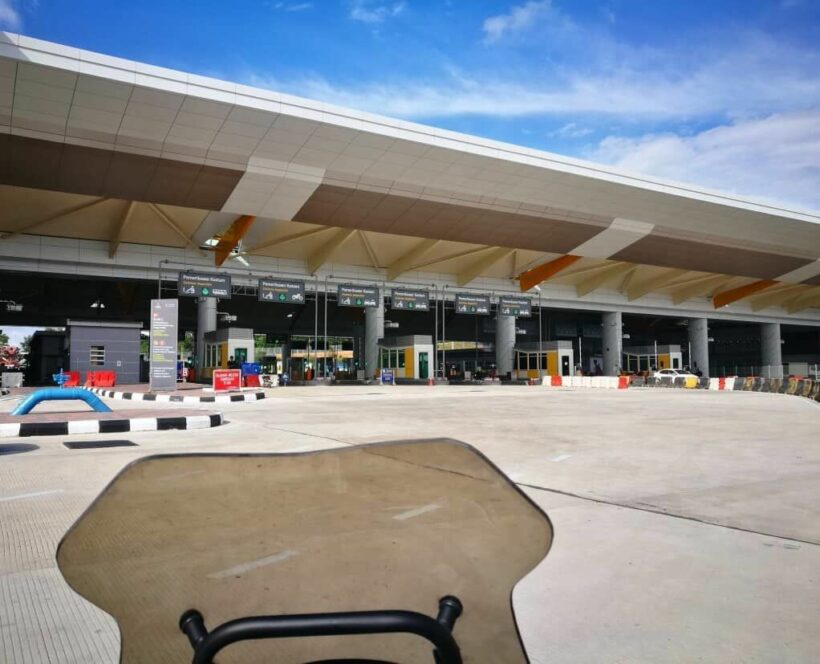 Interior Ministry, Anupong Paojinda, has given governors full authority to close all border provinces, but must leave one international checkpoint active for special circumstances. The move is the latest in Thailand's attempts to block any arrivals to contain the Covid-19 outbreak, which has spiked sharply with new cases this past week.
"The only exception will be Chiang Rai as it borders with Myanmar and Laos and will be allowed to maintain one checkpoint for each country for general trade purposes."
Key checkpoints to be temporary closed…
1. Thai-Mayanmar Friendship Bridge in Tak
Tak governor Anrasit Samphanrat, placed the order on Friday 20th that the closure of the first Thai-Myanmar Friendship Bridge as of today which will be closed until further notice.
The second Thai-Myanmar Friendship Bridge across the Moei River in Mae Sot district, which opened last October, will be the province's only checkpoint open to travellers.
2. The Phu Nam Ron and Three Pagodas passes linking Kanchanaburi and Myanmar will be shut from today to April 3.
Kanchanaburi governor Jirakiat Phumsawad, ordered the temporary closure of the Phu Nam Ron (the main crossing on the route to Dawei in Myanmar) permanent checkpoint in Muang district and the Three Pagodas crossing in Sangkhla Buri is the main pass connecting Sangkhla Buri and Payathonsu in Myanmar.
3. The Ban Khao Din in Sa Kaeo, which will be closed from Monday to April 5.
Sa Kaeo governor Woraphan Suwannus, has ordered three closures of Ban Nong Preu temporary checkpoint in Aranyaprathet district, Ban Ta Phraya temporary checkpoint in Ta Phraya district, and the Ban Khao Din permanent checkpoint in Khlong Hat district from Monday 23 to April 5.
Only the Aranyaprathet checkpoint will remain open to connect the country with Cambodia.
According to the Thai News Agency of the Public Relations Department, Mukdahan yesterday halted ferry service across the Mekong River to Savannakhet province in Laos until April 20.
Checkpoints with Malaysia were already closed for all intents and purposes after the Malaysian government locked down the country for two weeks from last Monday. Malaysia has reported 900 Covid-19 cases, the most in Southeast Asia. Read more HERE.
Keep in contact with The Thaiger by following our
Facebook page
.
Cambodia delays damming the Mekong for 10 years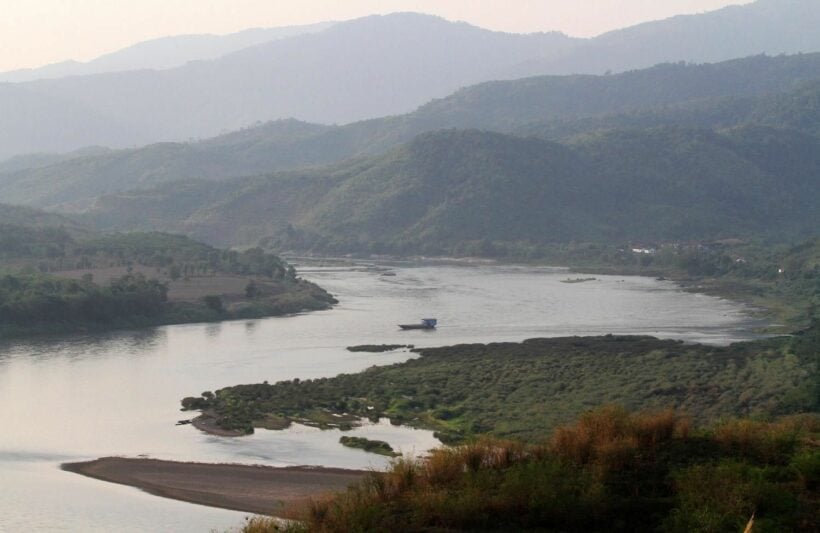 Cambodia announced yesterday that it will shelve developing new hydroelectric dams on the Mekong River for the next decade. A senior Cambodian official made the announcement as Cambodia reviews its policy to seek solar energy as well as energy from coal and natural gas.
The Mekong river sustains some 60 million people and flows through six countries… China, Myanmar (Burma), Thailand, Laos, Cambodia and Vietnam. Environmentalists warn that more dams in the system will harm fisheries and farming along the Lower Mekong (Cambodia and Vietnam).
Cambodia's decision makes neighbour Laos, which has opened two new dams on the Mekong in the past 6 months, the only country in the Lower Mekong Basin planning hydroelectric power.
The director general of energy at Cambodia's Ministry of Mines and Energy told Reuters the government is following a study by a Japanese consultant recommending that Cambodia source its energy needs elesewhere.
"According to the study, we need to develop coal, LNG, imports from neighbouring countries and solar energy. In this 10-year plan, from 2020 to 2030, we have no plans to develop a mainstream dam. "
Cambodia had previously announced plans for two dams, but both projects are now on hold. Across the border in Laos, power from the new Don Sahong dam, began flowing into Cambodia's grid in January.
A surge in demand was fueled by a construction boom accompanying Chinese investment last year gave Cambodia its worst power outages in years. Officials say the shortage were due to low water levels at hydropower dams, partly due to new Chinese dams upstream.
Cambodia currently uses hydropower for about 48% of its domestic electricity production, according to the state utility Electricite du Cambodge. With demand growing fast, Cambodia imported about 25% of its electricity last year. With the bulk of it transmitted from Vietnam and Thailand, according to the utility's statistics.
SOURCES – Chiang Rai Times | Reuters
Keep in contact with The Thaiger by following our
Facebook page
.