All time high – Thai drug smuggling in Thailand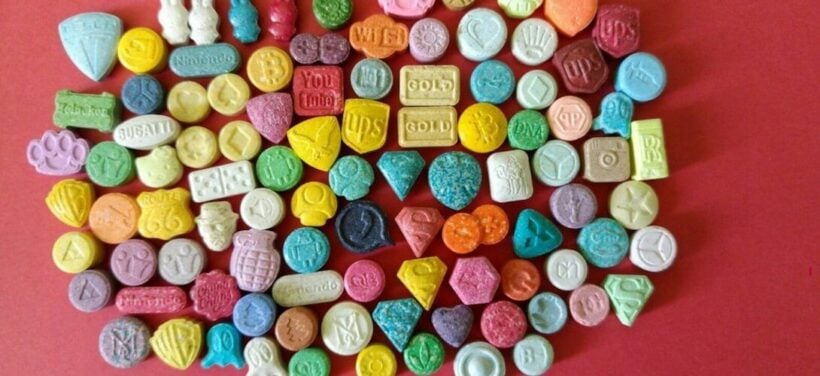 2019 was Thailand's worst year to date for smuggling of MDMA, commonly known as "ecstasy," mainly from Germany, Portugal, France, the Netherlands, Belgium and Slovenia. Thailand's Narcotics Control Board (ONCB) says that since October, many seizures were of ecstasy pills originating from drug syndicates in the Netherlands, indicating attempts to broaden markets in Thailand.
The drug gangs are now attempting to widen their network and distribute the drugs to more provinces, such as Phuket, Surat Thani, Bangkok, Pattaya City and Chon Buri. Last year authorities seized 230,544 ecstasy pills, known locally as "ya E," the largest number in five years. A total of 15 seizures in the past six months saw 20 suspects, 15 Thais and five foreigners, nabbed over new shipments.
"High demand for ecstasy among clubbers in large cities is a key factor in the large volume of the drug being smuggled into the country from Europe. The motive behind this exponential rise in ecstasy smuggling activities is a huge margin in the trade of this drug, which is several times higher than that of methamphetamine."
An important factor was big intervention improvements in the Thai postal services that were being abused by drug smugglers to distribute their illicit products
Aside from ecstasy use at night clubs, small ecstasy "raves" in apartments, especially rental apartments and rented condos, were also found to be popular among rich teenagers.
"Ecstasy remains a drug of the elite, the night club scene. We've seen it in the Thai and Southeast Asia market for years, but at modest levels because it is expensive for users."
"Because of the higher prices, ecstasy remains popular mainly with well-to-do club goers, which explains why ecstasy is commonly found in crackdowns at nightclubs involving suspects who are foreigners."
The illegal recreational drug is commonly used together with alcoholic beverages, especially beer.
"Part of the problem is that what is sold as ecstasy on the streets or in clubs in Thailand and Southeast Asia is sometimes different – sometimes methamphetamine mixed with ketamine, or meth and other drugs in dangerous combinations."
And authorities say the price of ecstasy pills is falling. The maximum price has dropped from 1,500 baht to 800 baht.
Ecstasy is one of those drugs that many people have heard of and several have tired, though the popularity for ecstasy has gone up and down over the years. It became very popular in the 70s and 80s as a party drug because it was legal. But when outlawed the popularity temporarily dropped as other drugs were easier to get. However, ecstasy use and abuse is growing once again. Technically speaking, any use of ecstasy is abuse as it was never intended to be taken as a party drug or one used to get high. Originally, ecstasy was for psychological warfare, then it was used to treat people through psychotherapy, but it quickly became a drug for fun as it lowered inhibitions.
As many know, original ecstasy had the chemical makeup of MDMA, but current ecstasy is far from this formula and contains little, if any, MDMA. However, the same effects are often felt through a mixture of other substances. Current day, street level ecstasy tends to contain some mixture of cocaine, LSD, heroin, amphetamines, methamphetamines, caffeine, rat poison, dog dewormer, and much more. Each maker or dealer places their own stamp on a small pill. This is almost a calling card for a particular dealer, area, or recipe and is usually something simple like an animal or symbol. However, even two pills with the same stamp could have different concentrations of the given ingredients as there is no testing for purity levels of illegal drugs. This is also what makes ecstasy so dangerous – The River Rehab
Classified as a Type 1 narcotic under Thai law, ecstasy has a strong negative impact on health, including the potential for severe dehydration, sudden kidney failure, accelerated heart rate, high blood pressure, spasms and sleep disorders. And because ecstasy also boosts libido, sexually transmitted diseases were found to be associated with unprotected sex among users of the drug.
Long-term use of ecstasy has also been linked with psychosis, as with other stimulants, which can cause hallucinations and heart failure in overdose cases.
Trafficking of ecstasy is considered a crime under the 1979 Narcotics Act, which carries a maximum penalty of death.
Police say drug syndicates from across Europe intend to expand their markets to Asian zones, which means drug dealers have to change smuggling methods often. This has resulted in a rapid spread of ecstasy pills nationwide. Drug gangs mostly smuggle drugs via delivery in parcels from international shipping operations.
With information sharing with international narcotics suppression agencies, including Germany and the Netherlands, authorities have cracked down on a large number of ecstasy traffickers, both Thai nationals and foreigners across Thailand.
Along with cracking down on ecstasy smuggling, seizing assets owned by the busted traffickers and their accomplices was a key measure adopted to enhance the performance of ecstasy suppression by the NSB and its partners.
SOURCE: Bangkok Post | The River Rehab
Keep in contact with The Thaiger by following our
Facebook page
.
Former deputy commerce minister faces charges over murder of Judge's brother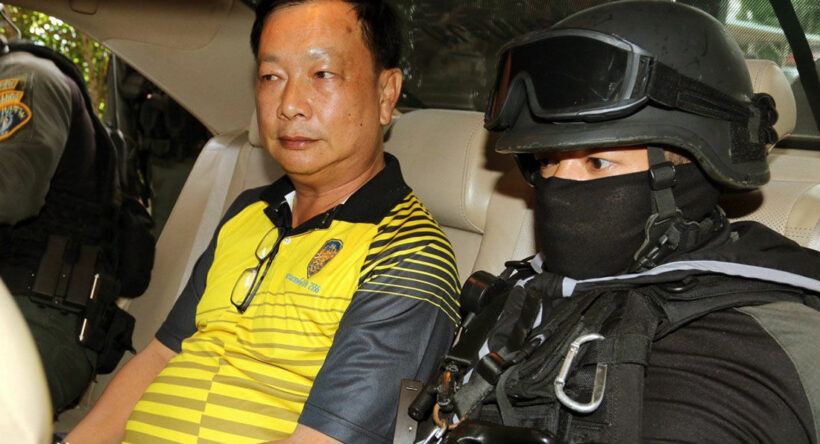 Former deputy commerce minister Banyin Tangpakorn, along with 5 other suspects, is facing charges from the Crime Suppression Division (CSD) relating to the killing of a senior judge's brother.
Deputy chief of the CSD Anek Taosupab, says investigators are planning to question Banyin in prison over the murder of Wirachai Sakuntaprasoet, (brother of Criminal Court senior judge Phanida Sakuntaprasoet).
Banyin is currently detained at the Bangkok Remand Prison, where he is serving time for forging documents to transfer 263 million baht worth of shares to two associates. The court found Banyin guilty of colluding with Kanthana Siwathanapol, a former golf caddie, and stockbroker Uracha Wachirakulton to transfer the assets of the late billionaire contractor Chuwong Sae Tang.
The suspects allegedly tried to force Judge Phanida to drop Banyin's charges in the share transfer case. The CSD say they have evidence, including forensic tests, to prosecute murder charge against Banyin and the five other suspects.
According to a report, Judge Phanida asked Wirachai to pick her up from work after she was assigned to hear Banyin's forgery case. When the victim arrived at the court, he was kidnapped and later killed. The case was then assigned to another judge, and the trial ended with Banyin sentenced to 8 years in prison for forgery.
Currently, Banyin and the suspects are facing charges of assault, abduction and threatening a state official.
SOURCE: Bangkok Post
Keep in contact with The Thaiger by following our
Facebook page
.
Burmese pair arrested at border for smuggling 16.5 million baht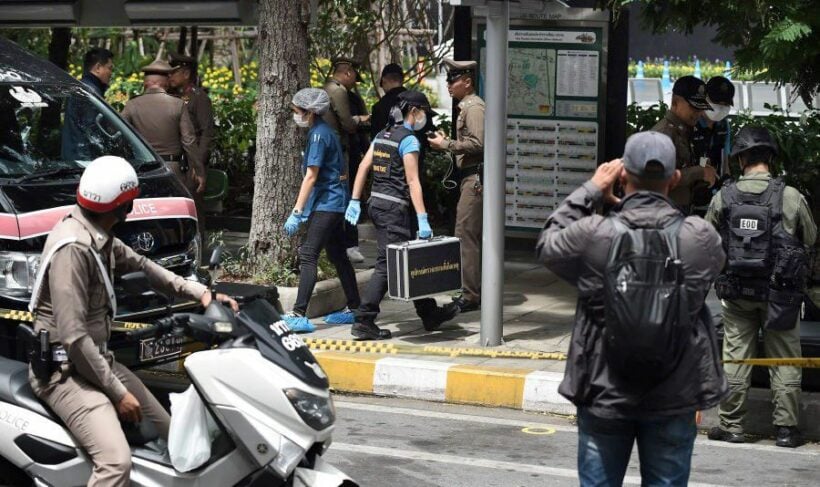 Police in the Tak province, northern Thailand, yesterday arrested two Burmese nationals for trying to smuggle 16.5 million baht in cash into Thailand. Authorities say the two, identified as 29 year old Ded Paioou, and a 24 year old woman called "Namitu" were arrested in tambon Tha Sai Luad, following a tip-off.
Officers say the pair were driving a pickup truck with Burmese licence plates and entered Thailand by the second Thai-Myanmar Friendship Bridge. Having passed through the immigration checkpoint, they headed toward Wang Ta Kean, a village about 200 metres from the customs checkpoint. Police then flagged the car down for a search.
The suspects had all the documents required for entry, but police found 16,500 1,000-baht banknotes in two black plastic bags in the car.
Police say the pair claimed they were going to deposit the cash at a Kasikorn bank in Mae Sot. Unfortunately for them, they couldn't prove they had an account with the bank.
The pair were charged with trying to bring Thai currency into the country without declaring it to customs.
The Central Investigation Bureau chief ordered police to take the suspects and the confiscated money to Crime Suppression Division 4, which is investigating where the money came from. Police say the Anti-Money Laundering Office was also asked to press an additional charge of money laundering against them.
The Burmese border is notorious for drug smuggling, as well as human trafficking activities.
SOURCE: Bangkok Post
Keep in contact with The Thaiger by following our
Facebook page
.
Over 100 arrested in Bangkok for illegal gambling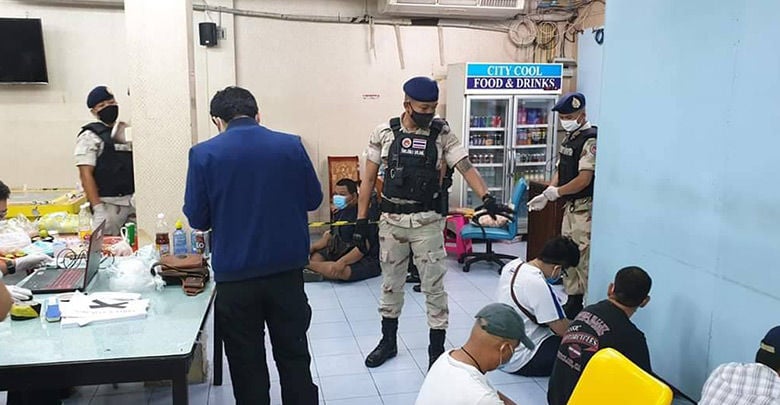 Too close and too many people. Over 100 have been arrested illegally gambling in a secret casino near the Nonthaburi Market.
The Department of Provincial Administration raided a casino in the greaterBangkok Metro Area's Nonthaburi province and discovered 200,000 baht in cash, Hi-Low boards and two gaming machines, along with 108 people, some estimates as high as 122, taking part in the illegal activity and ignoring the health and safety regulations of social distancing and refraining from large gathering during this emergency Covid-19 crisis.
The game of choice at the casino was Thai style Hi-Low which is played using a Hi-Low board with a dice shaker and two to three dice. The gambler will place their money on a number square from one to six. Once the dice are cast and the results come up, the winner then takes all, but more often than not, the house wins (surprise!).
The DOPA received a tip from locals in the area worried about lack of social distancing as a potential hot bed for the virus. The residents said, despite the Emergency Decree, curfew, and social distancing requests issued by the government, people were still coming to gamble every day.
When officials arrived at Soi Piboonsongkram 32, officers confiscated the gambling equipment and arrested all 108 before they had a chance to escape. All who were arrested along with the security officers involved in the raid will all remain in quarantine for the next 14 days.
SOURCE: Khaosod :Thai Residents
Keep in contact with The Thaiger by following our
Facebook page
.