PM asks cabinet for emergency decree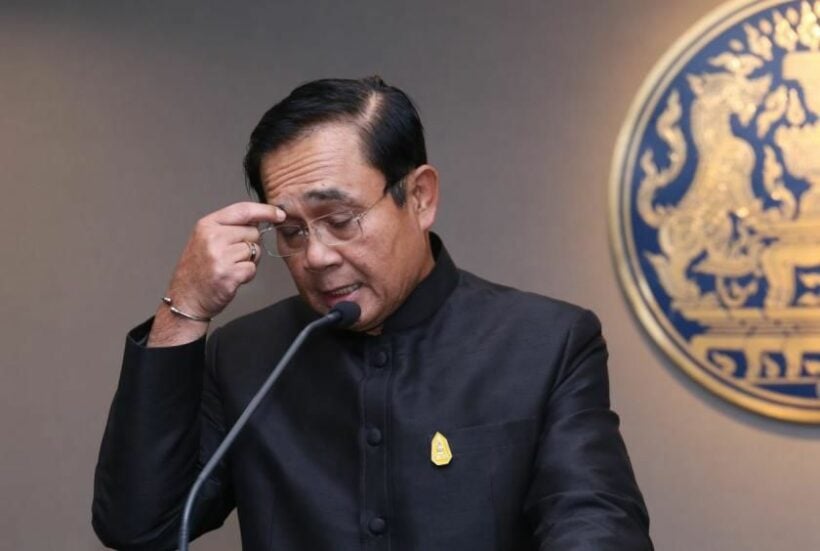 PM Prayut Chan-O-Cha formally asked the Thai Cabinet this afternoon for the declaration of a national emergency to help prevent the spread of the Covid-19 coronavirus in Thailand. The decree, which the Cabinet is currently discussing, will likely be enacted for a month. A decision is expected to be announced later today.
The decree would allow authorities to impose curfews, ban domestic travel and close any building without a warrant, and would give the government the ability to censor and shut down media if deemed necessary.
Proponents of the decree say it will help bring the situation under control, while critics fear the decree could be used to further the government's power and limit individual rights.
Prayut proposed the enactment of the 2005 Royal Decree of Emergency Situation during today's Cabinet meeting. If approved, the decree will be enacted from Thursday to April 30. A news conference is expected later this afternoon.
SOURCES: Khaosod English | The Pattaya News
Keep in contact with The Thaiger by following our
Facebook page
.
Hua Hin Immigration bedlam causes timeline of despair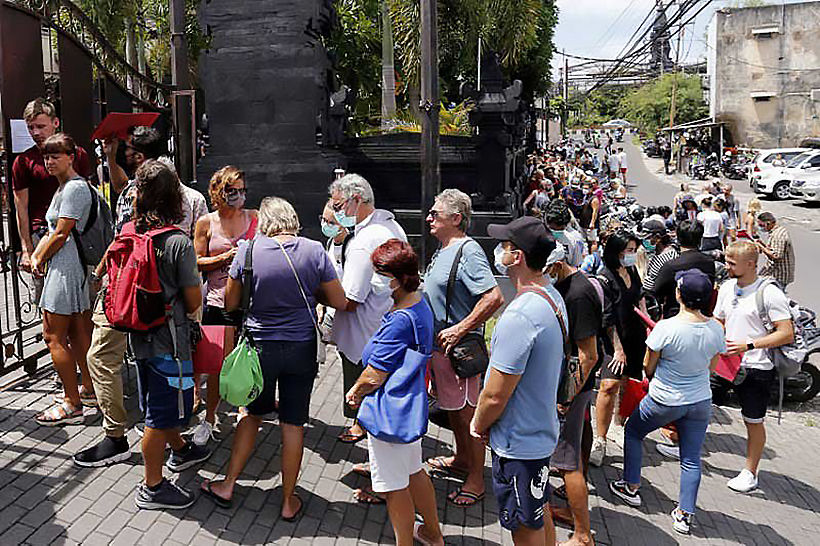 With the chaos caused by the Covid-19 coronavirus outbreak in Thailand – visa horrors, cancelled flights, sealed borders – many tourists and expats alike are feeling the pain. The situation is clearly just as difficult for many immigration offices and officials struggling with a dynamic and congested situation, and panicked customers. We salute the officers that are doing their best at this time to sort out the visa needs of most visitors. But one intrepid resident in Hua Hin has chronicled his trials and tribulations to The Thaiger in what we're calling the Timeline of Despair.
(The words are directly from notes sent to The Thaiger and include his personal opinions)
Day One 12:03pm
I'm (age hidden) and have lived and worked in Thailand for over 15 years. I'm between jobs at the moment and about to start studying Thai whilst on a break here. After waiting 3 hours to be seen I was refused a visa because I didn't have photos of the house I am living in. The lady who checked documents downstairs when I arrived said they might let me email them but the lady who just saw me said she can't check her email.
Day One 12:04pm
F@#king ridiculous esp when Phuket and some other immigration ask for nothing apart from the embassy letter. There's no consistency.
Day One 12:15pm
FYI I met a family of four (couple with two very young children) who were there for the third day in a row before each day immigration introduced a new requirement. They were having to pay overstay fines each day! Immigration are putting people's lives at risk unnecessarily.
Day One 12:17pm
I drove one and half hours here so now got to go home make those crazy photos and come back tomorrow again. I had all the other documents they asked for just in case I had to register (other documents) or whatever it is.
Day Two 10:45am
I came back to Hua Hin immigration today after being rejected yesterday due to not having photos of the house. Now they want even more documents including utility bills (but at least this time they said I can email them)! They only give 20 days by the way. I have to come back to immigration in 20 days to extend by a further 10 days! All because of covid-19! OMG… And it took over 2 hours to be seen despite being early in the blue queue! Amazing!
Day Two 10:49am
They have asked for the owner's death certificate too as the house owner died.
Whatever bureaucratic quagmire you might be wading through at the moment, The Thaiger certainly hopes it isn't as bad as this poor bloke's, and wishes you the very best of luck!
SOURCE: Facebook/The Thaiger Phuket
Keep in contact with The Thaiger by following our
Facebook page
.
Phuket reports 12 new coronavirus cases, all from Patong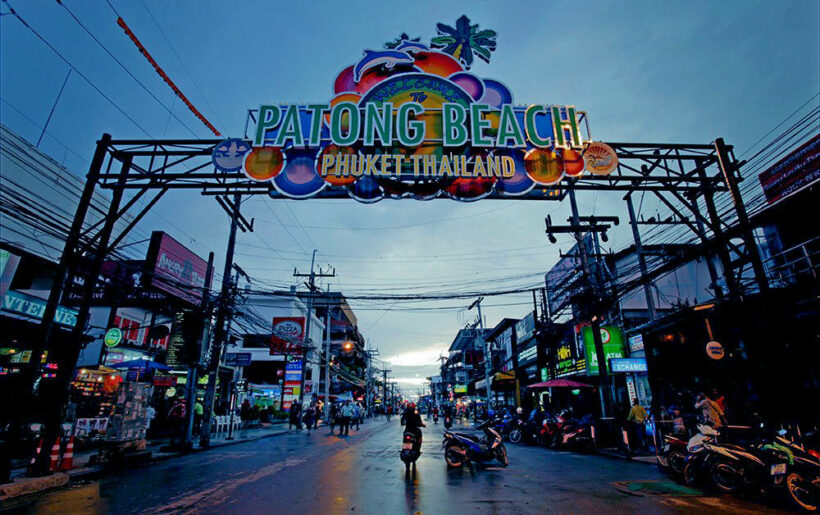 The southern island province of Phuket confirmed 12 new cases of the Covid-19 coronavirus today (Thursday), bringing the total on the island to 87. All appear to have originated in the island's Patong area, most from the Bangla Road red light district.
The town of Patong was placed on unofficial curfew yesterday as its governor issued a public decree urging residents to stay in their home at all costs, and promising delivery of necessities to those in need to keep them from venturing out.
The details of the new cases are…
Case 76: A 28 year old Thai woman, a restaurant owner in Patong. she has a history of contact with foreigners and visiting Bangla Road. She fell sick on March 20, 1 contact is considered at risk and is being sought by authorities.
Case 77: A Swedish woman, aged 52, a tourist who came to Thailand with her husband on March 13. She has history of visiting Bangla road, although she stayed a hotel in Karon. She became sick on March 21, 2 contacts are at high risk.
Case 78: A 26 year old Thai woman, a waitress in Patong who had close contact with foreigners and visited Bangla Road. She got sick on March 21, 2 contacts are at high risk.
Case 79: A 37 Russian woman, a tourist in Patong for more than a month. She has an alleged history of partying in Bangla Road and had contact with case 49, a Ukranian man. She became sick on March 20 and 1 other person is at high risk.
Case 80: A 30 year old woman from Kazakhstan, also a tourist in Patong for more than a month, who also had contact with case 49. 1 person is considered at high risk.
Case 81: A 48 year old Thai woman, masseuse in Patong at the same massage shop as cases 32 and 62. She fell sick on March 22 and 6 people are believed to be at high risk
Case 82: A 39 year old Thai man, a worker in a phone shop in a Patong mall. He has a history of close contact with foreigners and visited Bangla Road. He got sick on March 22, 7 people are at high risk.
Case 83: A 37 year old Thai woman, worked in the same Italian restaurant, as cases 59 and 60. High risk contacts total 15
Case 84: A 36 year old Thai man, a chef in Italian restaurant, who became sick on March 30. 12 people are at high risk.
Case 85: A 51 year old Thai woman, a waitress in same restaurant. She fell sick March 25, 13 people are thought to be at high risk.
Case 86: A 30 year old Thai man, a chef in same Italian restaurant, who got sick on Tuesday. Contacts at high risk number 13 people.
Case 87: A 32 year old Thai woman, a tour guide who had contact with a group of friends in Bangla Road. She got sick on sick on March 24, 5 people are at high risk.
Phuket has effectively sealed its borders by land and sea, and will close its airport on April 10 to all flights.
SOURCE: Ministry of Public Health
Keep in contact with The Thaiger by following our
Facebook page
.
Thailand's food delivery services are booming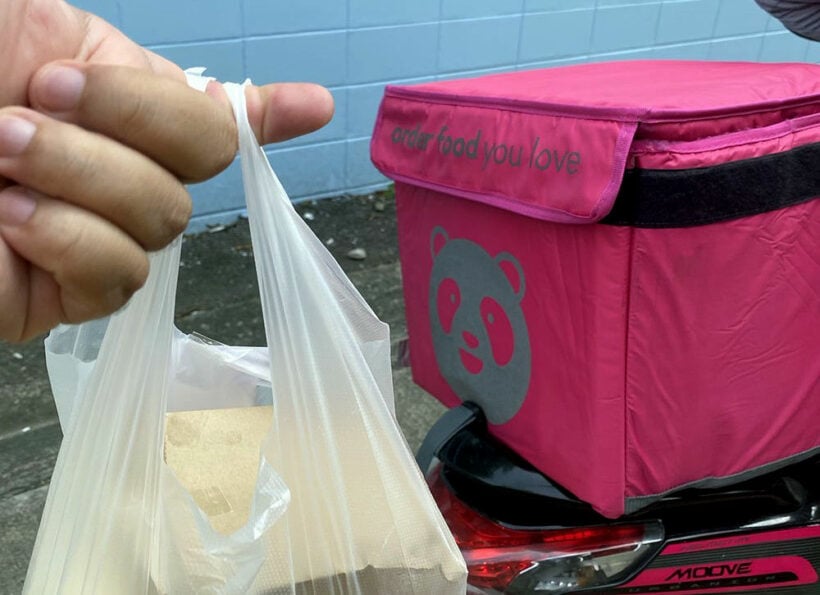 Whilst most businesses have been turned upside down by the disruptions caused by the Thai government's reaction to Covid-19, along with enforced closures, at least one business is booming at this crazy time. With restaurants closed to sit-down customers, the delivery services are providing a valuable service getting food to customers stranded at home whilst applying social distancing for the safety of their drivers and hungry customers.
Food delivery services are among the few local businesses that will not only survive but thrive throughout the outbreak in Thailand. Last year Kasikorn Bank Research reported that Thailand's food delivery business in 2019 was worth 33-35 billion baht, up 14% from the previous year. You can bet it's growing even faster now, some reporting rises of up to 100% in the past few months.
A ban came into affect on March 26 preventing people going out and sitting down for meals at restaurants. But restaurants have been able to provide take-away services and many either have their own delivery services or use the network of delivery apps like Food Panda or Grab Food to provide ordering and delivery services.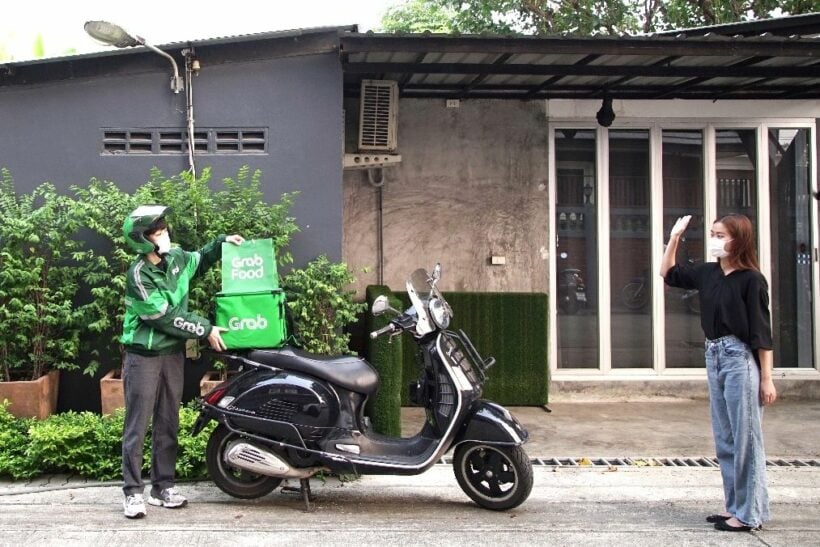 A 43 year old Grab Food driver says that he's been doing up to 15 deliveries over a 2 hour period. He's been doing deliveries for about a year. He noted that the demand for deliveries has surged during the recent disruption. He works mostly around Bangkok's Pattanakarn area.
"Of course, I'm scared of catching Covid-19, but I have to make a living, so there is no choice left for me. I just wash my hands many times a day and try not to get too close to other people," he told Bangkok Post.
35 year old Jakkrit Kamwan also works for GrabFood…
"The number of orders has doubled since the government invoked the emergency decree. I don't think I am at high risk of contracting it because I don't touch or talk to people when running orders."
Last week GrabFood introduced the "contactless delivery" to ensure the hygiene and health of customers during the Covid-19 crisis. Tarin Thaniyavarn of Grab Thailand says, "Grab has been closely monitoring the Covid-19 situation and is prepared to execute any necessary measures to promote safety standards for everyone involved."
GrabFood and its restaurant providers use these safety guidelines…
Drivers will be wearing face masks as they follow customers' directions via an in-app chat as to where to deliver their order.
Safety guidelines in food preparation and packaging.
Customers are advised to make payments via GrabPay to reduce the transmission risk.
29 year old Pongsatorn Chuaychart, who works for LINE MAN, said its no-contact policy helps to encourage customers who might be reluctant to use a food delivery service for fear of being infected.
"Even more, it make those carrying out the deliveries feel protected. But I'm also taking my own precautions. I plan to keep delivering as long as orders keep coming in. People still have to eat."
Others industries that are thriving though this really difficult time are the medical industry, medical supplies, hygiene sanitary services and supplies, life and health insurance policies, food packages and digital technology. People are also spending a lot of time online searching for accurate news and information.
SOURCE: Bangkok Post
Keep in contact with The Thaiger by following our
Facebook page
.