Newborns get extra protection with mini-face shields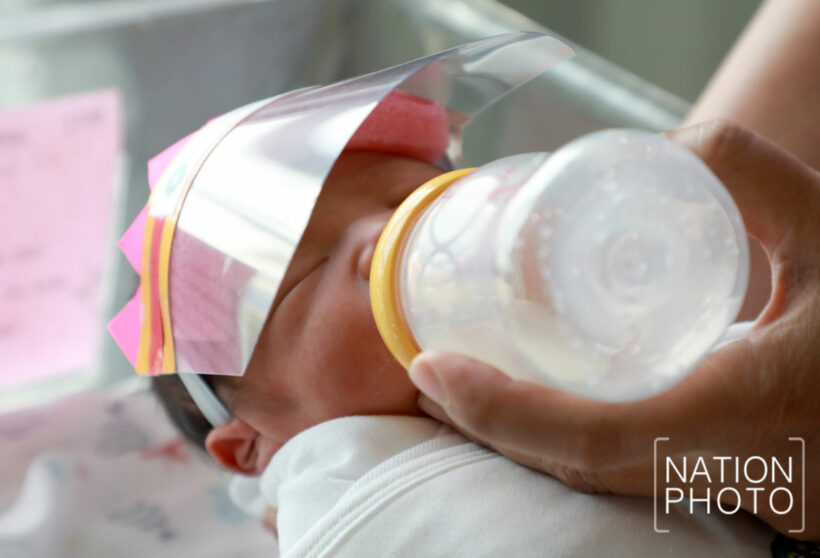 Bangkok health care professionals have come up with protective face shields for newborns to prevent infection to the most precious among us.
Parents understand the challenge of asking a toddler to wear a mask. (Just take a trip to Tesco while you still can and notice "the couple," protected head to toe in what looks like a sponsorship deal from 3M, but their toddler, completely exposed.
Face masks can be uncomfortable and annoying but more-so when we are too young to understand the protection they can provide to ourselves and others. Did we mention they are in short supply?
Face shields on the other hand, are far less cumbersome and difficult for little hands to peel away.
This ease of wearability has inspired the wonderful health care workers at Prince Suvarnabhumi Hospital. They are taking the lead making adorable miniature face shield for every baby in the maternity unit, to protect them when relatives and others come to visit them and their mother.
SOURCE: Nation Thailand
Keep in contact with The Thaiger by following our
Facebook page
.
Gyms, fitness centres to reopen tomorrow nationwide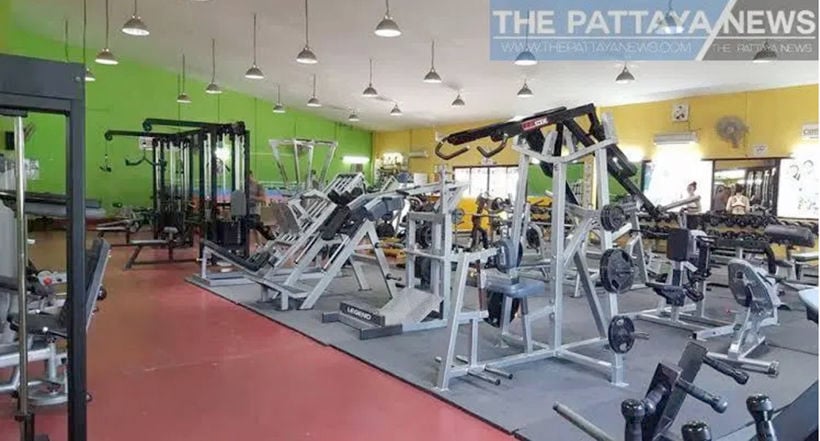 As tomorrow marks the beginning of Phase 3 of the easing of Covid-19 lockdown measures, many catgories of businesses will be allowed to fully reopen, though health and social distancing restrictions will remain in place. Fitness centres, including in malls, are included in that list.
The reopening will include many new rules and regulations designed to stop the potential spread Covid-19. Nearly all gym equipment will be allowed for public use, not just free weights as in Phase 2, but will require disinfecting and sanitising after every use. Previously, some gyms had been allowed to open but permitted only free weight lifting and no other equipment. Gyms in malls were not allowed to reopen in the prior phase.
Masks will be required in gyms and fitness centres at all times.
Large group classes and group activities are still prohibited. Only limited slots in small group sessions and classes are permitted.
Temperature checks and signing in and out through the Thai Chana government tracing app is required. Hand sanitiser must be made available throughout the fitness centre.
Staff have been instructed to strictly limit the number of people entering gyms and fitness centres and to encourage social distancing and discourage socialising and chatting.
Patrons should also bring their own towels, in line with government regulations. Strict rules around lockers and showers will also be in place.
Not every fitness centre will be reopening tomorrow as the decision is made by individual venue management. Your neighbourhood gym may remain closed.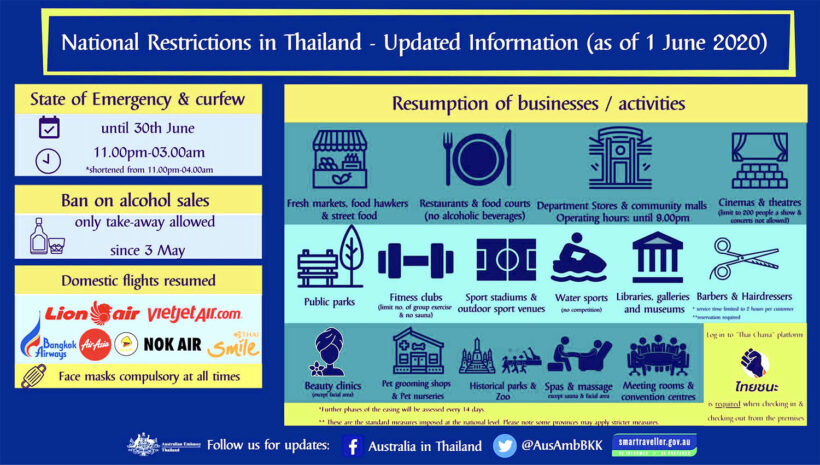 Other categories of businesses being allowed to reopen include fresh markets, pet grooming and pet nurseries, sports stadiums and outdoor sports venues, and no doubt to the relief of many, massage shops. Health and social distancing measures will be in force in all newly reopened venues.
SOURCE: The Pattaya News
Keep in contact with The Thaiger by following our
Facebook page
.
13 return from South Korea with high fever, rushed to quarantine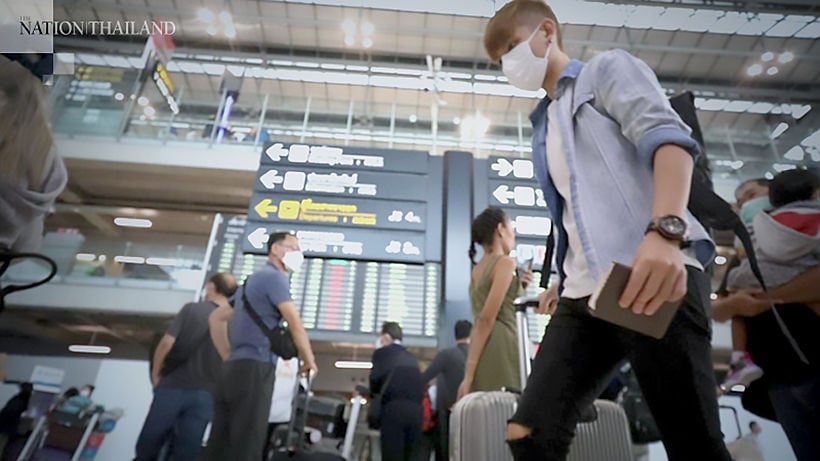 A Korean Airlines flight arrived at 9:25pm yesterday at Suvarnabhumi Airport bringing 194 Thais from South Korea. Screening officers found 13 of the passengers with high fever and immediately sent them to hospital. Most of the rest took a bus to a 14 day state quarantine area according to state measures, while 18 went to "alternative state quarantine" at a designated hotel.
Thailand reported just 1 new Covid-19 case yesterday, a 19 year old student who returned from Saudi Arabia and was in a state quarantine facility. 4 cases were reported today, bringing the national total to 3,068 since the beginning of the outbreak. Of those, 2,963 have recovered and gone home, making Thailand's recover rate 96%. No deaths have been reported in several days and the toll has remains at 57.
SOURCE: Nation Thailand
Keep in contact with The Thaiger by following our
Facebook page
.
Thailand's Covid-19 cases (May 31)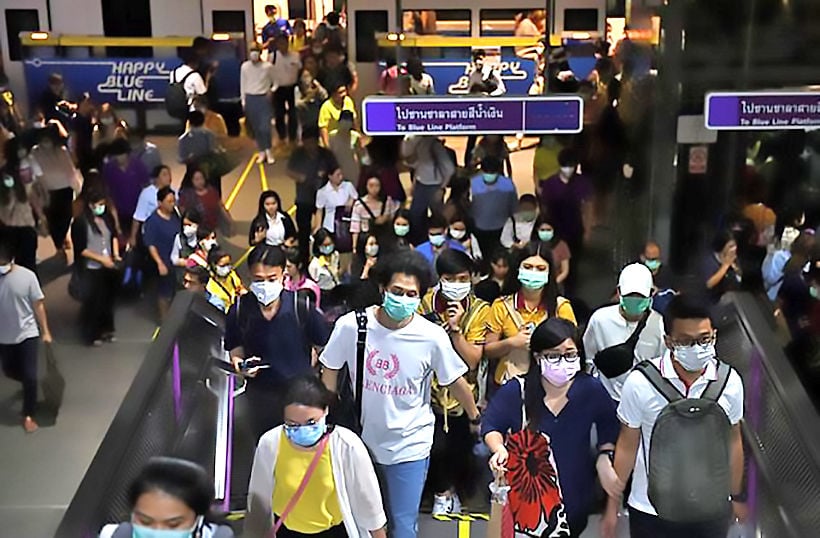 Dr Panprapa Yongtrakul, weekend spokesperson of the government's Centre for Covid-19 Situation Administration, told this morning's press briefing there were 4 new Covid-19 cases but no deaths over the previous 24 hour period. The total number of Covid-19 cases rose to 3,081 since the outbreak began: 2444 domestic cases and 637 returnees from abroad.
The 4 new cases were all diagnosed while in state quarantine…
• a 37 year old masseuse returned from the United Arab Emirates on May 24 and was found to be infected on May 29 after she experienced difficulty in breathing and other symptoms
• 2 of the new cases were asymptomatic male students aged 18 and 19 who returned from Turkey and were in state quarantine in Chon Buri province
• the fourth case is a 22 year-old asymptomatic male student who returned from Saudi Arabia on May 21 and was found infected on May 29 in state quarantine in Narathiwat province, bordering Malaysia.
Meanwhile, 2 people have fully recovered and returned home.
As of today the total number of confirmed cases in the country stands at 3,081, with just 61 still under treatment. 2,963 have recovered and been discharged, leaving the recovery rate at 96%. There have been 57 deaths.
Globally, the total number has passed 6 million confirmed cases with around 370,000 deaths.
SOURCE: Nation Thailand
Keep in contact with The Thaiger by following our
Facebook page
.