New Covid-19 specialist hospital to open as Thai government steps up response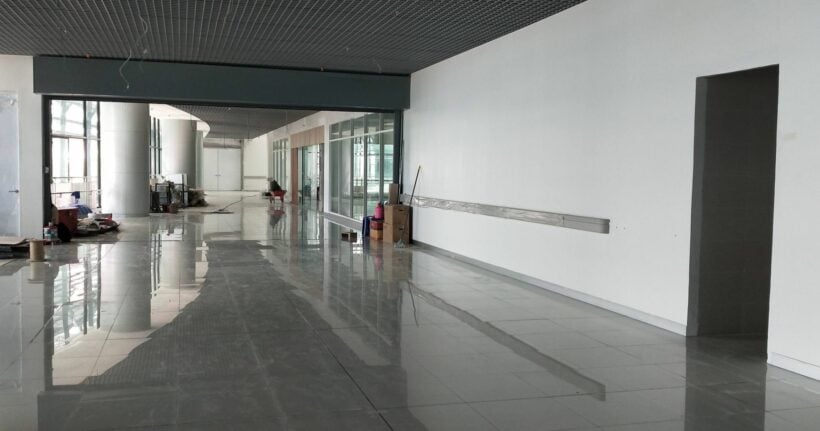 The Thai government plans to use a freshly constructed hospital as a Covid-19-only patient hospital. Yesterday the number of infections in Thailand rose by 32 cases for a total of 114, the largest single rise in new daily cases. The Thai PM was speaking about the possibilities of moving to Stage 3 after chairing a meeting yesterday on new measures to prevent the spread of the coronavirus.
"The government will spend all the resources we need in the fight against Covid-19."
Stage 3 is where people, including those with no previous trips to virus-hit countries, become infected with the disease. PM Prayut says, if widespread community infections breakout, a dedicated hospital would be needed. He referred to a new 100 bed hospital which is yet to open.
The new facility is the Bang Khun Thian Hospital in Bang Khun Thian, south west of the main city on the Gulf of Thailand, to treat Covid-19 patients. The 2 billion baht hospital was originally planned as a specialist geriatric hospital.
The PM also announced that officials are preparing other hospitals across the capital for Covid-19 patients with less severe symptoms, including the Royal Thai Airforce Hospital, Sirindhorn Hospital, Golden Jubilee Medical Centre and the Chakri Naruebodindra Medical Institute in Samut Prakhan.
State agencies are also on alert to be fully prepared for a worst-case scenario of a community viral outbreak.
"Those involved in security must think whether they need to enforce new legal measures to cope with the situation. It's easy to announce them, but we also need to gauge their impact," the PM was quoted in Bangkok Post.
"Bar and entertainment venues may need to be temporarily closed after recent cluster infections involving people drinking together in a bar."
"Officials will first opt to seek the cooperation from pub owners but all must be closed if necessary."
The PM also addressed public concerns over the shortages of face masks and the cost of disease treatments.
"The government is checking the total amount of face masks, both domestically produced and imported, to make sure everyone can get access to them. Officials are also developing alternative masks or washable cloth masks, for people who are less exposed to the disease."
"We're also applying UCEP (Universal Coverage for Emergency Patients) to Covid-19 patients."
UCEP, the Thai universal public health system which covers all Thais and working foreigners (with a valid work permit) has listed Covid-19 as an emergency case enabling patients to seek treatment at their nearest private or state hospitals free of charge in the first 72 hours.
At present, people who suspect they may contract the virus are subject to medical bills ranging between 6,000 and 7,500 baht.
(Your personal situation with medical coverage from the UCEP or private health insurance should be checked to ensure that you don't have any unpleasant financial surprises if you were to become infected)
SOURCE: Bangkok Post
Keep in contact with The Thaiger by following our
Facebook page
.
15 minute coronavirus tests now on trial in Thailand – VIDEO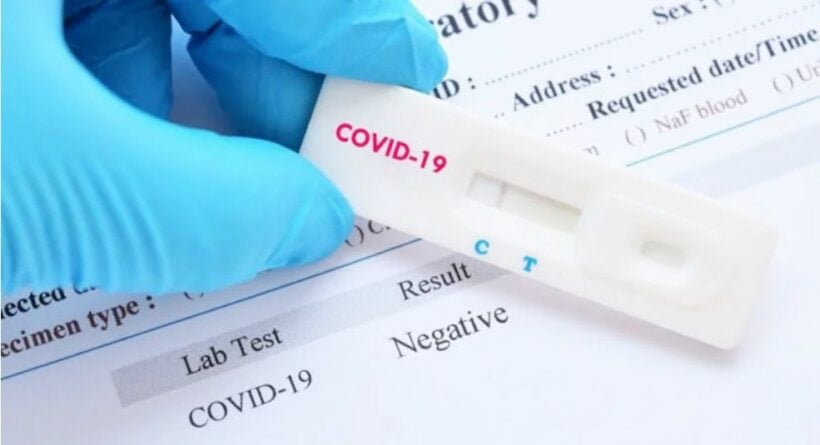 As promised, Bangkok's Chulalongkorn University has rolled out a new 15 minute Covid-19 coronavirus test strip, aimed at increasing the number of people that can be screened for the Covid-19 virus and easing the burden on Thailand's health system.
Virus infections rose sharply in March, with panicked citizens flocking to already stressed hospitals for coronavirus testing. The situation is expected to worsen, particularly outside of Bangkok, as people headed back to the provinces in a mass exodus 10 days ago.
At present, doctors rely on "polymerase chain reaction" tests from nasal and throat swabs to detect the illness. The demand for the PCR test means kits are in short supply and results can take up to 4 days.
The new rapid strip tests detect antibodies (IgG & IgM) in the blood serum or plasma which could indicate that a patient either currently or previously had Covid-19. It works with a drop of blood and gives a first positive or negative result in 10 – 15 minutes.
SOURCE: Sky News
Keep in contact with The Thaiger by following our
Facebook page
.
Bangkok police arrest 6 Vietnamese in mask hoarding sting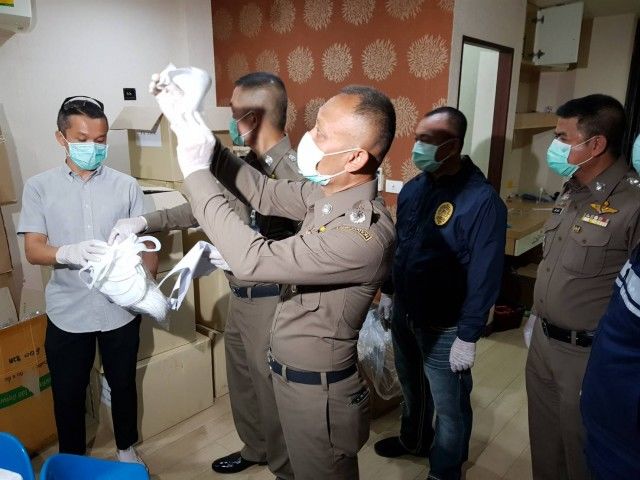 Immigration police yesterday arrested 6 Vietnamese nationals in a sting operation, for allegedly hoarding hand sanitiser and facemasks. The items are highly prized due to the current Covid-19 coronavirus situation. They were arrested at a house in Bangkok's Suan Luang district.
Police reportedly found 142,500 face masks and 12,000 bottles of hand gels, 13 barrels of alcohol, three gel making machines, two pistols, and a small amount of methamphetamine and MDMA more commonly known as "ectstasy."
"We organised a sting to buy a carton of face masks from the suspects at 32,500, or 15 baht per piece, and arrested them in Pattanakarn Soi 29."
"We investigated their place of operation at house No 141/437 in the same soi. The house was modified to be a travel agency office registered under the name An An Bangkok Travel Company," Sompong said.
The suspects included two women… 39 year old Tran Tui An and 34 year old Nguyen Ti Hwian, and four men… Ho Tai Duon, aged 35, 35 year old Nguyen Van Hung, 34 year old Huong Sian Sung, and Nguyen Dui Nam, aged 32.
Tran Tui An, the listed owner of the company, told the police she had opened a tour guide company about 7-8 months ago but business was down due to decreasing tourist numbers, so she contacted her friend in Vietnam to import face masks and sanitiser gels to sell in Thailand.
The suspects face several charges, including hoarding controlled goods, selling controlled products at inflated prices, possessing drugs, possessing firearms without licence, and working without a permit.
SOURCE: The Nation
Keep in contact with The Thaiger by following our
Facebook page
.
Coronavirus UPDATE: Bangkok NOT being locked down, sobering forecast for US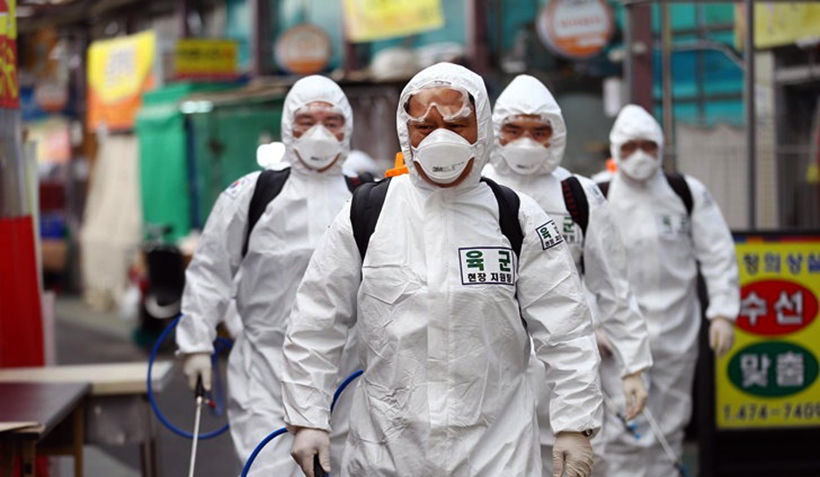 Across the world the total number of Covid-19 cases has reached 858,000 (8am Thai time), registering 42,114 deaths and 177,141 people fully recovered. In the US, the number of cases has reached 187,729 – nearly 24,000 new cases in the past 24 hours and 726 people dying over the past day. Here is our page for all the latest Covid-19 news, 24 hours a day.
Italy and Spain have also had similar daily spikes in new cases and deaths as Europe struggles to 'flatten the curve' of the steep rise in cases. Here are the stats from the top 10 countries in the world (the statistics are only an indication and rely on full reporting and vary because of regional testing). worldometers.com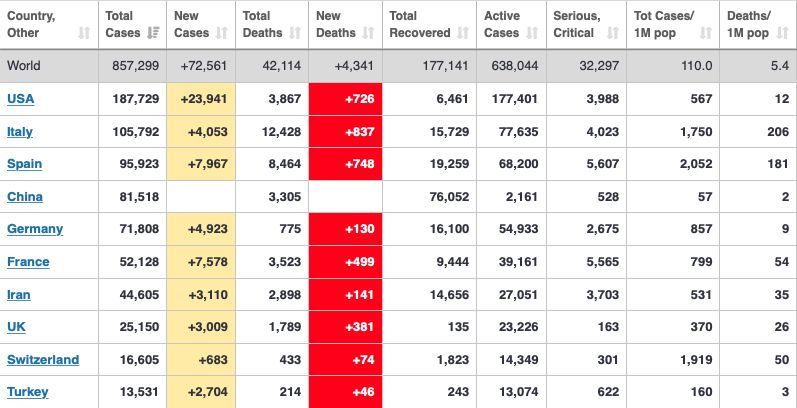 Here are some snippets of coronavirus news from around the world…
THAILAND
In Thailand, the Department of Disease Control of the Ministry of Public Health confirmed 127 new Covid-19 coronavirus cases in its daily press briefing yesterday. 1 more death was also reported, bringing the national total to 10 since the outbreak began in January. The latest number raises the total number of confirmed infections in Thailand to 1,651.
Meanwhile the Thai government is reported to be mulling the following possible additional preventative measures although NONE of these have been actioned at this stage.
• considering banning alcohol sales (there have been partial bans of sales in some provinces already)
• considering cutting all public transport services
• considering preventing people from moving between provinces
• considering extending the emergency decree by 2-3 months
BANGKOK
Bangkok's city hall has dismissed as false reports that it is announcing a full lockdown to keep city residents in their home. Pol Capt Pongsakorn Kwanmuang from the Bangkok Metropolitan Authority says that the rumours of a full lockdown could have been triggered by mixed messages from a meeting of BMA executives on Monday. He says that no further measures have been tabled or proposed at this time.
"The BMA executives didn't discuss any further lockdown measures at the meeting."
UK
A 13 year old boy in London is thought to be Britain's youngest known victim of the Covid-19 virus. The teenager died at the King's College Hospital in Camberwell, south London. The hospital statement expressed its "thoughts and condolences" to the boy's family.
"Sadly, a 13 year old boy who tested positive for Covid-19 has passed away, and our thoughts and condolences are with the family at this time. The death has been referred to the Coroner and no further comment will be made."
ASIA
The Covid-19 pandemic is "far from over" in Asia, according to a regional spokesperson for the World Health Organisation, Tarik Jasarevic.
"China has slowed transmission of the virus and passed one peak in the outbreak. The challenge now is to prevent a resurgence of new cases. This is going to be a long-term battle."
China and South Korea have both delayed key national college entrance exams over growing fears of a second wave of coronavirus cases, underlining the difficulties countries face in returning to normal life even after successfully reining in infections.
SOUTH KOREA
South Korea, which was one of the first countries outside China to show a breakout of coronavirus cases, has now "flattened the curve" of new cases. The country how adds an average of 100 new cases a day. South Korea has postponed its annual college entrance exam and cancelled the planned reopening of schools. There are still groups of cases in churches, hospitals and nursing homes flaring up with other cases coming across the country's borders, according to officials.
UK
Police in the UK have come under fire for some over zealous reaction to the requests for social distancing in Britain – drones filming couples as they take their dogs for a walk through country areas, drivers sent to court after being spotted on the road, person warned publicly on a Twitter feed for dropping in on his father's 78th birthday. Police have also put black dye in a picturesque lake at Harpur Hill in Buxton to stop people going there to take photos.
There is growing concern in the UK around draconian tactics and alleged "overreach" by police forces since the PM Boris Johnson (who remains confined in his home after testing positive last Friday) announced lockdown measures on March 23.
US
America's top scientists battling the coronavirus have estimated that Covid-19 could be responsible for killing 100,000 to 240,000 US residents, despite social distancing measures that have closed schools, banned large gatherings, limited travel and forced people to stay at home.
Dr. Anthony S. Fauci, the country's leading infectious disease expert, and Dr. Deborah L. Birx, coordinating the coronavirus response on behalf of the US government, presented the grim projections at a White House briefing yesterday. They described the projections as "our real number" but pledged to do everything possible to reduce it as the US President solemnly watched on.
Dr. Fauci and Dr. Birx say the number of deaths could be much higher "if Americans did not follow the strict guidelines vital to keeping the virus from spreading". The models shown at the over-2-hour media conference showed that more than 2.2 million people could have died in the US if nothing were done to try to stop the spread of the virus. President Trump echoed that message saying that now is not the time to relax.
MALAYSIA
The Malaysia government's orders to stay-at-home has prevented major daily spikes in coronavirus infections, according to optimistic government projections yesterday. But the World Bank continues to warn that the trade-reliant country's economy will shrink this year for the first time in more than a decade.
Malaysia recorded 140 new coronavirus cases and six deaths on Tuesday, taking the total number of infections to 2,766 with 43 fatalities. Nearly half of its infections are linked to a religious gathering held late last month.
The country, reporting the highest number of cases in south east Asia, has imposed month-long restrictions on travel and non-essential business that run until at least Apr 14.
Keep in contact with The Thaiger by following our
Facebook page
.