Covid-19 testing units to be stationed along Thai-Myanmar border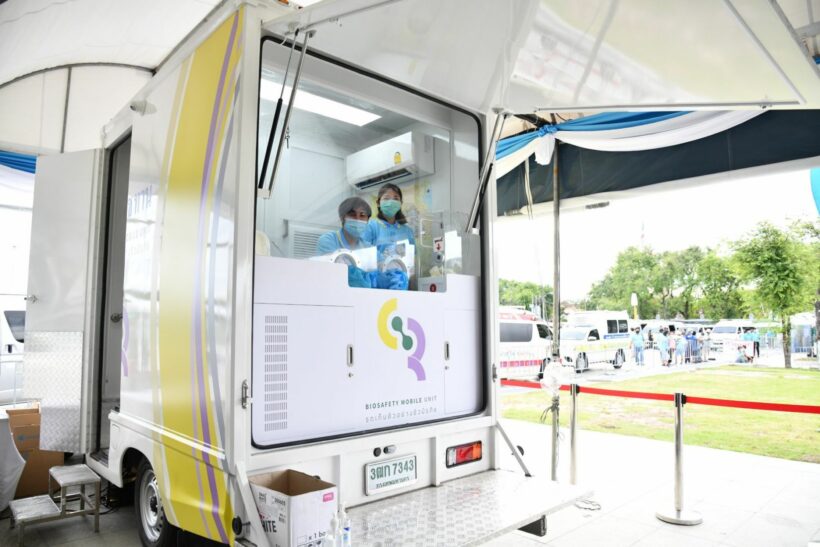 In an effort to prevent a second wave of Covid-19, mobile testing units are being sent out to areas along the Thai-Myanmar border following a surge of cases in the neighbouring country.
The Biosafety Mobile Units will be run by medical volunteers along with help from local doctors from the Department of Disease Control. The 13 units will have laboratory equipment to collect samples from those who might be at risk of catching the virus. Photos of the units show a medic behind a window. Glove attachments allow the medic to conduct a swab test.
Medics will also test migrants who are found entering Thailand illegally. Those who have recently crossed the Thai-Myanmar border are considered to be at "high risk" of being infected with Covid-19, although there have been no recent reported cases of Covid-19 from Burmese migrants.
Migrant Health Volunteers, or MHV, are helping out to test migrants for Covid-19, according to Pattaya News. The volunteers are similar to Thailand's Village Health Volunteers, except they speak the same language as the migrants.
Myanmar's rising numbers have spread fear in Thailand's border provinces. Border police continue to tighten their patrol along the border. Dozens of Burmese migrants have been arrested for allegedly crossing the border over the past month.
Authorities in the Prachuap Khiri Khan province have even blocked natural passageways with barbed wire. Other coronavirus scares have led schools to temporarily close for deep cleaning.
Myanmar's recent outbreak started mainly in the Rakhine state on the country's western coast, but a Thai health official predicts the virus will make its way to the Thailand border soon.
Deputy Prime Minister and Minister of Public Health Anutin Charnvirakul says public relations are highly recommended at the villages to help monitor those who might be infected.
"The local residents are required to wear masks, wash their hands, and perform social distancing strictly to prevent the possibility of a second wave of the Covid-19."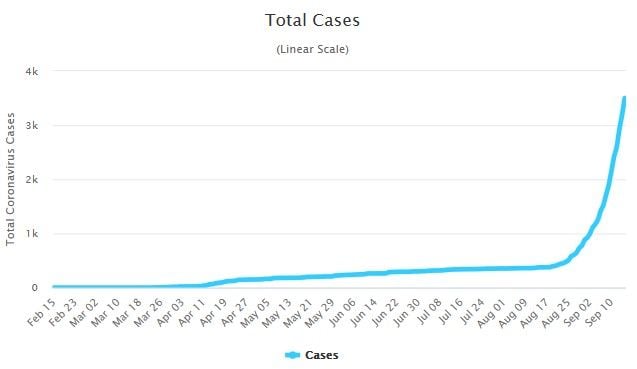 SOURCES: Pattaya News | WorldoMeters| Bangkok Post
Catch up with the latest daily "Thailand News Today" here on The Thaiger.
📱 Download our app on Android or iOS for instant updates on your mobile
📧 Subscribe to our daily email newsletter
👍 Like/Follow us on Facebook
🔔 Subscribe to or Join our YouTube channel for daily video updates
Is spraying disinfectant on the Thai-Burmese border effective?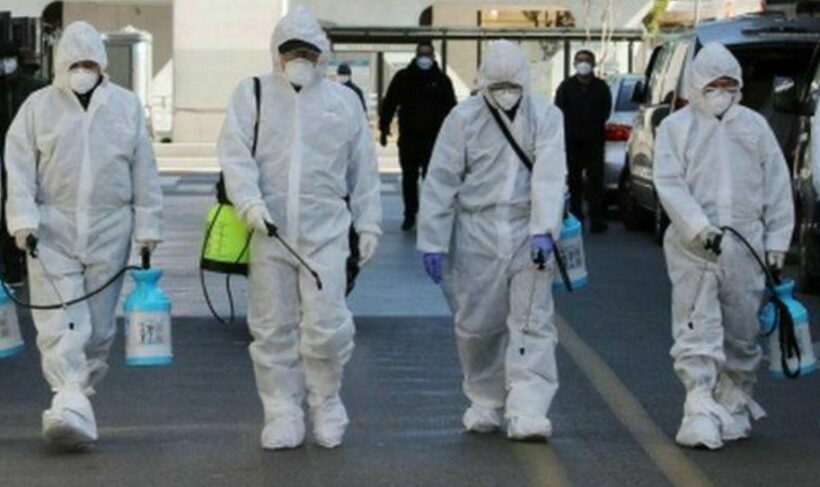 Some controversy exists over the Royal Thai Army attempting to sterilize areas of the Thailand-Myanmar border by spraying disinfectant along the border region. The army sprayed areas set up as a temporary holding facility for many Burmese refugees. The move drew condemnation from critics who claimed the disinfectant was not effective and not worth the expense of implementation. A spokesperson for the Royal Thai Army responded to social media ire justifying the action.
The spraying was done after the Burmese refugees had returned across the border to Myanmar, after fleeing temporarily to escape the escalating humanitarian crisis following the February 1 military coup. After the refugees left, disinfectant was sprayed around the area in compliance with Public Health directives designed to slow the Covid-19 spread and maintain safety. The disinfectant was intended to kill any possibly contagious remaining virus or disease in the area.
The spokesperson said the military used existing government equipment they requested from the Ministry of Public Health to efficiently disinfect the area. She asserted that the spraying was not just to help local people, but also to reassure them that it was safe to return to their daily lives in the area, to go to work or do farming, without fear of becoming infected with Covid-19.
While the response online to the spraying disinfectant scheme is still generally negative, it's worth noting that the same spraying has been used to effectively sterilize 162 schools and 268 other areas since January. The spray is a safety precaution to minimize the spread of Covid-19 and has been used throughout communities in places like bus terminals, marketplaces, temples and other places where people tend to gather.
SOURCE: The Pattaya News
📱 Download our app on Android or iOS for instant updates on your mobile
📧 Subscribe to our daily email newsletter
👍 Like/Follow us on Facebook
🔔 Subscribe to or Join our YouTube channel for daily video updates
Bang Lamung Hospital is full, province using field hospitals and ASQ hotels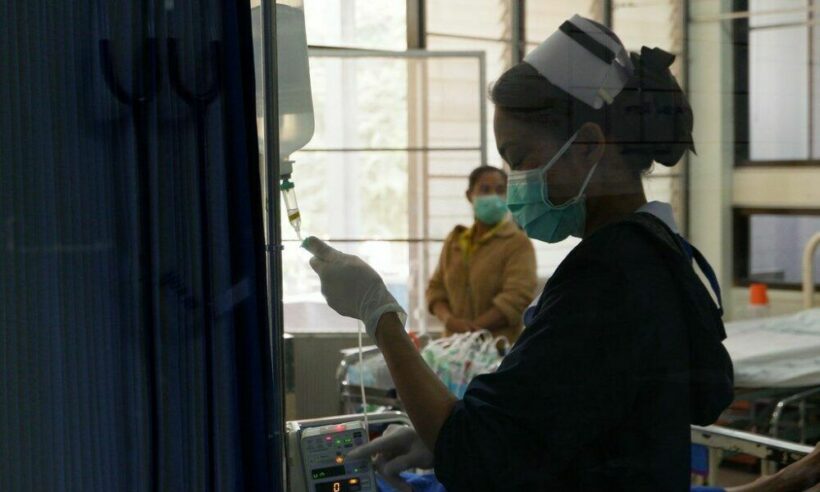 A spokesperson from the Bang Lamung Hospital in Pattaya says that all the beds put aside for Covid patients are now full and doctors are now having to refer newly infected people to Sattahip where the Navy have set up a field hospital. They're also referring some patients to ASQ hotels.
The hospital said they had put aside 30 ward beds and 12 private rooms for Covid-infected patients but the beds had already been taken up following up to 500 people seeking tests at the hospital each day.
Chin Buri has reported another 97 infections today, about the same as the rest of this week. That makes the total in the province to 807 since the start of the month.
Confirmed by the government earlier this week, Thailand hospitalises everyone who tests positive. Or, alternatively they are sent to a field hospital or the government's quarantine facilities where Thais were given free quarantine when they repatriated back to Thailand over the past year.
But the current upsurge of new infections being discovered in Chon Buri, and the rest of the country, is putting a strain on facilities. Some people who have tested positive are even being sent to ASQ hotels where the hospitals had used up their quota of available beds.
Public health officials in Chon Buri are currently urging people who are not considered 'at risk' to avoid hospitals at this time to allow faster processing of people who are considered at risk.
📱 Download our app on Android or iOS for instant updates on your mobile
📧 Subscribe to our daily email newsletter
👍 Like/Follow us on Facebook
🔔 Subscribe to or Join our YouTube channel for daily video updates
Covid UPDATE: New cases rise to 1,543, DDC recommends work from home in red zone areas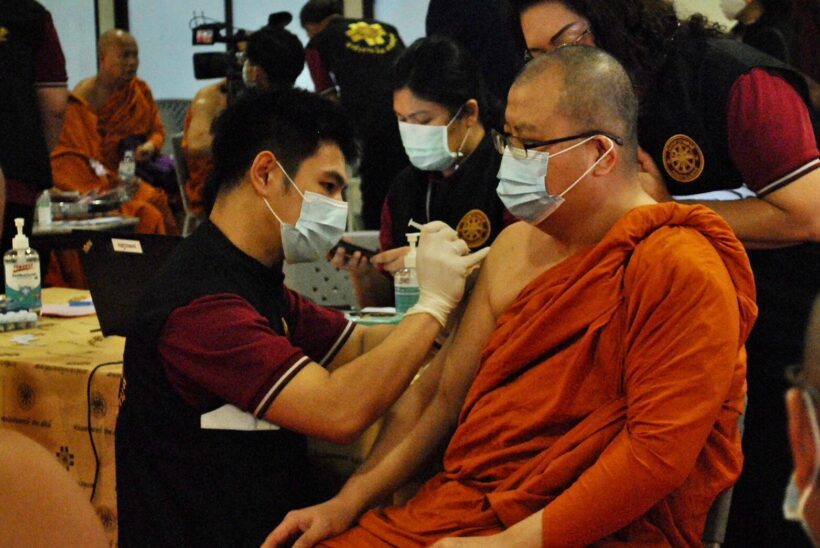 Thailand's Covid-19 infections are still on the rise, with the Kingdom reporting 1,543 new infections in the last 24 hours. Only 3 of those are imported with 1,540 being cases of community transmission. Thailand has now recorded 37,453 infections. 8,973 patients are receiving hospital treatment, 41 of whom have pneumonia.
11 people are currently in a serious condition on ventilators.
1,540 were community cases, most from the hot zone of Bangkok with 409 new infections. Chiang Mai had 278 new cases, Prachuap Khiri Khan 98 and Chon Buri (including Pattaya) 98.
UPDATE: Dr Chawetsan Namwat, the acting director for emergency health at the Department of Disease Control, says that people will need to consider working from home for 2 weeks if they live in a red zone area.
He said that it may be necessary to increase restrictions further to mitigate the upward trajectory of Covid-19 that is expected to rise after Songkran. Those red zone areas include Bangkok, Chiang Mai, Chon Buri, Samut Prakan, Narathiwat, Prachuap Khiri Khan, Samut Sakhon, Pathum Thani and Sa Kaeo.
"To reduce risks, people should work from home after the Songkran festival."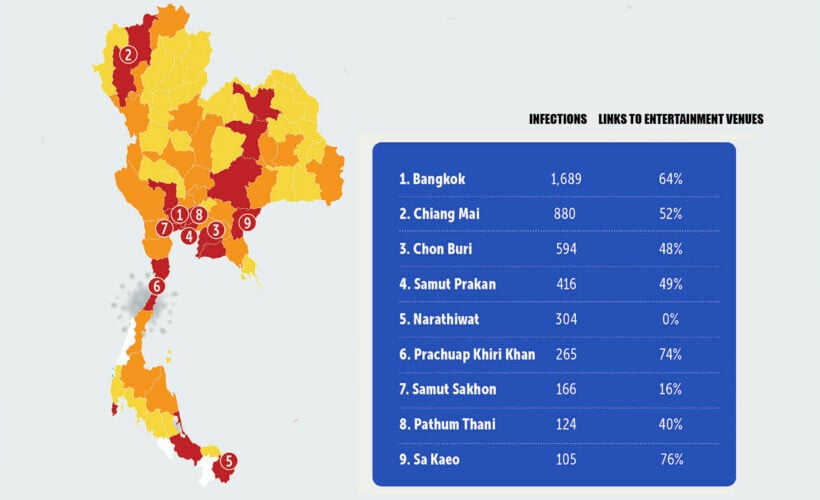 Here's the trajectory of the outbreak since April 1…
April 1 – 26 infections
April 2 – 58 infections
April 3 – 84 infections
April 4 – 96 infections
April 5 – 194 infections
April 6 – 250 infections
April 7 – 334 infections
April 8 – 405 infections
April 9 – 559 infections
April 10 – 789 infections
April 11 – 967 infections
April 12 – 985 infections
April 13 – 965 infections
April 14 – 1,335 infections
April 15 – 1,543 infections

📱 Download our app on Android or iOS for instant updates on your mobile
📧 Subscribe to our daily email newsletter
👍 Like/Follow us on Facebook
🔔 Subscribe to or Join our YouTube channel for daily video updates