UPDATE: Coming to Thailand? Check your insurance and ASQ fine print.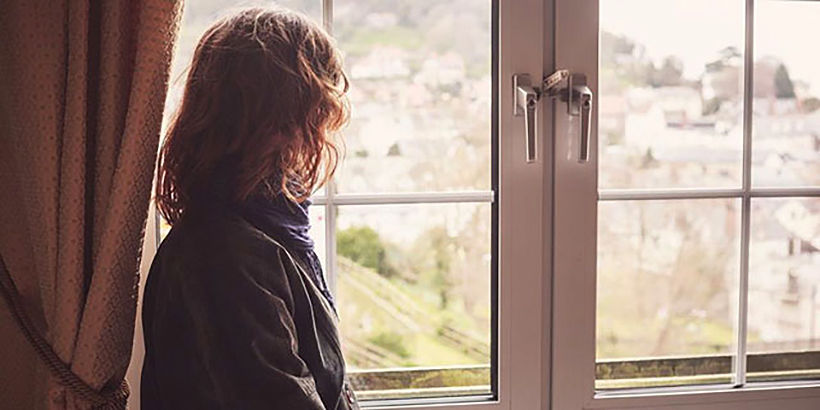 A concerned reader sent us this information, based on his experiences in the ASQ when he arrived in Thailand. We publish them with good faith but would urge everyone to check their insurance situation, whether they're currently in ASQ or might be in the near future, to check your individual circumstances. AXA has also responded to the comment, we provide that information in BOLD.
"Under current Thai ASQ rules, anyone who fails the RT-PCR test in quarantine is sent to hospital, even if they have no symptoms. The ASQ quarantine fee (paid in advance to the hotel) does not cover the hospital costs. So insurance is required.

1. I checked with AXA Thailand, as they offer an insurance policy for US$100,000 to meet the Covid-19 insurance laws. They told me this does NOT cover hospitalisation without symptoms, even after failing the covid-19 tests that are required in quarantine. I believe the odds of anyone who fails the test in quarantine having no symptoms are at least 50% and in this case their insurance will be invalid. The policy is not fit for purpose!

(AXA have responded to this claim… AXA will cover for the hospital expense necessarily incurred if an insured person is tested positive for COVID-19 regardless of the showing of symptoms. The claim payment is subject to the insured person satisfying the other terms and conditions of the policy.)
2. Most UK insurers offer travel insurance cover for "Emergency Medical Care". As being sent to hospital merely for failing a test is not an emergency, then they do not cover being sent to hospital from ASQ.
3. Some UK insurers invalidate all of the medical cover, as any visitor to Thailand is "awaiting tests for an undiagnosed condition", because they require RT-PCR tests."
AXA has further provided this information…
• Meet the 100,000 USD health insurance requirement of application for Certificate of Entry (COE) to Thailand
• Cover 3.5 million THB of medical expense including COVID19 and 1 million THB of Personal Accident, choice of period 30,90,180,270 and up to 365 days
• Coverage starts immediately a‑er clearing immigration in Thailand and include the period of 14-day Alternative
• State Quarantine (ASQ) and Alternative Local State Quarantine (ALSQ)
• No waiting period , no deductible
• Provide insurance certificate including COVID-19
Reference: https://www.axa.co.th/en/axa-sawasdee-thailand-travel-insurance
The bottomline on all this is ASK questions, check your insurance coverage and get everything in writing.
Want more from the Thaiger family?
📱 Download our app on Android or iOS for instant updates on your mobile
📧 Subscribe to our daily email newsletter
👍 Like/Follow us on Facebook
🔔 Subscribe to or Join our YouTube channel for daily video updates
Covid UPDATE: 2,473 new infections and 35 deaths, provincial totals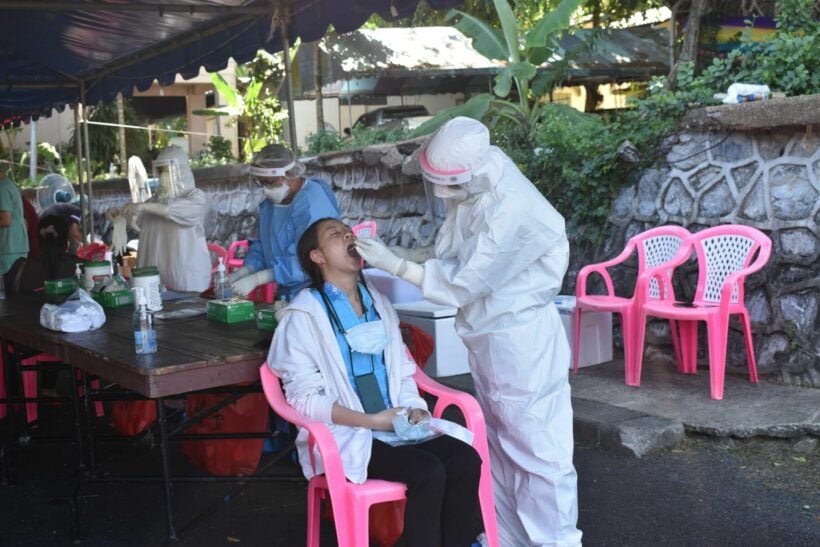 2,473 new Covid-19 cases and 35 coronavirus-related deaths were reported today in the Centre for Covid-19 Situation Administration's daily briefing. The majority of the new cases are local transmissions, primarily in Bangkok. 680 of the new cases were detected in prisons.
Thailand now has 42,988 active Covid-19 cases, a record high for the country. Out of those cases, more than 10,000 are linked to outbreaks at prisons. Since the start of the pandemic last year, the CCSA has reported a total of 113,555 Covid-19 infections.
35 deaths involving Covid-19 patients were reported today, raising the pandemic's death toll in Thailand to 649. Most of the new fatalities were reported in Bangkok.
Bangkok remains the epicentre in the latest wave of infections. The capital reported 873, raising the total since April 1 to 28,658.
There are now 29 Covid-19 clusters in 19 districts in Bangkok. The government has set up several locations for active case finding to contain the spread of the virus.
Foreign Ministry spokesperson Natapanu Nopakun, who gives the CCSA report in English, adds that Thai authorities are taking border breaches very seriously and security has tightened at land and sea borders as there have been a number of illegal entries involving those coming from neighbouring countries. Heightened border patrol has been an effort to prevent Covid-19 from being imported into Thailand.
Provinces with the highest number of new Covid-19 infections…
| | | |
| --- | --- | --- |
| Province | New cases | Total since April 1 |
| Bangkok | 873 | 28,658 |
| Nonthaburi | 155 | 4,757 |
| Samut Prakan | 121 | 4,329 |
| Pathum Thani | 117 | 2,467 |
| Samut Sakhon | 63 | 1,930 |
| Phetchaburi | 43 | 645 |
| Chon Buri | 33 | 3,768 |
| Nakhon Si Thammarat | 30 | 757 |
| Songkhla | 29 | 1,041 |
| Phra Nakhon Si Ayutthaya | 28 | 936 |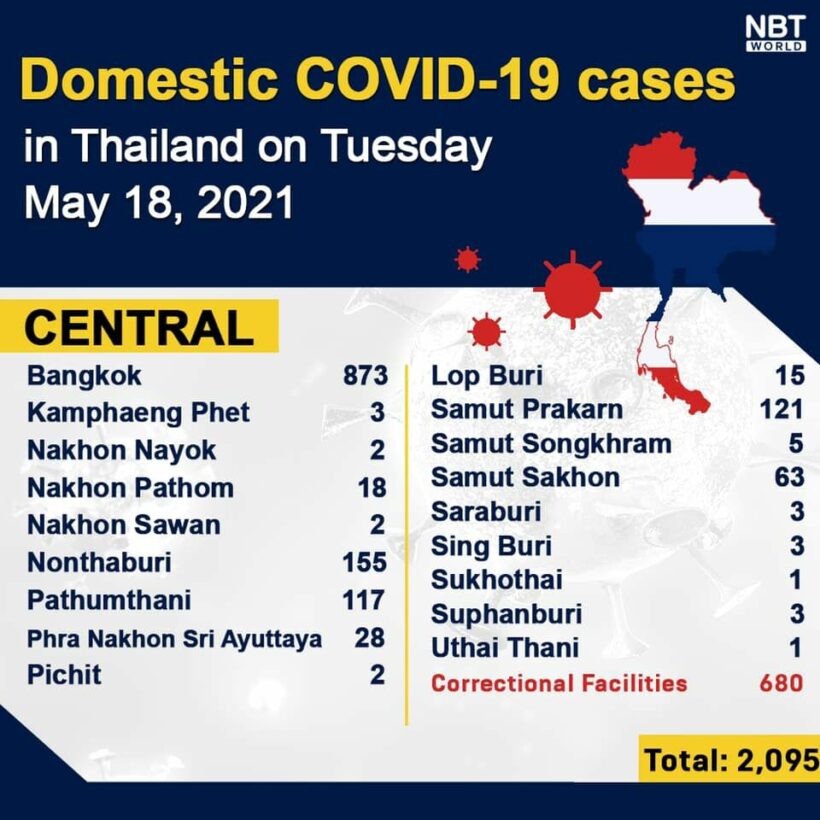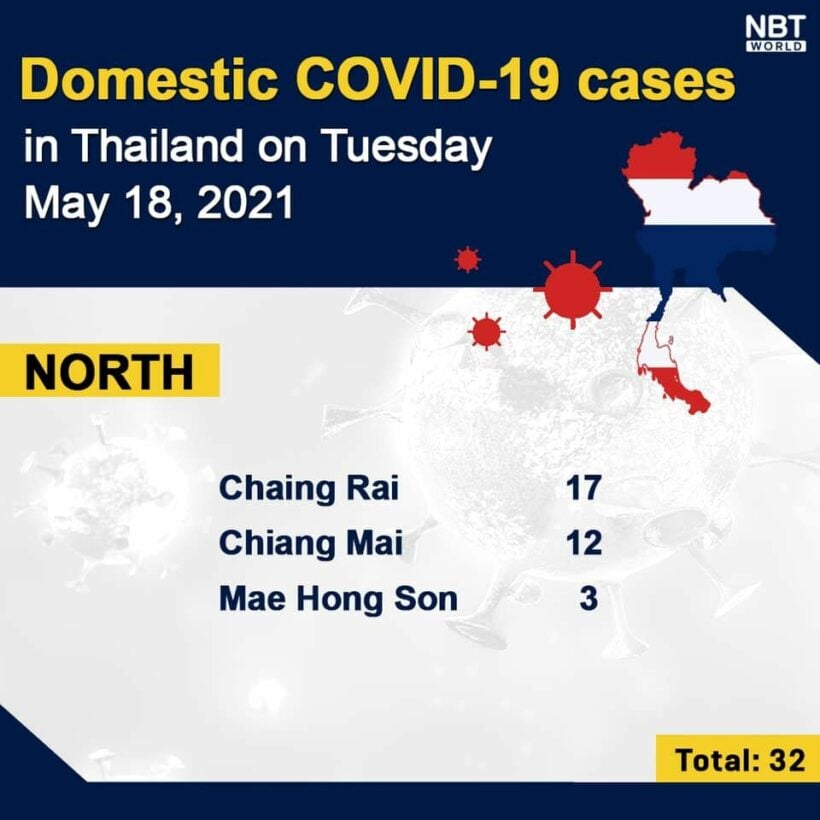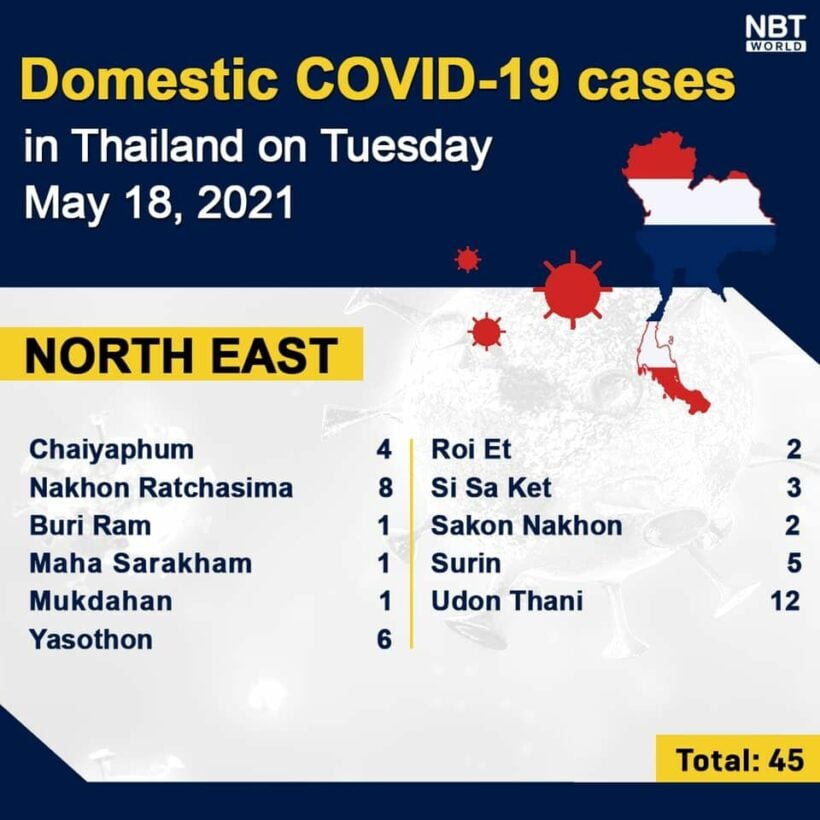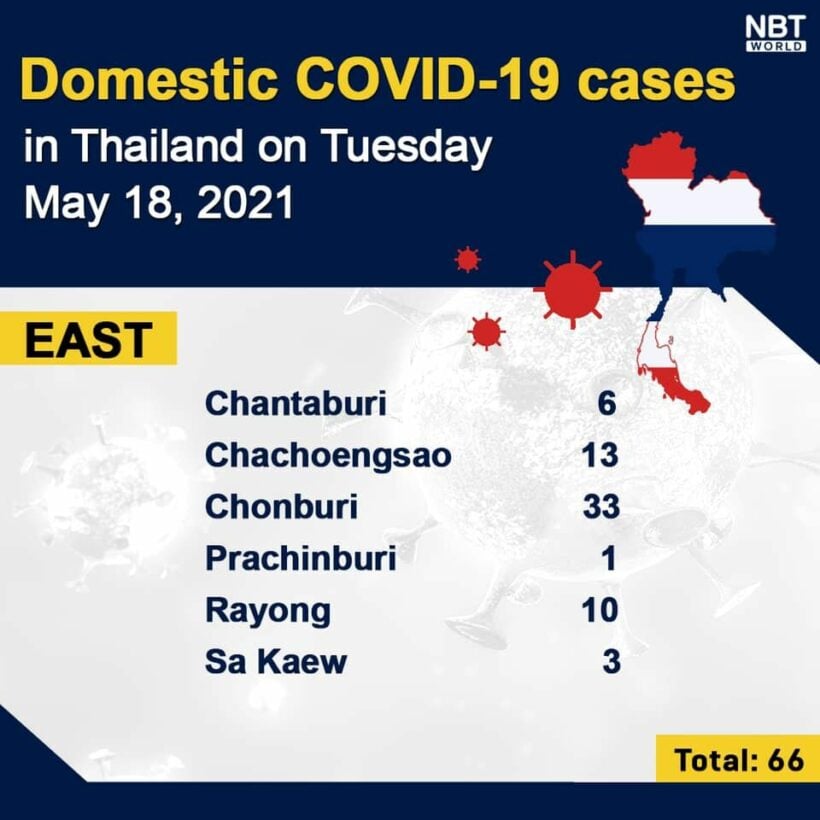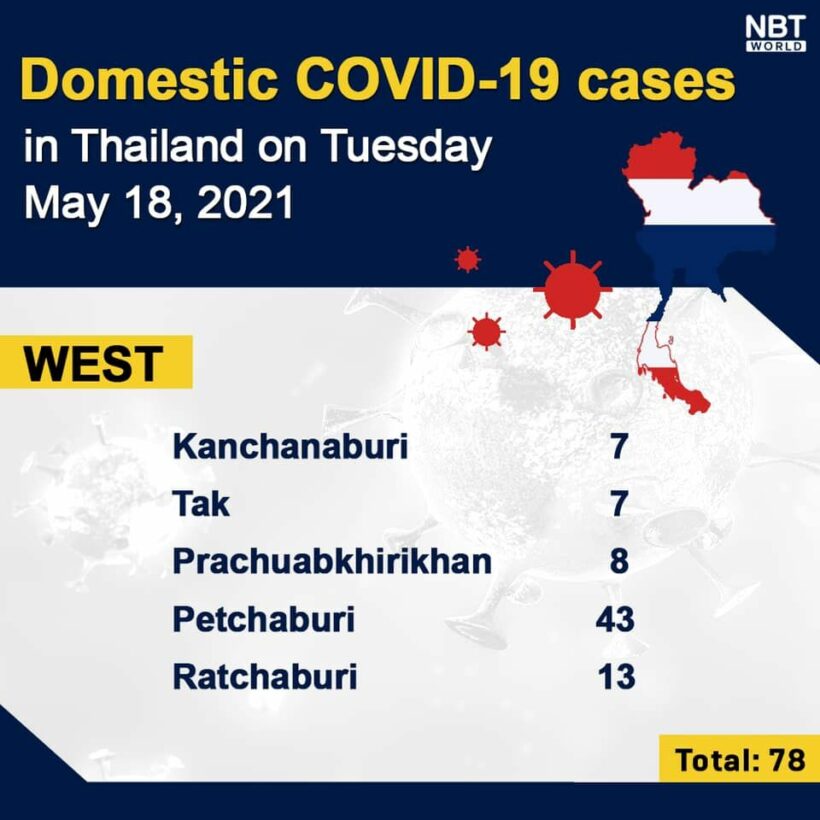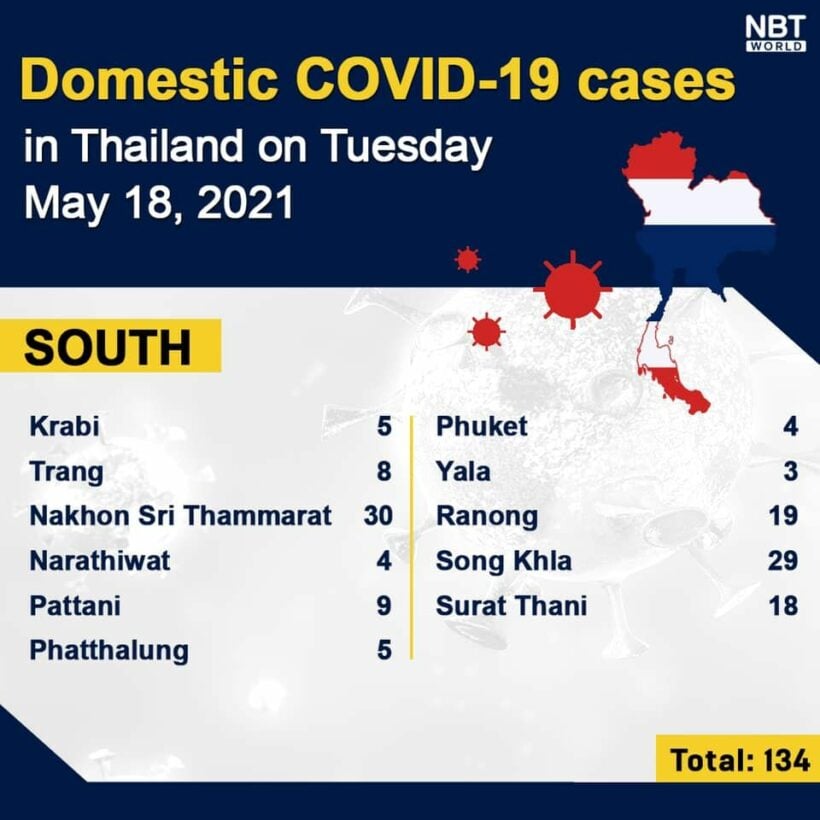 Want more from the Thaiger family?
📱 Download our app on Android or iOS for instant updates on your mobile
📧 Subscribe to our daily email newsletter
👍 Like/Follow us on Facebook
🔔 Subscribe to or Join our YouTube channel for daily video updates
Koh Samet reopens after being closed for 3 weeks due to Covid-19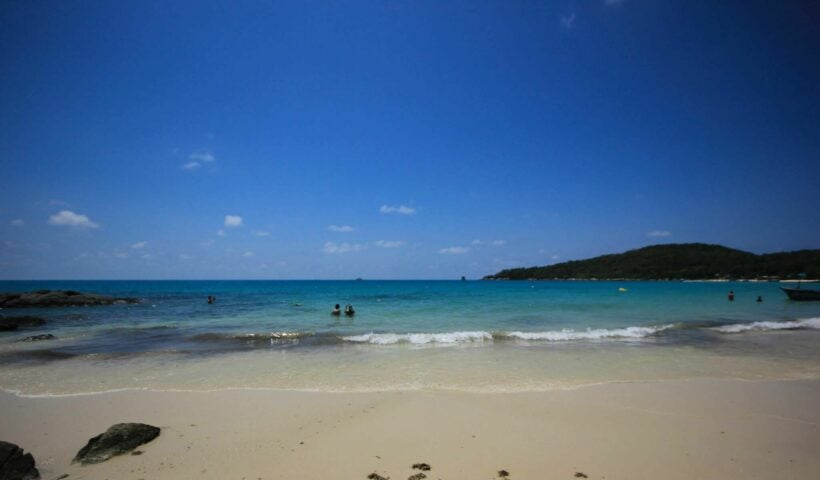 Koh Samet off the coast of Rayong has reopened to visitors after being closed for 3 weeks. The Gulf of Thailand island is safe to visit and disease control measures are being enforced, according to the Koh Samet tourism association chairperson told the Bangkok Post.
On April 27, the Rayong governor ordered for Koh Samet to be closed to visitors after 5 people on the island tested positive for Covid-19. The closure was initally set for 14 days. No recent Covid-19 infections have been reported on the island, according to the Tourism Authority of Thailand's Rayong office.
On the mainland, Rayong health officials reported 10 more Covid-19 infections yesterday. Since April 1, the province has reported a total of 831 infections and 7 coronavirus-related deaths.
Authorities on the island are enforcing the standard "DMHTTA" disease control measures which stand for distancing, mask wearing, handwashing, temperature checking, testing for Covid-19 and checking in using the mobile application Mor Chana.
SOURCE: Bangkok Post
Want more from the Thaiger family?
📱 Download our app on Android or iOS for instant updates on your mobile
📧 Subscribe to our daily email newsletter
👍 Like/Follow us on Facebook
🔔 Subscribe to or Join our YouTube channel for daily video updates
Sinovac and AstraZeneca: The 2 primarly Covid-19 vaccines in Thailand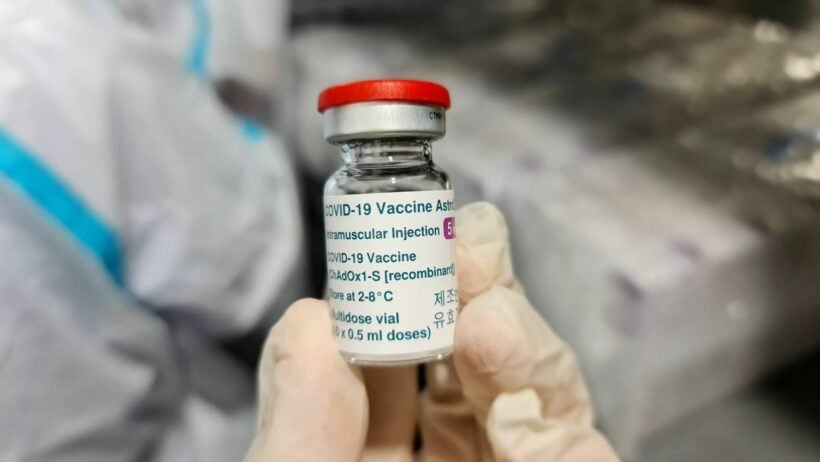 Since Thailand started its mass Covid-19 immunisation campaign in late February, the Chinese-made Sinovac vaccine and the AstraZeneca vaccine, made in partnership with the UK's Oxford University, have been used to vaccinate residents in Thailand.
The local firm Siam Bioscience is now producing the AstraZeneca vaccine and the first Thai-made batch is expected to be rolled out next month.
Type of vaccine
AstraZeneca: A recombinant vaccine from a modified chimpanzee adenovirus.
This is a harmless, weakened adenovirus that usually causes the common cold in chimpanzees. The adenovirus vaccine vector, known as ChAdOx1, was chosen as a suitable vaccine technology for a SARS-CoV-2 vaccine as it has been shown to generate a strong immune response from one dose in other vaccines. It has been genetically changed so that it is impossible for it to grow in humans. – Australian Department of Health
Sinovac: An "inactivated" vaccine, using inactivated virus particles to produce an immune response, a traditional approach for vaccines and the same technology used to produce the flu and polio vaccines.
The World Health Organisation says the vaccine is made by inactivating or killing the virus using chemicals, heat or radiation.
Effectiveness
Studies are still underway for both vaccines, while more studies of the AstraZeneca vaccine have been reported. In Thailand, a recent study by Chulalongkorn's Centre for Excellence in Clinical Virology of the Faculty of Medicine found both vaccines effective.
According to the university study…
99.49% of Sinovac recipients developed antibody reponses 4 weeks after their second injection.
97.26% of AstraZeneca recipients developed antibody responses 4 weeks after their first injection.
Thailand initially used the Sinovac vaccine for people ages 18 to 59 due to limited research for the 60 and up age group. Thai health officials recently announced that recent studies show the Sinovac is safe and effective for adults over 60 years old who are in good health.
Global travel
A dilemma for many expats living overseas, or those wanting to travel in the future, is which Covid-19 vaccine to get as some are not recoginsed by other countries.
Both Sinovac and AstraZeneca have met the World Health Organisation's critieria for safety and efficacy.
Some countries may not recognise certain vaccine passports, although international tourism is still in the early stages and proposed regulations are constantly changing.
Thailand recoginses vaccines that are either approved by the World Health Organisation or by the Thai government.
The European Union plans to reopen tourism to American travellers, but they may need to have a vaccine approved by the European Medicines Agency.
SOURCES: WHO | Healthline
Want more from the Thaiger family?
📱 Download our app on Android or iOS for instant updates on your mobile
📧 Subscribe to our daily email newsletter
👍 Like/Follow us on Facebook
🔔 Subscribe to or Join our YouTube channel for daily video updates