5G, Bill Gates, Chinese Labs and more Covid-19 myths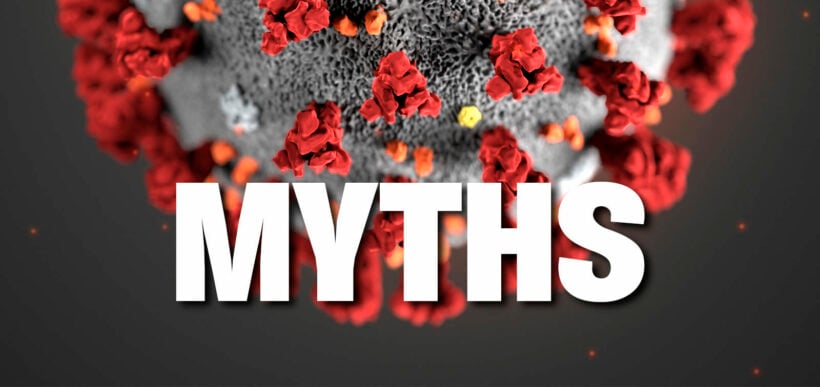 From Covid-19 (aka. SARS-COV-2) being a 'man-made virus' to 5G spreading the virus to coronavirus being 'no worse than the seasonal flu'. The time spent at home has given crackpots extra time to search the dark corners of the internet to spin crazy theories that defy science or logic, and spreading more misinformation around the web.
The impacts from this pandemic are stressful and devastating enough without people spreading nonsense.
Jason Shepherd, who has a PhD in Cellular and Molecular Medicine from the Johns Hopkins School of Medicine, an Associate Professor of Neurobiology at the University of Utah and an Adjunct Assistant Professor, Neurobiology & Anatomy, has put pen to paper to do his best to debunk some of the favourite conspiracy theories or inaccuracies currently swirling around the internet. Other material has been added from other credible sources.
Here's is your latest myth round-up from The Thaiger.
1. People had Covid 19 before 2020
A few in China, but nowhere else. YOU did not have Covid-19 prior to Jan 2020. The first Chinese patients that surfaced in Wuhan certainly did. The first documented cases in China were in late November/early December 2019. Scientists can "track" the origins of viruses by sequencing their genetic material. Over time, viruses accumulate mutations that make them identifiable. This New York Times article explains where some of the earlier US cases came from.
This website shows the Genomic epidemiology of the novel coronavirus – Global subsampling.
2. 5G spreads Covid-19
Covid-19 is not spread by 5G smart phone towers. From what we know about radiation, 5G radiation is as safe as 4G radiation. And 4G is just as safe as the microwave in your home. A virus, any virus, can't be spread by mobile phone towers because viruses can infect living things.
"Mobile phones use radio wave frequencies to transmit. If you remember your HS physics, electromagnetic waves include visible light, radio and X-rays. Radio waves carry less energy and are long-forms, X-rays much more energy and shorter. The latter is called ionizing radiation and are dangerous. The milli-and microwaves are safe, except for the generation of heat (which is how microwaves heat up food).
So, 5G has a little more energy than 4G but has orders of magnitude less energy/harm than visible light. Read more HERE. Anyway, despite the ongoing fears about 5G, there is certainly no link between the new mobile phone spectrum and the coronavirus.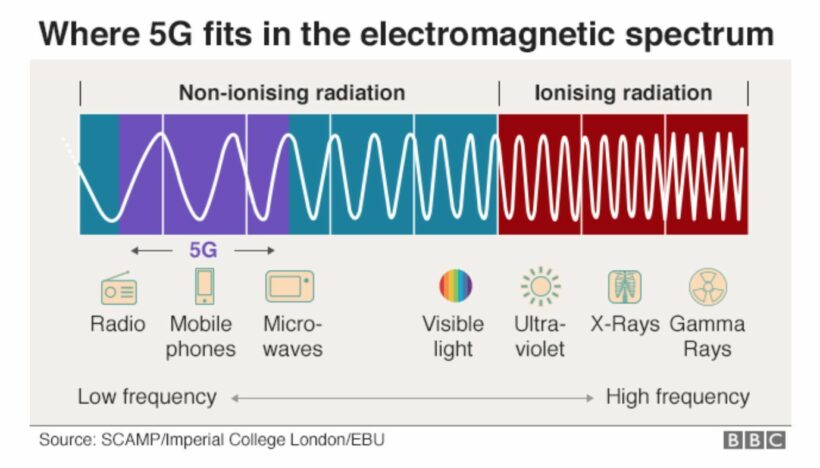 3. Covid-19 is man-made… in a Chinese lab
Covid19 is not man-made, in a Chinese lab or any other laboratory. Scientists can compare the sequence of the new virus with other known viruses and determine how similar it is. The most similar virus is a coronavirus found in bats and the differences are due to mutations that occur through natural evolution, rather than some man-made artificial sequence. There are literally billions of viruses, all with different hosts and life-cycles. Some mutations allow those viruses to jump into new hosts.
The clearest picture so far is that SARS-COV-2 (Covid-19) originated from bats and maybe an intermediate host. The most likely scenario is that this jump from an intermediate host happened in the wild animal market in Wuhan.
There are plenty of insinuations that a Chinese lab working on bat coronaviruses may have either intentionally or unintentionally allowed the virus "escape". There is no scientific analysis that makes this claim credible at this stage. There is also well-documented precedent for coronaviruses that jump hosts and into humans – SARS and MERS for example. Indeed, scientists had publicly warned that this would be one of the most probable causes for an international virus outbreak. More information HERE.
4. Covid-19 is not the seasonal flu!
Hopefully the available numbers and research up to date has adequately demonstrated that Covid-19 and the seasonal flu are two very different strains of virus. Here's data of the number of deaths caused by Covid-19 and other diseases on April 4, 2020 in New York, just as an example.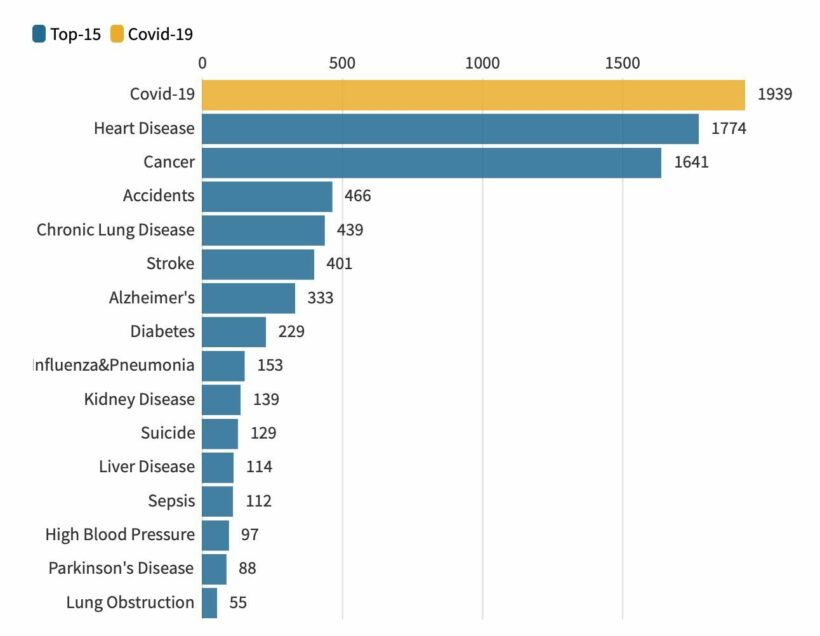 5. Bogeyman Bill Gates
Bill Gates doesn't want to kill people with whatever vaccine his research companies are working on. Nor has he patented the novel coronavirus. And he didn't know about the virus before the Chinese. Heck, the Chinese didn't know about the virus before the Chinese!
The world's richest individual walked away from his day-today management of Microsoft to devote his time to a foundation that is dedicated to public health. Bill Gates won't profit from a new vaccine – none exists at this stage. Bill Gates is not a Bond villain trying to take over the world. Or at least there's no evidence, wither from him or anyone else that any of these assertions are correct.
6. Dodgy data
The published daily data pages and scientific modelling are not deliberately misleading people. There was nothing was known Covid-19 prior to Dec 2019, that's why it's 'novel'.
It was quickly established that it was similar to the known coronaviruses SARS and MERS, but nothing in the early stages about infection rates or mortality. Modelling simply helps scientists provide more accurate 'guesses' and provide authorities with valuable trends and guidance on which to base their decisions.
Scientists are still figuring out which treatments and measures can best control the spread of Covid-19. There's no documented conspiracy by scientists to "control the numbers", and evidence to suggest there is. Some governments, on the other hand, could be producing their own propaganda on how they are dealing with their local outbreaks.
7. Herd immunity is the answer, not vaccines.
Anti-vaxxers are now claiming that 'herd immunity' is better than having a vaccine. Vaccines actually function by accelerating herd immunity. Herd immunity is when enough people have recovered from the virus to then be immune and cannot reinfect other people or get sick.
At this stage there's still a lot of uncertainty of how well or how long people recovering from Covid-19 may be immune. Ultimately the only way to control the pandemic is through herd immunity. The problem is, natural herd immunity will need at least 70% of the total population to be immune.
If this was achieved by just allowing Covid-19 to spread without any intervention or restrictions, tens of millions of people would die across the globe in the next few years. Viable vaccines accelerate herd immunity without killing people by inducing antibody production that can kill the virus, the same kind of antibody response people achieve after recovering from an infection .
8. Covid-19 is killed by bleach, sunlight, UV light
Sitting on a surface and exposed to any of these, yes. Left on a surface outside a human host, the virus would die eventually anyway. But active application of any of these to a human body? No. Indeed, in the wrong concentrations, all three will kill humans.
9. Covid-19 Can't Survive In Warm Weather
It is clear now that the Covid-19 virus can survive and be spread in any kind of climate.
10. Cold Weather Kills the COVID-19 Virus
According to all reports, there is no evidence that being exposed to cold temperatures kills the virus either.
Keep in contact with The Thaiger by following our
Facebook page
.


Find more SE Asian News courtesy of The Thaiger.

Broke? Find employment in Southeast Asia with JobCute Thailand. Rich? Invest in real estate across Asia with FazWaz Property Group. Even book medical procedures worldwide with MyMediTravel, all powered by DB Ventures.

Thai food giant to provide a million meals priced at 20 baht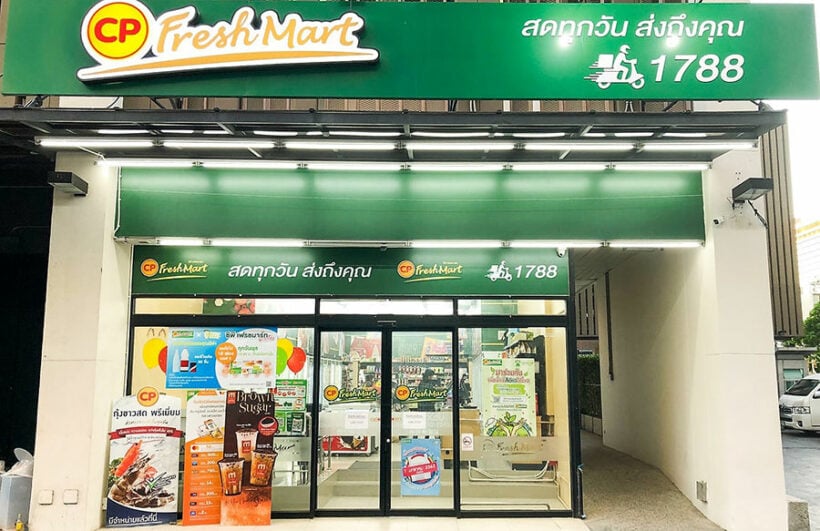 Thai food conglomerate Charoen Pokphand Foods says it plans to offer heavily discounted ready-to-eat meals for those facing financial difficulties as a result of the economic fallout of Covid-19.
CEO Prasit Boondoungprasert says a million meals will be distributed to Fresh Mart shops around the country and will cost just 20 baht. There will be a choice of dishes on offer and customers who purchase 5 meals at a time using the TrueWallet app will get an additional 5 baht discount .
"Six ready-to-eat meals will be offered under the campaign – rice with chicken breast in spicy sauce, rice with roasted chicken, rice with spicy chicken, fried rice with Korean-style roasted chicken, rice with garlic and liver and rice with omlette."
Nation Thailand reports that CPF is also delivering free food to impoverished homes in Bangkok on Tuesdays, Thursdays and Saturdays and distributing vouchers to village healthcare volunteers around the country so they can purchase items at discounted prices at Fresh Mart branches nationwide.
Charoen Pokphand Foods Public Company Limited a company of the Charoen Pokphand Group, is an agro-industrial and food conglomerate headquartered in Thailand. Approximately 64% of its revenue came from overseas operations, with 30% from its home market of Thailand, and 6% from export operations. It recently acquired Bellisio Foods, one of the largest frozen food suppliers in the United States, for US$1 billion, as well as Westbridge Foods, a major British poultry producer with turnover of over £340 Million.
The company's core businesses are livestock and aquaculture. Livestock operations include chicken broilers, chicken layers, ducks, and swine. In aquaculture, the two main marine animals are shrimp and fish – Wikipedia.
SOURCE: Nation Thailand
Keep in contact with The Thaiger by following our
Facebook page
.
Students to wear mask, get temperature checked at school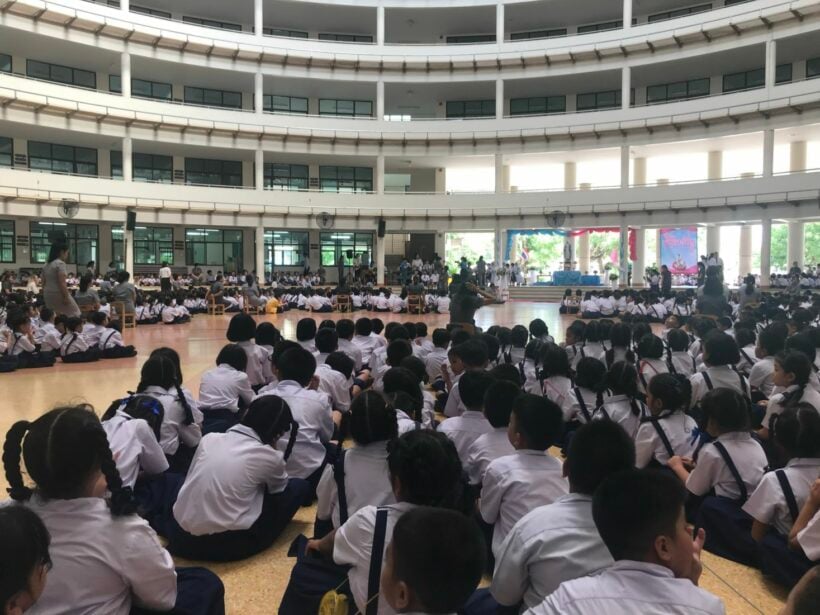 Students will need to wear a face mask and have their temperature checked before entering school. The Public Health and Education ministries recently put restrictions in place for the start of school set for July 1, according to Nation Thailand.
Schools are categorised as a high risk area for the potential spread of the coronavirus. In general, cold and flu bugs spread fast in schools. Now, with a more serious pandemic, teachers and school officials will need to work extra hard to keep students healthy and somehow find a way to make sure students are social distancing.
"Hand sanitising checkpoints are now required throughout school grounds. Door knobs, toilets and playgrounds must be cleaned often. If a student has symptoms, the school must inform public health authorities."
Some advisors are saying schools should wait longer to open, while others say children are less likely to show symptoms of the virus. The start date has already been pushed back and students are looking at a so-called "mega term" with little to no holiday break to make up for lost time until next year.
Thailand's chief virologist, Dr. Yong Poovorawan, from the Faculty of Medicine says reopening schools needs careful consideration.
"If they do reopen in July, class sizes must be reduced to make sure students are seated a safe distance apart. It's unclear how schools that are at capacity will lower class sizes."
Distance-learning classes have launched online, but the system has had a few early bugs, with many Thais without internet or some unable to access the classes.
SOURCES: Nation Thailand| Thai PBS World| Bangkok Post
Keep in contact with The Thaiger by following our
Facebook page
.
Phuket chef hands out over 2,000 free meals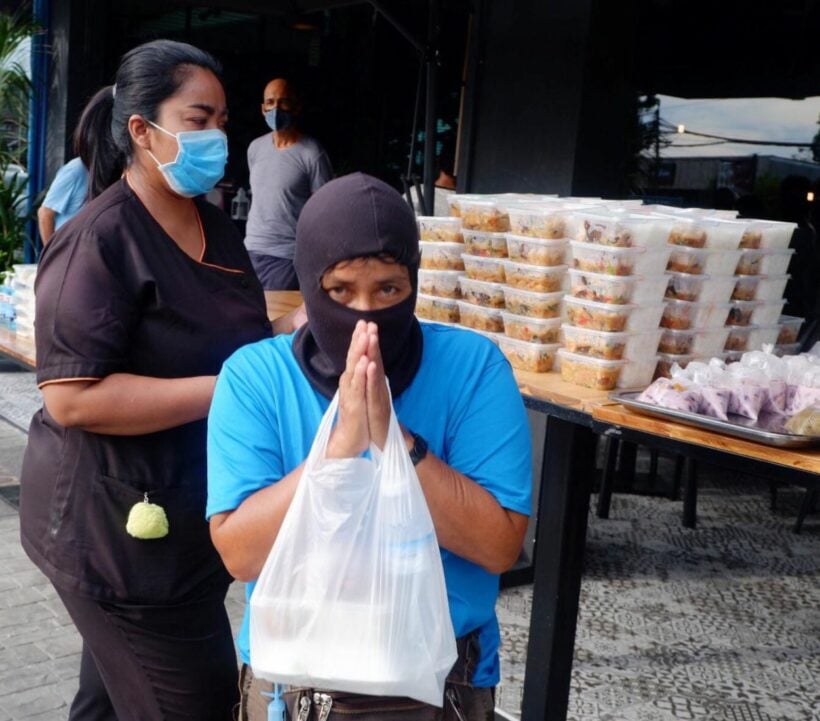 The Covid-19 pandemic has seen many heartwarming outpourings of charity, with a lot of businesses, both Thai and foreign, handing out free meals and essential goods to those affected by the crisis. The southern province of Phuket is no exception, with many pubs and restaurants joining in. But people in the island's Bang Tao district might be surprised to learn that their meals were prepared not only by a career chef, but a student and disciple of legendary Chef Paul Bocuse.
Pablo Blattman, owner of Dedos restaurant, and his crew hand out more than 160 free meals a day and have now donated well over 2,500 meals to the community. Blattmann, born and raised in La Paz, Bolivia, by a Swiss mother and Bolivian father, says the two cultures gave him insight in different universes of flavours.
At a time when most neighbouring restaurants are shuttered (or crippled by the ban on alcohol sales), Blattman says he wants to "give something back to the community which has given me so much."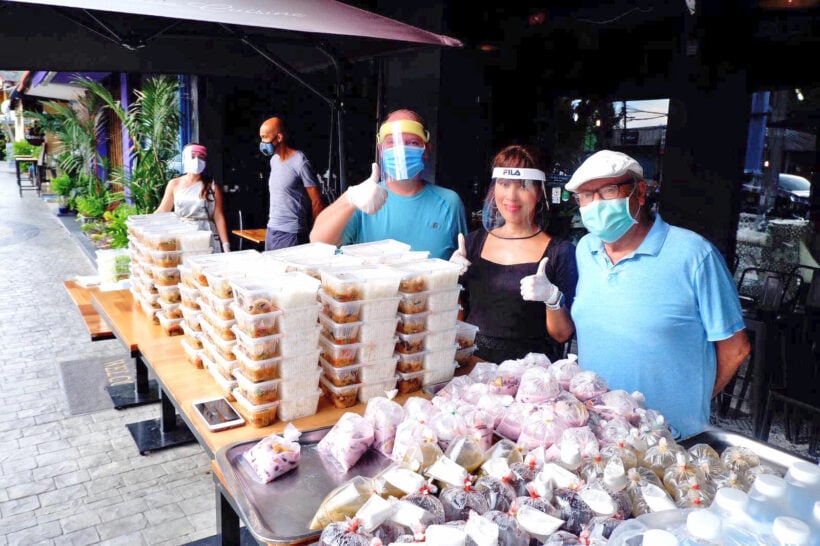 Although the crisis means Blattman must temporarily close the restaurant (again) at the end of May, he intends to go on giving back to the community.
"Our commitment to our community is still here, and we will keep our efforts up, but in a different way: dry food, going to workers' camps, going upcountry… be assured that every penny donated will reach people in need. We are keeping a strict accounting on all our expenses and any donor is welcome to check it."
Those wishing to support Dedos's charitable efforts may visit its Facebook page.
Keep in contact with The Thaiger by following our
Facebook page
.