5000 baht per month for "informal" Thai workers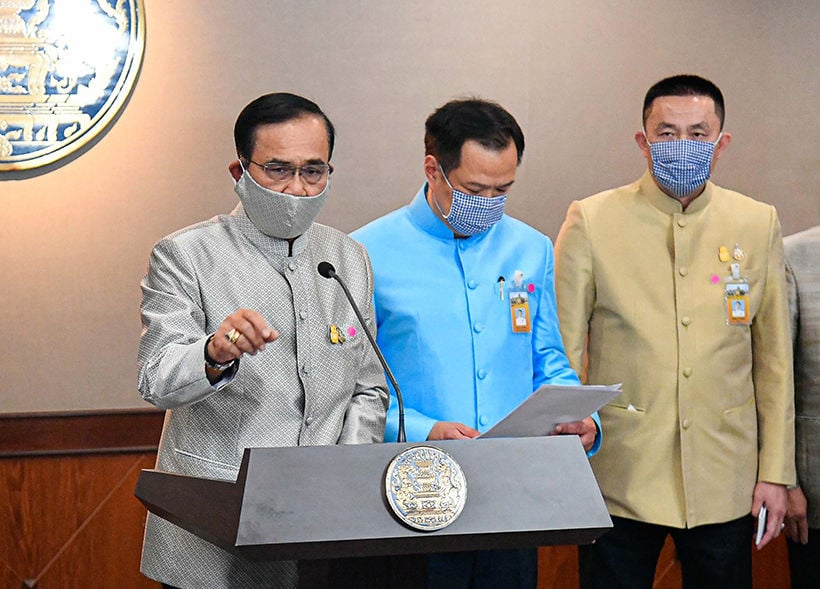 Informal workers, meaning temporary workers, contractors and the self-employed will be able to claim 5000 baht in government assistance per month during the Covid-19 Coronavirus crisis, which has already closed untold thousands of businesses, even before yesterday's announcement of a state of emergency. The program and payments begin on April 1. Workers must be Thai nationals and register with either The Government Savings Bank of Bangkok, The Bank of Agriculture, Krungthai Bank or online on a dedicated website.

The aid will be provided for at least three months, from April through June, to those who register and qualify. Payments will be made via direct transfer to electronic wallets and bank accounts.
Applicants can also apply for emergency loans of 10,000 baht per person with low interest rates if they need more money, which can be taken for up to 2 years with no guarantees. 40 billion baht is being set aside for this measure.
A third option, for those who have collateral for a loan, is a 50,000 baht loan at low interest for up to three years. 20 billion baht is being set aside for this.
This is part of an overall 117 billion baht stimulus measure approved by the Thai cabinet yesterday to help the millions who are temporarily without work. For those who have social security, different programs and financial support are being offered to include at least 50% of salary per month during the crisis period.
SOURCE: The Pattaya News
Keep in contact with The Thaiger by following our
Facebook page
.
Mobile users can now register for 30 days of free data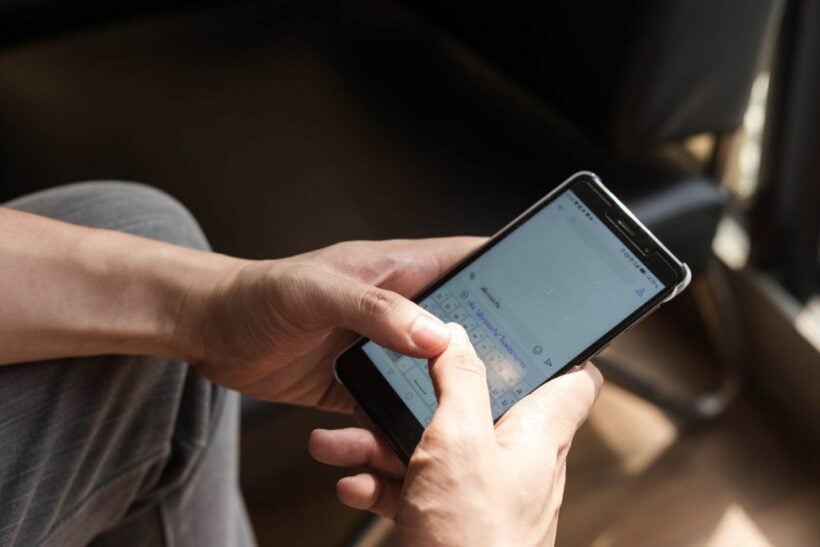 The National Broadcasting and Telecommunications Commission yesterday gave details on how to register for 30 days of free mobile internet and a broadband speed upgrade. Registration begins today. The move supports the government's policy of social distancing and encouraging people to work from home, while helping people cut utility bills during the spread of the Covid-19 coronavirus.
But you need a Thai ID card to get your free internet and speed upgrade.
The measure is being financed by the Universal Service Obligation Fund, which comes from telecommunication licence auctions and contributions from telecom and broadcasting companies.
For free mobile internet, registration runs from today to April 30. All Thai nationals can register for 10 free gigabytes of mobile data for a single mobile number, so long as it was opened or registered on or before March 31.
Those who use monthly packages with more than 10 GB or unlimited data, and the numbers registered by companies and "juristic persons" are not eligible.
To register, a users should type *170*[their 13-digit national ID number]# and tap "call."
The user will shortly receive a text message confirming or rejecting the registration. In case of rejection, a reason will be given. If the registration is successful, users can start using the free internet in a few minutes.
The NBTC's secretary-general shared tips on how to make the most of the offer in a video clip on the agency's Facebook page yesterday.
He says a user should first check how much data he currently gets under his package by typing *165*1# and tapping "call." Then, he should also check the remaining time of the package (*165*2#).
For example, if the package ends on April 15, the user is advised against registering today. Instead, he should wait until his package ends and register on the following day, so he can use the free internet for the full 30 days.
For broadband internet users, service providers will automatically upgrade speeds to 100 megabits per second, so users don't need to register. The speed upgrade is valid for 30 days from today.
Those who use ADSL or older techonologies will receive an upgrade to the highest speeds supported by equipment.
SOURCE: Bangkok Post
Keep in contact with The Thaiger by following our
Facebook page
.
Thai army puts off military purchases until coronavirus outbreak passes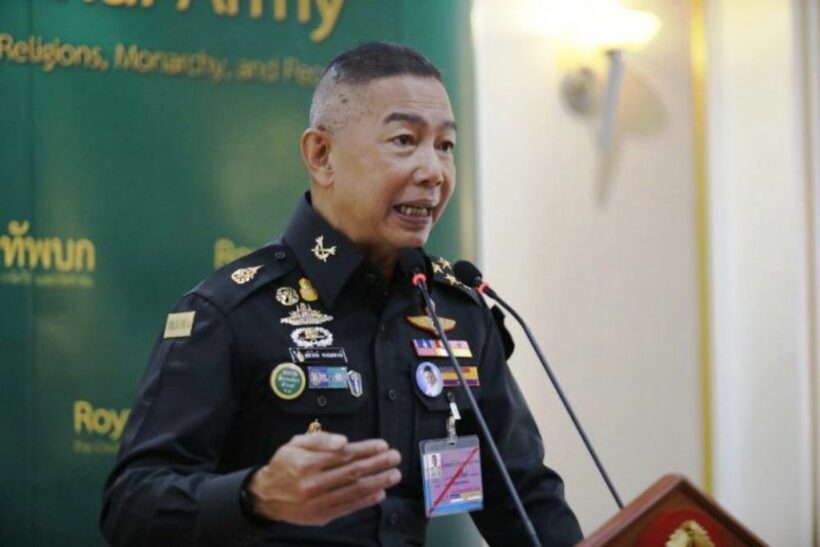 The Royal Thai Army says Thailand "needs to heal" after the Coronavirus pandemic is over in the country so plans to delay purchases of military equipment in the 2020 defence budget. They say the change is in order to prioritise national recovery efforts in the wake of the Covid-19 coronavirus outbreak.
A Defence Ministry spokesman says cuts to the 2020 budget for military hardware and projects are being considered. The Ministry says they're well aware of what needs to be prioritised for future situations.
"The military's mission is to protect and help the people, and support the government in solving national problems while maintaining the availability of troops and equipment to protect the nation."
A spokesperson says that any procurement project that is able to be delayed, without affecting foreign contracts, must be delayed.
"The Army is currently considering which projects will come under the 2020 budget, and will continue to discuss the projects in the 2021 budget."
The spokesperson clarified that some 2020 budget funds have already spent and military contracts under the budget may have binding contracts.
Speaking about the upcoming controversial purchase of Chinese made submarines under the 2021 budget, the spokesperson said that the Royal Thai Navy is considering the matter and "related legal consequences carefully", realising that budget "must be used to restore the nation and economy".
SOURCE: The Nation
Keep in contact with The Thaiger by following our
Facebook page
.
Policeman nabbed with 7,500 masks and for breaking national curfew in the north-east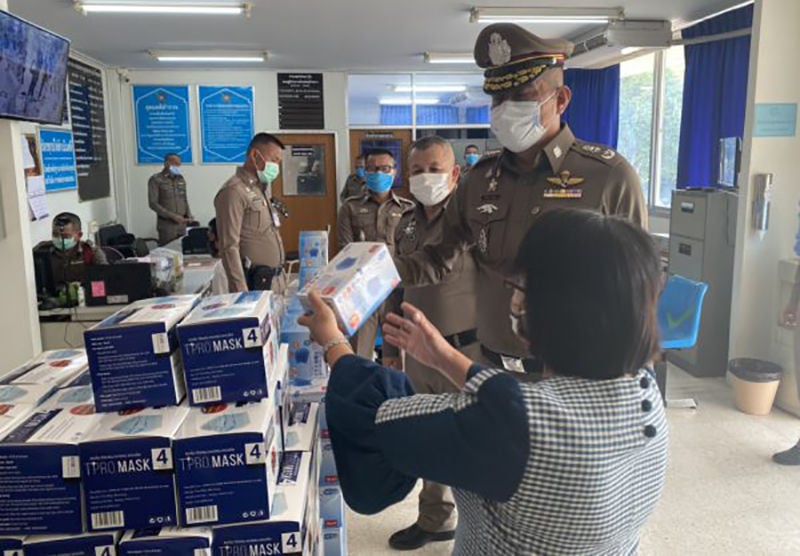 Police were checking cars along the Phon Thong-Kuchinarai road in Roi Et, far north-east Thailand, when a dark grey Honda sedan approached. Stopping the car for a routine inspection they found that the driver was a fellow police officer, 33 year old Police Sergeant Pitak, along with a passenger. But when officials searched the car they found 3 boxes full of medical face masks branded 'Tpro Mask' – a total of 7,500 masks. It was 11.40pm when the car was pulled over, long after the 10pm curfew.
So why does a 33 year old policeman need 7,500 masks?
He told that police from the Phon Thong Police Station that he was taking the masks from Mukdahan to Phon Thong district in Roi Et. But the license plate on the Honda didn't match the vehicle information and the exhaust pipe had been modified. The policeman claimed that he planned to give the masks to a relative for a funeral.
Police Sergeant Pitak has now been charged with breaking the national curfew 'without exemption' and other charges relating to the hoarding of medical face masks. Oh, and the issue of the fake license plate registered to the vehicle.
It was later discovered that the 7,500 masks were made in Vietnam and the Department of Internal Trade is now investigating if the suspect had the proper permissions to distribute medical face masks, or whether he holds a license to import medical products from Vietnam.
Somewhere in Roi Et there's a funeral that may have to cope without the delivery of 7,500 face masks.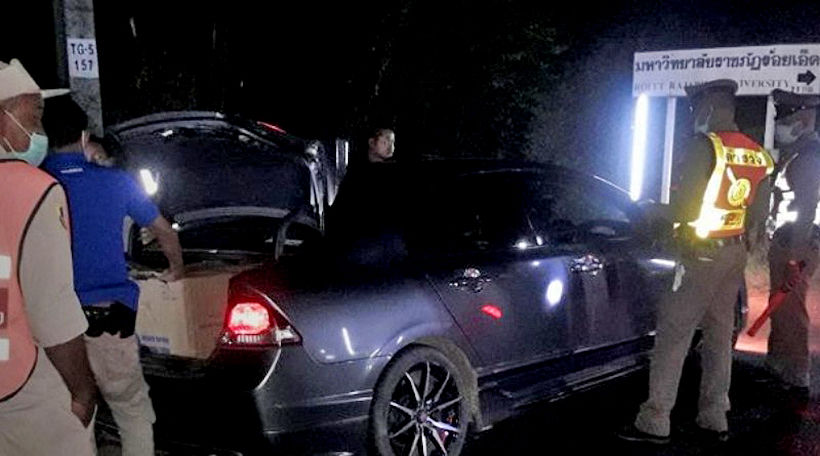 SOURCE: Thai Residents | Sanook.com
Keep in contact with The Thaiger by following our
Facebook page
.