Thailand News Update | Prices for EVERYTHING set to rise in Thailand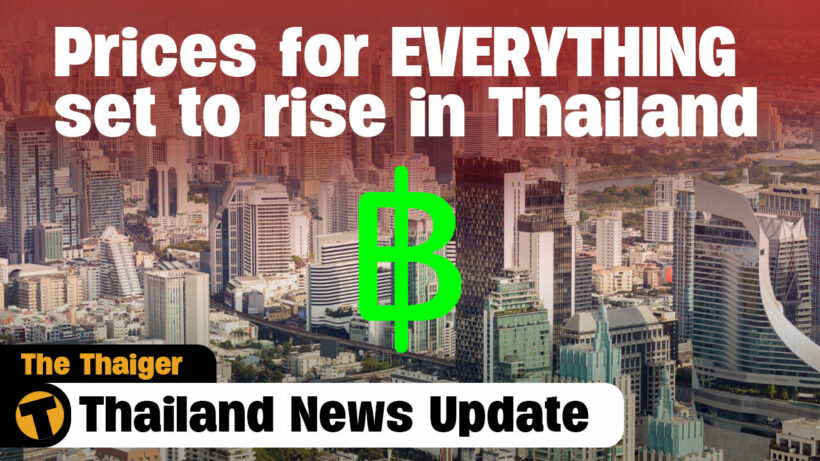 The days of cheap diesel in Thailand are over with the government scrapping its subsidy to maintain the 30 baht cap on diesel fuel. The governments says that without the subsidy the real diesel prices in Thailand would be around 40 baht a litre.
The government is appealing for understanding over the decision as they scramble for an alternative solution to control rising fuel prices in Thailand after the end of April.
PM Prayut Chan-o-cha says the Fuel Oil Fund which had been subsidising the diesel price to keep pump prices below 30 baht a litre, is now severely depleted and claims that loans sought to bolster the fund have also run out.
Meanwhile the Land Transport Federation of Thailand says that representatives will formally lodge their opposition to the removal of the cap today during meetings at government house and are appealing to the government to come up with new measures.
Yesterday the Deputy PM and Energy Minister explained that from May 1, the government will still help to partially subsidise Thailand's diesel prices, but to a lesser extent.
The Energy Ministry told media that he would monitor the situation to ensure that price rises happen gradually.
The Minister deflected the efforts of the government to subsidise diesel prices by urging the private sector to help by reducing their production costs rather than raising consumer prices because of the fuel price hikes.
As of April 17, the Office of the Fuel Fund reported that Thailand's Fuel Oil Fund was already 50 billion baht in the red.
---
The Ministry of Culture and the Ministry of Commerce have launched Thailand's "5 Fs soft power," which aims to promote five major Thai cultures to international eyes… food, films, fashion, fighting and festivals. The promotion is in reaction to the Thai PMs apparent enthusiasm over international performers, celebrities and musicians indirectly promoting Thailand in social and wider media.
PM Prayut praised the K-Pop singers, Lisa from Blackpink and Bambam from Got7, for helping bring Thai culture to a huge international stage. He also praised a Thai rapper Milli for boosting Thailand's soft power by introducing Mango Sticky Rice to the world at the international music festival Coachella.
The PM says he wants to make the 'soft power' and creative industries in Thailand known worldwide and urged both state departments and the private sector to get behind the idea and find ways for businesses to also use 'soft power' to push out the Thaialnd brand.
---
Rumours in Thailand saying the humble gecko lizard can sell for up to 1 million baht, depending on their size, might actually be true. Many Thai people have caught and sold geckos as a full-time job. But now the nation's gecko hunters and sellers have to be more cautious since the authorities issued a warning, saying some geckos are on the wildlife preservation and protection list. Those who are caught catching or selling them could end up facing jail time.
On April 24, 2 Thai women were arrested with possession of 320 geckos at a pier in Ubon Ratchathani. They were charged for smuggling the carcasses of preserved animals without permission and violating the Customs Act by exporting restricted items abroad without permission.
Thai people were curious about why they had been arrested because they were 'just geckos'. But an officer from the Khemmarat Customs Checkpoint told Thai media that locals might not know the relevant laws protecting various wildlife.
---
Images of hundreds of residents queuing up to receive free bags of rice and other dried foods in Pattaya earlier this week suggest that Thailand's economy still has a long way to go on the road to recovery.
During "lockdown" in Pattaya in 2020, huge crowds of people queuing for 200 baht food and drinks handouts from Rom Pho fresh food market were a daily occurrence. Two years on, familiar scenes are surfacing again as hundreds of residents line up to receive free food from the generous owners of Sampan Korean barbecue restaurant in North Pattaya.
Despite the partial return of tourists into the kingdom, many restaurants, bars and businesses and taxi drivers in Pattaya are still struggling, or simply remain closed.
A motorcycle-taxi driver lining up for food said that while the city's economy is doing better, he only earns enough money on weekends and holidays. Other days, he only makes 100 baht, estimating that there's less than 10% of the pre-Covid tourism currently coming to Pattaya.
---
A photographer called Nattaphon, who works for a Thai media agency, is still waiting for justice after being allegedly attacked by a group of ultra royalists near the Democracy Monument last week. He suffered bruises on his back, neck and upper arms.
Just after he finished working and was packing up, an unidentified man approached him. The man asked for his phone and questioned if he was a journalist, which he denied, before the man grabbed him by the arm.
Other members of a larger group then joined in, punched and kicked him when he refused to show them the photos he had taken. One of the group was carrying an extendable baton which was used to beat him. Nattaphon sprinted into the nearest McDonald's for safety.
Now Benpakorn, a member of a group named Vocational Students Protecting the Thai Monarchy, admitted to being one of the attackers. He offered Nattaphon 5,000 baht to compensate for the assault. Nattaphon refused the offer and says he wants to take the case to court.
---
China has recorded the first ever human infection of the H3N8 strain of bird flu. But Chinese health officials say the risk of it spreading to other humans was low.
A four year old boy from China's central Henan province was found to have been infected with the bird flu variant after developing a fever and other symptoms earlier this month.
The child had been in contact with chickens and crows raised around his home, according to reports from Chinese health officials.
The H3N8 variant has previously been detected elsewhere in the world in horses, dogs, birds and seals, but no human cases of H3N8 had ever been reported before now.
The Chinese health commission announced that the variant did not yet have the ability to effectively infect humans, and the risk of a large-scale epidemic was low.
Meanwhile, larger sections of Beijing are now going into lockdown, despite the relatively small numbers of Covid Omicron infections, whilst officials are doubling down on the lockdowns in China's largest city, Shanghai.
---
Indonesia will start restricting exports of palm oil from tomorrow, a move that could make the global food crisis worse and push up the prices of hundreds of consumer products.
Indonesia's President Joko Widodo says that Indonesia will suspend exports of cooking oil, and the raw materials used to make it, "until further notice". The move has been in response to local palm and cooking oil shortages.
Indonesia is the world's biggest palm oil producer, and last week's announcement sent prices of the commodity up 10-20% in places.
The restrictions will include palm oil, a more processed product which is used for cooking oil and makes up an estimated 40% to 50% of Indonesian exports.
Palm oil is a common ingredient found in many of the world's food, cosmetics and household items. So much so that it's estimated to be used in nearly 50% of all packaged products in supermarkets.
---
More than 5,000 former fighters battling Philippine government troops for Filipino Muslim autonomy in the southern islands are now set to join the country's police force as part of government efforts to sustain peace in one of Southeast Asia's most conflict-torn regions.
The peace process in Bangsamoro, a region covering predominantly Muslim areas of Mindanao, has been underway for nearly a decade since the government struck a permanent ceasefire deal with the Moro Islamic Liberation Front after almost 40 years of conflict.
As part of the peace process, the region's inhabitants voted for its greater autonomy in a referendum held in 2019. Now the national government are employing some former fighters as police in the region in an effort to stabilise the peace process.
Video

Join the conversation and have your say on Thailand news published on The Thaiger.
Thaiger Talk is our new Thaiger Community where you can join the discussion on everything happening in Thailand right now.
Please note that articles are not posted to the forum instantly and can take up to 20 min before being visible. Click for more information and the Thaiger Talk Guidelines.