Thailand News Today | Surachet sues, The Nude Panda | September 23
Daily TV News from The Thaiger
Former immigration chief, "Big Joke" suing Thai PM over transfer
The former head of Thai Immigration, and poster boy for Thai officialdom, Surachet Hakparn, is taking legal action against Thai PM Prayut Chan-o-cha, after the PM had him unceremoniously transferred to an inactive post last year.
Surachet, commonly known by the nickname "Big Joke", (a nickname given to him by Thai media) accuses the PM of transferring him without just cause and has been petitioning for a review of the decision ever since.
At the time there was no reason given for the high-profile head of Thailand's Immigration to be 'side-lined' to desk duties at the PM's office.
Surachet's lawyer says that in the 1 year and 5 months since his client's transfer, there has been "no investigation launched against him" and that he should immediately re-instated.
At the height of his fame, in 2017 and 2018, Surachet's face was everywhere in daily media reports, often seen with hordes of foreigners his team had 'rounded up' in immigration crackdowns around the country.
But at some point, he appears to have stepped on the wrong toes, calling into question procurement practices at the Immigration Bureau, amid plans to spend billions on smart cars and the airports biometrics system. Surachet was dumped and sidelined… the purchases went ahead.
4 Thai banks to be investigated for "suspicious transfers" after FinCEN files report
4 Thai banks are being investigated after an international money laundering report said the Thai banks had "suspicious financial transactions." The report found 92 "suspicious" transactions in and out of Thailand totalling to $9,558,752 USD received in Thailand and $31,750,000 USD sent out.
Files were allegedly leaked from the US Financial Crimes Enforcement Network.The FinCEN Files report"reveals the role of global banks in industrial scale money laundering," citing a total of $2 trillion USD in suspicious global transactions from 1997 to 2017.
The Thai Anti-Money Laundering Office plans to investigate Kasikorn Bank, Bangkok Bank, Krungthai Bank and the Export Import Bank of Thailand. But he says the information from the international report needs to be verified first.
Thai sex workers push for prostitution decriminalisation
Prostitution could become further decriminalised in Thailand. A petition is being passed around calling on the government to stop arresting and fining sex workers.
The Empower Foundation, which supports sex worker, is trying to collect 10,000 signatures before they send it to parliament. Also known as the Centre for Sex Workers' Protection, Empower is a non-profit organisation in Thailand that supports sex workers by offering free classes in language, health, law and pre-college education, as well as individual counselling.
"Prostitution is not illegal in Thailand, although many activities associated with it are… like brothels, soliciting, pimping and causing a public nuisance etc. Still the underground industry is estimated to be worth US$6.4 billion a year.
Activists say prostitution laws do little to protect sex workers. Fines and arrests for soliciting sex, have pushed some sex workers into poverty, most of them being women. Thailand is estimated to have up to 200,000 sex workers, many of them now unemployed with no recourse to unemployment benefits or official help during the pandemic.
Thai cabinet adds 2 more 4-day long weekends
A holiday-led economic recovery. That appears to be a part of the government's agenda following yesterday's meeting of the Thai cabinet. 2 new holiday weekends have been created, one in November, one in December.
In both cases the extended weekends will be 4 days each, adding the Thursdays and Fridays before the weekend. Given the exodus of foreigner this week, there will be fewer of the 'stranded' expats and foreign visitors to add to the economic tally of the additional holidays.
So, put it in your diaries…
• November 19-22
• December 10-13
Nude Panda: naked food delivery man hit with 500 baht fine
A man working as a food delivery driver in the southern province of Songkhla, has been filmed riding his motorbike totally naked. The 24 year old later handed himself in to police, explaining that he'd taken his clothes off due to "a personal problem".
The nature of the problem is not known, and police let the man go with a 500 baht fine.
A video was posted on social media, showing the naked young man hurtling along on his motorbike, which had a food delivery bag on the back. The video has now been deleted. According to a motorbike taxi driver witness, the man parked his bike in front of a local temple, removed his clothes, then got back on the bike and drove off.
Social media response was mixed with most just inquisitive about his motives to ride "commando" with little protection, actually no protection at all.
Keep in contact with The Thaiger by following our
Facebook page
.
Never miss out on future posts by
following The Thaiger
.
Foreigners who test positive for C19 in Thailand won't be able to use the public health system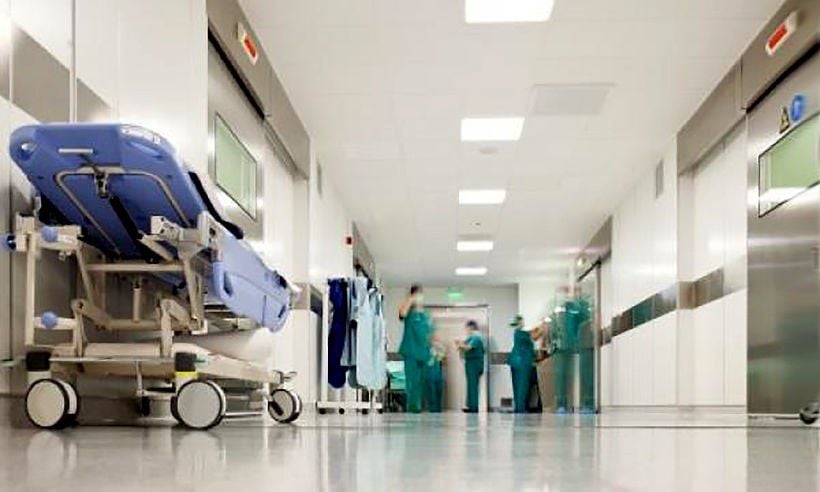 The battle to reopen Thailand's borders is shaping up as a 3-way PR fight between economic hawks who are eager to re-open to reboot the country's tourism industry, a government and medical officials resting on their laurels after containing the virus, and a risk-averse population who, survey after survey, indicate they are keen to keep the borders closed.
In another effort to assuage Thai fears, a doctor at the infectious disease department has stated that any foreigner found to be infected with Covid-19, while in alternative state quarantine, would be taken to a partner hospital in the private sector, not a Thai public hospital.
Dr Opas Karnkawinpong has made it clear that foreigners would have to pay for their treatment and medication themselves.
"They won't be a burden on the Thai health system."
Dr Opas laid out the strict measures that foreigners would have to submit to before travelling to Thailand. Apart from the effort and cost of finding a flight at this time, gaining permission from their country's Thai Embassy, they would have to get fit-to-fly and entry certificates, Covid-free documentation, health insurance and upfront payments for their 14 day Alternative State Quarantine.
"If infected they would go to a special isolation unit at the hospital partnered with the quarantine hotel. Non serious cases would be there for 10 days, those with serious conditions like lung infections may have to stay for a month."
• Those with no symptoms but who tested positive would have to stay in hospital for ten days after their positive test.
• Others would have to be hospitalized for ten days after developing symptoms then a further 24 hour period after symptoms fully abate.
• In more severe cases the length of hospitalization would be at the discretion of doctors. People may only be let out after xrays, temperature and breathing rate checks satisfied medical teams.
A list of several measures were also mentioned for people after they go home from hospital. These include recommendations to wear masks, socially distance, wash hands and surfaces, use separate eating utensils to others. If they get sick again they must take private transport to a hospital. Family members are being advised to monitor their own health closely.
SOURCE: Siam Rath | Thai Visa
Keep in contact with The Thaiger by following our
Facebook page
.
Never miss out on future posts by
following The Thaiger
.
Nearly 5,000 Thai Airways staff to deplane in voluntary resignations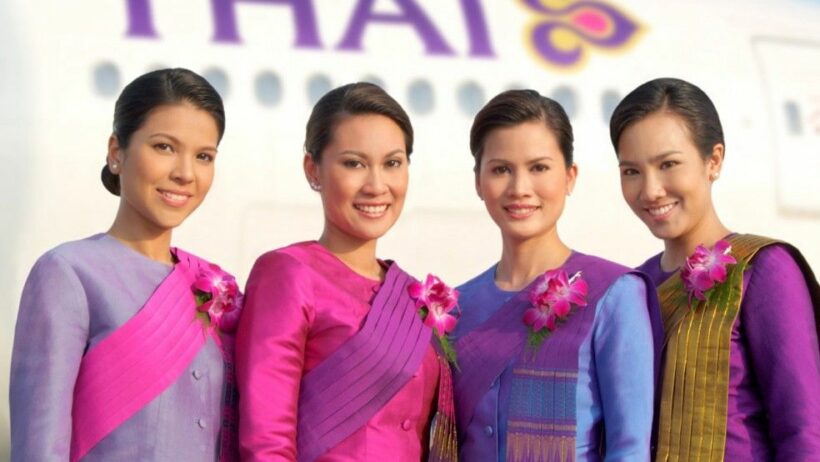 Officially, 4,977 staff at Thai Airways have applied for different stages of its Mutual Separation Plan for the survival of the airline. In other words they've been politely asked to resign. The airline employs about 20,000 people.
The beleaguered national carrier has endured a decade of substantial losses, endless headlines about systemic corruption, padded senior staff contracts and executive perks. In the midst of the impact from the border closures in April, Thai Airways executives again approached the Thai government for another cash bailout. But this time the Cabinet bristled and forced the airline into a "rehabilitation" program, effectively bankruptcy proceedings.
Acting Thai Airways president Chansin Treenuchagron said the airline offered the MSP to its staff because it had been loss-ridden and the impacts of the coronavirus disease 2019 caused it to undergo rehabilitation.
"Cargo and repatriation flights, food services from its catering department and the sales of Thai Airways souvenirs could not make up for lost revenue from the stalled passenger service."
The airline management invited early retirement applications from October 19 to 28. During the period, 1,918 employees applied to retire on Dec 1; 2,699 employees wanted to leave with 20% salary payment for six months from November to April and would later apply for early retirement; and 360 employees applied for both choices.
"The applicants contributed to the survival of the airline".
Keep in contact with The Thaiger by following our
Facebook page
.
Never miss out on future posts by
following The Thaiger
.
US cuts Thailand's tariff benefits after long-running pork dispute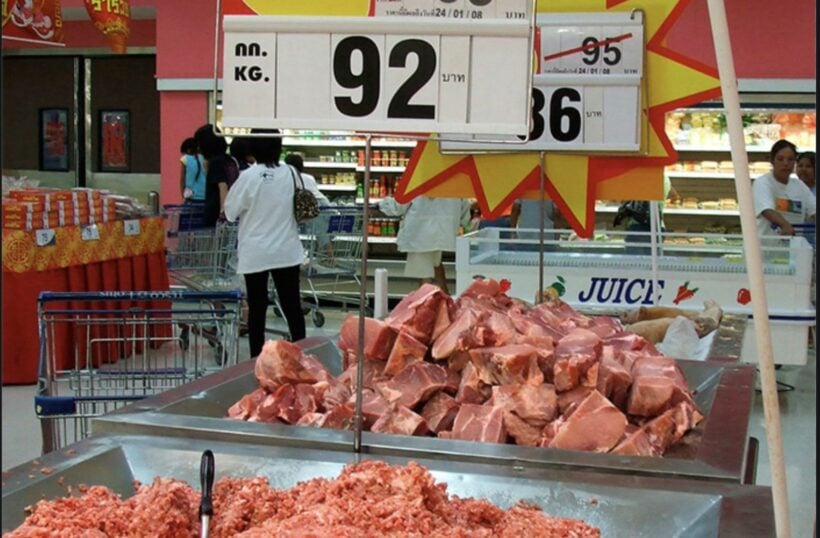 Thailand's duty-free privileges for US$817 million in exports with the US are to be revoked from the end of this year, according to US President Trump in an announcement yesterday. The President blamed a lack of progress in opening the Thai market to US pork products. Trump's letter announcing the action follows more than 2 years of threats and negotiations with Thai officials over issues ranging from access to Thailand's markets for US goods and the documented inadequate labour rights in the south east Asian nation.
Washington will now eliminate some tariff benefits for Thailand, accusing the country of failing to allow imports of pork from US producers.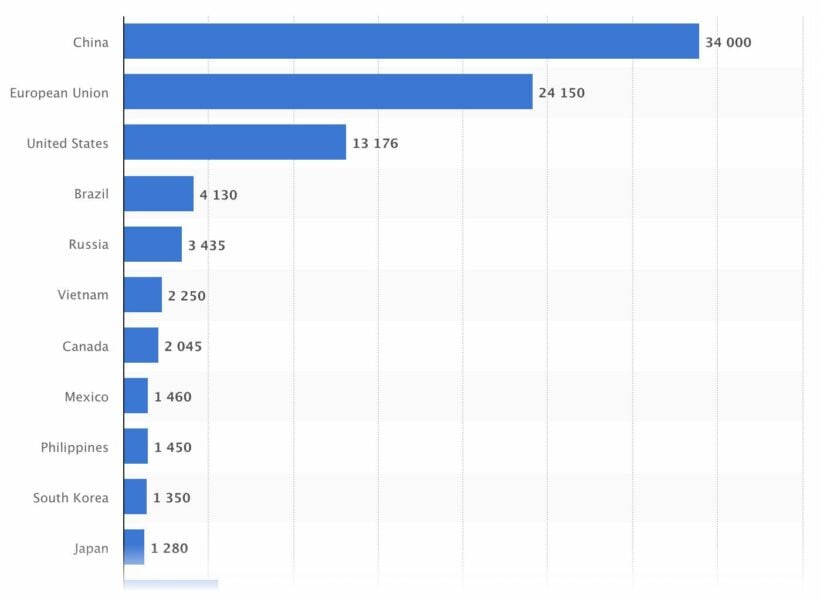 GRAPHIC: Global pork production in 2020, by country (in 1,000 metric tonnes) – statista.com
The suspension of the Generalised System of Preferences access follows a suspension earlier this year on about $1.3 billion worth imports from Thailand, which once had such privileges for about US$4.4 billion in exports to the United States.
The US Trade Representative's office said the list of products includes mango, pineapple, manicure kits, steel pipes and precious stones., auto parts, dried produce, tools, electrical products and aluminium kitchenware.
Writing to the House Speaker Nancy Pelosi, President Trump said… "I have determined that Thailand has not assured the United States that Thailand will provide equitable and reasonable access to its markets."
GSP, Generalised System of Preferences, is a 70s-era program of US trade preferences for developing economies aimed at improving workers' rights and access to broader markets.
"The US Trade Representative's office also announced that it had closed other GSP eligibility reviews with no loss of benefits for Georgia, Indonesia and Uzbekistan. It also said new GSP reviews were opened for Eritrea based on concerns about workers' rights."
SOURCE: Reuters | VOANews | statista.com
Keep in contact with The Thaiger by following our
Facebook page
.
Never miss out on future posts by
following The Thaiger
.