Thailand News Today | New visa update, Dengue spike | September 16, 2020
Daily news and updates on video, hosted by Tim Newton.
New Special Tourist Visa approved
The Thai cabinet has approved a plan to allow foreign tourists to return to Thailand but they'll have to agree to mandatory 14 day quarantine and stay for at least 90 days. The cabinet is hoping the new extended tourist visa will be part of the rebooting of the tourist and hospitality economy.
Thai PM Prayut Chan-o-cha announced that the government would issue "special tourist visas" for visitors who would have to come for at least 90 days, but they could extend for another 90 days two more times, making it a total of 9 months. The new long-stay visitors could begin arriving from as early as next month
The announcement has raised as many questions as it answers. Will people, currently in Thailand on an expired tourist visa (because of the visa amnesty) be able to 'roll over' onto the new visa, or will they have to leave the country and re-apply. Will people be able to 'convert' the new long stay visa into other visa once they're inside Thailand.
The new 'STV' will cost 2,000 baht for each 90 days each. Here are the basic requisites you need to meet to apply….
1. A foreigner who wishes to travel to stay for a long period (Long-stay travel) in Thailand.
2. A foreigner who has acknowledged they are willing to comply with Thailand's public health measures in Thailand, and agree to conduct a state quarantine at an Alternative Local State Quarantine (ALSQ) for 14 days.
3. A foreigner who provides evidence of long-term residency in Thailand, including evidence of payment for the hotel accommodation or hospital accommodation that provides Alternative State Quarantine (ASQ) service in Thailand and at least one piece of the following evidence:
◦Proof of payment for hotel accommodation or hospital accommodation after the state quarantine
◦A copy of ownership of an apartment or condominium belonging to foreigners or family members of foreigners
◦A copy of a rental license or deposit payment of the purchase of apartment, condominium, or house by foreigners in Thailand
Many of the people commenting about the news today have said the 14 day quarantine is still the major stumbling block. Others have bemoaned that there are very few flights to get to Thailand at the moment and that, in some cases, their country won't allow citizens to travel anyway.
Dengue fever rises up to 6,024 in 4 Isaan provinces
Dengue fever is spreading in Northeast Thailand with more than 6,000 cases and 4 deaths in the past 8 months.
The mosquito spread disease is also known as "bone break fever" because common symptoms include pain in muscles, bones and joints. A fever, nausea and a rash are common symptoms.
The cases were reported in the Isaan provinces Khon Kaen, Kalasin, Mahasarakham and Roi Et. Severe dengue can be life threatening, but most people recover in about a week.
From January 1 to August 29, 6,024 people were reported with dengue fever in the northeast provinces.
In June, across Thailand, there were 15,385 cases of dengue fever with 11 deaths. 5,828 of those cases were children ages 5 to14.
Protesters not "tough enough" – Thai security official
Thai security agencies are downplaying this weekend's anti-government student rally, predicting that it will only attract 20,000 people and not the 50,000 predicted by the protest organisers.
A security source also says they're confident the protest won't become violent. The last big rally, early in this phase of opposition demonstrations, was on August 16 and was held at Bangkok's Democracy Monument. It attracted up to 10,000 people.
In a niggling response to the lead up to this Saturday's rally, the security source suggested the current protesters were not "tough enough".
"It is unlikely that the protesters will be tough enough to camp out for long periods."
The rally, proposed to be staged at the Thammasat University Tha Prachan campus this Saturday, is led by the United Front of Thammasat and Demonstration. The UFTD's demands for reform to the country's monarchy are not shared by some of the other student bodies who have been rallying for democratic reform of the government.
The Thai PM has already made it clear that he wanted police to avoid any violent clashes at all costs. He also asked police not to intervene if the protesters fulfilled their promise to march on Government House at the end of the Thammasat campus rally.
Heavy rain predicted across Thailand Friday to Sunday
Heavy rain and showers rain is expected in most parts of Thailand this Friday to Sunday, according to the Thai Meteorological Department.
They say a category 2 tropical depression is situated over the middle of the South China Sea and is strengthening to become a category 3 tropical storm.
The storm was moving in a west-northwest direction at a speed of 15 kilometres per hour, with sustained winds of 65kph and was expected to make landfall over the middle Vietnam and will then drift across into Northern Thailand.
Khao San Road to reopen for Halloween
The party is coming back to Khao San Road this Halloween. The once-booming backpacker magnet has had a makeover during the lockdown period and now the Bangkok governor says they're ready to reopen the street.
Khao San Road is known for it's grungy and lively bar scene as well as its eccentric mix of street food, mixed in with a few tourist scams and cheap fake documents.
During the lockdown, 48.4 million baht was spent on the streets for major renovations like levelling out the road and footpaths, adding some gutters and space for emergency vehicles.
Now a Khao San Road Halloween party will be held and include 240 food vendors set up along the street from 9am to midnight for the Halloween weekend, including the Saturday, October 31 and the Sunday after.
Keep in contact with The Thaiger by following our
Facebook page
.
Never miss out on future posts by
following The Thaiger
.
Armed men allegedly steal more than 100,000 baht from Ayutthaya monk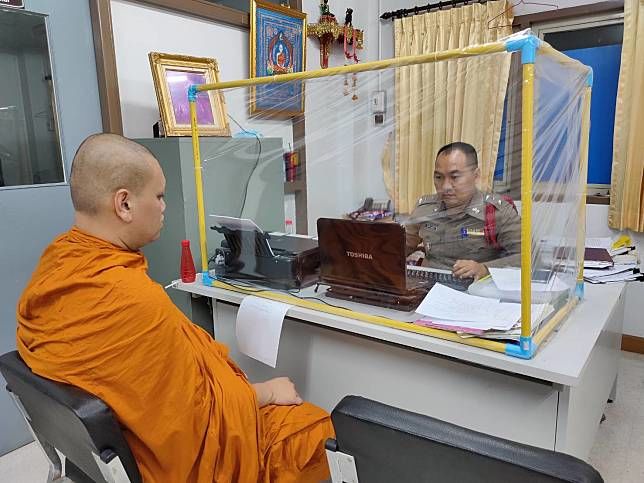 Police are searching for men who allegedly robbed a monk at an Ayutthaya temple, taking off with more than 100,000 baht in cash. Thai media reports that 2 of the men have been arrested and police are still searching for the other 2 men.
The monk was in his room at the Dokmai Buddhist Temple when he heard dogs barking. The monk says he opened his door to see what was going on outside. Just as he was closing the door, 4 men wearing hoods and holding guns and knives forced their way inside his room, the monk says. They allegedly took around 120,000 to 130,000 baht in cash. The money had been given to the monk to organise a ceremony to make merit.
One of them dropped their helmet as they were running out of the temple. Police say they will try to track down the owner of the helmet. Police are still investigating.
SOURCES: Thai Residents| News Channel 7
Catch up with the latest daily "Thailand News Today" here on The Thaiger.
Keep in contact with The Thaiger by following our
Facebook page
.
Never miss out on future posts by
following The Thaiger
.
Raja salvage operation resumes, garbage truck, pick-up raised from seabed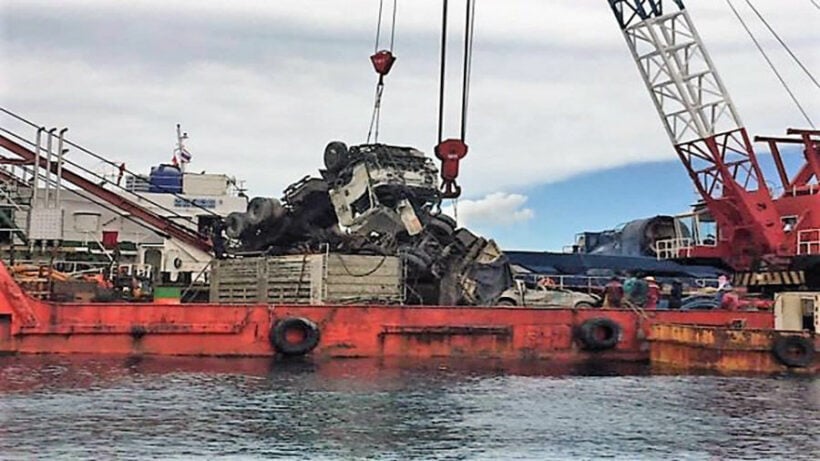 An operation to raise the sunken Raja 4 ferry and its cargo of vehicles from the seabed off Koh Samui has resumed, after being delayed due to bad weather. The ferry sank on the night of August 1 as it was transporting several garbage trucks from Samui to the mainland. The ferry had set sail in bad weather and capsized when its cargo of trucks shifted during the crossing. 5 of the 16 people on board died in the accident.
Having first been suspended briefly due to bad weather a couple of weeks ago, and more recently due to storm Noul, the salvage operation is once more underway, with workers removing an 18-wheel truck and a pick-up from the seabed.
Nation Thailand reports that operators MS Service have been using 2 cranes, installed on 2 boats, to carry out the salvage operation. Prior to being lifted, the garbage truck was covered in netting, to prevent any further refuse from entering the water. Small boats were also used to pick up any rubbish that managed to escape the netting.
The Ministry of National Resources and the Environment has previously threatened to sue the ferry company over the environmental fallout from the ferry's capsize. The ferry itself is yet to be lifted from the seabed.
SOURCE: Nation Thailand
Catch up with the latest daily "Thailand News Today" here on The Thaiger.
Keep in contact with The Thaiger by following our
Facebook page
.
Never miss out on future posts by
following The Thaiger
.
But it was my idea! Thai producer loses battle for Ultraman superhero copyright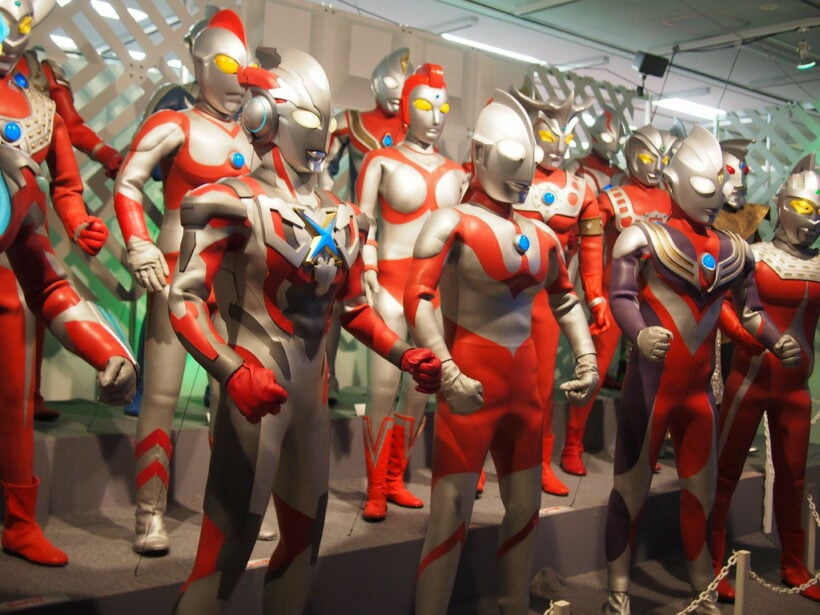 A Thai producer says he came up with the superhero "Ultraman," but he recently lost a battle with a Japanese special effects studio over the copyright. The Thailand Supreme Court rejected an appeal by the owner of the Thai Chaiyo Productions Company Limited who tried to claim copyright for the superhero films which date back to the 1960s.
Owner of the Thai production company, Sompo Saengduanchai, says the superhero comes from his imagination. He says he created Ultraman while on a fellowship in Japan studying film production. He claims he was involving the projects "Jumbo A", "Ultraman 1 – Ultra Q," "Ultraman 2," "Ultraman Seven," "Return of Ultraman," "Ultraman Ace," "Ultraman Taro," "Jamborg Ace" and "Hanuman Meets Seven Superheroes."
Chaiyo Productions Company Limited has been in a copyright war with the Japanese special effects studio Tsubaraya Productions Company Limited. The Appeals Court ruled in Tsubaraya's favor, then Chaiyo appealed that decision. That appeal was just rejected by the Supreme Court Division for Intellectual Property Rights and International Trade.
The Japanese special effects studio is best known for the "Ultra" TV series. It was founded in 1963 by special effects producer Eiji Tsubaraya and the "Ultra" series first aired in 1966. His family ran the company until October 2007, when the family sold the company to advertising agency TYO Inc.
Sompo says he's worried that the Supreme Court decision will have a negative affect on his movies. He says some are registered as national heritage cultural properties.
SOURCE: Thai PBS
Catch up with the latest daily "Thailand News Today" here on The Thaiger.
Keep in contact with The Thaiger by following our
Facebook page
.
Never miss out on future posts by
following The Thaiger
.