Thailand News Today | Hotels wary, rain on the way | September 17, 2020
Despite new tourist visa, hoteliers remain skeptical about reopening
As news comes of the cabinet approving a special long-term tourist visa scheme, hoteliers are remaining skeptical about reopening due to the lack of clarity in the recent announcement which will reportedly kick off next month.
The president of the Thai Hotels Association's southern chapter says more hoteliers will consider reopening if the government gives further information about the plan in terms of prospective markets, arrival dates, origin countries, and flights. At this stage the government has signalled that they only accept charter flights which would severely limit the countries that could participate at the moment.
Around 90% of Phuket hotels reportedly remain closed and are revising their plans on a monthly basis to ensure any future income will not fall behind operation costs.In Chon Buri, the Tourism Council says only half of the 200 registered hotels have reopened, with up to 20 hotels applying to be on the list of the 14 day quarantine experience.
There are currently no international flights into either Phuket International Airport of U-Tapao which services Pattaya.
In the North, only 30% of hotels having reopened-some reporting an occupancy rate of around only 10%.
Disaster plan in place as Tropical Storm Noul puts agencies on high alert
Emergency services are on high alert after the Tropical Storm Noul approaches the Vietnamese central coast around Da Nang in the next 24 hours and is then set to drift across into north-eastern Thailand over the weekend.
The Agriculture Minister says a disaster plan is in place to help prepare for possible emergencies from the effects of the storm which strengthened from a tropical depression to a tropical storm 2 days ago.
Vietnam officials are considering evacuating half a million residents near its central coastal region.
Covid-19 mysteries still unsolved, health officials brush off risk of reopening borders
What's the risk of spreading Covid-19 if borders are reopened? None apparently, just as long as tourists go through a 14 day quarantine when they enter the country.
This, according to the Thai Department of Disease Control. Now that long stay tourist visas have been approved by the Cabinet, the DDC deputy director general says the move will not raise the risks of local Covid-19 cases. He says those visitors are required to stay at state quarantine facilities for 2 weeks so any Covid-19 cases can be contained during that time. But his optimism has been tested recently…
A football player from Uzbekistan, who flew into Thailand last month, tested positive after he was released from 2 weeks of quarantine.
Another possible local transmission is a 2 year old Burmese boy who tested positive for Covid-19 after returning to Myanmar from Thailand.
2 weeks ago there was the case of the 37 year old DJ who was identified as positive during a routine test at a corrections facility in Bangkok. He hadn't been out of the country this year.
Budget airlines ask for lifeline, no answers from PM
No surprise that one of the biggest industries to suffer from the border closures and travel restrictions was the airlines. The carriers are restricted to the routes and have lost an entire sector of their businesses – the international flights.
The Covid-19 pandemic crippled the industry and some say they're barely surviving. They say the Thai PM promised a lifeline of billions of baht in soft loans, but he hasn't followed up and they're still waiting for a bail out. At the same time, tax reductions on jet fuel are ending, which will dramatically increase operating costs, they say.
Last month, PM Prayut Chan-o-cha agreed to allocate 24 billion baht in soft loans to 7 of Thailand's domestic budget airlines, but there's been no word on how or when the money would be allocated. Thai AirAsia, Thai Smile (the domestic 'budget' offshoot of Thai Airways), Thai Lion Air, Thai Viet Jet, Bangkok Airways and Nok Air all requested aid.
Students choose Thammasat University for September 19 protests without gaining permission
Students protesters are moving forward with rally plans September 19 at Bangkok's Thammasat University despite failing to get permission from university administration.
The campus, known as Tha Phrachan, has been chosen before for such rallies and some students are reportedly threatening to break into the campus if they have to.
The United Front of Thammasat and Demonstration Group has made waves recently for their anti-government protests with student leaders saying they will camp overnight if necessary. The group's ongoing demands, to reform the Thai monarchy, has put them at loggerheads with other student protest groups and Thai conservatives.
The group plans to march to the Government House and may even spread out across the Royal ceremony field of Sanam Luang across the street from the university campus. The Thaiger will be reporting live from the protests and have a full video report next Monday.
Lottery winner had 8 winning tickets, a total windfall of 48 million baht
The winning number from yesterday's bi-monthly Thai lottery was 244083 making instant millionaires out of some lucky Thais. A winning ticket receives 6 million baht.
The winner of a massive 48 million baht – 8 winning tickets – is Paisarn, a 36 year old car salesman from Chaiyaphum Province. He's single (although we suspect he will get plenty of offers soon) and works at a Toyota showroom in the Chaiyaphum city area… for now anyway. How he ended up buying the tickets is a great story which you can read at thethaiger.com
Keep in contact with The Thaiger by following our
Facebook page
.
Never miss out on future posts by
following The Thaiger
.
PM orders Thai police to collaborate with Interpol to bring Boss back to Thailand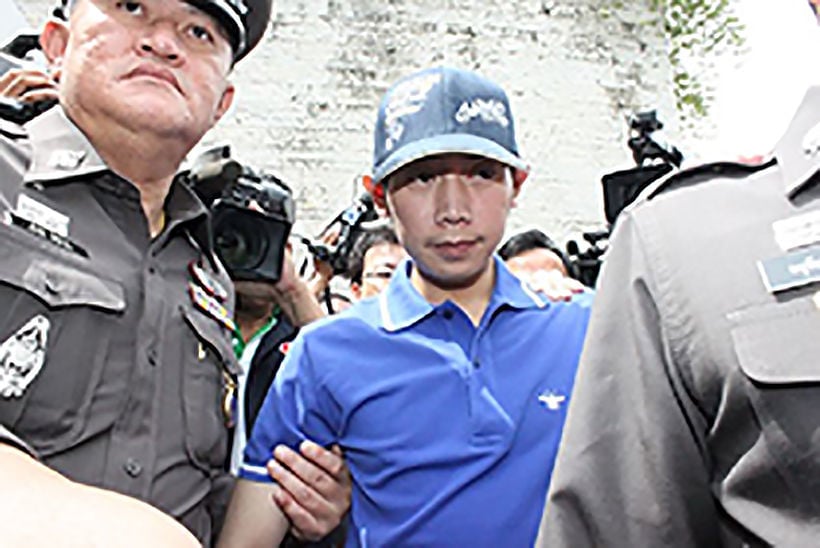 The Thai PM is ordering Thai police to work with Interpol, the International Criminal Police Organisation, to find Vorayuth "Boss" Yoovidhya and bring him back to Thailand for prosecution. The Red Bull heir has been on the run since 2017 and faces charges reckless driving causing death and using cocaine, charges which date back to the incident in 2012 in Bangkok.
In 2012, Boss allegedly sped his Ferrari down Sukhumvit Road in Thong Lor, running over and dragging a 47 year old police officer 100 metres down the road, killing him.
Prosecutors have now officially indicted Boss on the reckless driving causing death and drugs charges, the Office of the Attorney General announced last Friday. The recent indictment, more than 8 years after the fatal crash, follows public backlash after Boss's cases were dropped altogether in July by the deputy attorney general.
PM Prayut Chan-o-cha made a post on his Facebook page saying he ordered police to work with international authorities to find Boss and bring him back to Thailand for trial. He says a Red Notice has been issued and he expects an update by next week.
"I ask every officer to handle this matter correctly and effectively."
Boss, the son of the co-owner of the Red Bull energy drink empire, fled the country in 2017. His hearings were delayed 7 times. He reportedly packed up and fled to Singapore on his family's private jet just 2 days before he was due to face charges. Since then, Boss has been seen and photographed at his family home in London as well as at Red Bull events.
The story has caused ongoing rage in Thai social media with people using the cases as proof Thailand's warped justice system where wealth and power can help you bypass official investigations.
There has been no comment from the Yoovidhya family, Boss or his legal representation since last week's official prosecution.
SOURCES: Nation Thailand | Thai PBS
Keep in contact with The Thaiger by following our
Facebook page
.
Never miss out on future posts by
following The Thaiger
.
Work permits for top tier Thailand Elite Card members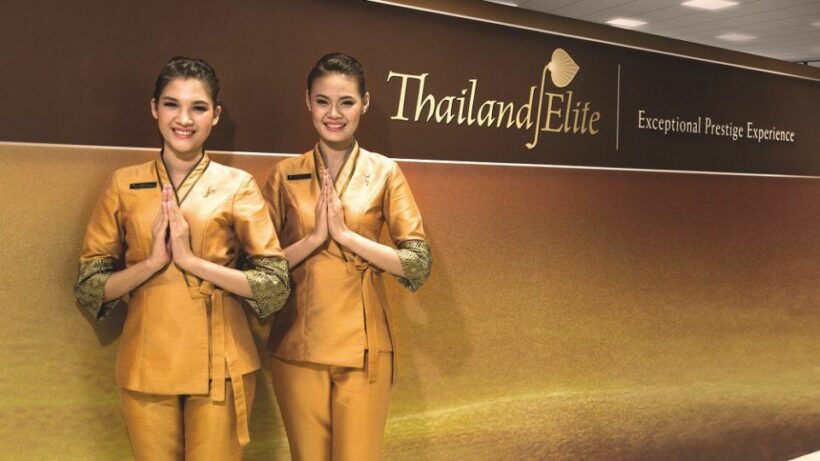 In an effort to give the economy an extra boost, the government will discuss adding work permit privileges for top tier Thailand Elite Card members who invest a minimum of $1 million USD in Thailand.
The scheme will draw more investment to Thailand, according to the Tourism Authority of Thailand, or TAT, governor Yuthasak Supasorn. While the types of investments are up to the members, the government recommends property investment. The property sector was hit hard during the coronavirus pandemic.
The Thailand Elite members are on Elite Visas for 5 to 20 year stays. The website says the goal of the program is to "encourage more tourists to come over and stimulate the Kingdom's bustling tourism industry, as well as to attract more foreign capital to boost the economy."
There are 9 membership categories for the Thailand Elite Card. Members get privileges like expedited immigration lines at the airport and limousine pickup at the airport. Only those in the top tier categories costing 1 to 2 million baht, plus a minimum investment of $1 million USD within 1 year, will be eligible for the work permit.
Member applications have been at a record high over the past 2 months with a monthly average of 300 to 500 applications, according to Somchai Soongswang, the president of Thailand Privilege Card which operates the Thailand Elite Card scheme.
In August and September, 200 applicants were approved each month. Before the pandemic, only 100 memberships were approved per month. It takes 15 to 45 days to have the membership approved. Members must be screened through the Immigration Bureau, and some also need to pass additional screening through national intelligence agencies.
SOURCE: Bangkok Post
Catch up with the latest daily "Thailand News Today" here on The Thaiger.
Keep in contact with The Thaiger by following our
Facebook page
.
Never miss out on future posts by
following The Thaiger
.
Win driver allegedly ran red light, hits teenage motorbiker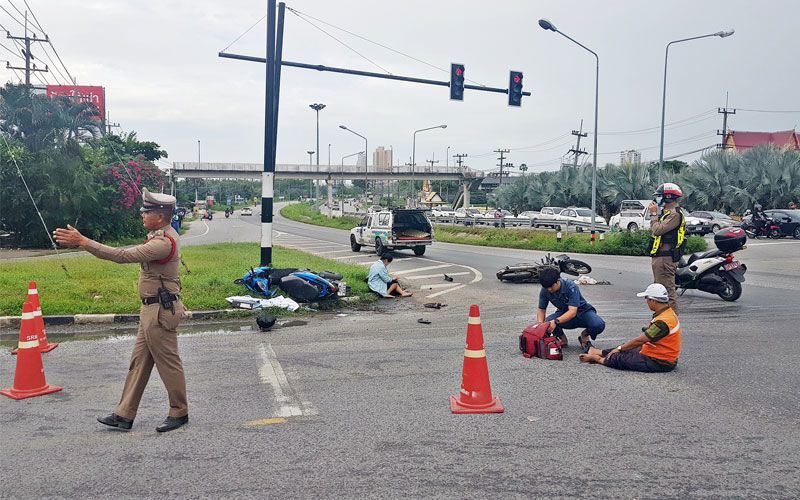 A Thai motorbike taxi driver, known as a 'win' driver, allegedly ran a red light and ran into a teenage student driving on Sukhumvit Road in Chon Buri's Sattahip district. The 58 year old win driver and the 18 year old student were both taken to the hospital. Emergency responders did not report on the extent of their injuries.
The student, Chatwilai Laopanna, told police that she was driving through the green light when the motorbike taxi driver collided into her. The win driver, Tawin Samila, admitted to police that he drove through the red traffic light.
Na Jomtien Police are reviewing surveillance camera footage to determine what potential charges will be pressed on the win driver.
'Win' drivers are an indispensable form of public transport for people to travel short distances, or cut through the heavy traffic, especially around Bangkok. But they are notorious for protecting their 'turf', erratic driving and flouting the traffic rules.
SOURCE: Pattaya News
Catch up with the latest daily "Thailand News Today" here on The Thaiger.
Keep in contact with The Thaiger by following our
Facebook page
.
Never miss out on future posts by
following The Thaiger
.