Ukraine
UKRAINE UPDATES: Russia bombs children's hospital, despite ceasefire; Moscow admits using conscripts, enlists TikTok influencers
As the conflict enters its third week, here's the latest headlines from Russia's invasion of Ukraine…
• Russian forces have bombed a maternity ward and children's hospital in the besieged city of Mariupol in southern Ukraine. The attack came despite Russia agreeing to a 12-hour ceasefire to allow civilians to flee from towns and cities. Pregnant women and children are believed to be buried beneath the rubble. At least 17 people were wounded in the attack.
• In response, Ukrainian President Volodymyr Zelensky has declared the horrific air strike on women and children a "war crime," saying…
"This bombing on the maternity and children's hospital is the final proof, proof that the genocide of Ukrainians is taking place."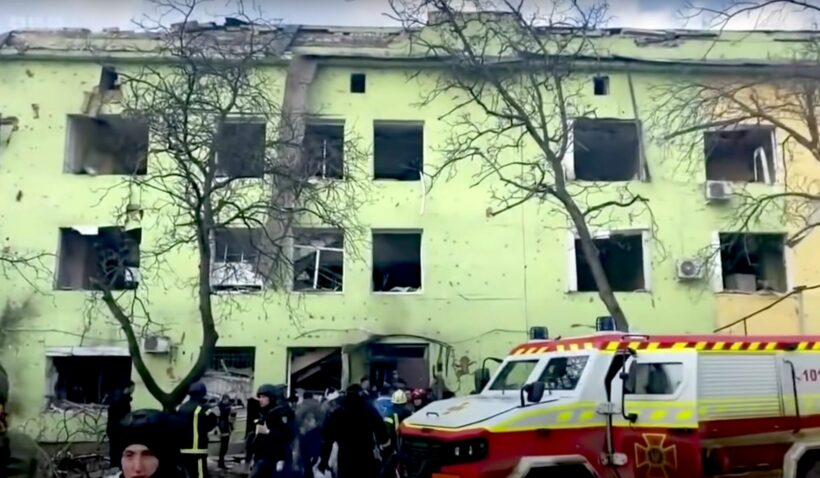 PHOTO: A maternity and children's hospital in Mariupol, Ukraine, was bombed by Russian forces, despite a ceasefire agreement. Credit: France24 | YouTube
• The Russian strike targeting pregnant women and sick children comes in tragic irony, after President Vladimir Putin released a video for International Women's Day praising Russian women for their "sensitivity, compassion and spiritual generosity," combined with "charming tenderness and amazing inner strength." He also tried to reassure the female family members of Russian servicemen, saying…
"Let me emphasize that conscript soldiers are not participating in hostilities and will not participate in them. And there will be no additional call-up of reservists. The assigned tasks are solved only by professional military personnel. I am confident that they will reliably ensure security and peace for the people of Russia."
• Moscow has admitted to using conscript soldiers in it's "special military operation" in Ukraine, though it claimed it was unintentional, and assured the public that all conscript soldiers have been sent home and now only "professional soldiers" are engaged in the conflict. The admonition comes as Russian families face the stark reality of caskets returning home filled with their killed servicemen.
• Power has been cut off from the defunct Chernobyl nuclear power plant. It was seized by Russian forces on the first day of Russia's invasion of Ukraine. Moscow claims the situations at captured nuclear power plants are safe. The country's biggest power plant, also Europe's largest, was captured by Russian military forces. Staff at the plant have since been taking orders from the Russian commander who captured it.
• Ukrainian authorities say efforts to evacuate people to safety in some of Kyiv's suburbs have failed. The city council of Bucha accuses Russian forces of blocking an evacuation convoy.
• Meanwhile, Russian shelling is still preventing the evacuation of civilians from besieged cities, including Kyiv, Mariupol, Sumy and Kharkiv. The mayor of Mariupol says that at least 1,200 civilians have already been killed in the city.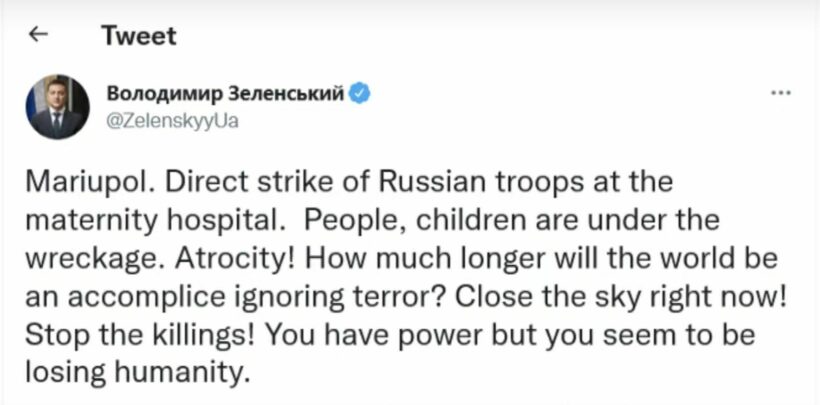 • Ukraine earlier rejected a Russian proposal to allow civilians to escape via routes leading only to Russia or its ally Belarus. The proposal was also roundly condemned as "cynical" and "hypocritical" by the international community.
• Ukraine says that some 35,000 civilians were able to evacuate from Ukrainian cities on Wednesday, and so far 48,000 people have been able to evacuate through humanitarian corridors. The UN estimates that at least 2.2 million people have fled Ukraine since the invasion began, while many Ukrainians remain internally displaced.
• A fourth round of Russia-Ukraine peace talks is set to take place on Thursday in Turkey, after the third round ended with little agreement. Russia's foreign minister Sergey Lavrov and Ukraine's Dmytro Kulebais are set to meet in Antalya, Turkey, on Thursday. It's the first talks between the two nations' top diplomats since Russia invaded Ukraine two weeks ago. Turkey is leveraging its position as a mutual friend to host this latest round of peace talks.
• On Monday, Moscow demanded that Ukraine change its constitution to guarantee it won't join the EU and Nato, in order to call off its invasion.
• Russian's deputy PM has warned that Moscow could cutting off natural gas to Europe in retaliation against sanctions.
• A Ukraine lawyer at the International Court of Justice says Russia "is resorting to tactics reminiscent of medieval siege warfare."
• Social media influences on TikTok have been spotted reciting the same lines from a propaganda hymnsheet, as the Kremlin engages social media to spread its narrative of misinformation and fake news about its "special military operation" in Ukraine.
• Despite temporarily halting their operations in Russia, Coca-Cola and McDonald's are still facing pressure to join a growing corporate boycott of Russia. An estimated 230 Western firms have joined the boycott.
• Canada's PM Justin Trudeau met with German Chancellor Olaf Scholz in Berlin, as the Canadian leader continues his tour of meetings with European allies. Trudeau has also visited European NATO-partners UK and Latvia in the last few days. Trudeau and Olaf discussed the war in Ukraine and tensions between the western military alliance NATO and Russia.
• Canada has pledged to send "highly-specialised military equipment" to Ukraine, while Germany has ended its agreement with Russia's Nordstream 2 pipeline. Last week, Russia reversed its decades long stance of not sending weapons to war zones, in a historic turning point on military and foreign policy since the end of WWII.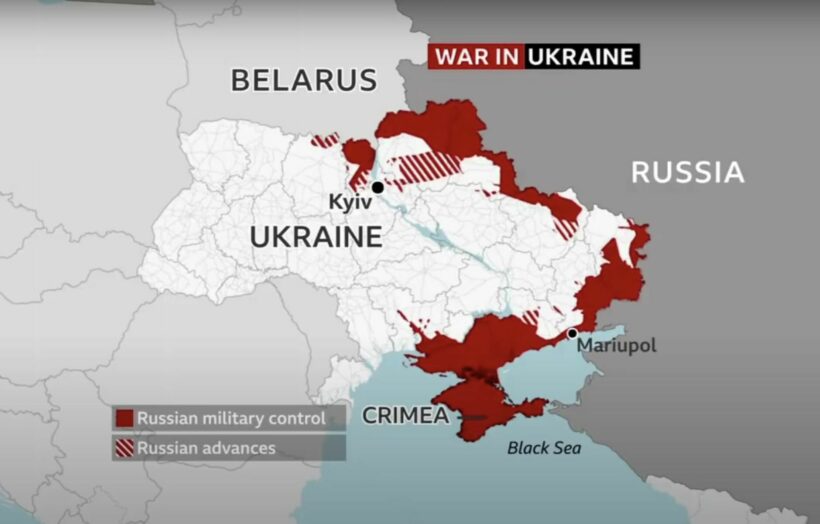 GRAPHIC: A depiction of the control and advance of Russian troops on Ukrainian territory. Credit: BBC | YouTube

Join the conversation and have your say on Thailand news published on The Thaiger.
Thaiger Talk is our new Thaiger Community where you can join the discussion on everything happening in Thailand right now.
Please note that articles are not posted to the forum instantly and can take up to 20 min before being visible. Click for more information and the Thaiger Talk Guidelines.