Loy Krathong 2022: What to know and where to go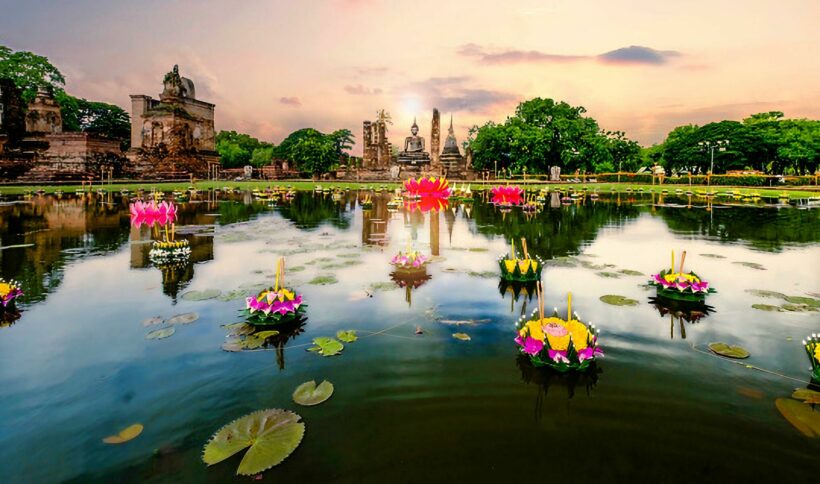 Loy Krathong is one of the most popular festivals in Thailand. It is celebrated on the night of the full moon in the 12th month of the Thai Lunar calendar. This year, Loy Krathong falls on Tuesday, 8 November 2022.
This picturesque festival is a time for people to gather around rivers, canals, ponds, lakes, and other bodies of water to release lotus-shaped rafts onto the water. Today, the festival also features spectacular performances, beauty pageants, and fireworks. If you want to join the celebrations, here's everything you need to know about Loy Krathong.
What is Loy Krathong?
Loy Kratong, which translates to "floating banana tree trunk," is a festival where people gather along Thailand's riverbanks to float banana trunks. The banana trunks (Krathong) are typically shaped like a lotus and decorated with flowers, incense, candles, personal items, and craft-store buys.
The history and reason behind this beautiful festival are complex. It's believed that Loy Krathong originated in Sukhothai, an ancient city situated around five hours from Bangkok. The festival is not necessarily a religious holiday. For some people, however, it's a day to pray and give gratitude to the water goddess, Phra Mae Khongkha, as well as to ask for forgiveness for using too much water or for polluting the water as they float their banana trunks into the rivers.
Many people also believe that floating Krathong is a symbolic way to brush off bad luck, let go of anger or grudges, and cleanse misdoings and misfortunes from the past to start anew and free of negative feelings. If your candle stays lit until you can't see your Krathong, it means that you'll have a year of good luck. If not, well, better luck next time.
Thai people traditionally release their Krathong into the rivers and small canals. However, today, people also release the Krathong into a lake or pond. With thousands of lightened banana trunk boats floating down waterways in Thailand, Loy Krathong is definitely one of the most enchanting festivals in the country.
Besides releasing Krathong, the festival is also full of many fun performances. You can see and hear fireworks, stroll around streets filled with a lineup of vendors, parades, and even beauty pageants known as "Noppharat Queen Contests." It's common to see Thais wearing traditional Thai clothing during the festival.
When is Loy Krathong?
Loy Krathong is celebrated on the 12th full moon of the Thai lunar calendar. Therefore, the date can change every year depending on the full moon. It usually falls at the end of the rainy season or in the month of November. This year, Loy Krathong will take place on November 8. The festival usually starts in the evening.
Although the mass release of Krathong occurs on Loy Krathong day, the celebrations can continue for several more days. The festival can go on for 5 days in Sukhothai and 3 days in Bangkok and Chiang Mai.
Where to go during Loy Krathong 2022?
Loy Krathong is celebrated throughout Thailand, so you can go to any body of water in the country to enjoy the festival. Thais eager to float their Krathong and pay their respects to the goddess of water will gather around almost every river, canal, pond, lake, and other body of water. Here's where to go to celebrate Loy Krathong in 2022:
1. Chiang Mai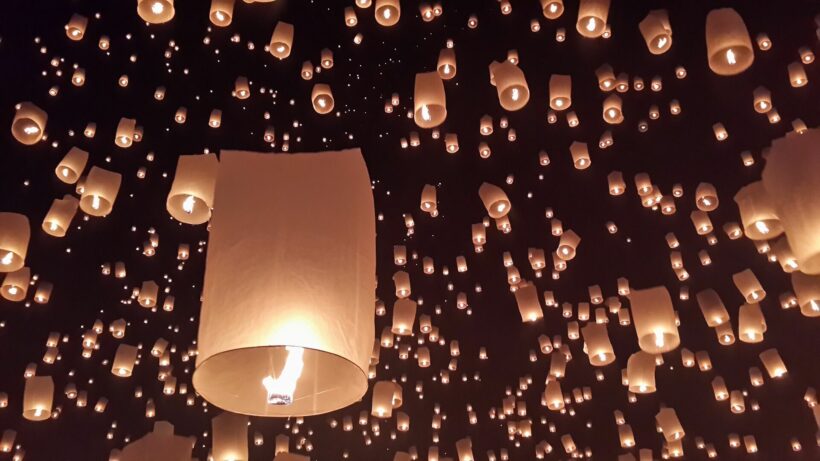 Chiang Mai is the best place to go for a truly mesmerising Loy Krathong Festival experience. Aside from Loy Krathong, the city also holds the Yi Peng Festival on the same day. The Yi Peng Festival, also known as Thailand Sky Lantern Festival, is unique to Northern Thailand. Therefore, you won't experience the fusion of Loy Krathong and Yi Peng festivals in any other place around the country. In addition to releasing candlelit banana trunks on the water, people also light and float lanterns into the night sky. As a result, you can experience an enchanting scene that looks like something out of a fairytale.
One of the best places to celebrate Loy Krathong and Yi Peng in Chiang Mai this year is by participating in the Chiang Mai Yi Peng Festival 2022, from 7 to 9 November. The festival is held at areas around the Chiang Mai city moat and at the Chiang Mai Municipal Office. On 9 November, there'll be big krathong parade, as well as Yi Peng beauty queen and Godfather contest at Tha Phae Gate.
2. Sukhothai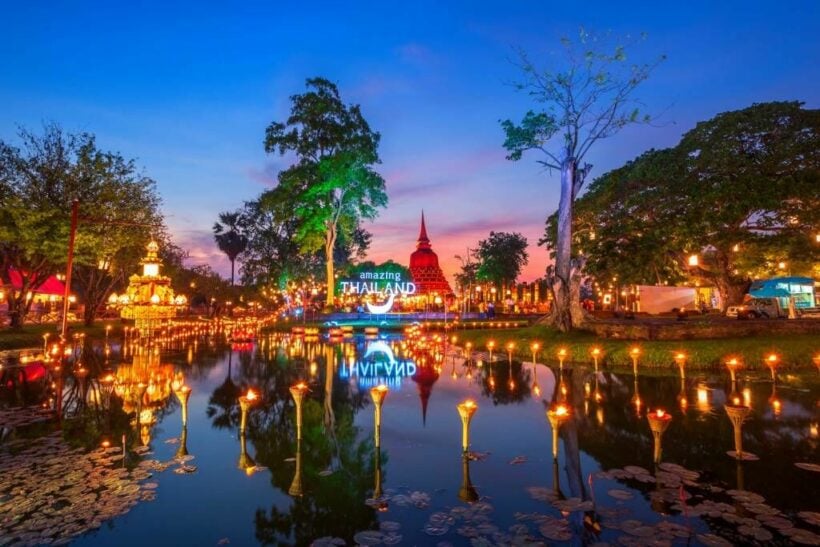 As the birthplace of Loy Krathong, Sukhothai is an incredible place to experience the festival. This ancient city is where you'll get the most authentic Loy Krathong experience, making it the perfect place to visit if you want to learn more about the legends and history of the joyful festival. The main event, Sukhotai Loi Krathong and Candle Festival 2022, will take place at Sukhothai Historical Park from 29 October to 8 November. You can enjoy amazing firework shows, including Lighting Fire Paniang and Ta Lai.
People in Sukhothai celebrate Loy Krathong for over 5 days. Besides the mass release of Krathong, the festival usually features parades, light and sound shows, folk music performances, and a beauty contest.
3. Bangkok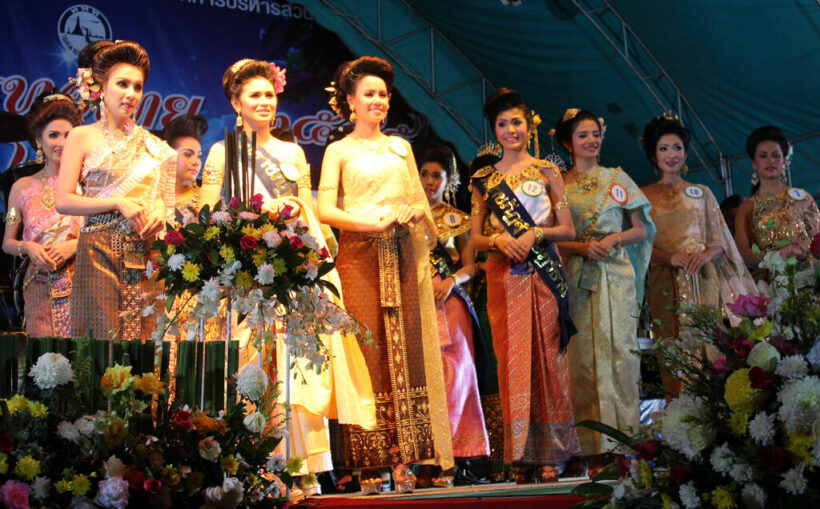 Bangkok is another great place to experience Loy Krathong. The city is usually full with festival venues and activities. Even hotels across the city host a Loy Krathong event at their swimming pool area. The main festivities in Bangkok are usually held along the Chao Phraya River. This year, you can join the "Wan Phen Yen Jai" Bangkok River Festival, which is hosted from 5 to 8 November at 10 Landmarks along the Chao Phraya River. These include Wat Arun Ratchawararam Ratchaworawihan, Wat Rakhang Kositaram Woramahawihan, Wat Kalayanamit Woramahawihan, Wat Prayurawongsawat Worawihan, Guan Yu Shrine (Khlong San), Tha Maharaj, The LHONG 1919, Asiatique The Riverfront, and SOOKSIAM at ICONSIAM.
Another top event to to enjoy Loy Krathong in 2022 is the Santi Chai Prakan Public Park. The festival, called The Delightful Colours of The River: Bangkok Loi Krathong Festival 2022, will take place from 6 to 8 November.
Besides these two, you can find Loy Krathong festivals practically everywhere around the city. From Lumphini Park to Ramitra Sports Park.
4. Rayong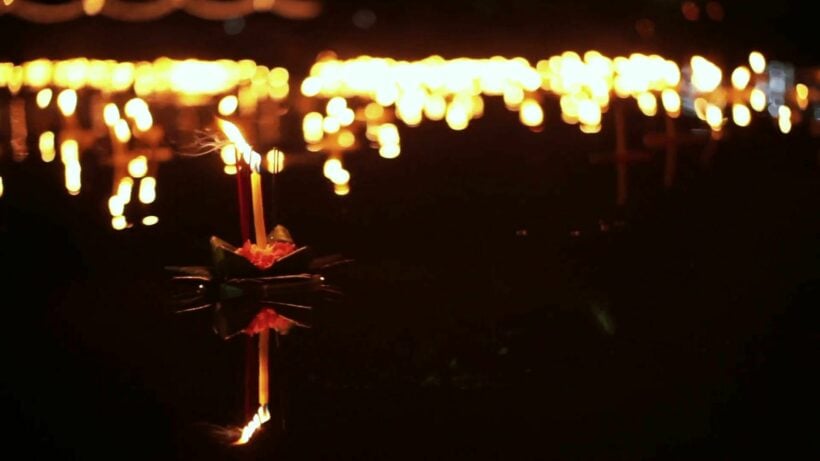 Head to Phra Chedi Kalng Nam on 8 November if you want to experience Loy Krathong 2022 in Rayong province. There'll be traditional red robe ceremony where participants walk around Phra Chedi Klang Nam 3 times before clothing the pagoda.
Looking for something full of music and fun? Visit the Loi Krathong Festival at Wat Mae Nam Khu Mai between 30 October and 8 November. You'll be able to immerse yourself in Thai music concerts, including Thai country music, Thai modern songs, and Thai folk songs. In addition, there'll be beauty pageant, delicious food, and many other activities.
Now that you know all the essentials to enjoy Loy Krathong and where to go, get ready to experience one of the most magical festivals in the world!
If you want to learn more about Thai festivals, read our article on Interesting Festivals to Experience in Thailand.
Events

Join the conversation and have your say on Thailand news published on The Thaiger.
Thaiger Talk is our new Thaiger Community where you can join the discussion on everything happening in Thailand right now.
Please note that articles are not posted to the forum instantly and can take up to 20 min before being visible. Click for more information and the Thaiger Talk Guidelines.