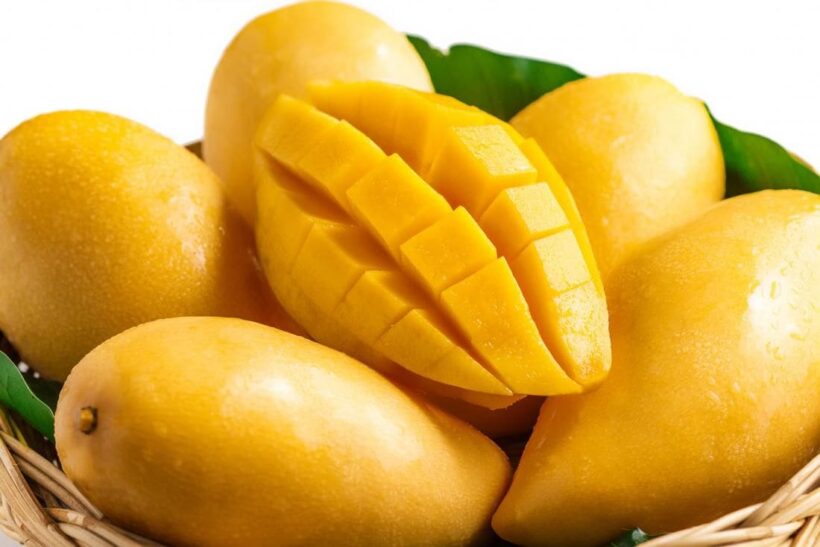 Thailand's mangoes, famed for their smell and golden colour, often seen in the company of sticky rice and topped with coconut cream, are as local as you get when it comes to Thai cuisine. And is there anything better than a mamuang pun (mango smoothie) on a hot Thai day?!
Mangoes have been cultivated around South Asia for thousands of years and reached South East Asia between the fifth and fourth centuries BC. By the 10th century, cultivation had begun around East Africa. Cultivation later arrived in Brazil, Bermuda, the West Indies and Mexico, where a similar hot and humid climate allows its growth.
Markets can now sell ripe mangoes any time of the year but the natural peak season for mangoes is the annual "hot season" between March to May. Thailand grows some 200 varieties and the Kingdom is the world's third largest mango exporter, just behind India and China. Although modern agricultural techniques allow it to be grown around the country, the best regions for mangoes are said to be Ratchaburi, Nonthaburi and Chachoengsao – a strip through the central region of Thailand adjacent to Bangkok.
The energy value per 100 gram serving of the common mango is 250 kilojoules, and that of the apple mango is slightly higher 330 kilojoules per 100 grams. Fresh mango contains large quantities of vitamin C and folate.
Mangoes thrive in the Thai tropical heat. The trees take root quite easily and grow in lower grade soils when compared to the demands of other popular Thai fruits. Farmers say that mangoes usually thrive on being ignored and don't demand a lot of attention. Mongo trees can eventually grow to 35 metres tall and display yellow flowers during their annual bloom. Some mango trees have been known to live for 300 years.
The fruit usually takes four to five months from flowering to ripe, pickable mangoes.
As popular as the sweeter golden yellow mangoes are, the green mangoes are an important ingredient for Thai cuisine and also as a traditional snack.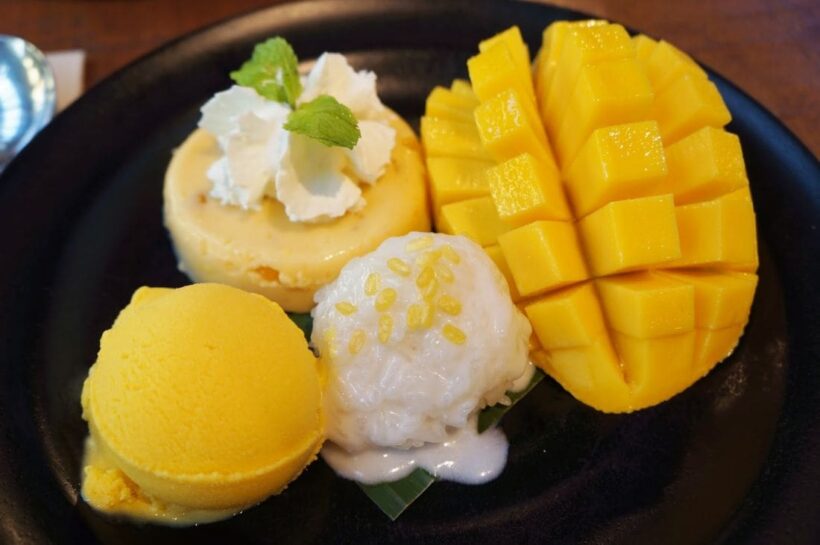 Are you considering a medical procedure abroad? With Thaiger Medical you can research hospitals and doctors, choose a destination in Thailand or abroad, and book an appointment today.

Read more headlines, reports & breaking news in Thailand. Or catch up on your Thailand news.
Thai businesses locked out of potential $237.2 million medical cannabis market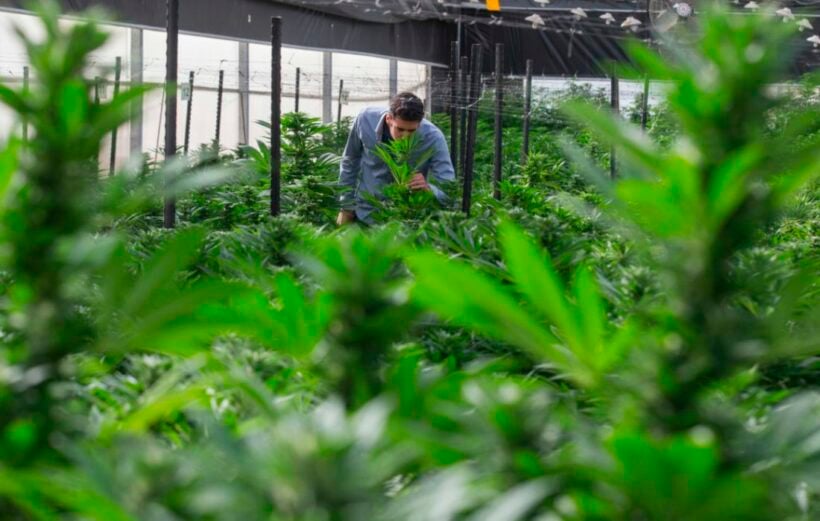 by Daragh Anglim
Thailand is emerging as a frontrunner in the nascent Asian cannabis market. With 175 clinicians now qualified to prescribe cannabis-based medicines in the country, Thailand is at the cusp of a major breakthrough in realising the commercial and societal benefits of medical cannabis.
The Asian Cannabis Report published in May by leading market analysts and advisors Prohibition Partners, forecasts that the Thai cannabis market will be worth US$237.2 million by 2024 should medical access open up. 
In February, the National Legislative Assembly (NLA) took the landmark decision to approve the use of cannabis for research and medical purposes. This cemented Thailand's position at the vanguard of medicinal cannabis in Southeast Asia, as the first country in the region to use cannabis to treat Parkinson's disease, multiple sclerosis, drug-resistant epilepsy and pain and nausea in cancer patients.
The NLA's decision will theoretically allow medical practitioners to prescribe cannabis-based treatments to people living with a range of chronic and debilitating conditions. 
Currently, there are only two officially sanctioned plantations in Thailand which are permitted to grow a strain of cannabis that is low in psychoactive compounds – less than 1% THC – to supply hospitals or government research institutes. All medical cannabis must be grown indoors to prevent illegal trade and ensure quality. 
While the Thai government is still tightly controlling the production and supply of the market, foreign companies such as GW Pharmaceuticals and Otsuka Pharmaceutical are alert to developments and have begun to file patent requests. The Thai Department of Intellectual Property has denied requests from the British and Japanese companies. Commerce Minister Sontirat Sontijirawong recognised that cannabis 'is Thailand's future cash crop' and hard-working domestic businesses will naturally be concerned that if future patents are granted, international parties will get a head-start and dominate the potentially lucrative market. 
In order for Thai businesses to reap the rewards medical cannabis can bring, legislation needs to be clarified. Right now, all eyes will be on regulations due to be published next month. It is believed that these will establish licensing and prescribing criteria for medical practitioners, but it is yet to be seen whether Thai farmers and businesses can expect the same clarity around domestic cultivation.
Whether in Oceania, Europe or North America, the evidence is unquestionable; citizens and governments across the globe are rapidly waking up to the potential of developing medical cannabis markets, and, provided legislation keeps apace, Thailand is well placed to lead the pack in Asia.
Daragh Anglim is Managing Director of Prohibition Partners, leading market analysts and advisors for the emerging cannabis industry. 
• The view expressed do not necessarily reflect the views of The Thaiger or its staff. The article is published to enhance the understanding of the issues related to partial legalisation of medical cannabis in Thailand.
Investigation launched into private hospital for alleged overcharging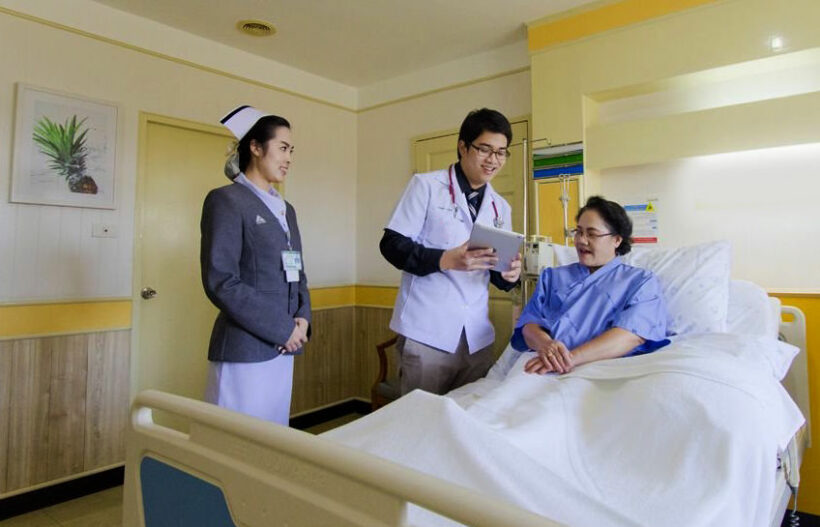 FILE PHOTO
If you wish to make a complaint about private hospital overcharging and rorts, phone 1569.
The Thai government's Commerce Ministry is considering legal action against a Thai private hospital for allegedly overcharging a patient who was charged 30,000 baht for treatment for diarrhea.
The Internal Trade Department of the Commerce Ministry has launched a fact-finding probe, in response to a complaint lodged via the department's hotline 1569. The patient claimed he was charged about 30,000 baht by the private hospital after he was admitted for treatment of 'acute diarrhea'.
The investigation shows that the hospital, whose name is being withheld, had indeed overcharged the patient for several items of medication and services, according to Thai PBS.
The source claims the department will soon ask the executive, or a representative of the hospital, in for a 'please explain' session.
Meanwhile, the department is in the process of inviting executives and representatives of 70 private hospitals to discussions after it was discovered that they had allegedly overcharged for medications by a factor of 3-9 times above market prices.
SOURCE: Thai PBS
"Cannabis Walk Thailand" heads south on its 268 kilometre march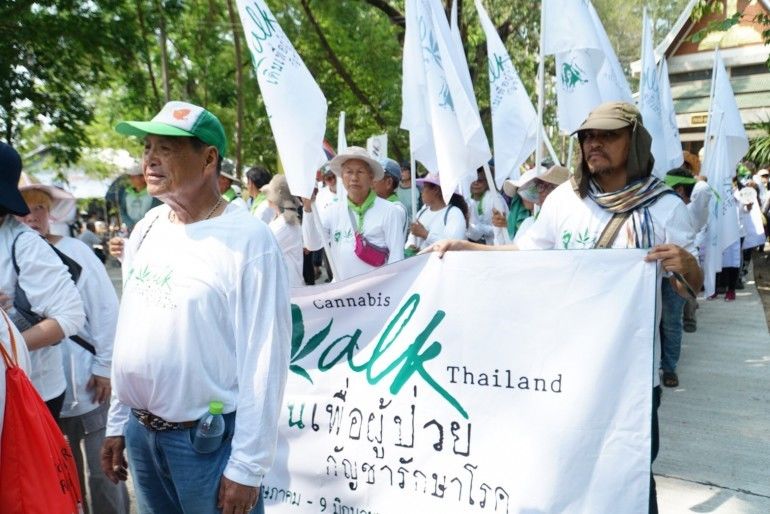 PHOTO: Thai PBS
11 civic groups set off yesterday from Phichit in northern Thailand embarking on a 268 kilometre "Cannabis Walk Thailand".
It started yesterday at the Wachiraphotiyarn Monastery. The march will end at Wat Bang Pla More in the central province of Suphan Buri. Campaigners are using the walk to raise awareness of easier access to medicinal cannabis. They're also highlighting their demand for cannabis to be removed from the list of narcotic drugs and treated as medicinal herb instead.
The long march has been led by Mr. Decha Siripat, president of the Khao Kwan Foundation. The group has spent many years researching cannabis for medical use and distributed free cannabis extracts to many patients. The foundation has fallen foul of the law many times – recently an arrest and charges were overturned by direct intervention from Thai PM Prayut Chan-o-cha.
In a speech before the march set off Mr. Decha said that the government's recent amnesty, for people in possession of cannabis or cannabis products to declare them to the authorities so they may keep them for medical purposes with impunity, is too bureaucratic and make it nearly impossible for many people to have legal access to medicinal cannabis.
Speak on behalf of the Foundation, he said that the group can, at most, distribute medical cannabis produced by the foundation to only 10,000 people a year, whereas the number of people who want the medication is as high as two million a year (no statistics were provided to back up his claim).
SOURCE: Thai PBS