Trellises and a treasure trove – Phuket Gardening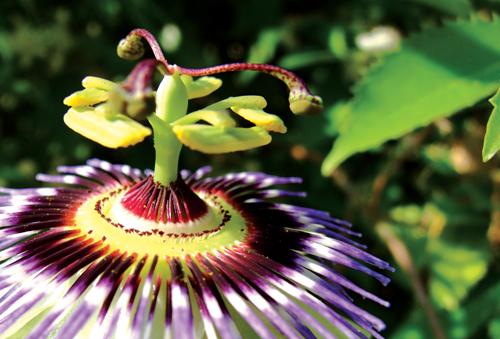 PHUKET: According to Wikipedia, a trellis is an architectural structure, usually made from wood, bamboo or metal with an open framework or lattice of interwoven or intersecting parts and made to support and display climbing plants, especially shrubs.
My father had a wooden trellis made expressly for his climbing roses, but such a construction in Phuket would quickly fall victim to termites. I know; I've tried it.
Trellises are especially useful where there are restrictions of space – they allow plants to grow upwards instead of outwards. And apart from the mandatory metal frame, they are ideal for select plant vines which can weave their growing tips and shoots in and out of the lattice to create, in time, a dense mass of greenery.
If you are using bulky climbers which do not naturally attach themselves to available structures – and we are talking allamandas, Rangoon creepers, chalice or Indian rubber vines, and mandevillas, then these profuse bloomers will need to be initially tied to the bare structure, or intertwined with tendril-bearing vines which can attach themselves to anything.
One iconic garden here in Phuket constantly comes to mind. The "piece de resistance" of this particular garden – a roof garden five storeys up, is a system of arching trellises which frame a ground-level cover of dense, evergreen shrubs: tabernaemontanas and jasmines, plus sculptural yuccas and bonsai trees, thereby creating decorative frames through which to view the azure sky or rioting plant life.
Moreover, the owner has done the right thing: he has combined his non-clinging golden allamandas and white mandevillas with tendril-bearing climbers – rarely cultivated but brilliant odontaneas, coral vines, morning glories and passion flowers.
Prompted by lots of tender loving care, they have clambered en masse over the now invisible metal trellis frames and display a dense canopy of greenery adorned with trumpet-shaped flowers in golden, white and pink. Visually spectacular? Absolutely.
But there is more to come. After dinner, we climb the stairway again and are met by the fluttering and whirring of tiny wings. For there, in these shrubby havens, are sun birds, nesting pairs and their fledglings, surprised into flight at this ungodly hour by human activity.
"About fifty nesting pairs here," said my host with obvious satisfaction. What an achievement. I do not know how many rai of woodland would be needed to support such a colony of olive-backed sun birds and little spider hunters, but it would be considerable.
Moreover, in the wild, birds would lack the complete protection they so obviously enjoy here in their rooftop eyrie. No predatory cuckoos or honey guides to rob their flimsy nests, no marauding cats, no pellet guns. And a plenitude of food. Those nectar loving creatures have hundreds of bell-shaped flowers all around them, a constantly renewable source of honey for their foraging tongues. No need to go elsewhere. No wonder the plants look so healthy. A constant process of pollination and no destructive insects and. Nature always repays the considerate.
"Of course, I do feed the other birds too," explains our host.
"Every day, we put out bird seed." Clearly it is enough of a feast to keep the broad-billed visitors happy. Tree sparrows, nesting under the eaves, have a daily supply, so too any other callers such as baya weaver birds, munias, or finches that might happen on this bounty.
The lesson is obvious. We really are, as gardeners, the principal guardians of what remains of Phuket's natural heritage. What our friend is doing is a not only a lesson for us all, but an inspiration. As Voltaire said a long time ago:
"Il faut cultiver notre jardin." The adage is now more than ever true. We must indeed cultivate our gardens….
Tip of the week – An unsavory topic: hot stuff
I have just collected a consignment of what we might politely call a soil amendment. Actually it is chicken manure mixed with top soil and some coconut fiber. It's great stuff and my plants, especially the potted ones, really appreciate a top-dressing. Within days , the leaves acquire a new gloss. Moreover, it will speed up the process if put on your compost heap.
Poultry droppings are especially rich in nutrients: 1.8 nitrogen, 1.5 phosphate and 0.8 potash. But as with all organic manures, be careful. As the man said, this is "hot stuff".
What he meant was that it had only recently been collected from source, and needed time to mature. "Raw" manure (usually smelly) is too rich in nitrogen for plants, and putting it on straightaway can cause "burning" of stems and foliage. Leave it to cool off for a few days before you apply it.
If you have a question, or a garden that you would like featured, you can email Patrick Campbell here.
Keep checking our online Phuket Lifestyle pages, follow us on Twitter @phuketgazette or join our Facebook fan page for regular gardening features and tips.
— Patrick Campbell

Thai Life

Join the conversation and have your say on Thailand news published on The Thaiger.
Thaiger Talk is our new Thaiger Community where you can join the discussion on everything happening in Thailand right now.
Please note that articles are not posted to the forum instantly and can take up to 20 min before being visible. Click for more information and the Thaiger Talk Guidelines.