Top 10 tips to sex-up your social media game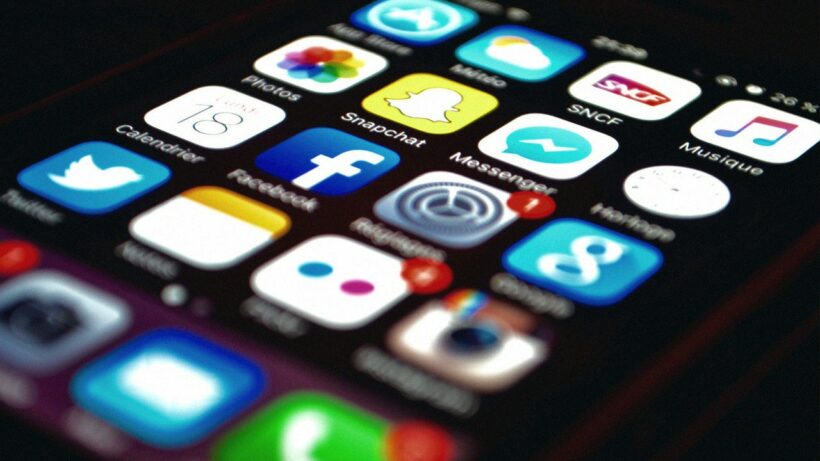 Get your social media game up to speed, or get left behind. Some tips from Phuket's Mr Social Media, Alex Runhaar.
1. Get people to engage
When using social media for your company, you want people to engage with your content as much as possible. Using high quality imagery is key. However, when uploading images to Facebook, it compresses your pictures and transforms the quality. By using software like Adobe Lightroom you can modify your imagery to fit each social media platform and thus ensure more likes, shares and comments on your posts.
2. Diversify your spend
Digital Marketing should be seen as a multipurpose tool to increase brand awareness and ultimately sales. By focusing your efforts on a few social media platforms and complimenting this with google advertising…you are looking at a winning combination. Once you have a solid Facebook advertising strategy in place, rather than putting more money towards it, diversify by using google adwords. Your potential clients will thus be exposed to your brand from different avenues. Think about it, if you are looking for anything, where do you go….that's right. Google. If you aren't familiar with Google adwords, now is the time to do a bit of research. This under utilized tool is gold for all businesses when used correctly.
3. Create partnerships
Creating partnerships with established online personalities & businesses will fast track your company's online presence. Sit down, do a bit of research and think of who these people are. Once you've figured that out, reach out to them. Give them a call… have a chat to see how you can work together by creating a win-win strategy. This should become a priority and be added to your weekly goals. For example, every week I'm going to contact 5 businesses/people and propose them my partnership plan. If done on a consistent basis, you will be amazed by the results.
4. It's not about what YOU want
Remember it doesn't matter what you think is good content – it's all about what your community responds to. By measuring what they are engaging with and reacting to, you can give them more of what they want and sit back while your community grows. Digital marketing is all about giving the people what they want and not what you think they want.
5. Go to fiverr.com
If you want to step up your social media marketing game. Visit fiverr.com, that's f i v e r r .com. For a cheap price you can get a graphic designer to create content for you which integrates your brand with current/trending news. If done properly, this is a great way of getting your posts to go viral. Remember, join in on the conversation instead of trying to create one.
6. Get some social media knowledge
Know nothing about digital marketing? Head over to socialmediaexaminer.com. They provide great resources to get you started. This doesn't mean you need to spend hours in research and become an online expert, but understanding the fundamentals is a must for all business owners. It might look a bit daunting at the start, but trust me, once you get the hang of it, you can start utilising this tool to grow your business and easily find your online development formula.
7. Edit, don't waffle and use a great pic
When posting links on Facebook always edit how the content will be displayed. Make sure the copy you use in your post is captivating and incredibly clickable. Make sure your heading and sub-text is accurate and compelling. Lastly and most importantly, use a custom thumbnail to draw people in. For ideas do a bit of research on "best thumbnail practices" on Google. Model what the successful accounts are doing and you will see engagement sky rocket.
8. Interact with like-minded brands
Start interacting with other brands, pages and other accounts in your community and industry. I'm not just talking about liking an image here or there. Actually read their content and engage on a real and personal level with the content. Take the time to formulate interesting questions and start a conversation. Do this 5 times a week. This is a game changer for any company to start connecting with their audience.
9. Do it well and do it often
If quality is king, then consistency is queen. In a time where we are bombarded with information and our attention span is limited …it is not enough to just produce great content. You will need to deliver this on a consistent basis to keep people engaged and make you part of their world. Perfectionists will struggle with this concept, but you should always choose pushing out content, over taking too long making sure it's flawless.
10. Get your social media canvas looking good
Creating content can sometimes be a bit tricky. Do yourself a favour and go to Canva.com. This software allows you to create great looking pieces on content customised for each specific social media platform. From thunbnails and flyers to facebook and Instagram posts. It really has great professional looking templates to choose from and is incredibly user friendly. This will allow you to create first class posts very quickly.
To get more info about getting you social media game up to speed, contact Alex Runhaar.
Keep in contact with The Thaiger by following our
Facebook page
.


Find more Thai Life top 10s and top 10s in Thailand on The Thaiger.

Out of 37 countries, Thailand has the worst pension system, says Bloomberg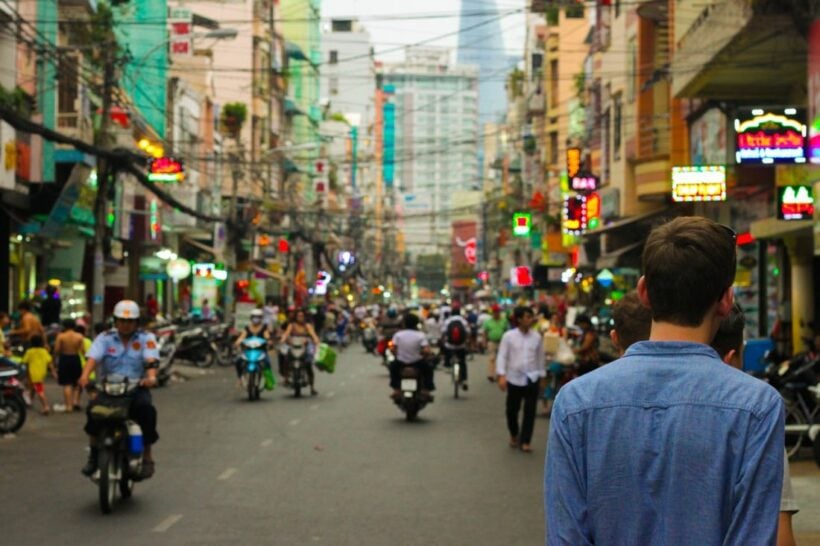 Thai Residents reports that on Sunday, Bloomberg published an article on the world's best pension systems, using information gathered from the 2019 Melbourne Mercer Global Pensions Index.
The survey looked at the pension systems of 37 countries with metrics including employee rights, savings, the number of homeowners, growth of assets, and growth of the economy. The purpose of the analysis was to determine what was needed to improve state pension systems and to gauge the level of confidence citizens had in their state pension system.
The Netherlands and Denmark were found to have the world's best state pensions, with Australia, Finland, Sweden, Norway, Singapore, New Zealand, Canada, and Chile next. Out of all 37 countries, Thailand finished last, with what the report described as an extremely ineffective and ambiguous system.
"Thailand was in the bottom slot and should introduce a minimum level of mandatory retirement savings and increase support for the poorest."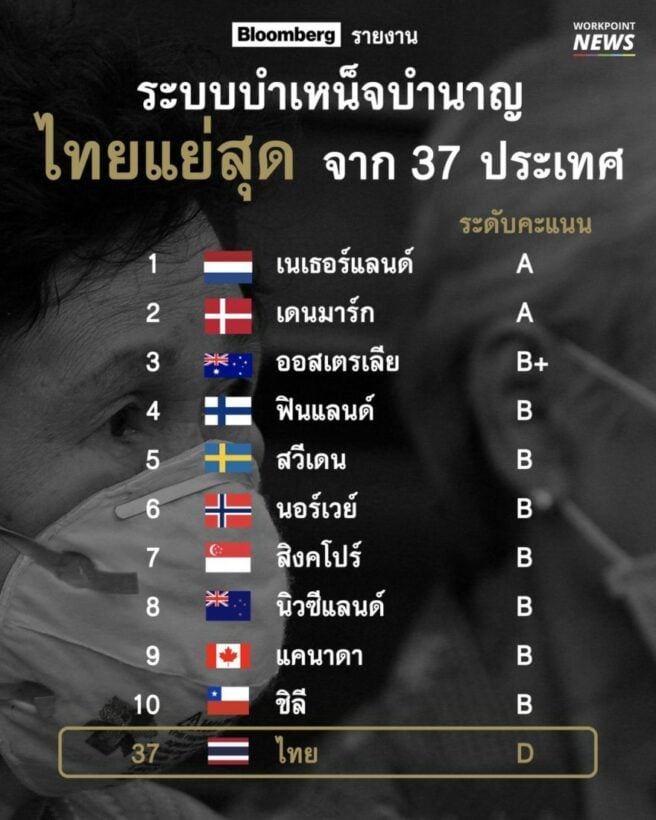 Photo: WorkpointNews
Thai Residents states that only those employed within the government system in Thailand are eligible for a pension based on salary. For most Thai citizens, pension amounts vary from 600 baht to 1,000 baht a month, depending on the recipient's age.
A report carried out by The Securities and Exchange Commission (SEC) advises Thai citizens to have at least 4 million baht saved by the time they retire, but Thai Residents reports that 60% of Thai retirees have less than 1 million baht in savings, with one in three citizens who have reached retirement age are forced to continue working in order to survive.
SOURCE: thairesidents.com
Keep in contact with The Thaiger by following our
Facebook page
.
Tax on salt content being considered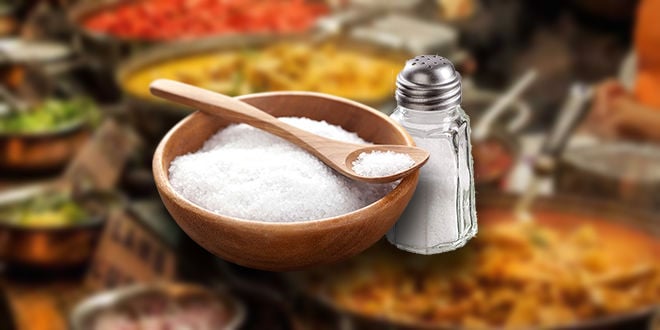 The Excise Department is considering imposing a tax on the salt content of food to encourage food producers to reduce the sodium content of snacks, instant noodles and seasoning cubes.
The director of the Office of Tax Planning said that the department is discussing a limit on the amount of sodium food can contain, in line with the standard set by the World Health Organization (WHO), which is 2,000 milligrams of salt per day.
In reality, Thai people consume an average of 1,000 milligrams per meal, making their daily intake well above WHO guidelines, according to the director.
He said any tax imposed would be at a level which would encourage food producers to reduce the sodium in their processed food without being punitive, adding that the proposal isn't intended to generate more tax revenue, but to help protect the health of consumers. Excessive sodium in the diet can lead to high blood pressure and kidney disease.
Fish sauce, soy sauce and salt would not be taxed.
SOURCE: thaipbsworld.com
Keep in contact with The Thaiger by following our
Facebook page
.
Water shortage warnings in 22 provinces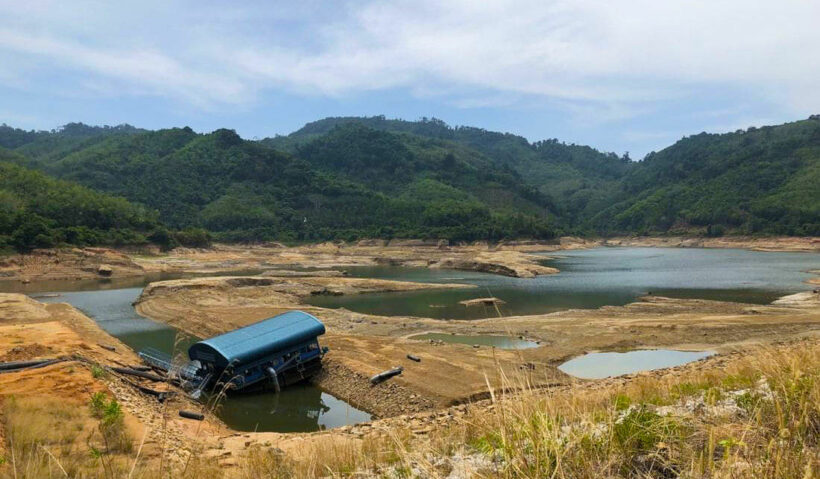 People living in 22 Thai provinces are being warned to prepare for shortages of drinking water during the upcoming dry season, due to start on November 1st.
The warning was issued by the National Water Resources Office, citing low levels in reservoirs, which are the main sources for tap water production waterworks in 22 provinces.
Areas at risk identified by the office are in northern, north-eastern, eastern and southern provinces.
Measures have been adopted by agencies charged with dealing with water shortages. including dredging water channels to allow greater volumes of water to flow into reservoirs, drilling underground wells, enlarging storage ponds and the purchase of water to supply to those in urgent need.
The Royal Irrigation Department has announced that people should use water sparingly.
There are currently about 6 billion cubic metres of usable water in reservoirs in the affected provinces, with 5 billion cubic metres reserved for consumption and ecological preservation, leaving only 1 billion cubic metres for use in agriculture.
This means farmers in the Chao Phraya river basin may not be able to grow a second crop of rice this year.
SOURCE: thaipbsworld.com
Keep in contact with The Thaiger by following our
Facebook page
.