Wednesday Morning Briefing – everything you need to know in 3 minutes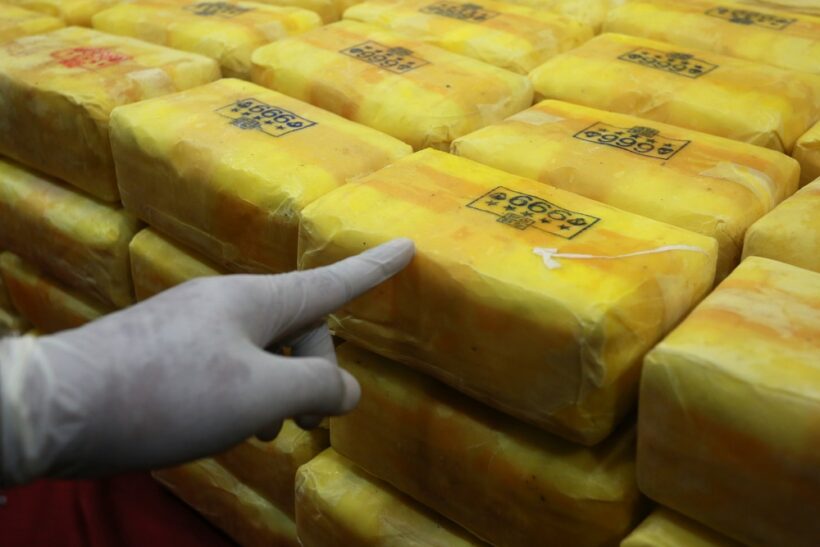 How many methamphetamine tablets!? PHOTO: The Nation
The Kathu Police Station Superintendent is heading to Patong to be the acting Patong Police Station Superintendent. This follows the transfer of several officers over the ongoing bribe scandal including former Patong Superintendent, Pol. Col. Tassanai Oladirek.
Pol. Col. M.L. Pattanachak Chakrabhan will move from Kathu Police Station to be acting Patong Police Station Superintendent while Pol.Col Chawalit Niemwadee from Phuket Police Station will replace him as the new Kathu Police Station Superintendent.
The shifts follow a week of mounting evidence indicating systemic corruption and 'brown paper bag' payments made by Patong businesses – principally in the entertainment, beverage, restaurant and gambling industries – to 'dodgy' police.
A submission to the Thai PM from a local Facebook portal called 'Spotlight Phuket' has exposed long-term corruption, extortion and blackmail between some Phuket police and local Patong businesses.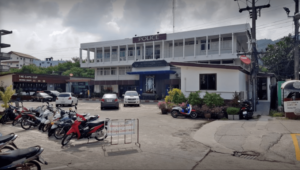 Hua Hin, on the Gulf of Thailand, is mopping up after a drenching yesterday. Rains continued from Monday night until noon yesterday.
Officials say the railway between Khao Tao Station in Hua Hin and Wang Pong Station in Pran Buri was under 30 centimetres of water for about 400 metres, forcing train service to be suspended all yesterday afternoon. Motorists travelling north and south were detoured along a bypass road instead of Phetkasem Road which was, itself, under 30 centimetres of water.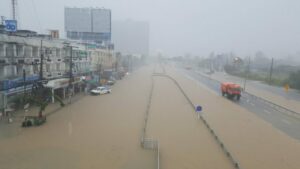 Just when you thought the quantities of illicit pills in drug busts couldn't get any larger…. A 22 year old man has been arrested with 10.3 million "yaba" methamphetamine pills in Samut Prakan, just south of Bangkok.
Pongsakorn Phraworn was arrested yesterday and the drugs seized at his home in Tambon Bang Kaew. The arrest happened after the Metropolitan Police Area 8 determined that Pongsakorn was a major drug dealer and had been storing the narcotics for later distribution.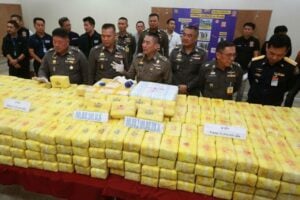 Five top players, two referees, four investors and one club executive have been accused of being involved in the match-fixing of recent Thai League games. The arrests mark the first serious crackdown on cheating in Thai football. The 12 men have been taken into police custody but have since been released on bail. The arrest warrants cite the alleged bribing of professional athletes to fix results, and of match officials to bend the rules.
After an investigation lasting more than six months, authorities, with the help of Sportradar – a Swiss sports data company – determined that the 12 were linked to match-fixing in four Thai League games between July 26 and September 23. Suspicions of irregular online betting arose when an unusual number of goals were scored at the late stages of all the games investigated.
Four Thai Navy FC players and a player from Nakhon Ratchasima Mazda FC were each allegedly paid as much as 200,000 baht to manipulate results.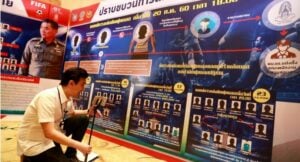 Online critics are being warned to be careful what they say about the government's performance, as the PM Prayut Chan-o-cha has ordered his state officers to elevate their monitoring of Internet comments and enforce the laws relating to them.
Specifically, officers have been told by Prayut to strictly enforce the new Computer Crime Bill, which punishes online dissemination of information "deemed controversial to national security". The bill also allows state officers to close websites deemed to have violated the law. Prayut said yesterday…. "There are false facts and hate speech everywhere. We just want to keep society in order."
Police have caught five out of the 20 Uighurs who escaped from immigration facilities in Songkhla's Sadao district yesterday morning.
The manhunt continues to find and arrest the remaining 15 escapees. Police are looking into the possibility that someone had helped the escapees by picking them up after their escape from detention. The escapees were among 300 Uighurs who had been detained in Thailand since 2014 pending an investigation into their origins. China has requested that Thailand deport Uighurs, claiming they are militants, with 109 of them already having been sent back to China. Police suspect that the escapees had already crossed the border to Malaysia but say that it won't be easy for them as they speak neither Thai or Malay.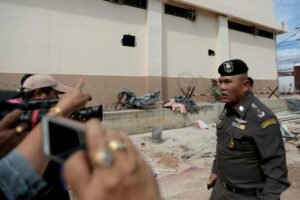 There are more outgoing military officers than incoming ones in the freshly reshuffled Thai Cabinet. The PM says his yet-to-be-publicised list has already been finalised. The fourth reshuffle of Prayut's three-year-old Cabinet follows his announcement earlier this month of a shake-up shortly after General Sirichai Distakul abruptly resigned from his position as labour minister. There is speculation that the reshuffle will also revamp the Cabinet's economy-related ministerial line-up. Prayut has previously said he considering reducing the number of military officers in the Cabinet and outnumbering them with civilian ministers.
SOURCES: The Nation, Phuket Gazette
- Tim Newton
French woman saved from jumping off Phetchaburi guest house roof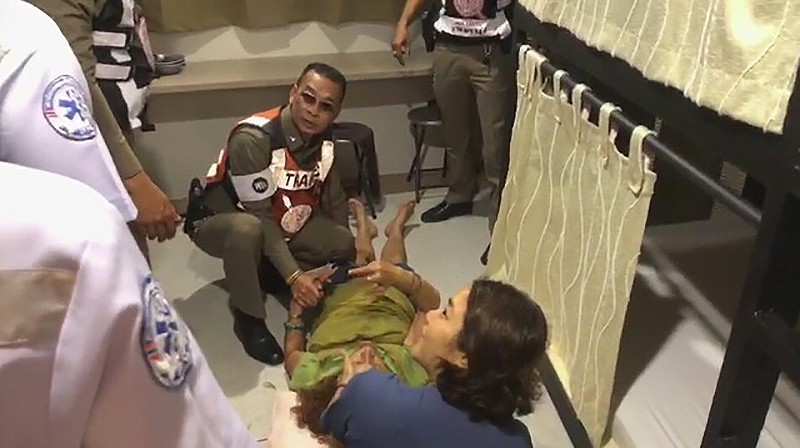 PHOTOS: Manager Online
Manager Online is reporting that police in Phetchaburi managed to get a 61 year old French woman to safety after she went to the top floor of a guest house and threatened to jump.
Rescuers managed to get to her, grab her and then assist the woman down the stairs to a waiting ambulance.
The woman was identified as Djeraibi Moraine, a French citizen.
Manager reports that she was wailing uncontrollably and visibly distressed during her journey to the hospital.
A manager of the guest house in Soi Bandai It in Ban Mor sub-district said that the tourist had checked in alone at the end of June.
There was no indication of trouble until she went up to the guest house's rooftop garden yesterday and threatened to throw herself off. Unable to help the situation the owner called the police. Police found medication for a thyroid condition in the tourist's first floor room.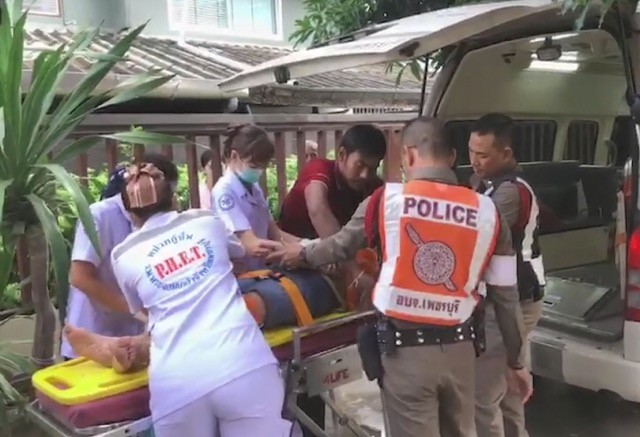 SOURCE: Manager Online
The Samaritans are available around the clock for people who want to talk. If you or anyone you know is in need of mental health services, please contact the Samaritans of Thailand at their 24-hour hotline 02 713 6791 (English), 02 713 6793 (Thai) or Thai Mental Health Hotline at 1323 (Thai).
Hua Hin: Five of ten investigated hotels found to be 'illegal'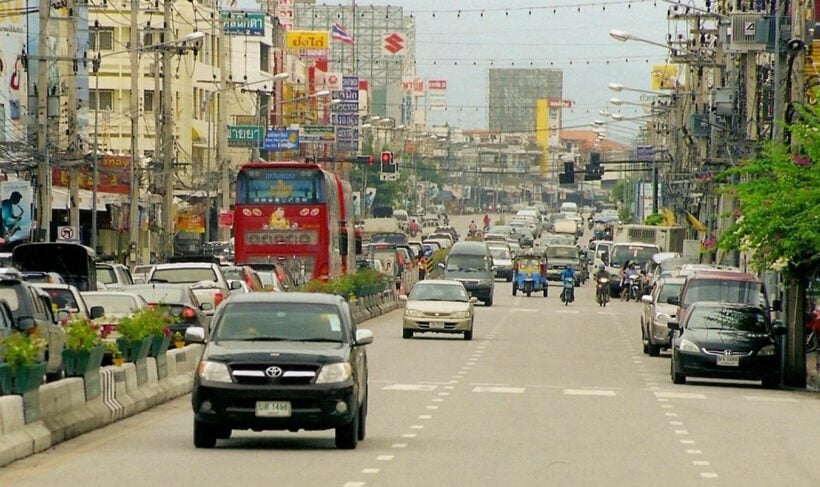 PHOTO: Mapio.net
Five Hua Hin hotels, under the spotlight in an investigation into the town's illegal hotels, are now set to be served closure notices.
Manager Online is reporting that Somporn Patchimpetch, the head of the investigating committee, says that loopholes in the law had meant that the ten dodgy hotels had continued to operate for the last few months.
But, he added, the fate of five hotels has now been decided and they will have closure notices posted within days.
The investigating team alleges the hotels originally applied to be just residential premises but later changed to operate as regular hotels offering daily rooms. This is against the law and the accommodation's documentation has been found to be false following examination.
Five other Hua Hin hotels are still under investigation.
Manager did not name the hotels in their story but said the five would be shut according to Article 44 of building regulations dating back to 1979.
SOURCE: Manager Online
Phetchaburi: Kalasin man arrested for alleged rape of a five year old, ten years ago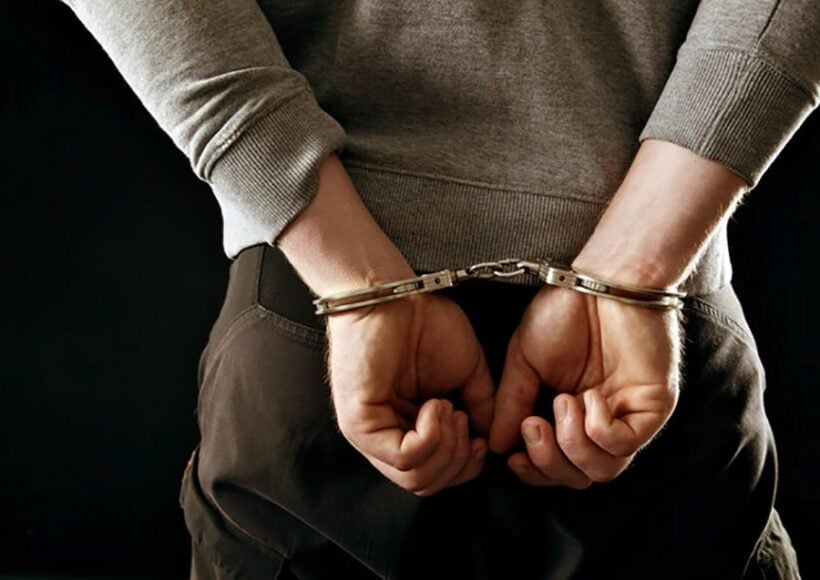 File photo
The Nation is reporting that a Kalasin 39 tear old man has been arrested in Phetchaburi this morning while on the run. He has been arrested over allegations relating to the rape of a five year old girl in Bangkok 10 years ago.
39 year old Sa-nguan Kisarung from Kalasin, was arrested at his rented room in Tambon Khao Yai in Phetchaburi's Cha-am district at 2am. He was arrested under a warrant issued by the Thonburi Court on March 18, 2009.
He is alleged to have raped the girl at a workers' quarters while working at a construction site on Soi Ekkachai 133 in Bangkok's Bang Bon district on December 13, 2008.
SOURCE: The Nation