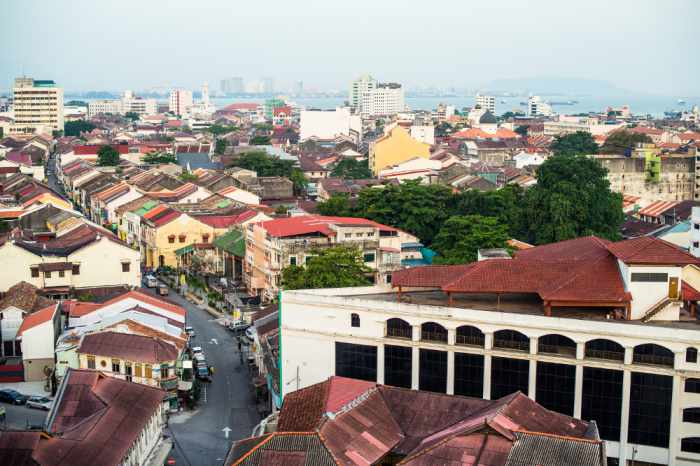 PHUKET: First of all, no, panang curry is not from Penang. And yes, of course, it is debated. It's ok though, because the northern Malaysian island is overflowing with taste-bud dazzling dishes. When or if you find yourself in this hotpot of ethnic diversity and boundless character, you will find a wondrous assortment of flavors far beyond the food.
Although it is an island, Penang is accessible by two bridges and has its own international airport. Having the closest Thai embassy to Phuket that issues one-year visas, those bridges see a steady flow of visa run vans in and out of Penang. However, sketchy van rides (story here), stricter enforcement of immigration laws (story here) and affordable direct flights on Firefly airlines (schedule here) may change the visa run scene.
For travellers who find themselves in Southeast Asia, Penang should definitely be on their radar. With its narrow winding streets, worn but clean and unique colonial edifices, and spectrum of activities to satisfy most tastes, it's a haven for those seeking a smaller Asian city that exudes an air of exotic mystery.
As an island along the strategic maritime trading route of the Straight of Malacca, Penang has been a trading hub for centuries. The majority of the inhabitants are a mix of Malay, Chinese and Indians. The 16th and 17th centuries saw waves of Portuguese and Dutch reign and in the late 1700s, the British set up shop in Penang making it the first British settlement in Southeast Asia.
The British influence is glaringly obvious in the colonial style architecture and street names like Lebuh (avenue) Kimberly and Lebuh Buckingham, not to mention the cultural center, George Town. But behind the thin Western facade lies quaint boutique shophouses and guesthouses with charming courtyards surrounded by intricate Chinese carvings and murals of brightly colored, fearsome characters.
A UNESCO World Heritage site, Penang is certainly well-steeped in its own inherent charm, but the city has also capitalized on the creativity of the Penangites. Placed all around the city are wrought iron caricatures sporting short, wry narratives about the street they are located. Like the outline of a fat man tip-toeing across a ledge which says, "The local Chinese say the rich men who lived on Muntri Street kept their mistresses here, hence the name Ai Cheng Hang or Love Lane."
A popular activity is to find one of the maps which show the location and description of all 50-some of the sculptures and rent a bike to roll around and see them all. Along the ride, it is hard to miss all of the funky street art adorning walls and buildings. It all stemmed from a small street art project in 2012 which has snowballed and now the quirky paintings, many featuring cats, are everywhere.
The best way to glimpse back to the lifestyle of the early Chinese immigrants is a visit to the fascinating Peranakan Mansion. Peranakan is the name taken by the "Straights Chinese" who settled in Singapore, Malacca and Penang, and are also found in other surrounding regions like Phuket. Over time, their Chinese traditions fused with those of the neighboring Thai, Malay and Burmese to forge their own set of unique cuisines, fashions and beliefs.
The museum is housed in a cavernous old mansion which was in a steady state of decay until it was recently revived to its current glory. The house itself is unique in that it sports English tiles, Scottish
ironworks and Chinese features of excruciating detail as well as its own temple with bas relief carvings depicting heaven and hell. The enigmatic museum director Lillian Tong explained that treasures of huge cultural significance were unearthed throughout the vacated mansion after they acquired it.
On display throughout the mansion are over 1,000 artifacts depicting the rich history of the culture. Items such as painstakingly crafted beaded slippers for the women to flaunt, finely woven textiles to wear and opulent mother-of-pearl inlaid day beds for the men to laze the day away on smoking opium. It's easy to get lost for hours gazing in disbelief at the exorbitant collection.
As a traveller or photographer, it is immediately apparent just how photogenic Penang is. Be sure to have ample memory cards, batteries and personal stamina. When you're ready for a break, the Penang Camera Museum beckons.
The two-storey, 325-square-meter ode to photography contains over 250 cameras dating back more than a century from all over the world. If available, get a tour, as the guide is very knowledgeable and entertaining as he quizzes groups on photographic history and camera technology. Don't forget to get a selfie with the picture they have of the first selfie being taken.
What many may consider the main attraction of Penang is the variety of incredible eats. There is just so much good food everywhere that it's a wonder everyone isn't overweight. Some of the local, must-try dishes are the char kuey teow wok fried noodles, the spectrum of curries in nasi kandar and the sweet coconut and pandan rice of nasi lemak served surrounded by little piles of everything from fried chicken to spicy anchovies. The Penang-style roast pork is incomprehensibly amazing and one would be doing themselves a great disservice by not indulging.
Naturally, since they comprise one of the three main ethnic groups in Penang, the Indian influence permeates throughout the city. An aimless wander around Little India is compulsory and heading there with an empty stomach even more so. In fact, hitch a ride on one of the iconic trishaws which perpetually crawl through the streets blasting tinny music and decked out in flowers.
Bollywood posters plaster the front of CD and DVD shops which also blare the soundtracks through loudspeakers. The area is rife with tailors and vendors hawking Indian spices, trinkets and delicious snacks like samosas and pakora.
Perhaps the best note to leave off on before leaving Penang is a jaunt to the top of Penang Hill (Bukit Bendera) on the snazzy new cable car. Go early to avoid the hordes and revel in the cool temps and grand views. There is a colorful little Hindu temple, restaurants and a botanical garden to explore atop the 833-meter-tall hill.
The thing about Penang is there is always something around the corner to tickle the senses. From the rich culture and smiling faces to the heavenly cuisine and eccentric street art, Penang merits a spot on any traveller's agenda.
If considering a trip to Penang, keep in mind that the George Town Street Fest will be held for the entire month of August. Festival Director Joe Sidek sums it up best, "We aim to make this an enriching experience for everyone with our offering of a diverse palette of world-class events that immediately transforms George Town into a borderless stage celebrating art, culture and heritag
— Jeremie Schatz
Keep in contact with Thaiger by following our Facebook page.
Never miss out on future posts by following Thaiger.
"Mommy, there's a snake!" – Expat in Phuket shares her story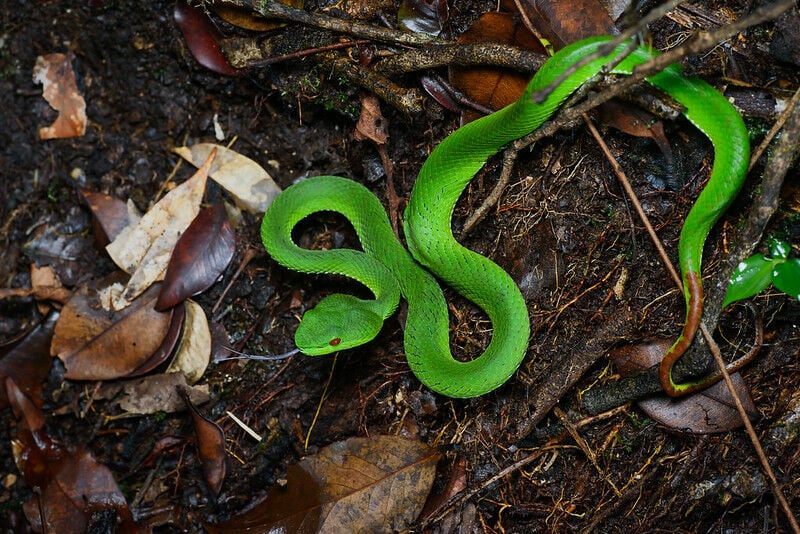 The following story was written by Amy Sukwan, an American who has been living in Thailand for 7 years.
To share a story with The Thaiger, click HERE.
"Mommy, there's a snake!" my 8 year old daughter Eliza said, waking me up in the middle of the night.
I came out of our modest bungalow in Phuket at some unholy hour in the middle of the night, to see what my daughter's whole "snake" thing was about. In the light of our front porch light, about 3 metres from our front door, 3 of our cats were surrounding something that looked at first to me to be a stack of rotting bananas.
"Eliza it's nothing." I tried to assure my daughter. Right at that moment the rotting bananas rose up into an aggressive posture as 3 cats circled it, hissing viciously. It was a surreal sight in the porch light.
"Mommy can you kill it!" My daughter begged me, as the thing, about four feet or over a meter long, lashed at one of our cats, who was quick enough to jump away. The snake had a big head that I could see in the porch light. It was distinctively mallet shaped, in what I was pretty sure was the viper class.
As much as I wanted to go back to sleep and pretend that this was all a bad nightmare, I now had a crying, frantic daughter who was terrified for her cats and a situation that I was quickly recognizing was pretty bad. Mai dee.
I needed to call in backup – my Thai husband. Eliza was already screaming his name. "Ka! Loon Ka!" My 8 year old screamed.
---
There are many venomous snakes in Thailand. Most people know about cobras but the viper class is the most deadly in the world, as vipers are both unpredictable and very difficult to charm. I was looking at a pit viper of some sort, I was pretty sure.
Snakes normally don't bother you if you don't bother them. But interactions are most common late in the dry season in Thailand, as it is now, in late March, as the snakes slither around houses in search of water. Thais don't want them around for obvious reasons. You don't want venomous snakes to breed and make babies close to your homestead.
If you are not sure if a snake is venomous or not, a good rule of thumb is to look at its head size in proportion to its body size. If the snake head is close to the same size as the rest of its body, and the snake is generally more wormlike in appearance, it is probably not venomous. If the head is large, say two or more times the diameter of the body, it might be poisonous. This does not constitute medical advice. If you get bitten by a snake, you should go to the hospital.
---
My husband woke up as Eliza was screaming for him. He came out groggily but as soon as my daughter pointed at the snake he saw the problem. "No good! I kill!" Ka said as he grabbed a machete from our kitchen rack. He wasted no time in coming to this decision.
So after being bathed in the surreal sight of three cats circling a hissing, striking, and very likely deadly serpent under our porch light, I got to be treated to an even weirder view. Ka went full Steve Irwin on the snake as he danced around with the machete. The viper sideswiped and tried to strike him. Then, it suddenly backlashed and made contact with his knee. Both me and Eliza cried out from the sidelines.
"She bit me!" Ka said as he macheted the viper's mid body, and then its neck. Among my many shortcomings is a complete inability to gender snakes. So I will remain with my husband's classification of the viper as female.
The snake stilled over the course of several minutes as my eight year old screamed in terror. It still seemed to be wiggling even five minutes later, though its body slowly stilled. Ka helped me put it in a plastic bag.
"You go hospital now!" I screamed at him.
"No worries. She don't bite me with poison." Ka seemed sure of this. He'd grown up on a 50 rai spread of backwoods in Phuket and was something of a designated snake killer.
My husband had tracked and killed a 5 foot long snake months before, which he had assured me had no poison, but which he had not wanted around the house. I was able to identify that one through Google images and a snake discussion group as an Indochinese Rat snake, which was indeed not venomous.
There was only one bite mark on his knee the viper had come in from an unusual angle and only one fang had punctured through. But I could see from closer inspection of the now dead snake what I had already known. It looked like a dark green Pit Viper. She was about 4 feet long, or maybe 130 centimetres. The poor girl had probably been looking for water.
Symptoms of a poisonous snake bite include pain at the site, swelling, and changes in heart rate or breathing. Needless to say Ka is still alive and well, and probably had enough experiences of snakes to know that this was a dry bite, or one without venom, as about 50% of snake bites are. I wouldn't have taken my chances on this, though.
The reason that poisonous baby snakes are thought to be more deadly is not because they have more venom, but because they always release venom when they do bite. I prayed in Buddhist style for the snake to have a better life next time, as she had made merit by not killing either our cats or my husband. But for the amateurs out there, I wouldn't advise going to Steve Irwin about these things. Normally snakes bite you because you bother them.
---
It turns out that sometimes you chase the story. And sometimes the story chases you.
I'd seen a recent post on The Thaiger asking for guest bloggers to share their stories regarding Thailand. I think I laughed out loud on reading it. After 7 years in the "Land of Smiles," with 2 Thai husbands and after giving birth to 2 children here, I'd like to think I've seen it all. I probably have 10,000 stories.
But what do I want to write about? Should I mention my early days as a farang in Thailand, during the time when I was working as an OPC for a timeshare? Do I want to give advice on making visas, as an American staying in Thailand or for a Thai going to America? Should I talk about going to Thai hospitals? Or maybe I should write something about Thai Buddhist funeral proceedings? I've put my first husband and both my mother and father in law in the ground at Wat Prathong. Should I talk about ASQ and travelling during Covid madness? Or should I mention the Full Moon Party on Koh Pha Ngan? I've been to five of those, personally.
This weekend I was harvesting cashew fruit with a Thai friend of ours in Phuket who has a large spread of family land. We burnt the cashew nuts, and I thought that this would make a great story, as many farang ask me about growing and harvesting practices in my little outback area. Unfortunately a quick Google search revealed that cashew nuts are dangerous, even to people without allergies, as they contain a chemical close to poison ivy. Only professional processors should deal with cashew nuts, in short. I've been eating the fruit and burning the nuts for years. But I gathered that life is too dangerous. So much for that story.
Keep in contact with Thaiger by following our Facebook page.
Never miss out on future posts by following Thaiger.
Thai Airways food landing in 7-Eleven next month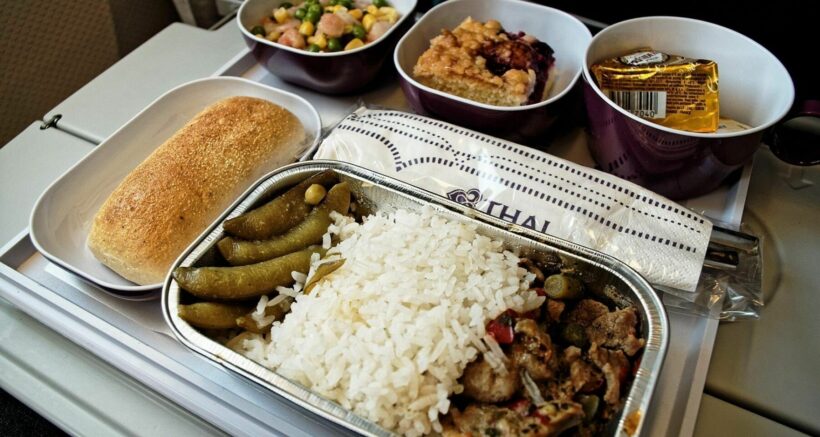 Warning. Some low-altitude turbulence is coming to a 7-Eleven near you. Thai Airways has cooked up a new money-making scheme during Covid-19 to sell its airline food in 7-Eleven. Set to take off on April 15, the mostly grounded and indebted airline will attempt to offset its losses during the pandemic by selling food in the ubiquitous convenience store and other supermarkets throughout Thailand.
It's a clever strategy for a struggling company, but will customers take the bite? Surely a few crispy pork and rice dishes will knock the edge of that 300 billion baht debt!
Claiming that their busy flight schedule has always previously stood in the way of the airline's foray into the fast food market, Thai Airways now has the supply (and time) with most flights grounded by the pandemic's decimation of the travel industry and less hungry mouths to feed in the sky.
The first meals schedule to arrive on the shelves of 7-Eleven just after the Songkran holiday are Thai Airways' halal chicken biryani dish, and the traditional Thai dish nam phrik long ruea, crispy and fluffy fish and sweet pork served in a fermented shrimp chilli paste. The primary push into the food industry will be more unusual meals to stand out in 7-Eleven's selection.
The question remains whether the food selection will fly off the shelves, but the airline's hopes are high after their airline launched pop-up restaurants in September and the public ate it up. It seems that, contrary to a million stand-up comedy jokes about how terrible airline food is, people have really missed it with so much cancelled travel due to border closures and restrictions.
Thai Airways hopes this creative departure from their main business will help bolster the struggling airline, who were previously denied a government bailout after declaring bankruptcy last year. They have tried everything from the pop-up restaurants to jumbo yard sales to renting out flight simulators. Even with the sharp reduction of flights due to the pandemic, flying will still be the company's main mealticket, but they hope meal sales will make up for low ticket sales until the travel industry recovers.
So stow your tray table and fasten your seat belt as we see if the 7-Eleven offerings of Thai Airways' food takes off.
(The Thaiger has a better solution. Let 7-Eleven lease Thai Airway's grounded planes and run the whole business instead)
SOURCE: Coconuts Bangkok
Keep in contact with Thaiger by following our Facebook page.
Never miss out on future posts by following Thaiger.
Banquet for ghosts held in Chon Buri cemetery – some food left over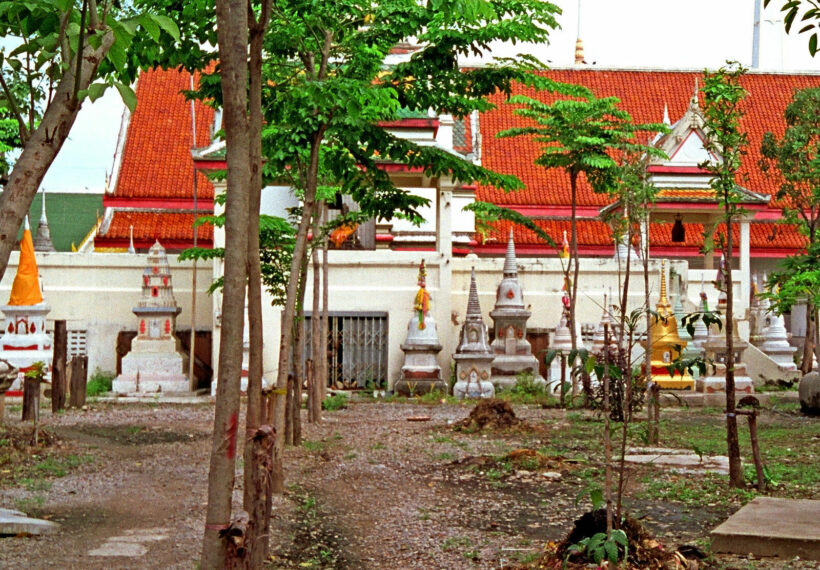 To fulfill a woman's dying wish, townspeople in the Panthong district of Chon Buri hosted an elaborate banquet for ghosts in a local cemetery this week. The 36-table extravaganza was set up 43 year old Tanawan Choti. His mother had asked him to give a free banquet for all the ghosts of her friends and family that had died before her… a welcome party to the afterlife.
Tanawan honoured his mother's request earlier this week before she passed away, with a no-expense-spared feast featuring food and drinks, luxury dishes and silverware, and entertainment for the ghosts of honour. Living speech-makers imparted their best wishes to the Chon Buri ghosts. The locals set up the 36 tables for a Chinese-style banquet and entertained the guests for about an hour.
A local event food service worker said that, despite years in the industry, this was the first ghost dinner he'd catered for. He said he found it "abnormal to serve the paranormal and was left with a ghastly feeling working in the cemetery". (We figure there was quite a lot of food left over as well.)
While graveyards are not common in Thailand, since Buddhists cremate their dead, burials still occur amongst descendants of Chinese-Thai people. Regardless of religion or heritage, belief in ghosts or other paranormal phenomenon is common throughout Thailand. Spirit houses are frequently built outside local homes for ghosts to live in, and serviced every day with fresh offerings.
While the otherworldly banquet may be viewed by some with confusion or scepticism, the feast did have a real-world happy ending, Eakkaluck explained…
"After finishing the banquet ceremony, the food was given to poor people in the area as unfortunately, it appeared the ghosts could not actually consume earthly substances."
SOURCE: The Pattaya News
Keep in contact with Thaiger by following our Facebook page.
Never miss out on future posts by following Thaiger.