Phuket Raceweek: Racing with the wind – a wave of excitement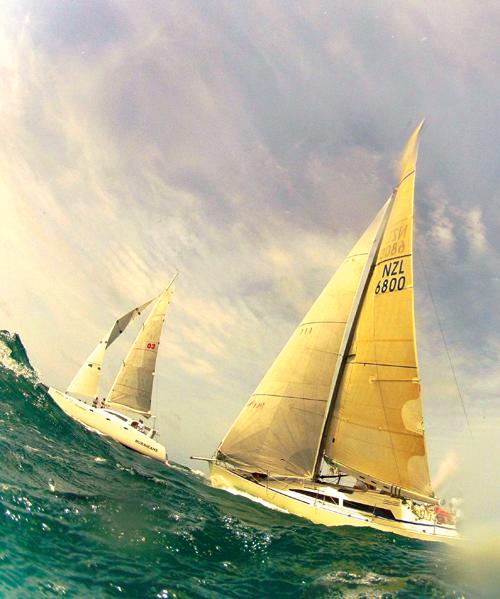 PHUKET: Winds gusting to 20 knots made for a perfect end to what has turned into one of the best Cape Panwa Hotel Phuket Raceweek yet. The weather conditions delivered fast and exciting racing throughout and after four days, the sailors of more than 15 nationalities were left tired and happy.
Two races for all except the Classic class made for a hectic schedule of racing on the final day, Sunday, July 21, and with some classes on the edge, there was plenty still to play for.
Wan Ma Rang in IRC Racing I had their best day yet closing out the regatta with two second places. However, it wasn't enough to overhaul Katsu who has sailed consistently well and held onto second place by three points.
Class honors went to Australian Peter Ahern and his all-star crew on Oi! who with seven wins from eight races, were untouchable. Formerly Team Premier, Peter Ahern/ Scott Bailey/ Fergus Wilmer recently bought the boat, renamed her Oi! and Phuket Raceweek was their first competitive event. Having got some early points on the board in the 2013/14 Asian Yachting Grand Prix Championship, Oi! now heads to Hong Kong to compete on the circuit.
IRC Racing II was dominated by Australian Peter Sorensen and his crew on Fujin, and that domination continued through to the final race. Eight wins from eight races speaks for itself and as sailing star Steve McConaghy, who was racing onboard the former Ichi Ban said: "you could sail this thing backwards and still win.
Sunday's battle, however, was for second and third in the class, between Stuart Williamson's Skandia Endeavour of Whitby and Neils Degenkolw's Phoenix. Despite struggling with their starts and being called OCS on more than one occasion, a good performance on the final day for Williamson and his crew (a 2,3 scoreline), saw them secure second overall and relegate Phoenix to third.
For the first three days there was one race per day, but the great winds on Sunday saw Principal Race Officer Simon James set two races for IRC Cruising and Irish entry Windstar, helmed by Peter Woods, reveled in the conditions to finish the last day with two more wins, and win the class by four points.
The doggedly-determined Aussie team, Rob Azzopardi's Dreamtime, with two second placings on the final day, could not overhaul the leaders and had to stay in second place overall, four points back. Mike Crisp, helming Sail in Asia Venture, who was introduced to a rocky outcrop on the third day, to be hauled off by the obliging press corps, finished third overall on 11 points.
The super-fast Firefly 850 sport catamarans, all built in Phuket, thrived in the strong winds last week, with competitors recording speeds in excess of 20 knots (37 km/h). Reading the conditions best and sailing consistently was Twin Sharks, skippered by Briton John Newnham, who didn't contend the last race having already won seven from seven to be the clear class winner.
However, second and third was a much closer battle, between Hans Rahmann's Voodoo and Roger Kingdon's Moto Inzi. Voodoo came into the final day with a slight edge and a 2,1 scoreline on the day saw them complete a strong Series and place second ahead of Moto Inzi by a single point.
The Multihull Racing class saw a remarkable come-back by Phuket sailor/ designer, Mark Pescott, with a second and a first in the last races, to go into the clear as Multihull Racing class winner, helming DaVinci (12 points), and defending their title by just one point ahead of the week's leader, Alan Carwadine's Asia Catamarans Hurricane who had to settle for second overall. Then came another early leader, John Coffin's Java, third, on 16 points.
The end of the Classic class was as expected, continuing the week-long pattern, with Simon Morris' Sirius (three points) at the front, Laurie Piper's Atlanta (seven) in second and the
German maxi classic, Letizia, skippered by Captain Bernd Gundel (eight), third. Perennial regatta entry, Captain Bao's Seraph was relegated to fourth place, although equaling Letizia on eight points.
While the Aussies took home a lot of silverware at this year's regatta, what was noticeable is the large number of top boats from Ao Chalong Yacht Club, both winners and high scoring performers.
A lavish Gala Dinner hosted by Cape Panwa Hotel brought to a close a highly successful 10th Anniversary Cape Panwa Hotel Phuket Raceweek.
To sail or not to sail
Here I am, like many before me and many more to come. Water around me, blue skies above me, wooden deck under my feet, sun in my eyes, gazing at the beauty of Cape Panwa's lush green shores, at the deep blue hue of the Andaman sea – cutting through the waves, taming the power of wind.
I am surrounded by elegant, classic design, modern technology and attention to detail on a state- of-the-art yacht made with expensive materials, teak and mahogany. A yacht where sails are risen with a push of a button and cold drinks are served on demand. A yacht destined for the successful, rich and powerful willing to widen their horizons, open their minds up and think outside the box in the relaxing atmosphere of a luxurious cruise.
At a couple dozen thousands Euros per week, chartering Aventure is a choice for a few. "The boat's design was inspired by 1930s' blueprints but constructed with modern materials. It's a classic but it works like a modern yacht, says Guillaume Chaillot, Marine Industry Consultant and manager of VIP cruises.
"It's a VIP boat, we want to make special programs, invite celebrity chefs, organize jazz evenings, make it an interesting place to make business in a relaxed atmosphere. We want to show people that a better lifestyle is within the reach of their hands, he adds.
I can't deny it, it feels great to walk barefoot on the teak-wood deck, munching on mozzarella and sipping mojitos. But we didn't come here just to sample the "hi-so" lifestyle. We're sailing through these exact waters at this exact time for a reason. Just a few hundred meters from Aventure, a large group of yachts is taking sharp turns in perfect accord, as if following an invisible route. And when a loud siren breaks through the air, they all set out in the same direction, racing for glory. They are on the same sea as we are, using the same wind to move around but how different their sailing is from our sailing.
Here on Aventure all we care for is not to spill our drinks and not to get sunburned. There, every second counts, every inch of the sail, every member of the crew works in perfect harmony for one goal only to get to the finish line first.
Looking a the Phuket Race Week regatta, I wander where I'd rather be here: chilling in the sun, enjoying the soft rocking of the waves, or there, cutting through them with surgical precision, celebrating sportsmanship, teamwork and taming the elements? This though takes my mind for a trip to the past, the old times when I used to sail across the Baltic sea and the English Channel on a boat not longer than 10 meters. There were not buttons to be pushed, only lines to be pulled. No drinks and snacks, just crackers and tea, no eager-to-please hostesses, just a couple of friends trying not to give in to the raging wind and crashing waves. It wasn't easy – the cold, the fatigue, the ever present seasickness, yet my mind goes back to these days whenever I see the skies turning dark and the wind grows strong.
It all seems so different now – us, here, chilling in the sun on Aventure; them, there, mastering teamwork in an effort to win the race. My friends and I back in the day trying to get from Amsterdam to London or from Stockholm to Gdansk.
Or the lon
— Maciek Klimowicz
Thai Life

Join the conversation and have your say on Thailand news published on The Thaiger.
Thaiger Talk is our new Thaiger Community where you can join the discussion on everything happening in Thailand right now.
Please note that articles are not posted to the forum instantly and can take up to 20 min before being visible. Click for more information and the Thaiger Talk Guidelines.